Please login if you have access to particular applications.
Survey details and related metadata, reports, events and data.
SS 03/98
Period: 1998-09-22 to 1998-10-20
Region: Gulf of Carpentaria, Arafura Sea
Ship: Southern Surveyor [details]
Description: Southern Surveyor cruise SS 03/98 is the final of three cruises for the Bycatch Sustainability project in the region of the northern prawn fishery in the Gulf of Carpentaria, north-east of Mornington and around Groote Eylandt. The objectives of this cruise are to identify all vertebrate and invertebrate bycatch species in prawn trawls inside and outside closed areas of the fishery; to sort one total catch from each area; and to collect RoxAnn and EK500 acoustic data on bottom environments, complemented by dredge tows, grab samples and abiotic data. The survival of trawl-caught sea snakes will also be monitored.
Leader: J. Salini (CSIRO)
Project: Ecological sustainability of bycatch and biodiversity in prawn trawl fisheries (FRDC project no. 96/257) 1996-2000 [details]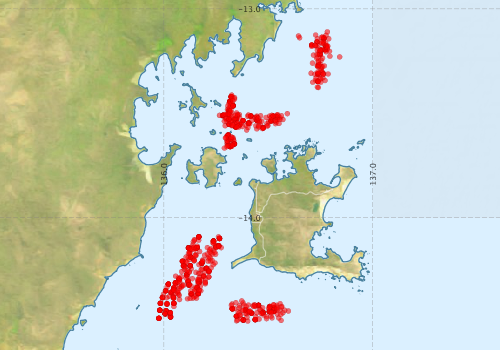 Voyage extents: 14° 29.7' S to 13° 06.6' S 135° 59.9' E to 136° 50.5' E
Participants:- no records
Data publishing:- This is a list of online datasets. use the Get data link on the right to extract data using the NCMI Data Trawler.
Data Stream
Data Summary
Get data
Catch Details

Time (UTC):
1998-09-24 09:09 to 1998-10-17 16:10
Latitude:
-14.49 to -13.11
Longitude:
136.00 to 136.84
Catch Summary:
Deployments: 754
Catch Composition: 21958
Measurements: 75168
Specimens: 1283

Get Data from Trawler


Deployments by start time:- Click on column header to sort
Deployment
Operation
Project
Start and end times
Start Location
End Location
Depth
Description
Catch [details]
1
612
1998-09-24 09:25
1998-09-24 09:55
-13.1100
136.7833
-13.1383
136.7783
Prawn Trawl (Far N_Groote 1 transect)
Catch [details]
2
612
1998-09-24 10:24
1998-09-24 10:54
-13.1633
136.7567
-13.1867
136.7467
Prawn Trawl (Far N_Groote 1 transect)
Catch [details]
3
612
1998-09-24 11:22
1998-09-24 11:52
-13.1750
136.7250
-13.2017
136.7233
Prawn Trawl (Far N_Groote 1 transect)
Catch [details]
4
612
1998-09-24 12:10
1998-09-24 12:40
-13.2217
136.7167
-13.2500
136.7133
Prawn Trawl (Far N_Groote 2 transect)
Catch [details]
5
612
1998-09-24 13:41
1998-09-24 14:11
-13.2367
136.7317
-13.2650
136.7300
27
Prawn Trawl (Far N_Groote 2 transect)
Catch [details]
8
612
1998-09-24 17:05
1998-09-24 17:35
-13.3033
136.7367
-13.2750
136.7383
27
Prawn Trawl (Far N_Groote 2 transect)
Catch [details]
9
612
1998-09-24 18:05
1998-09-24 18:35
-13.3083
136.7400
-13.3350
136.7350
25
Prawn Trawl (Far N_Groote 3 transect)
Catch [details]
10
612
1998-09-24 18:50
1998-09-24 19:20
-13.3483
136.7400
-13.3733
136.7467
25
Prawn Trawl (Far N_Groote 3 transect)
Catch [details]
11
612
1998-09-24 19:40
1998-09-24 20:10
-13.3750
136.7350
-13.3483
136.7133
23
Prawn Trawl (Far N_Groote 3 transect)
Catch [details]
13
612
1998-09-24 23:24
1998-09-24 23:53
-13.1583
136.7500
-13.1850
136.7567
29
Prawn Trawl (Far N_Groote 1 transect)
Catch [details]
14
612
1998-09-25 00:15
1998-09-25 00:45
-13.1983
136.7467
-13.1867
136.7167
28
Prawn Trawl (Far N_Groote 1 transect)
Catch [details]
15
612
1998-09-25 01:06
1998-09-25 01:36
-13.1800
136.7083
-13.2033
136.7233
28
Prawn Trawl (Far N_Groote 1 transect)
Catch [details]
16
612
1998-09-25 01:52
1998-09-25 02:22
-13.2183
136.7333
-13.2033
136.7233
28
Prawn Trawl (Far N_Groote 2 transect)
Catch [details]
17
612
1998-09-25 03:26
1998-09-25 03:56
-13.2733
136.7683
-13.2567
136.7433
29
Prawn Trawl (Far N_Groote 2 transect)
Catch [details]
18
612
1998-09-25 04:40
1998-09-25 05:10
-13.2600
136.7117
-13.2917
136.7050
26
Prawn Trawl (Far N_Groote 2 transect)
Catch [details]
19
612
1998-09-25 05:23
1998-09-25 05:50
-13.3083
136.7050
-13.3350
136.7083
24
Prawn Trawl (Far N_Groote 3 transect)
Catch [details]
20
612
1998-09-25 06:04
1998-09-25 06:37
-13.3517
136.7133
-13.3817
136.7283
24
Prawn Trawl (Far N_Groote 3 transect)
Catch [details]
21
612
1998-09-25 06:59
1998-09-25 07:28
-13.3767
136.7400
-13.3517
136.7567
Prawn Trawl (Far N_Groote 3 transect)
Catch [details]
22
612
1998-09-25 09:21
1998-09-25 09:54
-13.5117
136.5633
-13.5083
136.5300
Prawn Trawl (Near N_Groote 1 transect)
Catch [details]
23
612
1998-09-25 10:11
1998-09-25 10:39
-13.5117
136.5234
-13.5300
136.5417
Prawn Trawl (Near N_Groote 1 transect)
Catch [details]
24
612
1998-09-25 11:02
1998-09-25 11:34
-13.5483
136.5517
-13.5500
136.5183
Prawn Trawl (Near N_Groote 1 transect)
Catch [details]
25
612
1998-09-25 12:00
1998-09-25 12:29
-13.5617
136.4950
-13.5400
136.4717
Prawn Trawl (Near N_Groote 2 transect)
Catch [details]
26
612
1998-09-25 13:09
1998-09-25 13:39
-13.5333
136.4217
-13.5317
136.4483
Prawn Trawl (Near N_Groote 2 transect)
Catch [details]
27
612
1998-09-25 13:56
1998-09-25 14:24
-13.5233
136.4517
-13.5100
136.4250
Prawn Trawl (Near N_Groote 2 transect)
Catch [details]
28
612
1998-09-25 14:39
1998-09-25 15:10
-13.5083
136.4050
-13.5133
136.3686
Prawn Trawl (Near N_Groote 3 transect)
Catch [details]
29
612
1998-09-25 15:52
1998-09-25 16:22
-13.5100
136.3417
-13.5417
136.3400
18
Prawn Trawl (Near N_Groote 3 transect)
Catch [details]
30
612
1998-09-25 16:45
1998-09-25 17:15
-13.5667
136.3483
-13.5700
136.3817
17
Prawn Trawl (Near N_Groote 3 transect)
Catch [details]
31
612
1998-09-25 22:06
1998-09-25 22:36
-13.5133
136.5067
-13.5117
136.5400
19
Prawn Trawl (Near N_Groote 1 transect)
Catch [details]
32
612
1998-09-25 23:11
1998-09-25 23:44
-13.5300
136.5550
-13.5250
136.5250
Prawn Trawl (Near N_Groote 1 transect)
Catch [details]
33
612
1998-09-26 00:23
1998-09-26 00:53
-13.5417
136.5383
-13.5483
136.5117
Prawn Trawl (Near N_Groote 1 transect)
Catch [details]
34
612
1998-09-26 01:12
1998-09-26 01:36
-13.5500
136.4933
-13.5317
136.4750
Prawn Trawl (Near N_Groote 2 transect)
Catch [details]
35
612
1998-09-26 02:04
1998-09-26 02:33
-13.5200
136.4433
-13.5000
136.4200
Prawn Trawl (Near N_Groote 2 transect)
Catch [details]
36
612
1998-09-26 03:25
1998-09-26 03:54
-13.5300
136.4417
-13.5583
136.4267
Prawn Trawl (Near N_Groote 2 transect)
Catch [details]
37
612
1998-09-26 04:10
1998-09-26 04:37
-13.5683
136.4033
-13.5667
136.3750
Prawn Trawl (Near N_Groote 3 transect)
Catch [details]
38
612
1998-09-26 04:53
1998-09-26 05:25
-13.5617
136.3550
-13.5367
136.3417
Prawn Trawl (Near N_Groote 3 transect)
Catch [details]
39
612
1998-09-26 05:38
1998-09-26 06:10
-13.5233
136.3417
-13.5083
136.3633
Prawn Trawl (Near N_Groote 3 transect)
Catch [details]
40
612
1998-09-26 09:36
1998-09-26 10:04
-13.4400
136.3300
-13.4533
136.3067
18
Prawn Trawl (Closed N_Groote 1 transect)
Catch [details]
41
612
1998-09-26 10:33
1998-09-26 11:03
-13.4650
136.3067
-13.4500
136.3333
19
Prawn Trawl (Closed N_Groote 1 transect)
Catch [details]
42
612
1998-09-26 11:28
1998-09-26 12:00
-13.4650
136.3300
-13.4900
136.3117
18
Prawn Trawl (Closed N_Groote 1 transect)
Catch [details]
43
612
1998-09-26 12:36
1998-09-26 13:04
-13.5050
136.2950
-13.5233
136.3100
17
Prawn Trawl (Closed N_Groote 2 transect)
Catch [details]
44
612
1998-09-26 13:24
1998-09-26 13:53
-13.5267
136.3117
-13.5483
136.2933
16
Prawn Trawl (Closed N_Groote 2 transect)
Catch [details]
45
612
1998-09-26 14:15
1998-09-26 14:44
-13.5383
136.2900
-13.5533
136.3117
14
Prawn Trawl (Closed N_Groote 2 transect)
Catch [details]
46
612
1998-09-26 15:36
1998-09-26 16:06
-13.6150
136.3233
-13.6433
136.3067
Prawn Trawl (Closed N_Groote 3 transect)
Catch [details]
47
612
1998-09-26 16:26
1998-09-26 16:56
-13.6600
136.3017
-13.6350
136.3000
Prawn Trawl (Closed N_Groote 3 transect)
Catch [details]
48
612
1998-09-26 17:17
1998-09-26 17:49
-13.6183
136.2950
-13.6300
136.3283
Prawn Trawl (Closed N_Groote 3 transect)
Catch [details]
51
612
1998-09-26 22:05
1998-09-26 22:33
-13.4317
136.3383
-13.4433
136.3167
17
Prawn Trawl (Closed N_Groote 1 transect)
Catch [details]
52
612
1998-09-26 22:47
1998-09-26 23:18
-13.4533
136.3117
-13.4800
136.3150
18
Prawn Trawl (Closed N_Groote 1 transect)
Catch [details]
53
612
1998-09-26 23:29
1998-09-26 23:59
-13.4867
136.3217
-13.4983
136.3283
18
Prawn Trawl (Closed N_Groote 1 transect)
Catch [details]
54
612
1998-09-27 00:22
1998-09-27 00:52
-13.5033
136.3100
-13.5267
136.3133
17
Prawn Trawl (Closed N_Groote 2 transect)
Catch [details]
55
612
1998-09-27 01:12
1998-09-27 01:44
-13.5383
136.3017
-13.5600
136.3183
15
Prawn Trawl (Closed N_Groote 2 transect)
Catch [details]
56
612
1998-09-27 02:00
1998-09-27 02:29
-13.5567
136.3300
-13.5483
136.3033
15
Prawn Trawl (Closed N_Groote 2 transect)
Catch [details]
57
612
1998-09-27 03:23
1998-09-27 03:57
-13.6167
136.2983
-13.6383
136.3250
12
Prawn Trawl (Closed N_Groote 3 transect)
Catch [details]
58
612
1998-09-27 04:15
1998-09-27 04:44
-13.6533
136.3283
-13.6317
136.3267
16
Prawn Trawl (Closed N_Groote 3 transect)
Catch [details]
59
612
1998-09-27 05:00
1998-09-27 05:31
-13.6233
136.3200
-13.6617
136.3150
13
Prawn Trawl (Closed N_Groote 3 transect)
Catch [details]
60
612
1998-09-27 09:37
1998-09-27 10:08
-13.5633
136.3767
-13.5650
136.3450
Prawn Trawl (Near N_Groote 3 transect)
Catch [details]
61
612
1998-09-27 10:25
1998-09-27 10:55
-13.5517
136.3383
-13.5217
136.3450
Prawn Trawl (Near N_Groote 3 transect)
Catch [details]
62
612
1998-09-27 11:11
1998-09-27 11:42
-13.5067
136.3533
-13.5117
136.3817
Prawn Trawl (Near N_Groote 3 transect)
Catch [details]
63
612
1998-09-27 11:58
1998-09-27 12:31
-13.5150
136.4017
-13.5200
136.4333
Prawn Trawl (Near N_Groote 2 transect)
Catch [details]
64
612
1998-09-27 13:32
1998-09-27 14:01
-13.5650
136.4550
-13.5383
136.4450
Prawn Trawl (Near N_Groote 2 transect)
Catch [details]
65
612
1998-09-27 14:28
1998-09-27 14:59
-13.5183
136.4450
-13.5350
136.4650
18
Prawn Trawl (Near N_Groote 2 transect)
Catch [details]
66
612
1998-09-27 15:28
1998-09-27 15:58
-13.5400
136.5017
-13.5433
136.5267
20
Prawn Trawl (Near N_Groote 1 transect)
Catch [details]
67
612
1998-09-27 16:38
1998-09-27 17:08
-13.5300
136.5433
-13.5317
136.5133
20
Prawn Trawl (Near N_Groote 1 transect)
Catch [details]
68
612
1998-09-27 17:40
1998-09-27 18:10
-13.5200
136.5150
-13.5250
136.5417
20
Prawn Trawl (Near N_Groote 1 transect)
Catch [details]
69
612
1998-09-27 22:07
1998-09-27 22:38
-13.4983
136.3483
-13.5150
136.3733
17
Prawn Trawl (Near N_Groote 3 transect)
Catch [details]
70
612
1998-09-27 22:57
1998-09-27 23:27
-13.5233
136.3633
-13.5400
136.3433
Prawn Trawl (Near N_Groote 3 transect)
Catch [details]
71
612
1998-09-27 23:39
1998-09-28 00:10
-13.5467
136.3517
-13.5517
136.3850
Prawn Trawl (Near N_Groote 3 transect)
Catch [details]
72
612
1998-09-28 00:28
1998-09-28 00:59
-13.5500
136.4117
-13.5450
136.4467
Prawn Trawl (Near N_Groote 2 transect)
Catch [details]
73
612
1998-09-28 01:12
1998-09-28 01:44
-13.5383
136.4550
-13.5017
136.4517
Prawn Trawl (Near N_Groote 2 transect)
Catch [details]
74
612
1998-09-28 02:06
1998-09-28 02:35
-13.5117
136.4633
-13.5350
136.4800
Prawn Trawl (Near N_Groote 2 transect)
Catch [details]
75
612
1998-09-28 03:24
1998-09-28 03:56
-13.5333
136.5333
-13.5117
136.5083
Prawn Trawl (Near N_Groote 1 transect)
Catch [details]
76
612
1998-09-28 04:37
1998-09-28 05:10
-13.5367
136.5317
-13.5333
136.5617
Prawn Trawl (Near N_Groote 1 transect)
Catch [details]
77
612
1998-09-28 05:24
1998-09-28 05:56
-13.5300
136.5700
-13.5117
136.5417
Prawn Trawl (Near N_Groote 1 transect)
Catch [details]
78
612
1998-09-28 09:32
1998-09-28 10:02
-13.1250
136.7267
-13.1567
136.7250
31
Prawn Trawl (Far N_Groote 1 transect)
Catch [details]
79
612
1998-09-28 10:18
1998-09-28 10:47
-13.1750
136.7250
-13.2050
136.7250
27
Prawn Trawl (Far N_Groote 1 transect)
Catch [details]
80
612
1998-09-28 11:06
1998-09-28 11:36
-13.1983
136.7350
-13.1767
136.7500
28
Prawn Trawl (Far N_Groote 1 transect)
Catch [details]
81
612
1998-09-28 12:00
1998-09-28 12:30
-13.2000
136.7500
-13.2283
136.7417
28
Prawn Trawl (Far N_Groote 2 transect)
Catch [details]
82
612
1998-09-28 12:58
1998-09-28 13:28
-13.2500
136.7400
-13.2783
136.7450
27
Prawn Trawl (Far N_Groote 2 transect)
Catch [details]
83
612
1998-09-28 13:45
1998-09-28 14:15
-13.2767
136.7550
-13.2883
136.7617
28
Prawn Trawl (Far N_Groote 2 transect)
Catch [details]
84
612
1998-09-28 14:37
1998-09-28 15:09
-13.3133
136.7633
-13.3467
136.7650
Prawn Trawl (Far N_Groote 3 transect)
Catch [details]
85
612
1998-09-28 15:20
1998-09-28 15:50
-13.3517
136.7517
-13.3383
136.7200
Prawn Trawl (Far N_Groote 3 transect)
Catch [details]
86
612
1998-09-28 16:10
1998-09-28 16:38
-13.3317
136.7283
-13.3150
136.7517
Prawn Trawl (Far N_Groote 3 transect)
Catch [details]
87
612
1998-09-28 22:10
1998-09-28 22:40
-13.3050
136.7583
-13.3350
136.7467
25
Prawn Trawl (Far N_Groote 3 transect)
Catch [details]
88
612
1998-09-28 22:54
1998-09-28 23:23
-13.3350
136.7517
-13.3267
136.7800
28
Prawn Trawl (Far N_Groote 3 transect)
Catch [details]
89
612
1998-09-28 23:45
1998-09-29 00:16
-13.3117
136.7867
-13.2917
136.7650
29
Prawn Trawl (Far N_Groote 3 transect)
Catch [details]
90
612
1998-09-29 00:32
1998-09-29 01:02
-13.2767
136.7600
-13.2467
136.7633
27
Prawn Trawl (Far N_Groote 2 transect)
Catch [details]
91
612
1998-09-29 01:27
1998-09-29 01:57
-13.2300
136.8417
-13.2050
136.7950
30
Prawn Trawl (Far N_Groote 2 transect)
Catch [details]
92
612
1998-09-29 02:04
1998-09-29 02:34
-13.2033
136.7933
30
Prawn Trawl (Far N_Groote 2 transect)
Catch [details]
93
612
1998-09-29 03:13
1998-09-29 03:44
-13.1783
136.7850
-13.1517
136.7950
30
Prawn Trawl (Far N_Groote 1 transect)
Catch [details]
94
612
1998-09-29 03:57
1998-09-29 04:28
-13.1433
136.7900
-13.1300
136.7617
31
Prawn Trawl (Far N_Groote 1 transect)
Catch [details]
95
612
1998-09-29 04:43
1998-09-29 05:13
-13.1367
136.7550
-13.1683
136.7550
30
Prawn Trawl (Far N_Groote 1 transect)
Catch [details]
96
612
1998-09-29 09:35
1998-09-29 10:05
-13.6667
136.2900
-13.6450
136.2983
Prawn Trawl (Closed N_Groote 3 transect)
Catch [details]
97
612
1998-09-29 10:23
1998-09-29 10:56
-13.6317
136.3033
-13.6683
136.3083
Prawn Trawl (Closed N_Groote 3 transect)
Catch [details]
98
612
1998-09-29 11:15
1998-09-29 11:46
-13.6550
136.3067
-13.6283
136.3150
Prawn Trawl (Closed N_Groote 3 transect)
Catch [details]
99
612
1998-09-29 12:29
1998-09-29 13:00
-13.5600
136.3250
-13.5400
136.3033
Prawn Trawl (Closed N_Groote 2 transect)
Catch [details]
100
612
1998-09-29 13:16
1998-09-29 13:47
-13.5267
136.2967
-13.5067
136.3167
Prawn Trawl (Closed N_Groote 2 transect)
Catch [details]
101
612
1998-09-29 14:27
1998-09-29 14:57
-13.5417
136.3217
-13.5133
136.3183
Prawn Trawl (Closed N_Groote 2 transect)
Catch [details]
102
612
1998-09-29 15:17
1998-09-29 15:48
-13.4900
136.3167
-13.4617
136.3150
18
Prawn Trawl (Closed N_Groote 1 transect)
Catch [details]
103
612
1998-09-29 16:35
1998-09-29 17:05
-13.4533
136.3267
-13.4250
136.3300
18
Prawn Trawl (Closed N_Groote 1 transect)
Catch [details]
104
612
1998-09-29 18:03
1998-09-29 18:32
-13.4467
136.3167
-13.4733
136.3067
20
Prawn Trawl (Closed N_Groote 1 transect)
Catch [details]
105
612
1998-09-29 22:14
1998-09-29 22:45
-13.6250
136.3317
-13.6533
136.3317
Prawn Trawl (Closed N_Groote 3 transect)
Catch [details]
106
612
1998-09-29 23:10
1998-09-29 23:40
-13.6550
136.3083
-13.6217
136.3017
Prawn Trawl (Closed N_Groote 3 transect)
Catch [details]
107
612
1998-09-30 00:11
1998-09-30 00:39
-13.6350
136.3050
-13.6117
136.3250
Prawn Trawl (Closed N_Groote 3 transect)
Catch [details]
108
612
1998-09-30 01:15
1998-09-30 01:45
-13.5567
136.3250
-13.5333
136.3050
Prawn Trawl (Closed N_Groote 2 transect)
Catch [details]
109
612
1998-09-30 02:00
1998-09-30 02:29
-13.5233
136.2983
-13.5017
136.3200
Prawn Trawl (Closed N_Groote 2 transect)
Catch [details]
110
612
1998-09-30 03:25
1998-09-30 03:55
-13.5417
136.3233
-13.5100
136.3250
Prawn Trawl (Closed N_Groote 2 transect)
Catch [details]
111
612
1998-09-30 04:05
1998-09-30 04:36
-13.4983
136.3233
-13.4667
136.3200
Prawn Trawl (Closed N_Groote 1 transect)
Catch [details]
112
612
1998-09-30 04:58
1998-09-30 05:31
-13.4633
136.3200
-13.4300
136.3183
Prawn Trawl (Closed N_Groote 1 transect)
Catch [details]
113
612
1998-09-30 05:49
1998-09-30 06:19
-13.4317
136.3267
-13.4600
136.3267
Prawn Trawl (Closed N_Groote 1 transect)
Catch [details]
114
612
1998-09-30 09:36
1998-09-30 10:06
-13.5100
136.2667
16
Prawn Trawl (Closed N_Groote 2 transect)
Catch [details]
115
612
1998-09-30 10:26
1998-09-30 10:56
-13.5083
136.2883
16
Prawn Trawl (Closed N_Groote 2 transect)
Catch [details]
116
612
1998-09-30 11:11
1998-09-30 11:41
-13.5133
136.3267
-13.5433
136.3283
16
Prawn Trawl (Closed N_Groote 2 transect)
Catch [details]
117
612
1998-09-30 12:24
1998-09-30 12:56
-13.6083
136.3017
-13.6400
136.2950
13
Prawn Trawl (Closed N_Groote 3 transect)
Catch [details]
118
612
1998-09-30 13:08
1998-09-30 13:39
-13.6433
136.3017
-13.6183
136.3150
12
Prawn Trawl (Closed N_Groote 3 transect)
Catch [details]
119
612
1998-09-30 13:53
1998-09-30 14:25
-13.6150
136.3267
-13.6400
136.3317
15
Prawn Trawl (Closed N_Groote 2 transect)
Catch [details]
120
612
1998-09-30 15:40
1998-09-30 16:10
-13.4967
136.3150
-13.4667
136.3133
Prawn Trawl (Closed N_Groote 1 transect)
Catch [details]
121
612
1998-09-30 16:40
1998-09-30 17:11
-13.4750
136.3133
-13.4450
136.3167
Prawn Trawl (Closed N_Groote 1 transect)
Catch [details]
122
612
1998-09-30 17:36
1998-09-30 18:06
-13.4217
136.3267
-13.4500
136.3267
Prawn Trawl (Closed N_Groote 1 transect)
Catch [details]
123
612
1998-09-30 22:10
1998-09-30 22:39
-13.5100
136.3167
-13.5333
136.3050
17
Prawn Trawl (Closed N_Groote 2 transect)
Catch [details]
124
612
1998-09-30 23:20
1998-09-30 23:50
-13.5517
136.3133
-13.5383
136.3367
16
Prawn Trawl (Closed N_Groote 2 transect)
Catch [details]
125
612
1998-10-01 00:07
1998-10-01 00:37
-13.5300
136.3350
-13.5467
136.3183
16
Prawn Trawl (Closed N_Groote 2 transect)
Catch [details]
126
612
1998-10-01 01:20
1998-10-01 01:41
-13.6067
136.3067
-13.6167
136.3183
13
Prawn Trawl (Closed N_Groote 3 transect)
Catch [details]
127
612
1998-10-01 02:08
1998-10-01 02:40
-13.6317
136.3350
-13.6533
136.3333
16
Prawn Trawl (Closed N_Groote 3 transect)
Catch [details]
128
612
1998-10-01 03:13
1998-10-01 03:44
-13.6467
136.3067
-13.6150
136.3133
116
Prawn Trawl (Closed N_Groote 3 transect)
Catch [details]
129
612
1998-10-01 05:02
1998-10-01 05:32
-13.4817
136.3050
-13.4517
136.3117
20
Prawn Trawl (Closed N_Groote 1 transect)
Catch [details]
130
612
1998-10-01 05:42
1998-10-01 06:13
-13.4417
136.3183
-13.4200
136.3350
17
Prawn Trawl (Closed N_Groote 1 transect)
Catch [details]
131
612
1998-10-01 06:28
1998-10-01 07:00
-13.4250
136.3383
-13.4533
136.3267
Prawn Trawl (Closed N_Groote 1 transect)
Catch [details]
132
612
1998-10-01 09:35
1998-10-01 10:05
-13.5383
136.4683
-13.5233
136.4450
Prawn Trawl (Near N_Groote 2 transect)
Catch [details]
133
612
1998-10-01 10:18
1998-10-01 10:50
-13.5217
136.4367
-13.5533
136.4467
Prawn Trawl (Near N_Groote 2 transect)
Catch [details]
134
612
1998-10-01 11:10
1998-10-01 11:42
-13.5600
136.4533
Prawn Trawl (Near N_Groote 2 transect)
Catch [details]
135
612
1998-10-01 12:00
1998-10-01 12:30
-13.5583
136.3933
-13.5567
136.3633
Prawn Trawl (Near N_Groote 3 transect)
Catch [details]
136
612
1998-10-01 12:45
1998-10-01 13:15
-13.5483
136.3500
-13.5217
136.3433
Prawn Trawl (Near N_Groote 3 transect)
Catch [details]
137
612
1998-10-01 13:35
1998-10-01 14:05
-13.5083
136.3533
-13.5117
136.3800
Prawn Trawl (Near N_Groote 3 transect)
Catch [details]
138
612
1998-10-01 15:29
1998-10-01 15:59
-13.5200
136.5150
20
Prawn Trawl (Near N_Groote 1 transect)
Catch [details]
139
612
1998-10-01 16:25
1998-10-01 16:56
-13.5150
136.5483
20
Prawn Trawl (Near N_Groote 1 transect)
Catch [details]
140
612
1998-10-01 17:24
1998-10-01 17:55
-13.5100
136.5167
20
Prawn Trawl (Near N_Groote 1 transect)
Catch [details]
141
612
1998-10-01 22:14
1998-10-01 22:44
-13.5733
136.4717
-13.5717
136.4433
Prawn Trawl (Near N_Groote 2 transect)
Catch [details]
142
612
1998-10-01 23:00
1998-10-01 23:30
-13.5600
136.4400
-13.5300
136.4433
Prawn Trawl (Near N_Groote 2 transect)
Catch [details]
143
612
1998-10-01 23:50
1998-10-02 00:20
-13.5133
136.4450
-13.5117
136.4167
Prawn Trawl (Near N_Groote 2 transect)
Catch [details]
144
612
1998-10-02 00:40
1998-10-02 01:10
-13.5067
136.3617
Prawn Trawl (Near N_Groote 3 transect)
Catch [details]
145
612
1998-10-02 01:25
1998-10-02 01:55
-13.5150
136.3533
-13.5383
136.3483
Prawn Trawl (Near N_Groote 3 transect)
Catch [details]
146
612
1998-10-02 02:05
1998-10-02 02:35
-13.5500
136.3500
-13.5600
136.3767
Prawn Trawl (Near N_Groote 3 transect)
Catch [details]
147
612
1998-10-02 03:44
1998-10-02 04:15
-13.5583
136.4983
-13.5600
136.5283
Prawn Trawl (Near N_Groote 1 transect)
Catch [details]
148
612
1998-10-02 04:31
1998-10-02 05:01
-13.5500
136.5350
-13.5200
136.5333
Prawn Trawl (Near N_Groote 1 transect)
Catch [details]
149
612
1998-10-02 05:15
1998-10-02 05:45
-13.5083
136.5417
-13.5017
136.5750
Prawn Trawl (Near N_Groote 1 transect)
Catch [details]
150
612
1998-10-02 09:36
1998-10-02 10:06
-13.2933
136.7533
-13.2717
136.7433
27
Prawn Trawl (Far N_Groote 2 transect)
Catch [details]
151
612
1998-10-02 10:22
1998-10-02 10:51
-13.2567
136.7400
-13.2367
136.7333
26
Prawn Trawl (Far N_Groote 2 transect)
Catch [details]
152
612
1998-10-02 11:18
1998-10-02 11:48
-13.2650
136.7483
-13.2967
136.7567
27
Prawn Trawl (Far N_Groote 2 transect)
Catch [details]
153
612
1998-10-02 12:04
1998-10-02 12:34
-13.3117
136.7633
-13.3433
136.7683
26
Prawn Trawl (Far N_Groote 3 transect)
Catch [details]
154
612
1998-10-02 12:49
1998-10-02 13:21
-13.3433
136.7717
-13.3183
136.7734
27
Prawn Trawl (Far N_Groote 3 transect)
Catch [details]
155
612
1998-10-02 13:37
1998-10-02 14:07
-13.3100
136.7650
-13.2967
136.7417
27
Prawn Trawl (Far N_Groote 3 transect)
Catch [details]
156
612
1998-10-02 15:14
1998-10-02 15:44
-13.1817
136.7317
-13.1567
136.7300
Prawn Trawl (Far N_Groote 1 transect)
Catch [details]
157
612
1998-10-02 16:00
1998-10-02 16:30
-13.1433
136.7350
-13.1250
136.7550
Prawn Trawl (Far N_Groote 1 transect)
Catch [details]
158
612
1998-10-02 16:50
1998-10-02 17:15
-13.1350
136.7600
-13.1600
136.7583
Prawn Trawl (Far N_Groote 1 transect)
Catch [details]
159
612
1998-10-02 22:10
1998-10-02 22:38
-13.2050
136.7767
-13.2283
136.7600
28
Prawn Trawl (Far N_Groote 2 transect)
Catch [details]
160
612
1998-10-02 22:54
1998-10-02 23:26
-13.2367
136.7600
30
Prawn Trawl (Far N_Groote 2 transect)
Catch [details]
161
612
1998-10-02 23:41
1998-10-03 00:12
-13.2267
136.7950
-13.2000
136.7867
31
Prawn Trawl (Far N_Groote 2 transect)
Catch [details]
162
612
1998-10-03 00:26
1998-10-03 00:55
-13.1883
136.7833
-13.1633
136.7767
30
Prawn Trawl (Far N_Groote 3 transect)
Catch [details]
163
612
1998-10-03 01:10
1998-10-03 01:41
-13.1583
136.7633
-13.1600
136.7367
29
Prawn Trawl (Far N_Groote 3 transect)
Catch [details]
164
612
1998-10-03 01:59
1998-10-03 02:28
-13.1750
136.7383
-13.1967
136.7533
28
Prawn Trawl (Far N_Groote 3 transect)
Catch [details]
165
612
1998-10-03 03:29
1998-10-03 04:00
-13.3000
136.7567
-13.3283
136.7550
27
Prawn Trawl (Far N_Groote 1 transect)
Catch [details]
166
612
1998-10-03 04:15
1998-10-03 04:45
-13.3350
136.7483
-13.3217
136.7217
25
Prawn Trawl (Far N_Groote 1 transect)
Catch [details]
167
612
1998-10-03 04:57
1998-10-03 05:27
-13.3133
136.7233
-13.2983
136.7483
27
Prawn Trawl (Far N_Groote 1 transect)
Catch [details]
168
612
1998-10-03 09:35
1998-10-03 10:05
-13.3117
136.7500
-13.3350
136.7267
Prawn Trawl (Far N_Groote 3 transect)
Catch [details]
169
612
1998-10-03 10:19
1998-10-03 10:50
-13.3417
136.7267
-13.3367
136.7533
Prawn Trawl (Far N_Groote 3 transect)
Catch [details]
170
612
1998-10-03 11:05
1998-10-03 11:36
-13.3300
136.7617
-13.3083
136.7583
Prawn Trawl (Far N_Groote 3 transect)
Catch [details]
171
612
1998-10-03 12:05
1998-10-03 12:35
-13.2850
136.7533
-13.2650
136.7467
Prawn Trawl (Far N_Groote 2 transect)
Catch [details]
172
612
1998-10-03 13:04
1998-10-03 13:34
-13.2467
136.7533
-13.2350
136.7750
Prawn Trawl (Far N_Groote 3 transect)
Catch [details]
173
612
1998-10-03 14:21
1998-10-03 14:56
-13.2333
136.7383
-13.2100
136.7483
28
Prawn Trawl (Far N_Groote 2 transect)
Catch [details]
174
612
1998-10-03 15:17
1998-10-03 15:49
-13.1933
136.7600
-13.1733
136.7650
28
Prawn Trawl (Far N_Groote 1 transect)
Catch [details]
175
612
1998-10-03 16:14
1998-10-03 16:44
-13.1633
136.7750
-13.1917
136.7850
29
Prawn Trawl (Far N_Groote 1 transect)
Catch [details]
176
612
1998-10-03 17:11
1998-10-03 17:45
-13.1933
136.7817
-13.1633
136.7750
30
Prawn Trawl (Far N_Groote 1 transect)
Catch [details]
180
612
1998-10-03 20:53
1998-10-03 21:03
-13.1383
136.7667
-13.1500
136.7650
30
Benthic Dredge (Far N_Groote 1 transect)
Catch [details]
185
612
1998-10-03 23:03
1998-10-03 23:18
-13.1783
136.7817
-13.1917
136.7650
Benthic Dredge (Far N_Groote 1 transect)
Catch [details]
190
612
1998-10-04 01:05
1998-10-04 01:20
-13.1583
136.7333
-13.1700
136.7167
Benthic Dredge (Far N_Groote 1 transect)
Catch [details]
194
612
1998-10-04 03:05
1998-10-04 03:19
-13.1300
136.6450
-13.1117
136.6467
Benthic Dredge (Far N_Groote 4 transect)
Catch [details]
198
612
1998-10-04 05:12
1998-10-04 05:27
-13.2133
136.7483
-13.2033
136.7650
Benthic Dredge (Far N_Groote 2 transect)
Catch [details]
211
612
1998-10-04 09:44
1998-10-04 10:09
-13.5017
136.5917
-13.5117
136.5667
20
Prawn Trawl (Near N_Groote 1 transect)
Catch [details]
212
612
1998-10-04 10:25
1998-10-04 10:55
-13.5217
136.5567
-13.5183
136.5250
20
Prawn Trawl (Near N_Groote 1 transect)
Catch [details]
213
612
1998-10-04 11:08
1998-10-04 11:40
-13.5167
136.5200
20
Prawn Trawl (Near N_Groote 1 transect)
Catch [details]
214
612
1998-10-04 12:14
1998-10-04 12:45
-13.5200
136.4900
-13.5250
136.4533
1111
Prawn Trawl (Near N_Groote 2 transect)
Catch [details]
215
612
1998-10-04 13:03
1998-10-04 13:33
-13.5367
136.4583
-13.5717
136.4550
19
Prawn Trawl (Near N_Groote 2 transect)
Catch [details]
216
612
1998-10-04 13:46
1998-10-04 14:14
-13.5750
136.4450
-13.5800
136.4183
17
Prawn Trawl (Near N_Groote 2 transect)
Catch [details]
217
612
1998-10-04 14:31
1998-10-04 15:01
-13.5800
136.3967
-13.5750
136.3683
Prawn Trawl (Near N_Groote 3 transect)
Catch [details]
218
612
1998-10-04 15:15
1998-10-04 15:45
-13.5667
136.3583
-13.5450
136.3483
Prawn Trawl (Near N_Groote 3 transect)
Catch [details]
219
612
1998-10-04 16:01
1998-10-04 16:31
-13.5267
136.3483
-13.5083
136.3633
Prawn Trawl (Near N_Groote 3 transect)
Catch [details]
224
612
1998-10-04 19:06
1998-10-04 19:16
-13.5067
136.5450
-13.5150
136.5367
Benthic Dredge (Near N_Groote 1 transect)
Catch [details]
237
612
1998-10-04 22:21
1998-10-04 22:33
-13.5550
136.4617
-13.5417
136.4533
Benthic Dredge (Near N_Groote 2 transect)
Catch [details]
250
612
1998-10-05 00:41
1998-10-05 00:56
-13.5500
136.3683
-13.5517
136.3683
Benthic Dredge (Near N_Groote 3 transect)
Catch [details]
263
612
1998-10-05 00:00
1998-10-05 00:00
-13.6450
136.3150
-13.6600
136.3117
13
Benthic Dredge (Closed N_Groote 3 transect)
Catch [details]
297
612
1998-10-05 09:40
1998-10-05 10:10
-13.4133
136.3250
-13.4417
136.3283
Prawn Trawl (Closed N_Groote 1 transect)
Catch [details]
298
612
1998-10-05 10:25
1998-10-05 10:56
-13.4500
136.3200
-13.4800
136.3150
Prawn Trawl (Closed N_Groote 1 transect)
Catch [details]
299
612
1998-10-05 11:16
1998-10-05 11:46
-13.4717
136.3167
-13.5017
136.3033
Prawn Trawl (Closed N_Groote 1 transect)
Catch [details]
300
612
1998-10-05 12:02
1998-10-05 12:32
-13.5233
136.3000
-13.5567
136.2900
15
Prawn Trawl (Closed N_Groote 2 transect)
Catch [details]
301
612
1998-10-05 12:45
1998-10-05 13:16
-13.5600
136.2933
-13.5417
136.3067
15
Prawn Trawl (Closed N_Groote 2 transect)
Catch [details]
302
612
1998-10-05 13:36
1998-10-05 14:06
-13.5250
136.3200
-13.5600
136.3233
16
Prawn Trawl (Closed N_Groote 2 transect)
Catch [details]
303
612
1998-10-05 14:45
1998-10-05 15:14
-13.6183
136.3317
-13.6550
136.3300
16
Prawn Trawl (Closed N_Groote 3 transect)
Catch [details]
304
612
1998-10-05 15:28
1998-10-05 15:58
-13.6583
136.3250
-13.6400
136.3267
16
Prawn Trawl (Closed N_Groote 3 transect)
Catch [details]
305
612
1998-10-05 16:17
1998-10-05 16:47
-13.6283
136.3217
-13.6600
136.3150
14
Prawn Trawl (Closed N_Groote 3 transect)
Catch [details]
306
612
1998-10-05 20:52
1998-10-05 21:22
-14.1083
136.1667
-14.1317
136.1600
15
Prawn Trawl (Closed S_Groote 1 transect)
Catch [details]
307
612
1998-10-05 22:35
1998-10-05 23:05
-14.1417
136.1433
-14.1583
136.1217
13
Prawn Trawl (Closed S_Groote 1 transect)
Catch [details]
308
612
1998-10-05 23:20
1998-10-05 23:50
-14.1700
136.1183
-14.1883
136.1417
15
Prawn Trawl (Closed S_Groote 1 transect)
Catch [details]
309
612
1998-10-06 00:05
1998-10-06 00:36
-14.2067
136.1450
-14.2383
136.1317
15
Prawn Trawl (Closed S_Groote 2 transect)
Catch [details]
310
612
1998-10-06 01:05
1998-10-06 01:36
-14.2533
136.1117
-14.2683
136.0750
15
Prawn Trawl (Closed S_Groote 2 transect)
Catch [details]
311
612
1998-10-06 01:55
1998-10-06 02:25
-14.2800
136.0567
-14.3017
136.0817
15
Prawn Trawl (Closed S_Groote 2 transect)
Catch [details]
312
612
1998-10-06 03:05
1998-10-06 03:35
-14.3250
136.0933
-14.3350
136.0633
15
Prawn Trawl (Closed S_Groote 3 transect)
Catch [details]
313
612
1998-10-06 03:51
1998-10-06 04:21
-14.3450
136.0467
-14.3667
136.0234
16
Prawn Trawl (Closed S_Groote 3 transect)
Catch [details]
314
612
1998-10-06 04:35
1998-10-06 05:05
-14.3767
136.0267
-14.3933
136.0550
17
Prawn Trawl (Closed S_Groote 3 transect)
Catch [details]
315
612
1998-10-06 06:00
1998-10-06 06:15
-14.3483
136.0483
-14.3283
136.0483
Benthic Dredge (Closed S_Groote 3 transect)
Catch [details]
316
612
1998-10-06 09:36
1998-10-06 10:06
-14.1083
136.1467
-14.1317
136.1383
14
Prawn Trawl (Closed S_Groote 1 transect)
Catch [details]
317
612
1998-10-06 10:24
1998-10-06 10:54
-14.1517
136.1317
-14.1783
136.1217
15
Prawn Trawl (Closed S_Groote 1 transect)
Catch [details]
318
612
1998-10-06 11:10
1998-10-06 11:41
-14.1900
136.1167
-14.1967
136.1467
15
Prawn Trawl (Closed S_Groote 1 transect)
Catch [details]
319
612
1998-10-06 11:55
1998-10-06 12:30
-14.2050
136.1450
-14.2250
136.1133
14
Prawn Trawl (Closed S_Groote 2 transect)
Catch [details]
320
612
1998-10-06 12:43
1998-10-06 13:15
-14.2400
136.1033
-14.2767
136.0917
15
Prawn Trawl (Closed S_Groote 2 transect)
Catch [details]
321
612
1998-10-06 13:36
1998-10-06 14:05
-14.2833
136.0833
-14.3017
136.1083
15
Prawn Trawl (Closed S_Groote 2 transect)
Catch [details]
322
612
1998-10-06 14:30
1998-10-06 15:00
-14.3217
136.0933
-14.3417
136.0633
15
Prawn Trawl (Closed S_Groote 3 transect)
Catch [details]
323
612
1998-10-06 15:18
1998-10-06 15:48
-14.3517
136.0400
-14.3783
136.0133
15
Prawn Trawl (Closed S_Groote 3 transect)
Catch [details]
324
612
1998-10-06 16:01
1998-10-06 16:31
-14.3833
136.0133
-14.3617
136.0100
15
Prawn Trawl (Closed S_Groote 3 transect)
Catch [details]
325
612
1998-10-06 17:30
1998-10-06 17:45
-14.2883
136.0700
-14.2750
136.0817
Benthic Dredge (Closed S_Groote 2 transect)
Catch [details]
335
612
1998-10-06 22:38
1998-10-06 23:08
-14.1233
136.2383
-14.1450
136.2250
17
Prawn Trawl (Near S_Groote 1 transect)
Catch [details]
336
612
1998-10-06 23:22
1998-10-06 23:52
-14.1533
136.2200
-14.1783
136.2033
17
Prawn Trawl (Near S_Groote 1 transect)
Catch [details]
337
612
1998-10-07 00:17
1998-10-07 00:50
-14.1867
136.2167
-14.1983
136.2467
18
Prawn Trawl (Near S_Groote 1 transect)
Catch [details]
338
612
1998-10-07 01:06
1998-10-07 01:36
-14.2167
136.2450
-14.2467
136.2283
18
Prawn Trawl (Near S_Groote 2 transect)
Catch [details]
339
612
1998-10-07 01:57
1998-10-07 02:26
-14.2550
136.2150
-14.2850
136.1967
17
Prawn Trawl (Near S_Groote 2 transect)
Catch [details]
340
612
1998-10-07 03:04
1998-10-07 03:32
-14.2950
136.1633
-14.3017
136.1900
17
Prawn Trawl (Near S_Groote 2 transect)
Catch [details]
341
612
1998-10-07 03:48
1998-10-07 04:17
-14.3117
136.1983
-14.3383
136.1783
17
Prawn Trawl (Near S_Groote 3 transect)
Catch [details]
342
612
1998-10-07 04:29
1998-10-07 05:04
-14.3483
136.1700
-14.3783
136.1450
17
Prawn Trawl (Near S_Groote 3 transect)
Catch [details]
343
612
1998-10-07 05:21
1998-10-07 05:50
-14.3850
136.1400
-14.3600
136.1433
17
Prawn Trawl (Near S_Groote 3 transect)
Catch [details]
344
612
1998-10-07 06:25
1998-10-07 06:40
-14.3317
136.1550
-14.3167
136.1633
Benthic Dredge (Near S_Groote 3 transect)
Catch [details]
345
612
1998-10-07 07:11
1998-10-07 07:26
-14.2667
136.1733
-14.2500
136.1800
Benthic Dredge (Near S_Groote 2 transect)
Catch [details]
346
612
1998-10-07 09:41
1998-10-07 10:11
-14.1133
136.2400
-14.1350
136.2317
16
Prawn Trawl (Near S_Groote 1 transect)
Catch [details]
347
612
1998-10-07 10:25
1998-10-07 10:55
-14.1483
136.2267
-14.1717
136.2117
16
Prawn Trawl (Near S_Groote 1 transect)
Catch [details]
348
612
1998-10-07 11:10
1998-10-07 11:40
-14.1733
136.2083
-14.1950
136.1883
16
Prawn Trawl (Near S_Groote 1 transect)
Catch [details]
349
612
1998-10-07 11:54
1998-10-07 12:25
-14.2100
136.1850
-14.2417
136.1817
16
Prawn Trawl (Near S_Groote 2 transect)
Catch [details]
350
612
1998-10-07 12:46
1998-10-07 13:16
-14.2500
136.1783
-14.2817
136.1633
15
Prawn Trawl (Near S_Groote 2 transect)
Catch [details]
351
612
1998-10-07 13:35
1998-10-07 14:05
-14.2950
136.1700
-14.2967
136.1983
16
Prawn Trawl (Near S_Groote 2 transect)
Catch [details]
352
612
1998-10-07 14:20
1998-10-07 14:51
-14.3083
136.1983
-14.3383
136.1750
16
Prawn Trawl (Near S_Groote 3 transect)
Catch [details]
353
612
1998-10-07 15:08
1998-10-07 15:38
-14.3467
136.1683
-14.3817
136.1633
17
Prawn Trawl (Near S_Groote 3 transect)
Catch [details]
354
612
1998-10-07 15:51
1998-10-07 16:20
-14.3850
136.1567
-14.3633
136.1500
17
Prawn Trawl (Near S_Groote 3 transect)
Catch [details]
356
612
1998-10-07 18:45
1998-10-07 18:51
-14.4433
136.3767
Benthic Dredge (Far S_Groote 1 transect)
Catch [details]
357
612
1998-10-07 22:13
1998-10-07 22:42
-14.4200
136.3233
20
Prawn Trawl (Far S_Groote 1 transect)
Catch [details]
358
612
1998-10-07 22:59
1998-10-07 23:29
-14.4317
136.3617
-14.4600
136.3550
21
Prawn Trawl (Far S_Groote 1 transect)
Catch [details]
359
612
1998-10-07 23:45
1998-10-08 00:15
-14.4667
136.3633
-14.4617
136.3967
19
Prawn Trawl (Far S_Groote 1 transect)
Catch [details]
360
612
1998-10-08 00:34
1998-10-08 01:04
-14.4483
136.4100
-14.4233
136.4217
22
Prawn Trawl (Far S_Groote 2 transect)
Catch [details]
361
612
1998-10-08 01:20
1998-10-08 01:51
-14.4250
136.4317
-14.4500
136.4483
22
Prawn Trawl (Far S_Groote 2 transect)
Catch [details]
362
612
1998-10-08 02:16
1998-10-08 02:46
-14.4583
136.4667
-14.4417
136.4867
24
Prawn Trawl (Far S_Groote 2 transect)
Catch [details]
363
612
1998-10-08 03:25
1998-10-08 03:55
-14.4167
136.5250
26
Prawn Trawl (Far S_Groote 3 transect)
Catch [details]
364
612
1998-10-08 04:10
1998-10-08 04:40
-14.4283
136.5633
-14.4550
136.5733
27
Prawn Trawl (Far S_Groote 3 transect)
Catch [details]
365
612
1998-10-08 05:00
1998-10-08 05:30
-14.4633
136.5600
-14.4617
136.5267
26
Prawn Trawl (Far S_Groote 3 transect)
Catch [details]
375
612
1998-10-08 09:42
1998-10-08 10:11
-14.4433
136.3833
-14.4600
136.3633
21
Prawn Trawl (Far S_Groote 1 transect)
Catch [details]
376
612
1998-10-08 10:27
1998-10-08 10:56
-14.4667
136.3667
-14.4700
136.3984
21
Prawn Trawl (Far S_Groote 1 transect)
Catch [details]
377
612
1998-10-08 11:11
1998-10-08 11:40
-14.4767
136.3984
-14.4933
136.3800
20
Prawn Trawl (Far S_Groote 1 transect)
Catch [details]
378
612
1998-10-08 12:00
1998-10-08 12:29
-14.4950
136.4017
-14.4900
136.4317
20
Prawn Trawl (Far S_Groote 2 transect)
Catch [details]
379
612
1998-10-08 12:48
1998-10-08 13:18
-14.4850
136.4567
-14.4800
136.4833
23
Prawn Trawl (Far S_Groote 2 transect)
Catch [details]
380
612
1998-10-08 13:31
1998-10-08 14:00
-14.4733
136.4917
-14.4433
136.4917
24
Prawn Trawl (Far S_Groote 2 transect)
Catch [details]
381
612
1998-10-08 14:19
1998-10-08 14:49
-14.4333
136.5017
-14.4383
136.5267
26
Prawn Trawl (Far S_Groote 3 transect)
Catch [details]
382
612
1998-10-08 15:05
1998-10-08 15:36
-14.4333
136.5417
-14.4150
136.5650
26
Prawn Trawl (Far S_Groote 3 transect)
Catch [details]
383
612
1998-10-08 15:51
1998-10-08 16:21
-14.4117
136.5567
-14.4150
136.5217
26
Prawn Trawl (Far S_Groote 3 transect)
Catch [details]
384
612
1998-10-08 16:50
1998-10-08 17:04
-14.4300
136.5067
-14.4317
136.5234
Benthic Dredge (Far S_Groote 3 transect)
Catch [details]
436
612
1998-10-09 09:42
1998-10-09 10:13
-14.2067
136.1850
-14.2333
136.1883
16
Prawn Trawl (Near S_Groote 2 transect)
Catch [details]
437
612
1998-10-09 10:25
1998-10-09 10:55
-14.2450
136.1833
-14.2667
136.1683
16
Prawn Trawl (Near S_Groote 2 transect)
Catch [details]
438
612
1998-10-09 11:14
1998-10-09 11:44
-14.2667
136.1667
-14.2917
136.1633
15
Prawn Trawl (Near S_Groote 2 transect)
Catch [details]
439
612
1998-10-09 12:00
1998-10-09 12:30
-14.3083
136.1617
-14.3350
136.1533
16
Prawn Trawl (Near S_Groote 3 transect)
Catch [details]
440
612
1998-10-09 12:44
1998-10-09 13:14
-14.3500
136.1484
-14.3783
136.1400
16
Prawn Trawl (Near S_Groote 3 transect)
Catch [details]
441
612
1998-10-09 13:29
1998-10-09 13:59
-14.3783
136.1450
-14.3600
136.1650
16
Prawn Trawl (Near S_Groote 3 transect)
Catch [details]
442
612
1998-10-09 15:24
1998-10-09 15:54
-14.1933
136.2217
-14.1767
136.2367
18
Prawn Trawl (Near S_Groote 1 transect)
Catch [details]
443
612
1998-10-09 16:07
1998-10-09 16:36
-14.1650
136.2433
-14.1483
136.2583
16
Prawn Trawl (Near S_Groote 1 transect)
Catch [details]
444
612
1998-10-09 16:52
1998-10-09 17:25
-14.1383
136.2617
-14.1117
136.2633
16
Prawn Trawl (Near S_Groote 1 transect)
Catch [details]
445
612
1998-10-09 17:55
1998-10-09 18:09
-14.0917
136.2617
-14.1050
136.2600
Benthic Dredge (Near S_Groote 1 transect)
Catch [details]
452
612
1998-10-09 20:15
1998-10-09 20:28
-14.1367
136.1600
-14.1233
136.1617
Benthic Dredge (Closed S_Groote 1 transect)
Catch [details]
468
612
1998-10-10 10:16
1998-10-10 10:47
-14.2600
136.1217
-14.2400
136.1250
Prawn Trawl (Closed S_Groote 2 transect)
Catch [details]
469
612
1998-10-10 10:47
1998-10-10 11:15
-14.2600
136.1217
-14.2833
136.1150
16
Prawn Trawl (Closed S_Groote 2 transect)
Catch [details]
470
612
1998-10-10 11:27
1998-10-10 11:56
-14.2883
136.1067
-14.2917
136.0800
16
Prawn Trawl (Closed S_Groote 2 transect)
Catch [details]
471
612
1998-10-10 12:08
1998-10-10 12:37
-14.3017
136.0750
-14.3267
136.0767
16
Prawn Trawl (Closed S_Groote 3 transect)
Catch [details]
472
612
1998-10-10 13:01
1998-10-10 13:30
-14.3500
136.0683
-14.3767
136.0600
17
Prawn Trawl (Closed S_Groote 3 transect)
Catch [details]
473
612
1998-10-10 13:50
1998-10-10 14:19
-14.3617
136.0550
-14.3333
136.0567
17
Prawn Trawl (Closed S_Groote 3 transect)
Catch [details]
474
612
1998-10-10 15:50
1998-10-10 16:20
-14.1883
136.1067
-14.1650
136.1183
15
Prawn Trawl (Closed S_Groote 1 transect)
Catch [details]
475
612
1998-10-10 16:35
1998-10-10 17:05
-14.1517
136.1250
-14.1350
136.1417
15
Prawn Trawl (Closed S_Groote 1 transect)
Catch [details]
476
612
1998-10-10 17:29
1998-10-10 17:59
-14.1533
136.1467
-14.1867
136.1400
14
Prawn Trawl (Closed S_Groote 1 transect)
Catch [details]
477
612
1998-10-10 19:35
1998-10-10 19:50
-14.4250
136.0483
-14.4433
136.0383
Benthic Dredge (Closed S_Groote 4 transect)
Catch [details]
527
612
1998-10-11 09:51
1998-10-11 10:21
-14.4467
136.4133
-14.4200
136.4283
22
Prawn Trawl (Far S_Groote 2 transect)
Catch [details]
528
612
1998-10-11 10:36
1998-10-11 11:06
-14.4200
136.4367
-14.4433
136.4517
23
Prawn Trawl (Far S_Groote 2 transect)
Catch [details]
529
612
1998-10-11 11:20
1998-10-11 11:52
-14.4433
136.4617
-14.4267
136.4883
23
Prawn Trawl (Far S_Groote 2 transect)
Catch [details]
530
612
1998-10-11 12:40
1998-10-11 13:10
-14.4200
136.5417
-14.4267
136.5700
26
Prawn Trawl (Far S_Groote 3 transect)
Catch [details]
531
612
1998-10-11 13:35
1998-10-11 14:05
-14.4433
136.5783
-14.4650
136.5583
27
Prawn Trawl (Far S_Groote 3 transect)
Catch [details]
532
612
1998-10-11 14:34
1998-10-11 15:03
-14.4567
136.5150
-14.4550
136.4833
24
Prawn Trawl (Far S_Groote 3 transect)
Catch [details]
533
612
1998-10-11 15:54
1998-10-11 16:25
-14.4583
136.3900
-14.4600
136.3567
21
Prawn Trawl (Far S_Groote 1 transect)
Catch [details]
534
612
1998-10-11 16:41
1998-10-11 17:14
-14.4500
136.3550
-14.4400
136.3850
Prawn Trawl (Far S_Groote 1 transect)
Catch [details]
535
612
1998-10-11 19:05
1998-10-11 19:36
-14.4217
136.3617
-14.4350
136.3333
21
Prawn Trawl (Far S_Groote 1 transect)
Catch [details]
536
612
1998-10-11 23:55
1998-10-12 00:26
-14.4250
136.5650
-14.4350
136.6017
27
Prawn Trawl (Far S_Groote 3 transect)
Catch [details]
537
612
1998-10-12 00:56
1998-10-12 01:27
-14.4467
136.5967
-14.4583
136.5750
27
Prawn Trawl (Far S_Groote 3 transect)
Catch [details]
538
612
1998-10-12 02:00
1998-10-12 02:29
-14.4617
136.5433
-14.4533
136.5267
27
Prawn Trawl (Far S_Groote 3 transect)
Catch [details]
539
612
1998-10-12 03:50
1998-10-12 04:20
-14.4483
136.4000
-14.4700
136.3883
20
Prawn Trawl (Far S_Groote 1 transect)
Catch [details]
540
612
1998-10-12 04:41
1998-10-12 05:02
-14.4850
136.3700
-14.4933
136.3533
18
Prawn Trawl (Far S_Groote 1 transect)
Catch [details]
541
612
1998-10-12 05:14
1998-10-12 05:43
-14.4900
136.3533
-14.4717
136.3733
18
Prawn Trawl (Far S_Groote 1 transect)
Catch [details]
542
612
1998-10-12 06:05
1998-10-12 06:35
-14.4533
136.4050
-14.4333
136.4233
21
Prawn Trawl (Far S_Groote 2 transect)
Catch [details]
543
612
1998-10-12 06:52
1998-10-12 07:22
-14.4267
136.4400
-14.4283
136.4667
24
Prawn Trawl (Far S_Groote 2 transect)
Catch [details]
544
612
1998-10-12 07:40
1998-10-12 08:08
-14.4317
136.4733
-14.4467
136.4467
24
Prawn Trawl (Far S_Groote 2 transect)
Catch [details]
545
612
1998-10-12 10:38
1998-10-12 11:07
-14.4183
136.5267
-14.4200
136.5500
27
Prawn Trawl (Far S_Groote 3 transect)
Catch [details]
546
612
1998-10-12 11:33
1998-10-12 12:03
-14.4417
136.5550
-14.4467
136.5234
27
Prawn Trawl (Far S_Groote 3 transect)
Catch [details]
547
612
1998-10-12 12:27
1998-10-12 12:57
-14.4517
136.5150
-14.4617
136.5400
26
Prawn Trawl (Far S_Groote 3 transect)
Catch [details]
548
612
1998-10-12 14:10
1998-10-12 14:36
-14.4600
136.3967
-14.4500
136.3717
21
Prawn Trawl (Far S_Groote 1 transect)
Catch [details]
549
612
1998-10-12 14:47
1998-10-12 15:17
-14.4550
136.3617
-14.4817
136.3483
Prawn Trawl (Far S_Groote 1 transect)
Catch [details]
550
612
1998-10-12 15:33
1998-10-12 16:03
-14.4933
136.3483
-14.4767
136.3717
Prawn Trawl (Far S_Groote 1 transect)
Catch [details]
551
612
1998-10-12 16:37
1998-10-12 17:07
-14.4517
136.4083
-14.4250
136.4217
22
Prawn Trawl (Far S_Groote 2 transect)
Catch [details]
552
612
1998-10-12 17:31
1998-10-12 18:01
-14.4167
136.4333
-14.4433
136.4433
23
Prawn Trawl (Far S_Groote 2 transect)
Catch [details]
553
612
1998-10-12 18:25
1998-10-12 18:56
-14.4383
136.4600
-14.4233
136.4850
23
Prawn Trawl (Far S_Groote 2 transect)
Catch [details]
554
612
1998-10-12 22:10
1998-10-12 22:39
-14.3750
136.1517
-14.3500
136.1667
17
Prawn Trawl (Near S_Groote 3 transect)
Catch [details]
555
612
1998-10-12 23:01
1998-10-12 23:31
-14.3283
136.1750
-14.3000
136.1900
17
Prawn Trawl (Near S_Groote 3 transect)
Catch [details]
556
612
1998-10-12 23:55
1998-10-13 00:24
-14.2983
136.1800
-14.3117
136.1583
16
Prawn Trawl (Near S_Groote 3 transect)
Catch [details]
557
612
1998-10-13 01:30
1998-10-13 01:58
-14.1933
136.2117
-14.1667
136.2283
18
Prawn Trawl (Near S_Groote 1 transect)
Catch [details]
558
612
1998-10-13 03:33
1998-10-13 04:00
-14.1433
136.2750
-14.1667
136.2667
16
Prawn Trawl (Near S_Groote 1 transect)
Catch [details]
559
612
1998-10-13 04:24
1998-10-13 04:50
-14.1750
136.2483
-14.1983
136.2567
15
Prawn Trawl (Near S_Groote 1 transect)
Catch [details]
560
612
1998-10-13 05:16
1998-10-13 05:43
-14.2250
136.2367
-14.2483
136.2183
17
Prawn Trawl (Near S_Groote 2 transect)
Catch [details]
561
612
1998-10-13 06:03
1998-10-13 06:33
-14.2600
136.1967
-14.2900
136.1783
15
Prawn Trawl (Near S_Groote 2 transect)
Catch [details]
562
612
1998-10-13 06:56
1998-10-13 07:25
-14.2850
136.1700
-14.2667
136.1783
15
Prawn Trawl (Near S_Groote 2 transect)
Catch [details]
563
612
1998-10-13 09:40
1998-10-13 10:10
-14.3867
136.1267
-14.3667
136.1383
15
Prawn Trawl (Near S_Groote 3 transect)
Catch [details]
564
612
1998-10-13 10:40
1998-10-13 11:10
-14.3417
136.1484
-14.3200
136.1583
16
Prawn Trawl (Near S_Groote 3 transect)
Catch [details]
565
612
1998-10-13 11:50
1998-10-13 12:20
-14.3450
136.1533
-14.3217
136.1683
16
Prawn Trawl (Near S_Groote 3 transect)
Catch [details]
566
612
1998-10-13 13:30
1998-10-13 14:00
-14.2017
136.1867
-14.1800
136.2083
16
Prawn Trawl (Near S_Groote 1 transect)
Catch [details]
567
612
1998-10-13 14:16
1998-10-13 14:45
-14.1633
136.2200
-14.1350
136.2350
17
Prawn Trawl (Near S_Groote 1 transect)
Catch [details]
568
612
1998-10-13 15:16
1998-10-13 15:46
-14.1683
136.2267
-14.1900
136.2133
18
Prawn Trawl (Near S_Groote 1 transect)
Catch [details]
569
612
1998-10-13 16:22
1998-10-13 16:52
-14.2083
136.2117
-14.2333
136.2200
17
Prawn Trawl (Near S_Groote 2 transect)
Catch [details]
570
612
1998-10-13 17:17
1998-10-13 17:47
-14.2400
136.2267
-14.2117
136.2167
18
Prawn Trawl (Near S_Groote 2 transect)
Catch [details]
571
612
1998-10-13 18:10
1998-10-13 18:39
-14.2083
136.2233
-14.2350
136.2317
18
Prawn Trawl (Near S_Groote 2 transect)
Catch [details]
578
612
1998-10-13 22:25
1998-10-13 22:55
-14.3267
136.0533
-14.3550
136.0617
Prawn Trawl (Closed S_Groote 3 transect)
Catch [details]
579
612
1998-10-13 23:15
1998-10-13 23:45
-14.3600
136.0667
-14.3333
136.0783
16
Prawn Trawl (Closed S_Groote 3 transect)
Catch [details]
580
612
1998-10-14 00:14
1998-10-14 00:45
-14.3383
136.0750
-14.3083
136.0900
16
Prawn Trawl (Closed S_Groote 3 transect)
Catch [details]
582
612
1998-10-14 02:20
1998-10-14 02:50
-14.1667
136.1250
-14.1350
136.1367
14
Prawn Trawl (Closed S_Groote 1 transect)
Catch [details]
583
612
1998-10-14 03:29
1998-10-14 04:00
-14.1050
136.1467
-14.1283
136.1383
14
Prawn Trawl (Closed S_Groote 1 transect)
Catch [details]
584
612
1998-10-14 04:21
1998-10-14 04:51
-14.1500
136.1317
-14.1767
136.1233
14
Prawn Trawl (Closed S_Groote 1 transect)
Catch [details]
585
612
1998-10-14 05:20
1998-10-14 05:50
-14.2133
136.1100
-14.2417
136.1000
14
Prawn Trawl (Closed S_Groote 2 transect)
Catch [details]
586
612
1998-10-14 06:10
1998-10-14 06:37
-14.2467
136.0983
-14.2750
136.0867
14
Prawn Trawl (Closed S_Groote 2 transect)
Catch [details]
587
612
1998-10-14 07:18
1998-10-14 07:47
-14.3067
136.0667
-14.2867
136.0567
14
Prawn Trawl (Closed S_Groote 2 transect)
Catch [details]
588
612
1998-10-14 09:59
1998-10-14 10:29
-14.3667
135.9983
-14.3483
136.0100
15
Prawn Trawl (Closed S_Groote 3 transect)
Catch [details]
589
612
1998-10-14 10:54
1998-10-14 11:23
-14.3317
136.0150
-14.3100
136.0234
15
Prawn Trawl (Closed S_Groote 3 transect)
Catch [details]
590
612
1998-10-14 12:15
1998-10-14 12:45
-14.3283
136.0750
-14.3017
136.0750
15
Prawn Trawl (Closed S_Groote 3 transect)
Catch [details]
591
612
1998-10-14 13:58
1998-10-14 14:25
-14.1800
136.1500
-14.1600
136.1617
15
Prawn Trawl (Closed S_Groote 1 transect)
Catch [details]
592
612
1998-10-14 15:42
1998-10-14 16:12
-14.1150
136.1417
-14.1400
136.1333
14
Prawn Trawl (Closed S_Groote 1 transect)
Catch [details]
593
612
1998-10-14 16:31
1998-10-14 17:01
-14.1417
136.1333
-14.1667
136.1250
14
Prawn Trawl (Closed S_Groote 1 transect)
Catch [details]
594
612
1998-10-14 17:17
1998-10-14 17:47
-14.1667
136.1233
-14.1933
136.1133
15
Prawn Trawl (Closed S_Groote 1 transect)
Catch [details]
595
612
1998-10-14 18:02
1998-10-14 18:33
-14.2117
136.1050
-14.2400
136.0933
15
Prawn Trawl (Closed S_Groote 2 transect)
Catch [details]
596
612
1998-10-14 18:48
1998-10-14 19:18
-14.2583
136.0850
-14.2867
136.0733
15
Prawn Trawl (Closed S_Groote 2 transect)
Catch [details]
597
612
1998-10-14 19:30
1998-10-14 20:00
-14.2917
136.0750
-14.2683
136.0900
15
Prawn Trawl (Closed S_Groote 2 transect)
Catch [details]
598
612
1998-10-14 22:00
1998-10-14 22:30
-14.1300
136.1383
-14.1567
136.1283
15
Prawn Trawl (Closed S_Groote 1 transect)
Catch [details]
599
612
1998-10-14 22:45
1998-10-14 23:14
-14.1717
136.1233
-14.1967
136.1133
15
Prawn Trawl (Closed S_Groote 1 transect)
Catch [details]
600
612
1998-10-14 23:29
1998-10-14 23:58
-14.2000
136.1217
-14.1800
136.1417
15
Prawn Trawl (Closed S_Groote 1 transect)
Catch [details]
601
612
1998-10-15 00:30
1998-10-15 01:04
-14.2017
136.1450
-14.2300
136.1367
15
Prawn Trawl (Closed S_Groote 2 transect)
Catch [details]
602
612
1998-10-15 01:20
1998-10-15 01:50
-14.2450
136.1317
-14.2683
136.1200
15
Prawn Trawl (Closed S_Groote 2 transect)
Catch [details]
603
612
1998-10-15 02:04
1998-10-15 02:34
-14.2817
136.1133
-14.2950
136.0917
16
Prawn Trawl (Closed S_Groote 2 transect)
Catch [details]
604
612
1998-10-15 03:07
1998-10-15 03:35
-14.3333
136.0833
-14.3583
136.0767
15
Prawn Trawl (Closed S_Groote 3 transect)
Catch [details]
605
612
1998-10-15 03:50
1998-10-15 04:17
-14.3717
136.0733
-14.3967
136.0650
16
Prawn Trawl (Closed S_Groote 3 transect)
Catch [details]
606
612
1998-10-15 04:36
1998-10-15 05:05
-14.3917
136.0750
-14.3700
136.0883
16
Prawn Trawl (Closed S_Groote 3 transect)
Catch [details]
616
612
1998-10-15 09:45
1998-10-15 10:16
-14.3683
136.0717
-14.3467
136.0783
15
Prawn Trawl (Closed S_Groote 3 transect)
Catch [details]
617
612
1998-10-15 10:34
1998-10-15 11:06
-14.3283
136.0850
-14.3067
136.0933
15
Prawn Trawl (Closed S_Groote 3 transect)
Catch [details]
618
612
1998-10-15 11:59
1998-10-15 12:30
-14.3550
136.0650
-14.3317
136.0700
15
Prawn Trawl (Closed S_Groote 3 transect)
Catch [details]
619
612
1998-10-15 12:50
1998-10-15 13:20
-14.3100
136.0767
-14.2850
136.0833
15
Prawn Trawl (Closed S_Groote 2 transect)
Catch [details]
620
612
1998-10-15 14:15
1998-10-15 14:45
-14.2333
136.0983
-14.2600
136.0867
15
Prawn Trawl (Closed S_Groote 2 transect)
Catch [details]
621
612
1998-10-15 15:12
1998-10-15 15:42
-14.2633
136.1100
-14.2383
136.1267
16
Prawn Trawl (Closed S_Groote 2 transect)
Catch [details]
622
612
1998-10-15 16:20
1998-10-15 16:50
-14.1817
136.1533
-14.1550
136.1683
16
Prawn Trawl (Closed S_Groote 1 transect)
Catch [details]
623
612
1998-10-15 17:13
1998-10-15 17:43
-14.1617
136.1717
-14.1817
136.1600
16
Prawn Trawl (Closed S_Groote 1 transect)
Catch [details]
624
612
1998-10-15 18:10
1998-10-15 18:40
-14.1767
136.1550
-14.1483
136.1633
15
Prawn Trawl (Closed S_Groote 1 transect)
Catch [details]
625
612
1998-10-15 22:05
1998-10-15 22:35
-14.3983
136.3733
-14.4167
136.3933
21
Prawn Trawl (Far S_Groote 1 transect)
Catch [details]
626
612
1998-10-15 22:57
1998-10-15 23:29
-14.4267
136.3950
-14.4167
136.3600
21
Prawn Trawl (Far S_Groote 1 transect)
Catch [details]
627
612
1998-10-15 23:50
1998-10-16 00:21
-14.4067
136.3450
21
Prawn Trawl (Far S_Groote 1 transect)
Catch [details]
628
612
1998-10-16 00:44
1998-10-16 01:15
-14.4183
136.4050
-14.4383
136.4250
22
Prawn Trawl (Far S_Groote 2 transect)
Catch [details]
629
612
1998-10-16 01:40
1998-10-16 02:10
-14.4550
136.4450
-14.4750
136.4683
23
Prawn Trawl (Far S_Groote 2 transect)
Catch [details]
630
612
1998-10-16 02:27
1998-10-16 02:57
-14.4667
136.4783
-14.4367
136.4917
23
Prawn Trawl (Far S_Groote 2 transect)
Catch [details]
631
612
1998-10-16 03:45
1998-10-16 04:15
-14.4283
136.5417
-14.4483
136.5683
26
Prawn Trawl (Far S_Groote 3 transect)
Catch [details]
632
612
1998-10-16 04:30
1998-10-16 05:00
-14.4550
136.5700
26
Prawn Trawl (Far S_Groote 3 transect)
Catch [details]
633
612
1998-10-16 05:20
1998-10-16 05:50
-14.4433
136.5433
-14.4367
136.5767
27
Prawn Trawl (Far S_Groote 3 transect)
Catch [details]
634
612
1998-10-16 09:04
1998-10-16 09:12
-14.4583
136.4700
-14.4633
136.4717
Benthic Dredge (Far S_Groote 2 transect)
Catch [details]
635
612
1998-10-16 09:50
1998-10-16 10:20
-14.4717
136.5133
-14.4700
136.5383
24
Prawn Trawl (Far S_Groote 3 transect)
Catch [details]
637
612
1998-10-16 11:52
1998-10-16 12:22
-14.4917
136.5617
-14.4867
136.5300
24
Prawn Trawl (Far S_Groote 3 transect)
Catch [details]
638
612
1998-10-16 12:41
1998-10-16 13:10
-14.4800
136.5183
-14.4817
136.5333
24
Prawn Trawl (Far S_Groote 3 transect)
Catch [details]
639
612
1998-10-16 13:46
1998-10-16 14:15
-14.4833
136.4917
-14.4817
136.4617
24
Prawn Trawl (Far S_Groote 2 transect)
Catch [details]
640
612
1998-10-16 14:34
1998-10-16 15:04
-14.4750
136.4400
-14.4483
136.4200
22
Prawn Trawl (Far S_Groote 2 transect)
Catch [details]
641
612
1998-10-16 15:55
1998-10-16 16:25
-14.4217
136.4283
-14.4200
136.3950
22
Prawn Trawl (Far S_Groote 2 transect)
Catch [details]
642
612
1998-10-16 16:45
1998-10-16 17:15
-14.4183
136.3833
-14.4167
136.3500
22
Prawn Trawl (Far S_Groote 2 transect)
Catch [details]
643
612
1998-10-16 17:35
1998-10-16 18:05
-14.4133
136.3267
-14.4083
136.3567
21
Prawn Trawl (Far S_Groote 1 transect)
Catch [details]
644
612
1998-10-16 18:25
1998-10-16 18:55
-14.4083
136.3800
-14.4283
136.3984
22
Prawn Trawl (Far S_Groote 1 transect)
Catch [details]
645
612
1998-10-16 22:05
1998-10-16 22:34
-14.1200
136.2350
-14.1467
136.2250
16
Prawn Trawl (Near S_Groote 1 transect)
Catch [details]
646
612
1998-10-16 22:52
1998-10-16 23:22
-14.1567
136.2367
-14.1833
136.2450
18
Prawn Trawl (Near S_Groote 1 transect)
Catch [details]
647
612
1998-10-16 23:42
1998-10-17 00:12
-14.1750
136.2333
-14.2050
136.2333
17
Prawn Trawl (Near S_Groote 1 transect)
Catch [details]
648
612
1998-10-17 00:31
1998-10-17 01:00
-14.2050
136.2317
-14.2317
136.2250
18
Prawn Trawl (Near S_Groote 2 transect)
Catch [details]
649
612
1998-10-17 01:27
1998-10-17 01:58
-14.2567
136.2183
-14.2833
136.2083
17
Prawn Trawl (Near S_Groote 2 transect)
Catch [details]
650
612
1998-10-17 02:15
1998-10-17 02:43
-14.2933
136.2000
17
Prawn Trawl (Near S_Groote 2 transect)
Catch [details]
651
612
1998-10-17 03:22
1998-10-17 03:52
-14.3000
136.1633
-14.3100
136.1917
16
Prawn Trawl (Near S_Groote 3 transect)
Catch [details]
652
612
1998-10-17 04:06
1998-10-17 04:34
-14.3167
136.1983
-14.3400
136.1833
17
Prawn Trawl (Near S_Groote 3 transect)
Catch [details]
653
612
1998-10-17 04:48
1998-10-17 05:19
-14.3500
136.1767
-14.3750
136.1617
17
Prawn Trawl (Near S_Groote 3 transect)
Catch [details]
660
612
1998-10-17 09:45
1998-10-17 10:15
-14.3883
136.1133
-14.3650
136.1250
15
Prawn Trawl (Near S_Groote 3 transect)
Catch [details]
661
612
1998-10-17 10:30
1998-10-17 11:00
-14.3517
136.1283
-14.3283
136.1317
15
Prawn Trawl (Near S_Groote 3 transect)
Catch [details]
662
612
1998-10-17 11:20
1998-10-17 11:50
-14.3267
136.1300
-14.3033
136.1333
15
Prawn Trawl (Near S_Groote 3 transect)
Catch [details]
663
612
1998-10-17 12:05
1998-10-17 12:35
-14.2917
136.1367
-14.2733
136.1484
15
Prawn Trawl (Near S_Groote 2 transect)
Catch [details]
664
612
1998-10-17 12:50
1998-10-17 13:20
-14.2617
136.1533
-14.2400
136.1600
15
Prawn Trawl (Near S_Groote 2 transect)
Catch [details]
665
612
1998-10-17 13:40
1998-10-17 14:10
-14.2250
136.1683
-14.2050
136.1817
15
Prawn Trawl (Near S_Groote 2 transect)
Catch [details]
666
612
1998-10-17 14:42
1998-10-17 15:12
-14.1800
136.1950
-14.1583
136.2017
16
Prawn Trawl (Near S_Groote 1 transect)
Catch [details]
667
612
1998-10-17 15:32
1998-10-17 16:03
-14.1433
136.2083
-14.1200
136.2217
16
Prawn Trawl (Near S_Groote 1 transect)