Please login if you have access to particular applications.
Catch Data - from CSIRO surveys.
CAAB Code:
37 018013 [taxon report]
Scientific Name
and Authority:
Carcharhinus sorrah (Müller & Henle, 1839)
CAAB category:
37 - Pisces
Standard Name (AS5300):
Spot-Tail Shark
Distribution map:
View detailed map or click on map to see same.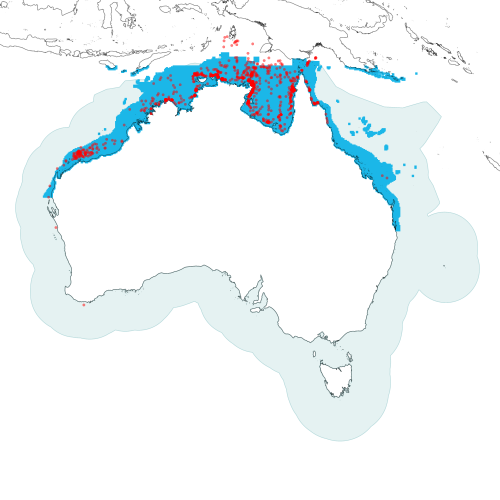 Modelled distribution shown as blue polygon (source: Australian National Fish Expert Distributions) Updated on 2014-08-11.
Occurrence locations [1000] shown as red circles - View CSIRO Catch records
Get expert distribution shapefile
Catch records - 1000 records found.
Click on survey to see survey details. Click on Operation to see full details of the catch. Use the CSV button at the bottom to export data.
Date (UTC)
Position
Survey
Operation
Depth
Range (m)
Count
Weight (kg)
Method
Effort
Gear
1966-09-02 00:00
24° 31.0' S 113° 05.0' E
RADU196608
15
60 to 60
2
Trawl
60 minutes
1966-09-03 00:00
27° 41.1' S 113° 56.1' E
RADU196608
17
45 to 55
2
Trawl
60 minutes
1967-05-27 00:00
10° 05.1' S 133° 31.0' E
BERG196705
6
80 to 80
4
Trawl
60 minutes
1967-05-28 00:00
11° 02.1' S 135° 35.0' E
BERG196705
11
46 to 49
7
Trawl
60 minutes
1967-05-28 00:00
10° 30.0' S 134° 45.0' E
BERG196705
8
53 to 55
3
Trawl
60 minutes
1967-05-28 00:00
10° 41.0' S 135° 05.1' E
BERG196705
9
55 to 55
5
Trawl
60 minutes
1967-05-29 00:00
11° 22.2' S 137° 39.0' E
BERG196705
16
50 to 50
1
Trawl
60 minutes
1967-05-29 00:00
11° 40.0' S 137° 38.0' E
BERG196705
17
47 to 47
1
Trawl
60 minutes
1967-05-29 00:00
11° 06.0' S 137° 26.0' E
BERG196705
15
53 to 53
1
Trawl
10 minutes
1967-05-30 00:00
12° 21.1' S 137° 23.0' E
BERG196705
19
47 to 47
1
Trawl
60 minutes
1967-05-30 00:00
12° 47.0' S 137° 31.0' E
BERG196705
21
55 to 55
4
Trawl
60 minutes
1967-05-30 00:00
13° 06.1' S 137° 16.1' E
BERG196705
22
48 to 48
1
Trawl
25 minutes
1967-05-31 00:00
14° 51.1' S 137° 43.0' E
BERG196705
29
53 to 54
2
Trawl
60 minutes
1967-05-31 00:00
14° 38.1' S 137° 55.1' E
BERG196705
30
55 to 56
1
Trawl
60 minutes
1967-05-31 00:00
13° 57.1' S 138° 32.0' E
BERG196705
32
58 to 59
2
Trawl
63 minutes
1967-06-01 00:00
12° 13.0' S 139° 39.0' E
BERG196705
38
59 to 60
1
Trawl
65 minutes
1967-06-02 00:00
10° 31.0' S 138° 47.1' E
BERG196705
45
55 to 55
1
Trawl
60 minutes
1967-06-03 00:00
10° 48.1' S 136° 40.0' E
BERG196705
50
52 to 52
2
Trawl
60 minutes
1967-06-03 00:00
10° 48.0' S 136° 16.0' E
BERG196705
51
45 to 46
1
Trawl
60 minutes
1967-06-04 00:00
10° 46.0' S 133° 06.1' E
BERG196705
58
63 to 63
1
Trawl
60 minutes
1967-06-05 00:00
10° 50.1' S 130° 01.1' E
BERG196705
66
74 to 80
8
Trawl
60 minutes
1967-06-05 00:00
10° 45.1' S 130° 21.0' E
BERG196705
65
70 to 72
1
Trawl
60 minutes
1967-06-06 00:00
12° 08.0' S 128° 23.1' E
BERG196705
70
108 to 110
5
Trawl
60 minutes
1967-06-07 00:00
12° 56.0' S 127° 40.1' E
BERG196705
74
74 to 78
7
Trawl
60 minutes
1967-06-07 00:00
13° 09.2' S 127° 35.1' E
BERG196705
75
50 to 67
1
Trawl
60 minutes
1967-06-07 00:00
13° 31.0' S 127° 04.0' E
BERG196705
76
83 to 84
8
Trawl
60 minutes
1967-06-07 00:00
13° 16.1' S 126° 24.1' E
BERG196705
78
70 to 73
30
Trawl
60 minutes
1967-06-08 00:00
13° 38.1' S 125° 08.1' E
BERG196705
80
66 to 68
1
Trawl
60 minutes
1967-06-08 00:00
13° 59.1' S 125° 13.1' E
BERG196705
82
65 to 66
2
Trawl
60 minutes
1967-06-09 00:00
15° 04.0' S 123° 50.1' E
BERG196705
92
62 to 62
2
Trawl
60 minutes
1967-06-09 00:00
14° 46.1' S 124° 27.1' E
BERG196705
88
60 to 60
3
Trawl
60 minutes
1967-06-12 00:00
18° 25.0' S 120° 49.0' E
BERG196705
108
70 to 72
2
Trawl
60 minutes
1967-06-12 00:00
18° 45.0' S 120° 44.1' E
BERG196705
109
70 to 74
1
Trawl
60 minutes
1967-06-13 00:00
19° 13.1' S 119° 41.0' E
BERG196705
111
66 to 74
1
Trawl
60 minutes
1967-06-13 00:00
19° 13.0' S 119° 37.1' E
BERG196705
112
71 to 75
1
Trawl
60 minutes
1967-06-14 00:00
19° 58.2' S 118° 01.0' E
BERG196705
123
42 to 43
2
Trawl
60 minutes
1967-06-14 00:00
19° 42.1' S 118° 03.0' E
BERG196705
120
55 to 60
2
Trawl
60 minutes
1967-06-14 00:00
19° 44.1' S 117° 44.1' E
BERG196705
125
63 to 64
1
Trawl
60 minutes
1967-06-14 00:00
19° 37.0' S 117° 36.0' E
BERG196705
126
72 to 75
1
Trawl
60 minutes
1967-06-15 00:00
19° 47.1' S 117° 29.0' E
BERG196705
128
61 to 64
1
Trawl
60 minutes
1967-06-15 00:00
19° 52.0' S 117° 21.0' E
BERG196705
131
54 to 61
2
Trawl
70 minutes
1967-06-16 00:00
20° 00.0' S 116° 56.0' E
BERG196705
138
56 to 60
1
Trawl
60 minutes
1967-06-16 00:00
19° 44.1' S 116° 53.0' E
BERG196705
140
75 to 78
2
Trawl
60 minutes
1967-06-16 00:00
19° 43.1' S 116° 32.1' E
BERG196705
144
62 to 65
1
Trawl
60 minutes
1967-06-16 00:00
19° 50.1' S 116° 28.1' E
BERG196705
145
65 to 66
1
Trawl
60 minutes
1967-06-16 00:00
19° 54.0' S 116° 28.0' E
BERG196705
146
63 to 65
1
Trawl
60 minutes
1967-06-16 00:00
19° 58.1' S 116° 25.0' E
BERG196705
147
62 to 62
5
Trawl
60 minutes
1967-06-17 00:00
20° 10.1' S 116° 00.0' E
BERG196705
149
55 to 55
1
Trawl
60 minutes
1967-06-17 00:00
20° 15.2' S 116° 17.1' E
BERG196705
150
50 to 50
2
Trawl
60 minutes
1967-06-17 00:00
19° 53.1' S 116° 45.1' E
BERG196705
155
61 to 62
2
Trawl
60 minutes
1967-06-17 00:00
20° 03.0' S 116° 45.0' E
BERG196705
154
55 to 60
1
Trawl
60 minutes
1967-06-17 00:00
20° 13.0' S 116° 43.0' E
BERG196705
153
47 to 49
1
Trawl
60 minutes
1967-06-17 00:00
20° 05.1' S 116° 37.0' E
BERG196705
152
54 to 55
2
Trawl
60 minutes
1967-06-18 00:00
19° 53.1' S 116° 31.1' E
BERG196705
162
62 to 65
1
Trawl
60 minutes
1967-06-18 00:00
19° 51.2' S 116° 33.1' E
BERG196705
163
60 to 61
1
Trawl
90 minutes
1967-06-18 00:00
19° 44.0' S 116° 28.1' E
BERG196705
165
62 to 65
1
Trawl
90 minutes
1967-06-18 00:00
19° 44.0' S 116° 33.2' E
BERG196705
167
62 to 64
2
Trawl
90 minutes
1967-06-21 00:00
19° 41.1' S 116° 40.1' E
BERG196705
185
1
Trawl
120 minutes
1967-06-21 00:00
19° 43.0' S 116° 40.1' E
BERG196705
187
58 to 66
1
Trawl
120 minutes
1967-06-21 00:00
19° 49.0' S 116° 43.0' E
BERG196705
188
64 to 67
1
Trawl
120 minutes
1967-06-21 00:00
19° 51.0' S 116° 40.1' E
BERG196705
193
60 to 63
1
Trawl
90 minutes
1967-06-22 00:00
19° 53.0' S 116° 03.0' E
BERG196705
202
72 to 76
1
Trawl
90 minutes
1967-06-23 00:00
20° 05.1' S 116° 08.0' E
BERG196705
208
61 to 62
1
Trawl
120 minutes
1967-06-23 00:00
20° 02.1' S 115° 59.1' E
BERG196705
207
64 to 67
1
Trawl
120 minutes
1967-06-24 00:00
19° 32.1' S 116° 35.1' E
BERG196705
218
60 to 80
1
Trawl
60 minutes
1967-06-24 00:00
19° 35.1' S 116° 52.1' E
BERG196705
220
50 to 53
1
Trawl
60 minutes
1967-06-24 00:00
19° 45.0' S 116° 17.1' E
BERG196705
215
72 to 73
2
Trawl
60 minutes
1967-06-24 00:00
19° 40.2' S 116° 23.1' E
BERG196705
216
65 to 70
1
Trawl
90 minutes
1967-06-24 00:00
19° 37.0' S 116° 34.0' E
BERG196705
217
65 to 75
1
Trawl
90 minutes
1967-06-27 00:00
19° 47.0' S 116° 01.1' E
BERG196705
248
72 to 79
1
Trawl
90 minutes
1967-06-28 00:00
19° 32.0' S 116° 33.0' E
BERG196705
257
79 to 80
2
Trawl
60 minutes
1967-06-28 00:00
19° 36.1' S 116° 38.0' E
BERG196705
259
67 to 80
1
Trawl
60 minutes
1967-06-28 00:00
19° 31.0' S 116° 44.0' E
BERG196705
260
69 to 69
1
Trawl
60 minutes
1967-06-28 00:00
19° 25.2' S 117° 12.1' E
BERG196705
261
115 to 117
1
Trawl
60 minutes
1967-06-29 00:00
19° 03.1' S 118° 08.0' E
BERG196705
263
92 to 94
2
Trawl
60 minutes
1967-06-30 00:00
18° 50.0' S 119° 27.0' E
BERG196705
269
101 to 103
1
Trawl
60 minutes
1967-06-30 00:00
18° 21.1' S 120° 30.1' E
BERG196705
274
85 to 87
2
Trawl
60 minutes
1967-07-02 00:00
14° 55.0' S 122° 31.1' E
BERG196705
287
100 to 100
5
Trawl
60 minutes
1967-07-03 00:00
14° 56.1' S 123° 56.1' E
BERG196705
293
56 to 57
1
Trawl
60 minutes
1967-07-03 00:00
14° 22.0' S 124° 06.0' E
BERG196705
296
85 to 86
4
Trawl
60 minutes
1967-07-03 00:00
13° 58.1' S 124° 23.1' E
BERG196705
299
93 to 100
1
Trawl
60 minutes
1967-07-05 00:00
13° 58.1' S 125° 05.0' E
BERG196705
306
60 to 63
1
Trawl
60 minutes
1967-07-09 00:00
10° 48.1' S 130° 26.0' E
BERG196705
318
65 to 65
1
Trawl
60 minutes
1967-07-10 00:00
10° 17.0' S 130° 49.2' E
BERG196705
326
95 to 95
1
Trawl
60 minutes
1967-07-12 00:00
9° 56.1' S 133° 15.0' E
BERG196705
338
85 to 87
1
Trawl
60 minutes
1967-07-12 00:00
9° 54.1' S 133° 05.1' E
BERG196705
339
73 to 74
1
Trawl
60 minutes
1967-07-12 00:00
9° 56.1' S 133° 37.0' E
BERG196705
341
74 to 75
4
Trawl
60 minutes
1967-07-12 00:00
9° 57.0' S 133° 51.0' E
BERG196705
342
70 to 76
13
Trawl
70 minutes
1967-07-13 00:00
10° 29.1' S 135° 05.0' E
BERG196705
351
60 to 60
1
Trawl
60 minutes
1967-07-15 00:00
9° 45.0' S 137° 19.1' E
BERG196705
366
42 to 44
1
Trawl
60 minutes
1967-07-15 00:00
9° 35.1' S 136° 57.2' E
BERG196705
365
45 to 47
2
Trawl
60 minutes
1967-07-16 00:00
10° 12.0' S 138° 48.1' E
BERG196705
370
48 to 49
2
Trawl
60 minutes
1967-07-16 00:00
10° 17.0' S 139° 37.1' E
BERG196705
372
52 to 52
3
Trawl
60 minutes
1967-07-17 00:00
9° 46.0' S 140° 14.1' E
BERG196705
377
45 to 46
1
Trawl
60 minutes
1968-06-04 00:00
10° 24.0' S 132° 16.1' E
LIRA196806
2
66 to 66
2
Trawl
60 minutes
1968-06-04 00:00
10° 53.1' S 131° 56.1' E
LIRA196806
1
42 to 44
4
Trawl
60 minutes
1968-06-05 00:00
10° 08.1' S 133° 43.1' E
LIRA196806
3
75 to 75
3
Trawl
60 minutes
1968-06-05 00:00
10° 10.1' S 134° 41.1' E
LIRA196806
5
60 to 60
2
Trawl
60 minutes
1968-06-06 00:00
10° 13.1' S 136° 26.1' E
LIRA196806
7
60 to 63
2
Trawl
60 minutes
1968-06-06 00:00
10° 10.1' S 137° 11.1' E
LIRA196806
11
49 to 51
1
Trawl
60 minutes
1968-06-07 00:00
10° 06.0' S 138° 47.0' E
LIRA196806
12
46 to 46
1
Trawl
60 minutes
1968-06-16 00:00
22° 28.2' S 152° 26.0' E
LIRA196806
25
109 to 109
5
Trawl
60 minutes
1968-06-16 00:00
22° 13.1' S 151° 53.1' E
LIRA196806
27
90 to 90
3
Trawl
60 minutes
1968-09-30 00:00
11° 25.1' S 141° 33.1' E
LIRA196806
370
29 to 31
5
Trawl
60 minutes
1968-10-01 00:00
11° 44.0' S 141° 17.0' E
LIRA196806
373
43 to 44
1
Trawl
22 minutes
1968-10-01 00:00
10° 43.0' S 140° 43.0' E
LIRA196806
378
50 to 51
2
Trawl
60 minutes
1968-10-01 00:00
11° 01.0' S 140° 48.0' E
LIRA196806
377
49 to 50
2
Trawl
60 minutes
1968-10-01 00:00
12° 05.0' S 141° 29.0' E
LIRA196806
372
38 to 39
2
Trawl
60 minutes
1968-10-01 00:00
11° 41.0' S 141° 15.1' E
LIRA196806
374
46 to 48
5
Trawl
60 minutes
1968-10-01 00:00
11° 34.0' S 141° 11.1' E
LIRA196806
375
47 to 48
4
Trawl
60 minutes
1968-10-01 00:00
11° 11.1' S 139° 59.1' E
LIRA196806
376
49 to 50
2
Trawl
60 minutes
1968-10-02 00:00
9° 41.0' S 140° 04.0' E
LIRA196806
381
45 to 47
2
Trawl
60 minutes
1968-10-03 00:00
9° 22.1' S 138° 09.1' E
LIRA196806
386
45 to 52
1
Trawl
60 minutes
1968-10-04 00:00
10° 15.0' S 137° 00.1' E
LIRA196806
391
57 to 57
6
Trawl
60 minutes
1968-10-04 00:00
10° 41.1' S 136° 49.1' E
LIRA196806
392
59 to 60
1
Trawl
60 minutes
1968-10-04 00:00
10° 31.0' S 136° 34.0' E
LIRA196806
394
60 to 60
2
Trawl
60 minutes
1968-10-05 00:00
11° 20.0' S 135° 11.1' E
LIRA196806
401
50 to 51
3
Trawl
60 minutes
1968-10-05 00:00
11° 20.0' S 135° 20.1' E
LIRA196806
400
44 to 44
1
Trawl
60 minutes
1968-10-05 00:00
10° 09.0' S 136° 21.1' E
LIRA196806
395
68 to 69
1
Trawl
60 minutes
1968-10-05 00:00
11° 00.0' S 136° 01.0' E
LIRA196806
397
48 to 50
2
Trawl
60 minutes
1968-10-05 00:00
11° 20.1' S 135° 53.1' E
LIRA196806
398
39 to 41
2
Trawl
60 minutes
1968-10-05 00:00
11° 20.0' S 135° 28.0' E
LIRA196806
399
44 to 44
2
Trawl
60 minutes
1968-10-06 00:00
10° 11.0' S 134° 42.0' E
LIRA196806
407
63 to 64
3
Trawl
60 minutes
1968-10-06 00:00
10° 05.0' S 134° 39.2' E
LIRA196806
408
65 to 69
2
Trawl
60 minutes
1968-10-07 00:00
9° 01.0' S 134° 59.1' E
LIRA196806
412
88 to 98
1
Trawl
60 minutes
1968-10-07 00:00
9° 18.1' S 134° 59.1' E
LIRA196806
410
116 to 123
8
Trawl
60 minutes
1968-10-07 00:00
9° 02.0' S 134° 48.1' E
LIRA196806
415
112 to 116
6
Trawl
34 minutes
1968-10-08 00:00
7° 33.0' S 134° 58.2' E
LIRA196806
421
55 to 55
2
Trawl
67 minutes
1968-10-10 00:00
8° 32.0' S 136° 16.1' E
LIRA196806
430
63 to 67
1
Trawl
60 minutes
1968-10-10 00:00
9° 07.2' S 136° 18.0' E
LIRA196806
432
60 to 68
1
Trawl
60 minutes
1968-10-10 00:00
9° 24.0' S 136° 18.0' E
LIRA196806
433
60 to 60
1
Trawl
60 minutes
1968-10-11 00:00
11° 50.1' S 137° 14.1' E
LIRA196806
442
51 to 52
1
Trawl
60 minutes
1968-10-11 00:00
10° 53.0' S 137° 15.0' E
LIRA196806
439
53 to 53
1
Trawl
60 minutes
1968-10-11 00:00
11° 54.0' S 137° 14.1' E
LIRA196806
443
51 to 52
1
Trawl
67 minutes
1968-10-12 00:00
13° 02.0' S 137° 00.0' E
LIRA196806
448
45 to 46
1
Trawl
60 minutes
1968-10-13 00:00
14° 41.0' S 136° 59.0' E
LIRA196806
453
36 to 39
4
Trawl
60 minutes
1968-10-13 00:00
14° 45.0' S 136° 36.0' E
LIRA196806
454
30 to 31
2
Trawl
60 minutes
1968-10-13 00:00
15° 05.0' S 136° 32.1' E
LIRA196806
456
25 to 25
1
Trawl
60 minutes
1968-10-14 00:00
15° 18.1' S 137° 19.1' E
LIRA196806
458
32 to 35
3
Trawl
60 minutes
1968-10-14 00:00
15° 06.1' S 137° 32.0' E
LIRA196806
465
42 to 42
1
Trawl
60 minutes
1968-10-14 00:00
15° 19.0' S 137° 19.2' E
LIRA196806
464
36 to 36
3
Trawl
60 minutes
1968-10-14 00:00
15° 18.0' S 137° 23.1' E
LIRA196806
463
36 to 37
11
Trawl
60 minutes
1968-10-14 00:00
15° 32.0' S 137° 27.0' E
LIRA196806
460
27 to 31
4
Trawl
46 minutes
1968-10-15 00:00
15° 30.0' S 137° 43.0' E
LIRA196806
470
22 to 39
2
Trawl
60 minutes
1968-10-15 00:00
16° 11.0' S 138° 06.0' E
LIRA196806
472
23 to 23
2
Trawl
60 minutes
1968-10-15 00:00
16° 06.0' S 138° 24.0' E
LIRA196806
473
2
Trawl
1968-10-16 00:00
15° 30.1' S 138° 36.1' E
LIRA196806
475
52 to 53
2
Trawl
60 minutes
1968-10-16 00:00
14° 59.1' S 138° 40.1' E
LIRA196806
476
59 to 59
3
Trawl
60 minutes
1968-10-16 00:00
14° 30.1' S 138° 40.1' E
LIRA196806
477
63 to 63
3
Trawl
60 minutes
1968-10-17 00:00
11° 54.1' S 138° 41.0' E
LIRA196806
482
60 to 60
4
Trawl
60 minutes
1968-10-18 00:00
13° 34.0' S 140° 01.0' E
LIRA196806
487
65 to 66
1
Trawl
60 minutes
1968-10-19 00:00
15° 34.2' S 139° 59.1' E
LIRA196806
490
46 to 47
2
Trawl
60 minutes
1968-10-19 00:00
15° 54.1' S 139° 59.1' E
LIRA196806
491
39 to 40
3
Trawl
60 minutes
1968-10-19 00:00
16° 08.1' S 139° 59.1' E
LIRA196806
492
34 to 36
1
Trawl
60 minutes
1968-10-20 00:00
17° 07.0' S 140° 33.1' E
LIRA196806
497
16 to 18
10
Trawl
60 minutes
1968-10-20 00:00
17° 20.1' S 140° 18.2' E
LIRA196806
496
15 to 15
3
Trawl
60 minutes
1968-10-20 00:00
16° 53.1' S 140° 06.0' E
LIRA196806
494
20 to 22
2
Trawl
60 minutes
1968-10-20 00:00
16° 35.0' S 140° 32.1' E
LIRA196806
500
21 to 23
2
Trawl
60 minutes
1968-10-21 00:00
15° 18.0' S 141° 18.0' E
LIRA196806
506
20 to 21
2
Trawl
60 minutes
1968-10-21 00:00
15° 22.2' S 141° 14.0' E
LIRA196806
504
19 to 21
2
Trawl
60 minutes
1968-10-21 00:00
15° 22.1' S 141° 14.1' E
LIRA196806
505
17 to 22
2
Trawl
64 minutes
1968-10-22 00:00
13° 35.1' S 141° 13.0' E
LIRA196806
511
26 to 26
3
Trawl
60 minutes
1968-10-22 00:00
13° 05.0' S 141° 15.0' E
LIRA196806
513
30 to 30
1
Trawl
62 minutes
1968-10-22 00:00
13° 10.0' S 141° 14.0' E
LIRA196806
514
31 to 31
1
Trawl
60 minutes
1968-10-22 00:00
12° 49.0' S 141° 19.1' E
LIRA196806
518
39 to 39
5
Trawl
60 minutes
1968-10-23 00:00
12° 22.1' S 141° 23.0' E
LIRA196806
524
41 to 42
4
Trawl
60 minutes
1968-10-23 00:00
12° 04.1' S 141° 30.0' E
LIRA196806
526
37 to 37
2
Trawl
60 minutes
1968-10-23 00:00
12° 17.0' S 141° 23.0' E
LIRA196806
525
41 to 42
1
Trawl
60 minutes
1968-10-24 00:00
11° 00.2' S 139° 25.1' E
LIRA196806
531
54 to 55
1
Trawl
75 minutes
1968-10-24 00:00
11° 02.1' S 140° 04.1' E
LIRA196806
529
62 to 62
3
Trawl
60 minutes
1968-10-27 00:00
7° 48.1' S 133° 27.1' E
LIRA196806
538
79 to 83
3
Trawl
60 minutes
1968-10-28 00:00
9° 36.0' S 133° 00.0' E
LIRA196806
544
119 to 127
3
Trawl
60 minutes
1968-10-29 00:00
10° 28.1' S 131° 38.1' E
LIRA196806
549
71 to 73
5
Trawl
60 minutes
1968-10-29 00:00
10° 13.1' S 131° 30.1' E
LIRA196806
550
77 to 86
2
Trawl
60 minutes
1968-11-20 00:00
13° 45.0' S 125° 17.1' E
PROM196811
9
62 to 62
1
Trawl
90 minutes
1968-11-21 00:00
13° 08.1' S 125° 51.1' E
PROM196811
14
62 to 62
10
Trawl
60 minutes
1968-11-22 00:00
12° 00.0' S 125° 18.0' E
PROM196811
19
85 to 95
1
Trawl
30 minutes
1968-11-26 00:00
11° 36.1' S 127° 18.0' E
PROM196811
24
110 to 110
4
Trawl
60 minutes
1968-11-26 00:00
12° 27.0' S 127° 45.0' E
PROM196811
27
110 to 110
2
Trawl
60 minutes
1968-11-26 00:00
12° 12.0' S 127° 35.1' E
PROM196811
26
100 to 103
1
Trawl
60 minutes
1968-11-27 00:00
12° 57.1' S 127° 58.0' E
PROM196811
29
100 to 100
1
Trawl
60 minutes
1968-11-28 00:00
14° 04.2' S 128° 32.0' E
PROM196811
36
30 to 35
1
Trawl
34 minutes
1968-11-28 00:00
14° 21.0' S 128° 59.1' E
PROM196811
38
24 to 26
7
Trawl
30 minutes
1968-11-29 00:00
13° 53.1' S 128° 48.1' E
PROM196811
41
35 to 37
2
Trawl
30 minutes
1968-12-08 00:00
10° 52.1' S 130° 14.1' E
PROM196811
49
62 to 62
2
Trawl
30 minutes
1968-12-08 00:00
10° 52.0' S 130° 18.0' E
PROM196811
50
65 to 65
1
Trawl
60 minutes
1968-12-10 00:00
10° 56.1' S 130° 53.1' E
PROM196811
59
40 to 40
5
Trawl
80 minutes
1968-12-10 00:00
10° 58.1' S 130° 43.0' E
PROM196811
57
40 to 41
5
Trawl
30 minutes
1968-12-10 00:00
10° 54.1' S 130° 48.1' E
PROM196811
58
45 to 45
2
Trawl
30 minutes
1968-12-11 00:00
10° 55.0' S 131° 54.0' E
PROM196811
65
50 to 50
1
Trawl
30 minutes
1968-12-15 00:00
6° 37.0' S 133° 51.1' E
PROM196811
81
72 to 75
3
Trawl
60 minutes
1968-12-15 00:00
6° 42.0' S 133° 34.1' E
PROM196811
82
60 to 70
18
Trawl
25 minutes
1968-12-16 00:00
7° 06.0' S 133° 29.1' E
PROM196811
87
62 to 67
3
Trawl
60 minutes
1968-12-19 00:00
10° 49.1' S 133° 42.2' E
PROM196811
100
56 to 58
1
Trawl
30 minutes
1968-12-21 00:00
10° 50.1' S 135° 06.1' E
PROM196811
116
52 to 53
1
Trawl
30 minutes
1968-12-21 00:00
11° 10.1' S 135° 01.0' E
PROM196811
113
50 to 50
3
Trawl
30 minutes
1968-12-22 00:00
9° 24.0' S 134° 59.1' E
PROM196811
123
112 to 130
1
Trawl
30 minutes
1968-12-22 00:00
9° 32.1' S 134° 59.1' E
PROM196811
122
90 to 95
1
Trawl
30 minutes
1968-12-25 00:00
7° 38.0' S 134° 23.1' E
PROM196811
141
55 to 56
2
Trawl
30 minutes
1968-12-25 00:00
7° 13.1' S 134° 47.1' E
PROM196811
137
33 to 34
5
Trawl
30 minutes
1968-12-25 00:00
7° 06.1' S 134° 58.0' E
PROM196811
136
33 to 34
1
Trawl
30 minutes
1968-12-25 00:00
7° 20.0' S 134° 41.1' E
PROM196811
138
40 to 40
1
Trawl
60 minutes
1968-12-27 00:00
7° 11.1' S 134° 52.0' E
PROM196811
148
33 to 35
5
Trawl
30 minutes
1968-12-27 00:00
7° 07.0' S 135° 06.1' E
PROM196811
149
36 to 45
2
Trawl
30 minutes
1968-12-28 00:00
7° 27.1' S 136° 49.1' E
PROM196811
156
35 to 36
3
Trawl
30 minutes
1968-12-31 00:00
10° 43.0' S 136° 45.1' E
PROM196811
170
57 to 58
1
Trawl
30 minutes
1969-01-04 00:00
15° 27.0' S 138° 41.0' E
PROM196811
190
46 to 50
41
Trawl
30 minutes
1969-01-05 00:00
16° 21.0' S 138° 21.1' E
PROM196811
193
20 to 20
10
Trawl
30 minutes
1969-01-05 00:00
16° 08.1' S 138° 41.0' E
PROM196811
192
25 to 25
1
Trawl
30 minutes
1969-01-07 00:00
15° 16.1' S 137° 14.1' E
PROM196811
198
31 to 31
1
Trawl
30 minutes
1969-01-07 00:00
15° 23.1' S 137° 18.0' E
PROM196811
197
25 to 30
1
Trawl
30 minutes
1969-01-08 00:00
14° 43.1' S 136° 36.0' E
PROM196811
203
26 to 27
1
Trawl
30 minutes
1969-01-11 00:00
11° 02.0' S 137° 15.0' E
PROM196811
222
53 to 53
4
Trawl
30 minutes
1969-01-23 00:00
14° 57.0' S 139° 58.0' E
PROM196811
238
53 to 53
1
Trawl
30 minutes
1969-01-25 00:00
17° 16.1' S 140° 09.0' E
PROM196811
248
13 to 13
3
Trawl
30 minutes
1969-01-25 00:00
15° 50.1' S 140° 49.0' E
PROM196811
253
25 to 26
2
Trawl
30 minutes
1969-01-26 00:00
14° 58.1' S 140° 58.1' E
PROM196811
256
30 to 31
2
Trawl
30 minutes
1969-01-31 00:00
9° 52.1' S 138° 59.0' E
PROM196811
288
48 to 48
2
Trawl
30 minutes
1969-02-02 00:00
11° 17.1' S 135° 01.0' E
PROM196811
301
45 to 45
1
Trawl
30 minutes
1969-02-04 00:00
10° 42.0' S 133° 08.1' E
PROM196811
308
62 to 64
2
Trawl
30 minutes
1969-02-06 00:00
11° 02.1' S 130° 57.0' E
PROM196811
314
28 to 30
2
Trawl
60 minutes
1969-02-06 00:00
10° 52.0' S 130° 54.1' E
PROM196811
313
40 to 40
9
Trawl
45 minutes
1969-02-06 00:00
10° 46.0' S 130° 54.0' E
PROM196811
312
47 to 50
2
Trawl
45 minutes
1969-02-06 00:00
10° 58.1' S 130° 57.1' E
PROM196811
315
38 to 39
31
Trawl
30 minutes
1969-02-09 00:00
11° 19.1' S 126° 09.0' E
PROM196811
320
83 to 90
2
Trawl
45 minutes
1969-02-09 00:00
11° 33.0' S 126° 02.0' E
PROM196811
321
90 to 90
2
Trawl
60 minutes
1969-03-11 00:00
19° 43.1' S 116° 48.0' E
PROM196811
373
76 to 80
3
Trawl
60 minutes
1969-03-13 00:00
20° 12.0' S 116° 16.0' E
PROM196811
383
55 to 56
2
Trawl
30 minutes
1969-03-17 00:00
19° 57.0' S 117° 20.1' E
PROM196811
408
56 to 56
3
Trawl
30 minutes
1969-03-17 00:00
20° 01.0' S 116° 54.0' E
PROM196811
406
55 to 56
5
Trawl
30 minutes
1969-03-17 00:00
19° 39.1' S 117° 22.0' E
PROM196811
410
70 to 70
3
Trawl
30 minutes
1969-09-21 00:00
9° 48.2' S 139° 28.0' E
ALBA196909
530
48 to 50
1
Trawl
60 minutes
1969-09-22 00:00
11° 16.1' S 140° 59.0' E
ALBA196909
536
40 to 40
1
Trawl
60 minutes
1969-09-22 00:00
10° 54.0' S 140° 47.0' E
ALBA196909
535
42 to 43
2
Trawl
60 minutes
1969-09-22 00:00
10° 23.0' S 140° 30.0' E
ALBA196909
534
45 to 45
5
Trawl
60 minutes
1969-09-22 00:00
9° 54.2' S 140° 15.0' E
ALBA196909
533
40 to 42
1
Trawl
60 minutes
1969-09-23 00:00
11° 45.0' S 141° 38.0' E
ALBA196909
540
27 to 29
1
Trawl
60 minutes
1969-09-23 00:00
12° 29.1' S 141° 24.0' E
ALBA196909
543
33 to 34
7
Trawl
60 minutes
1969-09-23 00:00
12° 44.0' S 141° 21.0' E
ALBA196909
544
32 to 34
4
Trawl
60 minutes
1969-09-23 00:00
11° 27.1' S 141° 42.1' E
ALBA196909
539
16 to 17
4
Trawl
60 minutes
1969-09-24 00:00
13° 01.1' S 141° 17.0' E
ALBA196909
545
26 to 28
2
Trawl
60 minutes
1969-09-24 00:00
13° 31.1' S 141° 11.1' E
ALBA196909
547
19 to 20
1
Trawl
60 minutes
1969-09-24 00:00
13° 54.0' S 141° 13.0' E
ALBA196909
548
18 to 20
2
Trawl
60 minutes
1969-09-24 00:00
14° 47.1' S 141° 11.1' E
ALBA196909
551
22 to 22
6
Trawl
60 minutes
1969-09-24 00:00
14° 07.0' S 141° 12.0' E
ALBA196909
549
24 to 26
5
Trawl
60 minutes
1970-02-17 00:00
20° 10.0' S 116° 10.1' E
PROM197002
8
54 to 55
1
40
Trawl
60 minutes
1970-02-17 00:00
20° 03.1' S 116° 19.1' E
PROM197002
9
55 to 57
2
40
Trawl
60 minutes
1970-02-19 00:00
18° 41.0' S 119° 42.0' E
PROM197002
21
110 to 111
3
6
Trawl
60 minutes
1970-02-21 00:00
14° 49.2' S 124° 15.0' E
PROM197002
24
55 to 58
4
4
Trawl
60 minutes
1970-02-25 00:00
11° 22.0' S 126° 58.0' E
PROM197002
32
65 to 95
2
Trawl
15 minutes
1970-02-26 00:00
13° 24.0' S 128° 24.0' E
PROM197002
34
65 to 67
7
50
Trawl
60 minutes
1970-02-26 00:00
13° 42.0' S 128° 31.1' E
PROM197002
35
60 to 61
10
Trawl
30 minutes
1970-03-02 00:00
11° 00.0' S 130° 13.0' E
PROM197002
40
45 to 50
30
Trawl
60 minutes
1970-03-23 00:00
12° 38.0' S 137° 14.0' E
PROM197002
44
49 to 50
2
10
Trawl
60 minutes
1970-03-24 00:00
14° 17.1' S 137° 13.0' E
PROM197002
48
45 to 45
4
Trawl
60 minutes
1970-03-24 00:00
13° 52.0' S 137° 14.0' E
PROM197002
47
50 to 50
4
20
Trawl
60 minutes
1970-03-24 00:00
14° 40.1' S 137° 14.0' E
PROM197002
49
43 to 43
2
12
Trawl
60 minutes
1970-03-25 00:00
16° 27.0' S 138° 44.0' E
PROM197002
52
20 to 21
2
Trawl
60 minutes
1970-03-26 00:00
12° 23.1' S 138° 42.0' E
PROM197002
61
55 to 55
1
15
Trawl
60 minutes
1970-03-26 00:00
14° 44.0' S 138° 42.0' E
PROM197002
56
57 to 57
5
10
Trawl
60 minutes
1970-03-27 00:00
9° 56.0' S 138° 42.0' E
PROM197002
66
45 to 45
1
Trawl
60 minutes
1970-03-27 00:00
10° 50.1' S 138° 42.0' E
PROM197002
64
50 to 51
2
Trawl
60 minutes
1970-03-28 00:00
9° 25.0' S 139° 47.1' E
PROM197002
70
25 to 25
10
50
Trawl
60 minutes
1970-03-28 00:00
9° 23.0' S 140° 00.0' E
PROM197002
71
19 to 20
1
15
Trawl
60 minutes
1970-03-28 00:00
9° 04.0' S 138° 42.0' E
PROM197002
68
46 to 46
4
Trawl
60 minutes
1970-03-29 00:00
11° 27.1' S 140° 06.0' E
PROM197002
74
60 to 60
1
20
Trawl
60 minutes
1970-03-29 00:00
11° 56.1' S 140° 00.0' E
PROM197002
75
57 to 58
3
18
Trawl
60 minutes
1970-03-29 00:00
10° 10.0' S 140° 00.0' E
PROM197002
72
50 to 50
1
Trawl
60 minutes
1970-03-29 00:00
11° 00.0' S 140° 00.0' E
PROM197002
73
60 to 61
3
29
Trawl
60 minutes
1970-03-30 00:00
14° 05.1' S 140° 06.0' E
PROM197002
80
64 to 64
2
28
Trawl
60 minutes
1970-03-30 00:00
14° 34.0' S 140° 00.0' E
PROM197002
81
60 to 62
10
80
Trawl
60 minutes
1970-03-30 00:00
13° 31.0' S 139° 52.1' E
PROM197002
79
63 to 64
1
18
Trawl
60 minutes
1970-03-31 00:00
15° 37.0' S 139° 53.0' E
PROM197002
82
40 to 40
2
20
Trawl
60 minutes
1970-04-02 00:00
15° 30.1' S 141° 05.0' E
PROM197002
91
24 to 25
1
12
Trawl
60 minutes
1970-04-03 00:00
13° 55.1' S 141° 12.1' E
PROM197002
95
24 to 24
1
Trawl
60 minutes
1970-04-03 00:00
12° 48.0' S 141° 23.1' E
PROM197002
98
30 to 33
3
Trawl
60 minutes
1970-04-05 00:00
10° 46.1' S 140° 48.1' E
PROM197002
104
43 to 46
2
Trawl
60 minutes
1970-04-06 00:00
9° 50.0' S 138° 00.0' E
PROM197002
109
46 to 47
2
Trawl
60 minutes
1970-04-25 00:00
9° 23.0' S 134° 03.1' E
PROM197002
111
140 to 149
3
Trawl
60 minutes
1970-04-27 00:00
9° 45.0' S 137° 24.0' E
PROM197002
112
45 to 45
2
25
Trawl
60 minutes
1970-04-27 00:00
9° 33.0' S 136° 35.1' E
PROM197002
114
54 to 56
2
10
Trawl
60 minutes
1970-04-28 00:00
9° 41.0' S 136° 09.0' E
PROM197002
119
58 to 59
3
40
Trawl
60 minutes
1970-04-28 00:00
10° 08.0' S 136° 10.1' E
PROM197002
118
65 to 75
6
Trawl
60 minutes
1970-04-29 00:00
11° 20.1' S 138° 57.0' E
PROM197002
121
58 to 58
3
45
Trawl
60 minutes
1970-04-30 00:00
13° 28.0' S 140° 41.0' E
PROM197002
124
54 to 55
1
10
Trawl
60 minutes
1970-05-02 00:00
13° 15.0' S 141° 02.1' E
PROM197002
138
33 to 35
1
Trawl
60 minutes
1970-05-02 00:00
12° 40.1' S 141° 07.0' E
PROM197002
136
50 to 55
1
Trawl
60 minutes
1970-05-03 00:00
12° 46.1' S 141° 26.0' E
PROM197002
140
31 to 32
1
Trawl
60 minutes
1970-05-03 00:00
12° 27.0' S 141° 03.1' E
PROM197002
141
58 to 59
1
Trawl
60 minutes
1970-05-27 00:00
19° 51.0' S 116° 44.0' E
PROM197002
160
65 to 65
10
25
Trawl
60 minutes
1970-05-28 00:00
19° 48.0' S 117° 23.1' E
PROM197002
168
62 to 64
5
Trawl
60 minutes
1970-06-26 00:00
11° 03.1' S 136° 07.0' E
PROM197002
184
38 to 39
3
Trawl
60 minutes
1970-06-27 00:00
10° 21.0' S 136° 13.0' E
PROM197002
185
60 to 65
2
Trawl
60 minutes
1970-06-27 00:00
10° 25.0' S 136° 03.1' E
PROM197002
187
58 to 60
2
Trawl
60 minutes
1970-06-29 00:00
10° 41.0' S 136° 07.1' E
PROM197002
191
54 to 56
1
Trawl
60 minutes
1971-09-10 00:00
19° 08.0' S 116° 50.1' E
EQUA197109
1
185 to 235
1
Trawl
60 minutes
1971-09-11 00:00
20° 35.0' S 115° 06.0' E
EQUA197109
4
56 to 75
7
Trawl
60 minutes
1971-09-12 00:00
23° 19.0' S 113° 14.0' E
EQUA197109
5
230 to 258
1
Trawl
60 minutes
1972-11-26 00:00
11° 36.0' S 134° 47.0' E
RADU197206
395
25 to 28
1
Trawl
60 minutes
1973-05-02 00:00
18° 15.0' S 119° 50.1' E
LIRA197304
7
116 to 120
1
Trawl
120 minutes
1973-05-03 00:00
18° 52.0' S 118° 13.0' E
LIRA197304
9
150 to 160
1
Trawl
60 minutes
1973-05-03 00:00
19° 11.0' S 117° 53.0' E
LIRA197304
10
105 to 115
3
Trawl
60 minutes
1973-05-04 00:00
19° 57.0' S 116° 48.0' E
LIRA197304
12
60 to 64
2
Trawl
60 minutes
1973-05-08 00:00
21° 05.1' S 114° 51.1' E
LIRA197304
28
100 to 102
3
Trawl
60 minutes
1973-05-22 00:00
21° 27.0' S 114° 05.1' E
LIRA197304
45
235 to 250
1
Trawl
60 minutes
1973-05-30 00:00
16° 40.0' S 121° 52.2' E
LIRA197304
67
30 to 36
1
20
Trawl
60 minutes
1973-06-05 00:00
11° 05.0' S 127° 16.0' E
LIRA197304
80
70 to 82
1
Trawl
60 minutes
1973-06-11 00:00
11° 24.0' S 135° 45.0' E
LIRA197304
94
35 to 38
3
Trawl
60 minutes
1973-06-11 00:00
10° 36.0' S 135° 49.0' E
LIRA197304
95
50 to 50
4
Trawl
60 minutes
1973-06-16 00:00
11° 02.1' S 137° 16.1' E
LIRA197304
102
48 to 49
4
Trawl
60 minutes
1973-06-17 00:00
12° 00.0' S 137° 40.0' E
LIRA197304
104
52 to 52
1
Trawl
60 minutes
1973-06-17 00:00
12° 40.0' S 137° 38.1' E
LIRA197304
105
50 to 50
2
Trawl
60 minutes
1973-06-19 00:00
13° 07.0' S 138° 58.0' E
LIRA197304
113
54 to 55
4
30
Trawl
60 minutes
1973-06-20 00:00
11° 19.0' S 139° 02.0' E
LIRA197304
115
53 to 53
3
Trawl
60 minutes
1973-06-21 00:00
11° 50.1' S 140° 07.1' E
LIRA197304
118
58 to 58
2
Trawl
60 minutes
1973-06-22 00:00
14° 23.0' S 140° 02.0' E
LIRA197304
121
62 to 62
2
Trawl
60 minutes
1973-06-22 00:00
15° 12.0' S 140° 02.0' E
LIRA197304
122
58 to 58
3
Trawl
60 minutes
1973-06-24 00:00
14° 16.0' S 141° 06.1' E
LIRA197304
127
34 to 34
2
Trawl
60 minutes
1973-06-24 00:00
13° 37.1' S 141° 09.1' E
LIRA197304
128
30 to 31
2
Trawl
60 minutes
1973-07-31 00:00
35° 21.1' S 117° 11.0' E
LIRA197304
150
85 to 105
5
Trawl
60 minutes
1979-06-02 15:04
13° 58.0' S 123° 55.0' E
COUR197950
10
125 to 125
3
17
Stern Trawl
100 minutes
1980-05-31 07:50
20° 21.0' S 116° 22.0' E
SO198004
7
44 to 45
1
1
Stern Trawl
92 minutes
1980-06-02 06:30
19° 44.0' S 117° 12.0' E
SO198004
21
68 to 68
1
1
Stern Trawl
50 minutes
1980-06-02 13:25
20° 08.0' S 117° 03.0' E
SO198004
24
52 to 52
1
2
Stern Trawl
50 minutes
1980-11-29 04:45
14° 34.0' S 136° 27.0' E
SO198007
83
22 to 24
1
4
Trawling
50 minutes
1980-11-30 01:55
15° 59.0' S 138° 03.0' E
SO198007
86
25 to 27
1
3
Trawling
50 minutes
1980-11-30 05:00
16° 11.0' S 138° 05.0' E
SO198007
87
17 to 18
1
4
Trawling
50 minutes
1980-12-01 07:25
15° 04.0' S 138° 58.0' E
SO198007
90
56 to 56
20
Trawling
50 minutes
1980-12-02 03:45
12° 37.0' S 139° 00.0' E
SO198007
93
56 to 56
4
8
Trawling
50 minutes
1980-12-05 21:30
16° 06.0' S 139° 58.0' E
SO198007
108
34 to 34
2
4
Trawling
50 minutes
1981-06-08 03:00
11° 40.0' S 141° 48.0' E
SO198102
3
18 to 18
1
3
Stern Trawl
50 minutes
1981-06-09 05:00
13° 00.0' S 141° 00.0' E
SO198102
8
43 to 44
1
6
Stern Trawl
50 minutes
1981-06-10 22:05
17° 01.0' S 139° 58.0' E
SO198102
14
14 to 14
1
2
Stern Trawl
50 minutes
1981-06-11 00:30
16° 45.0' S 140° 01.0' E
SO198102
15
19 to 20
1
3
Stern Trawl
50 minutes
1981-06-12 04:20
13° 26.0' S 139° 59.0' E
SO198102
21
69 to 69
1
2
Stern Trawl
50 minutes
1981-06-13 00:20
11° 42.0' S 139° 59.0' E
SO198102
25
58 to 58
1
1
Stern Trawl
50 minutes
1981-06-17 00:20
16° 20.0' S 139° 00.0' E
SO198102
43
21 to 21
1
5
Stern Trawl
50 minutes
1981-06-18 00:05
15° 59.0' S 138° 03.0' E
SO198102
49
28 to 28
1
2
Stern Trawl
50 minutes
1981-06-21 00:20
13° 35.0' S 136° 26.0' E
SO198102
60
22 to 22
1
5
Stern Trawl
50 minutes
1981-06-28 00:10
10° 53.0' S 135° 00.0' E
SO198102
89
53 to 53
1
3
Stern Trawl
50 minutes
1981-06-28 03:45
11° 16.0' S 135° 00.0' E
SO198102
90
46 to 46
1
3
Stern Trawl
50 minutes
1981-06-28 06:55
11° 36.0' S 135° 00.0' E
SO198102
91
27 to 29
2
9
Stern Trawl
50 minutes
1981-06-29 02:10
11° 29.0' S 134° 25.0' E
SO198102
95
32 to 33
1
3
Stern Trawl
50 minutes
1981-07-01 01:40
11° 26.0' S 133° 10.0' E
SO198102
106
28 to 28
2
8
Stern Trawl
50 minutes
1982-04-15 05:00
19° 25.0' S 117° 08.0' E
SO198202
53
1
4
Stern Trawl
50 minutes
1982-08-14 05:00
20° 20.0' S 116° 18.0' E
SO198204
43
2
Stern Trawl
50 minutes
1982-08-15 08:40
20° 11.0' S 116° 33.0' E
SO198204
51
1
1.7
Stern Trawl
50 minutes
1983-06-01 14:35
19° 57.1' S 117° 20.2' E
SO198303
4
47 to 50
2
18
390 minutes
1983-06-02 14:00
19° 46.5' S 118° 14.6' E
SO198303
10
34 to 36
1
4.8
330 minutes
1983-06-03 12:30
19° 16.2' S 118° 40.0' E
SO198303
14
70 to 78
1
17
490 minutes
1983-06-04 12:15
18° 45.2' S 118° 26.5' E
SO198303
22
140 to 144
7
35.7
555 minutes
1983-06-06 15:15
19° 25.1' S 117° 00.0' E
SO198303
31
102 to 104
4
27
360 minutes
1983-06-08 14:00
20° 22.7' S 116° 03.7' E
SO198303
43
40 to 42
1
5
390 minutes
1983-06-12 12:15
19° 40.7' S 118° 06.0' E
SO198303
71
51 to 51
1
6.6
500 minutes
1983-08-02 13:30
19° 08.0' S 118° 44.1' E
SO198304
4
3
22.3
465 minutes
1983-08-03 12:30
18° 48.0' S 118° 40.0' E
SO198304
10
3
23.5
510 minutes
1983-08-04 14:15
19° 20.9' S 118° 12.6' E
SO198304
17
3
29.3
405 minutes
1983-08-06 13:45
20° 03.0' S 117° 27.1' E
SO198304
32
2
25.4
435 minutes
1983-08-07 14:10
19° 40.1' S 117° 21.1' E
SO198304
39
2
23.2
410 minutes
1983-08-08 12:15
20° 09.0' S 117° 04.0' E
SO198304
47
1
11
525 minutes
1983-08-10 05:25
19° 42.1' S 116° 45.2' E
SO198304
57
1
1
30 minutes
1983-08-14 12:15
20° 28.0' S 115° 51.0' E
SO198304
73
1
6
525 minutes
1983-08-14 13:30
19° 25.0' S 117° 34.0' E
SO198304
81
8
91
445 minutes
1983-08-18 12:45
19° 17.0' S 118° 14.0' E
SO198304
103
8
87.3
525 minutes
1983-08-19 09:30
19° 50.0' S 118° 09.0' E
SO198304
108
7
79.5
750 minutes
1983-10-07 14:05
19° 42.0' S 118° 42.0' E
SO198305
4
1
15.2
425 minutes
1983-10-08 12:05
19° 24.0' S 118° 55.0' E
SO198305
10
1
10
545 minutes
1983-10-10 13:00
19° 12.0' S 117° 52.0' E
SO198305
23
9
87.5
475 minutes
1983-10-11 13:20
19° 42.6' S 117° 52.4' E
SO198305
30
7
74.3
455 minutes
1983-10-14 09:30
20° 23.1' S 116° 10.1' E
SO198305
49
3
41.4
660 minutes
1983-10-17 09:40
20° 12.5' S 117° 11.8' E
SO198305
63
7
53.6
680 minutes
1983-10-18 11:30
20° 06.6' S 117° 40.7' E
SO198305
69
2
22.3
570 minutes
1983-10-19 09:15
19° 58.8' S 117° 51.3' E
SO198305
74
5
45
735 minutes
1984-01-17 13:30
12° 11.0' S 130° 41.0' E
RACH198401
2
8
Drifting Gillnet
1984-01-19 10:15
12° 01.0' S 131° 34.0' E
RACH198401
4
1
Drifting Gillnet
1984-01-20 08:35
11° 09.0' S 131° 51.0' E
RACH198401
5
2
Handline
1984-01-20 10:25
11° 06.0' S 131° 54.0' E
RACH198401
6
79
Drifting Gillnet
1984-01-20 13:45
11° 05.0' S 131° 58.0' E
RACH198401
7
142
Drifting Gillnet
1984-01-21 06:15
11° 07.0' S 132° 04.0' E
RACH198401
8
2
Handline
1984-01-21 09:12
11° 05.0' S 132° 04.0' E
RACH198401
9
11
Longline
1984-01-21 10:30
11° 03.0' S 132° 01.0' E
RACH198401
11
2
Drifting Gillnet
1984-01-21 10:30
11° 03.0' S 132° 01.0' E
RACH198401
12
18
Drifting Gillnet
1984-01-21 10:30
11° 03.0' S 132° 01.0' E
RACH198401
10
5
Drifting Gillnet
1984-01-21 14:59
11° 01.0' S 132° 07.0' E
RACH198401
14
42
Drifting Gillnet
1984-01-22 01:30
11° 05.0' S 132° 06.0' E
RACH198401
15
24
Handline
1984-01-22 10:30
11° 03.0' S 132° 10.0' E
RACH198401
16
4
Longline
1984-01-22 11:00
11° 04.0' S 132° 12.0' E
RACH198401
18
4
Drifting Gillnet
1984-01-22 11:00
11° 04.0' S 132° 12.0' E
RACH198401
20
1
Drifting Gillnet
1984-01-22 11:00
11° 04.0' S 132° 12.0' E
RACH198401
17
2
Drifting Gillnet
1984-01-22 13:15
11° 04.0' S 132° 15.0' E
RACH198401
23
1
Drifting Gillnet
1984-01-22 13:15
11° 04.0' S 132° 15.0' E
RACH198401
21
1
Drifting Gillnet
1984-01-22 13:15
11° 04.0' S 132° 15.0' E
RACH198401
22
10
Drifting Gillnet
1984-01-23 04:30
10° 58.0' S 132° 29.0' E
RACH198401
25
4
Handline
1984-01-23 10:30
10° 58.0' S 132° 29.0' E
RACH198401
26
7
Drifting Gillnet
1984-01-23 12:30
10° 59.0' S 132° 30.0' E
RACH198401
27
35
Drifting Gillnet
1984-01-24 03:30
11° 02.0' S 132° 39.0' E
RACH198401
28
23
Handline
1984-01-24 10:30
11° 02.0' S 132° 42.0' E
RACH198401
29
5
Longline
1984-01-24 10:45
11° 03.0' S 132° 41.0' E
RACH198401
30
13
Drifting Gillnet
1984-01-24 10:45
11° 03.0' S 132° 41.0' E
RACH198401
31
2
Drifting Gillnet
1984-01-25 04:30
11° 02.0' S 132° 40.0' E
RACH198401
34
8
Handline
1984-01-25 10:30
11° 02.0' S 132° 40.0' E
RACH198401
35
88
Drifting Gillnet
1984-01-25 13:35
11° 02.0' S 132° 40.0' E
RACH198401
36
44
Drifting Gillnet
1984-01-26 06:00
11° 08.0' S 132° 44.0' E
RACH198401
37
7
Handline
1984-01-26 10:50
11° 08.0' S 132° 45.0' E
RACH198401
38
2
Longline
1984-01-26 15:46
11° 11.0' S 132° 46.0' E
RACH198401
43
41
Drifting Gillnet
1984-01-27 06:00
11° 16.0' S 132° 48.0' E
RACH198401
44
28
Handline
1984-01-27 11:20
11° 15.0' S 132° 48.0' E
RACH198401
45
6
Drifting Gillnet
1984-01-28 11:30
11° 32.0' S 133° 16.0' E
RACH198401
46
6
Drifting Gillnet
1984-01-29 03:00
11° 36.0' S 133° 16.0' E
RACH198401
47
36
Handline
1984-01-29 10:20
11° 33.0' S 133° 19.0' E
RACH198401
48
6
Longline
1984-01-29 10:55
11° 34.0' S 133° 18.0' E
RACH198401
49
1
Drifting Gillnet
1984-01-29 10:55
11° 34.0' S 133° 18.0' E
RACH198401
50
1
Drifting Gillnet
1984-01-30 08:15
11° 34.0' S 133° 34.0' E
RACH198401
53
3
Handline
1984-01-30 10:45
11° 35.0' S 133° 37.0' E
RACH198401
54
3
Longline
1984-01-30 11:25
11° 35.0' S 133° 40.0' E
RACH198401
55
11
Drifting Gillnet
1984-01-31 08:40
11° 39.0' S 134° 11.0' E
RACH198401
56
4
Drifting Gillnet
1984-02-01 05:15
11° 26.0' S 135° 12.0' E
RACH198401
58
5
Drifting Gillnet
1984-02-01 10:45
11° 46.0' S 135° 34.0' E
RACH198401
59
2
Drifting Gillnet
1984-02-02 12:45
11° 56.0' S 136° 43.0' E
RACH198401
60
6
Drifting Gillnet
1984-02-02 14:59
11° 56.0' S 136° 43.0' E
RACH198401
61
3
Drifting Gillnet
1984-02-03 01:00
11° 57.0' S 136° 47.0' E
RACH198401
62
1
Handline
1984-02-03 10:10
12° 10.0' S 136° 55.0' E
RACH198401
63
13
Drifting Gillnet
1984-02-03 13:25
12° 10.0' S 136° 57.0' E
RACH198401
64
31
Drifting Gillnet
1984-02-04 10:20
12° 09.0' S 136° 54.0' E
RACH198401
69
3
Longline
1984-02-04 11:15
12° 11.0' S 136° 55.0' E
RACH198401
71
1
Drifting Gillnet
1984-02-04 11:15
12° 11.0' S 136° 55.0' E
RACH198401
72
1
Drifting Gillnet
1984-02-06 10:35
11° 46.0' S 136° 52.0' E
RACH198401
74
5
Longline
1984-02-06 11:15
11° 46.0' S 136° 54.0' E
RACH198401
75
2
Drifting Gillnet
1984-02-07 07:45
11° 56.0' S 136° 42.0' E
RACH198401
79
5
Drifting Gillnet
1984-02-07 11:35
11° 56.0' S 136° 45.0' E
RACH198401
82
1
Drifting Gillnet
1984-02-07 11:35
11° 56.0' S 136° 45.0' E
RACH198401
81
2
Drifting Gillnet
1984-02-08 09:30
12° 01.0' S 136° 43.0' E
RACH198401
86
3
Longline
1984-02-08 10:15
12° 02.0' S 136° 43.0' E
RACH198401
87
167
Drifting Gillnet
1984-02-16 05:37
12° 02.0' S 136° 44.0' E
RACH198402
1
11
Drifting Gillnet
1984-02-16 10:20
12° 02.0' S 136° 44.0' E
RACH198402
2
6
Longline
1984-02-16 11:05
12° 00.0' S 136° 45.0' E
RACH198402
5
3
Drifting Gillnet
1984-02-16 11:05
12° 00.0' S 136° 45.0' E
RACH198402
4
6
Drifting Gillnet
1984-02-16 11:05
12° 00.0' S 136° 45.0' E
RACH198402
3
13
Drifting Gillnet
1984-02-17 04:00
12° 02.0' S 136° 44.0' E
RACH198402
7
2
Handline
1984-02-17 09:55
11° 59.0' S 136° 39.0' E
RACH198402
9
6
Longline
1984-02-17 10:28
11° 59.0' S 136° 42.0' E
RACH198402
10
3
Drifting Gillnet
1984-02-17 13:43
11° 59.0' S 136° 42.0' E
RACH198402
11
3
Drifting Gillnet
1984-02-18 03:15
11° 55.0' S 136° 45.0' E
RACH198402
13
2
Handline
1984-02-18 05:15
11° 59.0' S 136° 45.0' E
RACH198402
14
1
Handline
1984-02-18 07:04
12° 01.0' S 136° 46.0' E
RACH198402
15
4
Drifting Gillnet
1984-02-18 08:25
11° 58.0' S 136° 42.0' E
RACH198402
16
2
Drifting Gillnet
1984-02-18 09:57
11° 59.0' S 136° 42.0' E
RACH198402
17
3
Longline
1984-02-18 10:24
12° 01.0' S 136° 45.0' E
RACH198402
18
2
Drifting Gillnet
1984-02-19 07:10
11° 43.0' S 136° 24.0' E
RACH198402
23
4
Handline
1984-02-19 10:08
11° 40.0' S 136° 20.0' E
RACH198402
24
4
Longline
1984-02-19 10:45
11° 42.0' S 136° 20.0' E
RACH198402
25
2
Drifting Gillnet
1984-02-19 12:01
11° 44.0' S 136° 20.0' E
RACH198402
26
29
Drifting Gillnet
1984-02-20 03:15
11° 39.0' S 136° 21.0' E
RACH198402
27
1
Handline
1984-02-20 05:45
11° 36.0' S 136° 25.0' E
RACH198402
28
4
Handline
1984-02-20 12:30
11° 40.0' S 136° 23.0' E
RACH198402
30
6
Drifting Gillnet
1984-02-21 11:30
11° 40.0' S 136° 37.0' E
RACH198402
33
3
Drifting Gillnet
1984-02-22 06:30
12° 10.0' S 136° 52.0' E
RACH198402
34
1
Handline
1984-02-22 08:25
12° 09.0' S 136° 55.0' E
RACH198402
35
9
Handline
1984-02-22 11:00
12° 11.0' S 136° 56.0' E
RACH198402
37
3
Drifting Gillnet
1984-02-22 13:40
12° 14.0' S 136° 58.0' E
RACH198402
38
7
Drifting Gillnet
1984-02-22 15:22
12° 14.0' S 136° 58.0' E
RACH198402
39
3
Drifting Gillnet
1984-02-23 05:30
12° 23.0' S 137° 01.0' E
RACH198402
41
2
Handline
1984-02-23 07:45
12° 27.0' S 136° 58.0' E
RACH198402
42
38
Drifting Gillnet
1984-02-23 10:31
12° 27.0' S 136° 59.0' E
RACH198402
43
1
Drifting Gillnet
1984-02-23 11:32
12° 28.0' S 136° 58.0' E
RACH198402
44
3
Drifting Gillnet
1984-02-23 14:45
12° 25.0' S 136° 59.0' E
RACH198402
46
1
Drifting Gillnet
1984-02-24 04:16
12° 37.0' S 136° 50.0' E
RACH198402
47
12
Drifting Gillnet
1984-02-24 09:47
12° 40.0' S 136° 51.0' E
RACH198402
49
3
Drifting Gillnet
1984-02-24 11:19
12° 43.0' S 136° 50.0' E
RACH198402
51
10
Drifting Gillnet
1984-02-24 11:19
12° 43.0' S 136° 50.0' E
RACH198402
50
1
Drifting Gillnet
1984-02-24 11:19
12° 43.0' S 136° 50.0' E
RACH198402
52
3
Drifting Gillnet
1984-02-24 16:50
12° 41.0' S 136° 49.0' E
RACH198402
54
1
Drifting Gillnet
1984-02-25 03:00
12° 43.0' S 136° 53.0' E
RACH198402
55
3
Handline
1984-02-25 07:45
12° 45.0' S 136° 47.0' E
RACH198402
57
3
Handline
1984-02-25 09:50
12° 47.0' S 136° 47.0' E
RACH198402
58
19
Drifting Gillnet
1984-02-25 13:30
12° 56.0' S 136° 48.0' E
RACH198402
60
20
Drifting Gillnet
1984-02-25 14:56
12° 55.0' S 136° 49.0' E
RACH198402
61
12
Drifting Gillnet
1984-02-25 16:26
12° 54.0' S 136° 45.0' E
RACH198402
62
2
Drifting Gillnet
1984-02-26 05:40
12° 53.0' S 136° 50.0' E
RACH198402
64
14
Handline
1984-02-27 03:23
13° 03.0' S 136° 36.0' E
RACH198402
67
10
Longline
1984-02-27 04:06
13° 05.0' S 136° 38.0' E
RACH198402
70
15
Drifting Gillnet
1984-02-27 04:06
13° 05.0' S 136° 38.0' E
RACH198402
68
4
Drifting Gillnet
1984-02-27 04:06
13° 05.0' S 136° 38.0' E
RACH198402
69
59
Drifting Gillnet
1984-02-27 04:35
13° 05.0' S 136° 38.0' E
RACH198402
72
20
Handline
1984-02-27 10:05
13° 05.0' S 136° 36.0' E
RACH198402
73
3
Drifting Gillnet
1984-02-27 11:32
13° 04.0' S 136° 38.0' E
RACH198402
74
7
Drifting Gillnet
1984-02-27 14:58
13° 04.0' S 136° 40.0' E
RACH198402
75
4
Drifting Gillnet
1984-02-28 03:28
13° 05.0' S 136° 37.0' E
RACH198402
76
1
Drifting Gillnet
1984-02-28 03:28
13° 05.0' S 136° 37.0' E
RACH198402
78
4
Drifting Gillnet
1984-02-28 07:50
13° 07.0' S 136° 36.0' E
RACH198402
80
3
Handline
1984-02-28 10:52
13° 04.0' S 136° 40.0' E
RACH198402
82
2
Drifting Gillnet
1984-02-28 12:18
13° 05.0' S 136° 43.0' E
RACH198402
83
1
Drifting Gillnet
1984-03-01 02:45
13° 10.0' S 136° 35.0' E
RACH198402
85
2
Handline
1984-03-01 04:05
13° 13.0' S 136° 34.0' E
RACH198402
86
9
Handline
1984-03-01 08:00
13° 15.0' S 136° 34.0' E
RACH198402
87
6
Handline
1984-03-01 09:46
13° 16.0' S 136° 34.0' E
RACH198402
88
4
Drifting Gillnet
1984-03-01 10:52
13° 18.0' S 136° 32.0' E
RACH198402
89
7
Drifting Gillnet
1984-03-01 14:16
13° 24.0' S 136° 26.0' E
RACH198402
91
7
Drifting Gillnet
1984-03-01 15:51
13° 24.0' S 136° 28.0' E
RACH198402
92
4
Drifting Gillnet
1984-03-02 03:05
13° 22.0' S 136° 30.0' E
RACH198402
93
5
Handline
1984-03-02 03:50
13° 22.0' S 136° 27.0' E
RACH198402
97
2
Drifting Gillnet
1984-03-02 03:50
13° 22.0' S 136° 27.0' E
RACH198402
96
4
Drifting Gillnet
1984-03-02 03:50
13° 22.0' S 136° 27.0' E
RACH198402
95
2
Drifting Gillnet
1984-03-02 03:50
13° 22.0' S 136° 30.0' E
RACH198402
94
5
Longline
1984-03-02 04:40
13° 23.0' S 136° 26.0' E
RACH198402
99
10
Handline
1984-03-02 08:50
13° 22.0' S 136° 29.0' E
RACH198402
100
3
Handline
1984-03-02 09:44
13° 22.0' S 136° 29.0' E
RACH198402
101
28
Drifting Gillnet
1984-03-02 11:42
13° 22.0' S 136° 24.0' E
RACH198402
102
1
Drifting Gillnet
1984-03-02 14:04
13° 23.0' S 136° 28.0' E
RACH198402
103
9
Drifting Gillnet
1984-03-03 08:22
12° 42.0' S 136° 51.0' E
RACH198402
104
10
Drifting Gillnet
1984-03-03 09:55
12° 42.0' S 136° 51.0' E
RACH198402
105
21
Drifting Gillnet
1984-03-06 09:40
11° 49.0' S 136° 46.0' E
RACH198402
107
3
Drifting Gillnet
1984-03-06 11:41
11° 45.0' S 136° 47.0' E
RACH198402
108
2
Longline
1984-03-06 12:21
11° 47.0' S 136° 47.0' E
RACH198402
109
5
Drifting Gillnet
1984-03-06 12:21
11° 47.0' S 136° 47.0' E
RACH198402
111
3
Drifting Gillnet
1984-03-06 12:21
11° 47.0' S 136° 47.0' E
RACH198402
110
2
Drifting Gillnet
1984-03-07 09:46
10° 46.0' S 137° 08.0' E
RACH198402
113
1
Drifting Gillnet
1984-03-09 02:30
11° 40.0' S 136° 18.0' E
RACH198402
121
1
Handline
1984-03-09 12:37
11° 41.0' S 136° 26.0' E
RACH198402
123
2
Drifting Gillnet
1984-03-10 12:00
11° 49.0' S 136° 49.0' E
RACH198402
126
8
Drifting Gillnet
1984-03-18 09:43
12° 10.0' S 136° 55.0' E
RACH198403
1
10
Drifting Gillnet
1984-03-18 11:23
12° 09.0' S 136° 53.0' E
RACH198403
2
11
Drifting Gillnet
1984-03-18 14:15
12° 09.0' S 136° 55.0' E
RACH198403
3
13
Drifting Gillnet
1984-03-19 07:15
12° 09.0' S 136° 52.0' E
RACH198403
4
2
Handline
1984-03-19 09:28
12° 09.0' S 136° 54.0' E
RACH198403
5
15
Longline
1984-03-19 10:12
12° 10.0' S 136° 56.0' E
RACH198403
6
2
Drifting Gillnet
1984-03-19 11:20
12° 09.0' S 136° 56.0' E
RACH198403
7
5
Drifting Gillnet
1984-03-19 13:04
12° 06.0' S 136° 56.0' E
RACH198403
9
1
Drifting Gillnet
1984-03-19 13:04
12° 06.0' S 136° 56.0' E
RACH198403
8
10
Drifting Gillnet
1984-03-20 02:15
11° 59.0' S 136° 58.0' E
RACH198403
12
1
Handline
1984-03-20 03:30
12° 02.0' S 136° 57.0' E
RACH198403
13
1
Handline
1984-03-20 06:00
12° 11.0' S 136° 56.0' E
RACH198403
14
10
Handline
1984-03-20 09:51
12° 10.0' S 136° 57.0' E
RACH198403
15
2
Drifting Gillnet
1984-03-20 10:51
12° 11.0' S 136° 55.0' E
RACH198403
16
4
Drifting Gillnet
1984-03-20 12:02
12° 11.0' S 136° 55.0' E
RACH198403
17
10
Drifting Gillnet
1984-03-20 15:00
12° 10.0' S 136° 54.0' E
RACH198403
18
3
Drifting Gillnet
1984-03-21 13:15
12° 05.0' S 136° 44.0' E
RACH198403
19
9
Drifting Gillnet
1984-03-21 15:27
11° 55.0' S 136° 42.0' E
RACH198403
20
8
Drifting Gillnet
1984-03-21 16:49
11° 55.0' S 136° 42.0' E
RACH198403
21
9
Drifting Gillnet
1984-03-23 01:06
11° 16.0' S 136° 43.0' E
RACH198403
23
1
Drifting Gillnet
1984-03-23 09:25
11° 34.0' S 136° 26.0' E
RACH198403
26
5
Longline
1984-03-23 09:56
11° 35.0' S 136° 27.0' E
RACH198403
27
4
Drifting Gillnet
1984-03-23 11:39
11° 37.0' S 136° 30.0' E
RACH198403
28
2
Drifting Gillnet
1984-03-25 01:30
11° 31.0' S 133° 38.0' E
RACH198403
32
5
Handline
1984-03-25 03:41
11° 35.0' S 133° 40.0' E
RACH198403
33
1
Handline
1984-03-25 11:42
11° 31.0' S 133° 19.0' E
RACH198403
36
1
Drifting Gillnet
1984-03-25 13:41
11° 27.0' S 133° 25.0' E
RACH198403
37
2
Drifting Gillnet
1984-03-25 16:06
11° 29.0' S 133° 17.0' E
RACH198403
38
1
Drifting Gillnet
1984-03-26 02:40
11° 28.0' S 133° 19.0' E
RACH198403
39
1
Handline
1984-03-26 03:51
11° 28.0' S 133° 18.0' E
RACH198403
40
9
Handline
1984-03-26 06:07
11° 28.0' S 133° 18.0' E
RACH198403
41
2
Handline
1984-03-26 08:26
11° 28.0' S 133° 19.0' E
RACH198403
42
1
Drifting Gillnet
1984-03-26 10:03
11° 27.0' S 133° 17.0' E
RACH198403
43
4
Drifting Gillnet
1984-03-26 11:04
11° 28.0' S 133° 17.0' E
RACH198403
44
5
Drifting Gillnet
1984-03-26 12:27
11° 28.0' S 133° 17.0' E
RACH198403
45
6
Drifting Gillnet
1984-03-26 14:23
11° 27.0' S 133° 19.0' E
RACH198403
46
2
Drifting Gillnet
1984-03-26 15:50
11° 28.0' S 133° 14.0' E
RACH198403
47
31
Drifting Gillnet
1984-03-27 04:40
11° 26.0' S 133° 14.0' E
RACH198403
49
3
Handline
1984-03-27 05:57
11° 28.0' S 133° 16.0' E
RACH198403
50
7
Handline
1984-03-27 08:18
11° 28.0' S 133° 15.0' E
RACH198403
51
1
Drifting Gillnet
1984-03-27 10:18
11° 30.0' S 133° 15.0' E
RACH198403
52
39
Drifting Gillnet
1984-03-27 12:09
11° 29.0' S 133° 14.0' E
RACH198403
53
3
Drifting Gillnet
1984-03-27 15:12
11° 30.0' S 133° 16.0' E
RACH198403
54
2
Drifting Gillnet
1984-03-27 16:13
11° 29.0' S 133° 16.0' E
RACH198403
55
1
Drifting Gillnet
1984-03-28 03:16
11° 17.0' S 132° 48.0' E
RACH198403
56
17
Handline
1984-03-28 05:20
11° 17.0' S 132° 48.0' E
RACH198403
57
8
Handline
1984-03-28 09:20
11° 15.0' S 132° 49.0' E
RACH198403
58
6
Longline
1984-03-28 10:02
11° 17.0' S 132° 47.0' E
RACH198403
59
11
Drifting Gillnet
1984-03-28 11:44
11° 16.0' S 132° 48.0' E
RACH198403
60
11
Drifting Gillnet
1984-03-28 11:44
11° 16.0' S 132° 48.0' E
RACH198403
62
1
Drifting Gillnet
1984-03-28 11:44
11° 16.0' S 132° 48.0' E
RACH198403
61
11
Drifting Gillnet
1984-03-29 09:15
11° 04.0' S 132° 45.0' E
RACH198403
64
6
Longline
1984-03-29 12:13
11° 00.0' S 132° 41.0' E
RACH198403
68
1
Drifting Gillnet
1984-03-29 12:13
11° 00.0' S 132° 41.0' E
RACH198403
67
17
Drifting Gillnet
1984-03-29 12:13
11° 00.0' S 132° 41.0' E
RACH198403
66
6
Drifting Gillnet
1984-03-31 05:36
11° 00.0' S 132° 42.0' E
RACH198403
72
1
Handline
1984-04-01 10:00
10° 59.0' S 132° 47.0' E
RACH198403
73
2
Longline
1984-04-01 11:41
10° 59.0' S 132° 46.0' E
RACH198403
75
1
Drifting Gillnet
1984-04-02 04:28
11° 03.0' S 132° 08.0' E
RACH198403
78
4
Handline
1984-04-02 05:40
11° 05.0' S 132° 06.0' E
RACH198403
79
7
Handline
1984-04-02 07:32
11° 04.0' S 132° 02.0' E
RACH198403
80
2
Handline
1984-04-03 03:14
11° 08.0' S 131° 25.0' E
RACH198403
86
3
Handline
1984-04-03 04:57
11° 10.0' S 131° 20.0' E
RACH198403
87
1
Drifting Gillnet
1984-04-03 07:03
11° 05.0' S 131° 11.0' E
RACH198403
88
3
Handline
1984-04-03 08:12
11° 06.0' S 131° 09.0' E
RACH198403
89
4
Handline
1984-04-03 12:14
11° 02.0' S 131° 02.0' E
RACH198403
92
2
Drifting Gillnet
1984-04-04 01:06
11° 01.0' S 130° 33.0' E
RACH198403
95
5
Handline
1984-04-04 04:35
10° 59.0' S 130° 29.0' E
RACH198403
96
2
Handline
1984-04-04 06:10
11° 01.0' S 130° 25.0' E
RACH198403
97
3
Handline
1984-04-04 07:10
11° 02.0' S 130° 19.0' E
RACH198403
98
14
Handline
1984-04-04 09:25
11° 03.0' S 130° 16.0' E
RACH198403
99
10
Longline
1984-04-04 10:23
11° 02.0' S 130° 15.0' E
RACH198403
100
1
Drifting Gillnet
1984-04-04 11:40
11° 01.0' S 130° 16.0' E
RACH198403
101
2
Drifting Gillnet
1984-04-04 13:36
10° 59.0' S 130° 17.0' E
RACH198403
102
2
Drifting Gillnet
1984-04-05 10:52
10° 54.0' S 130° 07.0' E
RACH198403
107
3
Longline
1984-04-05 11:34
10° 54.0' S 130° 02.0' E
RACH198403
110
1
Drifting Gillnet
1984-04-05 11:34
10° 54.0' S 130° 02.0' E
RACH198403
109
2
Drifting Gillnet
1984-04-06 06:43
10° 58.0' S 130° 08.0' E
RACH198403
113
2
Handline
1984-04-06 09:22
10° 58.0' S 130° 08.0' E
RACH198403
114
3
Longline
1984-04-06 10:09
10° 51.0' S 130° 09.0' E
RACH198403
115
4
Drifting Gillnet
1984-04-07 06:22
11° 09.0' S 129° 56.0' E
RACH198403
121
2
Handline
1984-04-07 10:23
11° 11.0' S 129° 52.0' E
RACH198403
123
7
Longline
1984-04-07 10:47
11° 12.0' S 129° 52.0' E
RACH198403
124
6
Drifting Gillnet
1984-04-08 09:51
11° 28.0' S 129° 54.0' E
RACH198403
130
1
Longline
1984-04-08 10:24
11° 29.0' S 129° 52.0' E
RACH198403
131
2
Drifting Gillnet
1984-04-09 08:29
11° 48.0' S 129° 58.0' E
RACH198403
136
5
Longline
1984-04-09 09:59
11° 46.0' S 129° 57.0' E
RACH198403
138
1
Drifting Gillnet
1984-04-25 10:21
12° 34.0' S 130° 14.0' E
RACH198404
1
39
Drifting Gillnet
1984-04-25 13:03
12° 35.0' S 130° 14.0' E
RACH198404
2
12
Drifting Gillnet
1984-04-26 01:20
12° 39.0' S 130° 17.0' E
RACH198404
3
3
Handline
1984-04-26 02:51
12° 44.0' S 130° 15.0' E
RACH198404
4
15
Handline
1984-04-26 05:38
12° 46.0' S 130° 16.0' E
RACH198404
5
28
Handline
1984-04-26 07:34
12° 48.0' S 130° 14.0' E
RACH198404
6
5
Handline
1984-04-26 09:42
12° 48.0' S 130° 13.0' E
RACH198404
7
2
Longline
1984-04-26 10:11
12° 47.0' S 130° 12.0' E
RACH198404
8
1
Drifting Gillnet
1984-04-26 11:58
12° 45.0' S 130° 13.0' E
RACH198404
12
1
Drifting Gillnet
1984-04-26 11:58
12° 45.0' S 130° 13.0' E
RACH198404
10
2
Drifting Gillnet
1984-04-26 11:58
12° 45.0' S 130° 13.0' E
RACH198404
11
1
Drifting Gillnet
1984-04-27 13:50
13° 20.0' S 130° 03.0' E
RACH198404
16
8
Drifting Gillnet
1984-04-28 02:52
13° 22.0' S 130° 06.0' E
RACH198404
18
45
Handline
1984-04-28 09:35
13° 21.0' S 130° 05.0' E
RACH198404
19
3
Longline
1984-04-28 10:06
13° 20.0' S 130° 06.0' E
RACH198404
20
1
Drifting Gillnet
1984-04-28 11:06
13° 18.0' S 130° 06.0' E
RACH198404
22
3
Drifting Gillnet
1984-04-28 11:06
13° 18.0' S 130° 06.0' E
RACH198404
23
1
Drifting Gillnet
1984-04-29 01:40
13° 24.0' S 130° 05.0' E
RACH198404
26
14
Handline
1984-04-29 11:08
13° 25.0' S 130° 02.0' E
RACH198404
28
2
Drifting Gillnet
1984-04-30 07:08
13° 28.0' S 129° 45.0' E
RACH198404
30
1
Handline
1984-04-30 09:45
13° 34.0' S 129° 42.0' E
RACH198404
31
5
Longline
1984-04-30 10:25
13° 31.0' S 129° 43.0' E
RACH198404
32
1
Drifting Gillnet
1984-05-01 09:35
14° 19.0' S 127° 51.0' E
RACH198404
38
6
Drifting Gillnet
1984-05-01 14:46
14° 08.0' S 127° 41.0' E
RACH198404
41
1
Drifting Gillnet
1984-05-02 10:56
13° 53.0' S 127° 30.0' E
RACH198404
47
1
Drifting Gillnet
1984-05-02 11:52
13° 52.0' S 127° 28.0' E
RACH198404
49
5
Drifting Gillnet
1984-05-02 11:52
13° 52.0' S 127° 28.0' E
RACH198404
50
1
Drifting Gillnet
1984-05-02 11:52
13° 52.0' S 127° 28.0' E
RACH198404
51
2
Drifting Gillnet
1984-05-03 02:48
13° 48.0' S 127° 24.0' E
RACH198404
52
7
Handline
1984-05-03 05:52
13° 49.0' S 127° 21.0' E
RACH198404
53
1
Handline
1984-05-03 10:13
13° 51.0' S 127° 23.0' E
RACH198404
55
2
Drifting Gillnet
1984-05-03 13:30
13° 52.0' S 127° 17.0' E
RACH198404
57
1
Drifting Gillnet
1984-05-05 23:20
14° 09.0' S 126° 38.0' E
RACH198404
58
7
Handline
1984-05-07 09:14
13° 55.0' S 126° 39.0' E
RACH198404
64
4
Longline
1984-05-07 10:12
13° 51.0' S 126° 41.0' E
RACH198404
65
4
Drifting Gillnet
1984-05-07 11:28
13° 50.0' S 126° 41.0' E
RACH198404
66
2
Drifting Gillnet
1984-05-08 01:30
13° 55.0' S 126° 46.0' E
RACH198404
71
2
Handline
1984-05-08 09:16
13° 51.0' S 126° 42.0' E
RACH198404
72
5
Drifting Gillnet
1984-05-08 10:42
13° 51.0' S 126° 42.0' E
RACH198404
73
3
Drifting Gillnet
1984-05-08 13:47
13° 49.0' S 126° 43.0' E
RACH198404
74
2
Drifting Gillnet
1984-05-09 09:05
14° 09.0' S 125° 55.0' E
RACH198404
75
1
Drifting Gillnet
1984-05-09 11:47
14° 20.0' S 125° 53.0' E
RACH198404
76
4
Drifting Gillnet
1984-05-09 13:50
14° 24.0' S 125° 54.0' E
RACH198404
77
1
Drifting Gillnet
1984-05-11 03:30
13° 52.0' S 126° 41.0' E
RACH198404
84
1
Handline
1984-05-11 10:18
13° 52.0' S 126° 44.0' E
RACH198404
86
2
Drifting Gillnet
1984-05-11 11:11
13° 52.0' S 126° 43.0' E
RACH198404
87
2
Drifting Gillnet
1984-05-11 13:15
13° 52.0' S 126° 42.0' E
RACH198404
88
18
Drifting Gillnet
1984-05-12 01:50
13° 50.0' S 126° 42.0' E
RACH198404
90
3
Handline
1984-05-12 09:09
13° 52.0' S 126° 39.0' E
RACH198404
91
4
Longline
1984-05-12 09:42
13° 52.0' S 126° 42.0' E
RACH198404
92
17
Drifting Gillnet
1984-05-12 12:52
13° 52.0' S 126° 44.0' E
RACH198404
93
3
Drifting Gillnet
1984-05-12 12:52
13° 52.0' S 126° 44.0' E
RACH198404
95
9
Drifting Gillnet
1984-05-12 12:52
13° 52.0' S 126° 44.0' E
RACH198404
94
11
Drifting Gillnet
1984-05-13 09:10
13° 45.0' S 127° 04.0' E
RACH198404
97
4
Longline
1984-05-13 09:38
13° 45.0' S 127° 03.0' E
RACH198404
98
1
Drifting Gillnet
1984-05-13 10:48
13° 43.0' S 127° 02.0' E
RACH198404
100
7
Drifting Gillnet
1984-05-15 10:19
14° 11.0' S 128° 15.0' E
RACH198404
104
1
Drifting Gillnet
1984-05-15 10:19
14° 11.0' S 128° 15.0' E
RACH198404
105
1
Drifting Gillnet
1984-06-02 04:25
12° 10.0' S 136° 43.0' E
RACH198405
1
6
Handline
1984-06-02 07:58
12° 10.0' S 136° 45.0' E
RACH198405
2
1
Handline
1984-06-02 10:18
12° 08.0' S 136° 43.0' E
RACH198405
4
6
Drifting Gillnet
1984-06-02 12:45
12° 08.0' S 136° 41.0' E
RACH198405
5
2
Drifting Gillnet
1984-06-02 14:28
12° 08.0' S 136° 45.0' E
RACH198405
6
1
Drifting Gillnet
1984-06-03 01:12
12° 10.0' S 136° 44.0' E
RACH198405
7
7
Handline
1984-06-03 10:28
12° 08.0' S 136° 43.0' E
RACH198405
9
14
Drifting Gillnet
1984-06-03 11:55
12° 08.0' S 136° 43.0' E
RACH198405
10
1
Drifting Gillnet
1984-06-04 13:49
12° 09.0' S 136° 44.0' E
RACH198405
15
6
Drifting Gillnet
1984-06-04 14:56
12° 09.0' S 136° 45.0' E
RACH198405
16
7
Drifting Gillnet
1984-06-05 00:10
12° 10.0' S 136° 44.0' E
RACH198405
17
1
Handline
1984-06-05 09:06
12° 08.0' S 136° 43.0' E
RACH198405
18
1
Drifting Gillnet
1984-06-07 07:28
13° 56.0' S 136° 19.0' E
RACH198405
22
3
Handline
1984-06-07 10:44
14° 00.0' S 136° 18.0' E
RACH198405
24
46
Drifting Gillnet
1984-06-07 14:44
13° 57.0' S 136° 19.0' E
RACH198405
25
18
Drifting Gillnet
1984-06-07 16:02
13° 56.0' S 136° 18.0' E
RACH198405
26
11
Drifting Gillnet
1984-06-08 04:45
14° 03.0' S 136° 20.0' E
RACH198405
27
1
Drifting Gillnet
1984-06-08 04:45
14° 03.0' S 136° 20.0' E
RACH198405
29
8
Drifting Gillnet
1984-06-08 04:45
14° 03.0' S 136° 20.0' E
RACH198405
28
20
Drifting Gillnet
1984-06-08 05:24
14° 03.0' S 136° 20.0' E
RACH198405
31
6
Handline
1984-06-08 10:43
14° 05.0' S 136° 23.0' E
RACH198405
32
8
Longline
1984-06-08 11:19
14° 04.0' S 136° 20.0' E
RACH198405
33
55
Drifting Gillnet
1984-06-08 13:41
14° 04.0' S 136° 20.0' E
RACH198405
36
2
Drifting Gillnet
1984-06-08 13:41
14° 04.0' S 136° 20.0' E
RACH198405
35
31
Drifting Gillnet
1984-06-10 07:35
14° 09.0' S 136° 23.0' E
RACH198405
38
5
Longline
1984-06-10 08:32
14° 11.0' S 136° 22.0' E
RACH198405
41
1
Drifting Gillnet
1984-06-10 08:32
14° 11.0' S 136° 22.0' E
RACH198405
40
29
Drifting Gillnet
1984-06-11 04:49
14° 12.0' S 136° 20.0' E
RACH198405
43
4
Longline
1984-06-11 05:14
14° 11.0' S 136° 20.0' E
RACH198405
46
4
Drifting Gillnet
1984-06-11 05:14
14° 11.0' S 136° 20.0' E
RACH198405
45
26
Drifting Gillnet
1984-06-11 05:14
14° 11.0' S 136° 20.0' E
RACH198405
44
2
Drifting Gillnet
1984-06-11 05:55
14° 10.0' S 136° 21.0' E
RACH198405
48
2
Handline
1984-06-11 13:51
14° 10.0' S 136° 21.0' E
RACH198405
50
2
Drifting Gillnet
1984-06-11 13:51
14° 10.0' S 136° 21.0' E
RACH198405
51
4
Drifting Gillnet
1984-06-20 08:36
15° 31.0' S 136° 46.0' E
RACH198405
60
2
Longline
1984-06-23 09:22
15° 31.0' S 137° 03.0' E
RACH198405
69
6
Drifting Gillnet
1984-06-23 13:03
15° 28.0' S 136° 59.0' E
RACH198405
71
3
Drifting Gillnet
1984-07-05 10:02
16° 46.0' S 140° 05.0' E
RACH198406
1
1
Drifting Gillnet
1984-07-05 11:34
16° 45.0' S 139° 59.0' E
RACH198406
2
1
Drifting Gillnet
1984-07-06 04:00
16° 22.0' S 138° 46.0' E
RACH198406
4
17
Handline
1984-07-06 09:44
16° 21.0' S 138° 40.0' E
RACH198406
5
4
Drifting Gillnet
1984-07-06 10:56
16° 20.0' S 138° 41.0' E
RACH198406
6
12
Drifting Gillnet
1984-07-06 12:43
16° 20.0' S 138° 39.0' E
RACH198406
7
29
Longline
1984-07-06 13:12
16° 20.0' S 138° 36.0' E
RACH198406
11
3
Drifting Gillnet
1984-07-06 13:12
16° 20.0' S 138° 36.0' E
RACH198406
10
14
Drifting Gillnet
1984-07-06 13:12
16° 20.0' S 138° 36.0' E
RACH198406
8
24
Drifting Gillnet
1984-07-06 13:12
16° 20.0' S 138° 36.0' E
RACH198406
9
18
Drifting Gillnet
1984-07-07 06:15
16° 19.0' S 138° 37.0' E
RACH198406
12
3
Handline
1984-07-07 10:07
16° 21.0' S 138° 33.0' E
RACH198406
13
28
Drifting Gillnet
1984-07-07 11:28
16° 17.0' S 138° 33.0' E
RACH198406
14
68
Drifting Gillnet
1984-07-07 13:20
16° 21.0' S 138° 32.0' E
RACH198406
16
14
Drifting Gillnet
1984-07-07 13:20
16° 21.0' S 138° 32.0' E
RACH198406
15
17
Drifting Gillnet
1984-07-07 13:20
16° 21.0' S 138° 32.0' E
RACH198406
17
23
Drifting Gillnet
1984-07-08 13:05
16° 02.0' S 139° 13.0' E
RACH198406
26
1
Drifting Gillnet
1984-07-09 07:53
15° 47.0' S 139° 48.0' E
RACH198406
28
9
Handline
1984-07-09 09:40
15° 47.0' S 139° 47.0' E
RACH198406
29
3
Drifting Gillnet
1984-07-09 11:00
15° 46.0' S 139° 48.0' E
RACH198406
30
2
Drifting Gillnet
1984-07-10 04:30
15° 31.0' S 140° 07.0' E
RACH198406
33
5
Handline
1984-07-10 09:57
15° 31.0' S 140° 07.0' E
RACH198406
35
1
Longline
1984-07-10 11:10
15° 32.0' S 140° 07.0' E
RACH198406
37
1
Drifting Gillnet
1984-07-10 12:15
15° 29.0' S 140° 06.0' E
RACH198406
41
2
Drifting Gillnet
1984-07-10 12:15
15° 29.0' S 140° 06.0' E
RACH198406
40
2
Drifting Gillnet
1984-07-14 01:15
14° 50.0' S 141° 13.0' E
RACH198406
45
2
Handline
1984-07-14 08:40
14° 35.0' S 141° 19.0' E
RACH198406
47
3
Handline
1984-07-14 10:01
14° 35.0' S 141° 19.0' E
RACH198406
48
2
Drifting Gillnet
1984-07-14 12:21
14° 33.0' S 141° 19.0' E
RACH198406
50
1
Drifting Gillnet
1984-07-15 02:00
14° 31.0' S 141° 18.0' E
RACH198406
51
46
Handline
1984-07-16 06:30
14° 04.0' S 141° 18.0' E
RACH198406
54
11
Handline
1984-07-16 09:53
14° 03.0' S 141° 18.0' E
RACH198406
55
1
Drifting Gillnet
1984-07-16 12:56
14° 01.0' S 141° 17.0' E
RACH198406
60
2
Drifting Gillnet
1984-07-18 06:30
13° 43.0' S 141° 14.0' E
RACH198406
62
1
Handline
1984-07-18 09:58
13° 27.0' S 141° 18.0' E
RACH198406
63
1
Drifting Gillnet
1984-07-18 12:52
13° 19.0' S 141° 18.0' E
RACH198406
68
19
Drifting Gillnet
1984-07-18 12:52
13° 19.0' S 141° 18.0' E
RACH198406
66
1
Drifting Gillnet
1984-07-18 12:52
13° 19.0' S 141° 18.0' E
RACH198406
67
6
Drifting Gillnet
1984-07-18 12:52
13° 19.0' S 141° 18.0' E
RACH198406
69
2
Drifting Gillnet
1984-07-19 09:55
12° 59.0' S 141° 30.0' E
RACH198406
71
2
Drifting Gillnet
1984-07-19 11:00
12° 57.0' S 141° 28.0' E
RACH198406
72
4
Drifting Gillnet
1984-07-19 12:28
12° 53.0' S 141° 31.0' E
RACH198406
73
8
Drifting Gillnet
1984-07-19 14:17
12° 49.0' S 141° 31.0' E
RACH198406
74
3
Drifting Gillnet
1984-07-21 00:15
12° 44.0' S 141° 41.0' E
RACH198406
75
2
Handline
1984-07-21 02:00
12° 46.0' S 141° 42.0' E
RACH198406
76
14
Handline
1984-07-21 11:16
12° 39.0' S 141° 35.0' E
RACH198406
78
1
Drifting Gillnet
1984-07-21 12:35
12° 39.0' S 141° 34.0' E
RACH198406
79
12
Longline
1984-07-21 12:56
12° 38.0' S 141° 32.0' E
RACH198406
80
1
Drifting Gillnet
1984-07-21 12:56
12° 38.0' S 141° 32.0' E
RACH198406
82
6
Drifting Gillnet
1984-07-21 12:56
12° 38.0' S 141° 32.0' E
RACH198406
83
9
Drifting Gillnet
1984-07-22 05:30
12° 31.0' S 141° 29.0' E
RACH198406
84
36
Handline
1984-07-22 11:20
12° 27.0' S 141° 30.0' E
RACH198406
86
2
Longline
1984-07-22 11:58
12° 26.0' S 141° 31.0' E
RACH198406
88
1
Drifting Gillnet
1984-07-22 11:58
12° 26.0' S 141° 31.0' E
RACH198406
89
2
Drifting Gillnet
1984-07-26 02:30
12° 45.0' S 141° 42.0' E
RACH198406
99
6
Handline
1984-08-04 06:00
12° 40.0' S 141° 36.0' E
RACH198407
1
3
Handline
1984-08-04 07:30
12° 39.0' S 141° 34.0' E
RACH198407
2
1
Handline
1984-08-04 08:40
12° 33.0' S 141° 32.0' E
RACH198407
3
3
Handline
1984-08-04 09:47
12° 36.0' S 141° 31.0' E
RACH198407
4
2
Drifting Gillnet
1984-08-04 11:57
12° 34.0' S 141° 29.0' E
RACH198407
6
9
Longline
1984-08-04 12:27
12° 34.0' S 141° 27.0' E
RACH198407
10
1
Drifting Gillnet
1984-08-04 12:27
12° 34.0' S 141° 27.0' E
RACH198407
7
1
Drifting Gillnet
1984-08-04 12:27
12° 34.0' S 141° 27.0' E
RACH198407
8
1
Drifting Gillnet
1984-08-04 12:27
12° 34.0' S 141° 27.0' E
RACH198407
9
2
Drifting Gillnet
1984-08-05 04:00
12° 30.0' S 141° 25.0' E
RACH198407
11
17
Handline
1984-08-05 07:15
12° 29.0' S 141° 25.0' E
RACH198407
12
1
Handline
1984-08-05 11:12
12° 29.0' S 141° 27.0' E
RACH198407
14
1
Drifting Gillnet
1984-08-05 12:19
12° 30.0' S 141° 27.0' E
RACH198407
15
3
Longline
1984-08-05 12:55
12° 28.0' S 141° 27.0' E
RACH198407
18
32 to 34
1
Drifting Gillnet
1984-08-05 12:55
12° 28.0' S 141° 27.0' E
RACH198407
19
32 to 34
5
Drifting Gillnet
1984-08-05 12:55
12° 28.0' S 141° 27.0' E
RACH198407
16
32 to 34
1
Drifting Gillnet
1984-08-06 01:30
12° 20.0' S 141° 23.0' E
RACH198407
20
3
Handline
1984-08-06 05:00
12° 20.0' S 141° 23.0' E
RACH198407
21
7
Handline
1984-08-06 09:58
12° 19.0' S 141° 25.0' E
RACH198407
22
10
Drifting Gillnet
1984-08-06 11:12
12° 19.0' S 141° 25.0' E
RACH198407
23
2
Drifting Gillnet
1984-08-06 14:45
12° 23.0' S 141° 25.0' E
RACH198407
25
1
Drifting Gillnet
1984-08-07 12:35
11° 43.0' S 141° 26.0' E
RACH198407
30
2
Longline
1984-08-07 13:04
11° 41.0' S 141° 24.0' E
RACH198407
32
1
Drifting Gillnet
1984-08-14 09:38
11° 14.0' S 142° 02.0' E
RACH198407
52
2
Drifting Gillnet
1984-08-14 12:23
11° 16.0' S 142° 01.0' E
RACH198407
54
2
Drifting Gillnet
1984-08-14 14:12
11° 16.0' S 141° 58.0' E
RACH198407
55
1
Drifting Gillnet
1984-08-15 03:25
11° 22.0' S 141° 29.0' E
RACH198407
57
2
Longline
1984-08-16 00:20
11° 22.0' S 142° 05.0' E
RACH198407
60
1
Longline
1984-08-17 10:03
11° 16.0' S 140° 33.0' E
RACH198407
65
1
Drifting Gillnet
1984-08-18 10:05
11° 15.0' S 139° 41.0' E
RACH198407
73
1
Drifting Gillnet
1984-08-22 09:32
10° 59.0' S 136° 39.0' E
RACH198407
86
4
Drifting Gillnet
1984-08-22 11:40
11° 02.0' S 136° 40.0' E
RACH198407
87
2
Drifting Gillnet
1984-08-24 07:45
11° 03.0' S 136° 40.0' E
RACH198407
90
1
Handline
1984-08-24 09:40
11° 04.0' S 136° 39.0' E
RACH198407
92
1
Drifting Gillnet
1984-08-24 11:25
11° 03.0' S 136° 39.0' E
RACH198407
93
1
Longline
1984-08-24 11:55
11° 03.0' S 136° 38.0' E
RACH198407
96
2
Drifting Gillnet
1984-08-25 13:35
11° 02.0' S 136° 42.0' E
RACH198407
101
10
Drifting Gillnet
1984-09-19 10:07
12° 39.0' S 130° 14.0' E
RACH198408
1
5
Drifting Gillnet
1984-09-19 11:02
12° 40.0' S 130° 12.0' E
RACH198408
2
2
Drifting Gillnet
1984-09-20 06:00
12° 50.0' S 130° 13.0' E
RACH198408
6
3
Handline
1984-09-20 09:20
12° 50.0' S 130° 12.0' E
RACH198408
7
1
Longline
1984-09-20 12:22
12° 46.0' S 130° 14.0' E
RACH198408
11
1
Drifting Gillnet
1984-09-20 12:22
12° 46.0' S 130° 14.0' E
RACH198408
12
3
Drifting Gillnet
1984-09-21 15:45
13° 23.0' S 130° 03.0' E
RACH198408
17
2
Drifting Gillnet
1984-09-22 10:00
13° 38.0' S 129° 29.0' E
RACH198408
20
1
Longline
1984-09-24 10:10
12° 19.0' S 130° 28.0' E
RACH198408
26
5
Drifting Gillnet
1984-09-24 12:10
12° 17.0' S 130° 20.0' E
RACH198408
27
3
Drifting Gillnet
1984-09-26 02:55
13° 47.0' S 126° 40.0' E
RACH198408
31
13
Handline
1984-09-26 09:10
13° 50.0' S 126° 43.0' E
RACH198408
32
22
Drifting Gillnet
1984-09-26 12:42
13° 53.0' S 126° 43.0' E
RACH198408
33
4
Drifting Gillnet
1984-09-26 15:21
13° 51.0' S 126° 43.0' E
RACH198408
34
1
Drifting Gillnet
1984-09-27 02:30
13° 54.0' S 126° 46.0' E
RACH198408
35
30
Handline
1984-09-27 09:23
13° 49.0' S 126° 43.0' E
RACH198408
36
4
Longline
1984-09-27 09:45
13° 50.0' S 126° 43.0' E
RACH198408
37
4
Drifting Gillnet
1984-09-27 10:52
13° 52.0' S 126° 43.0' E
RACH198408
38
6
Drifting Gillnet
1984-09-27 12:09
13° 52.0' S 126° 44.0' E
RACH198408
39
1
Drifting Gillnet
1984-09-27 12:09
13° 52.0' S 126° 44.0' E
RACH198408
41
19
Drifting Gillnet
1984-09-27 12:09
13° 52.0' S 126° 44.0' E
RACH198408
42
1
Drifting Gillnet
1984-09-28 02:45
13° 52.0' S 126° 45.0' E
RACH198408
43
6
Handline
1984-09-28 09:10
13° 52.0' S 126° 45.0' E
RACH198408
44
3
Drifting Gillnet
1984-09-28 10:35
13° 51.0' S 126° 42.0' E
RACH198408
45
4
Drifting Gillnet
1984-09-28 11:54
13° 51.0' S 126° 41.0' E
RACH198408
46
1
Drifting Gillnet
1984-09-30 09:55
13° 19.0' S 125° 45.0' E
RACH198408
53
3
Drifting Gillnet
1984-10-01 09:33
14° 17.0' S 125° 32.0' E
RACH198408
54
2
Drifting Gillnet
1984-10-01 10:45
14° 17.0' S 125° 31.0' E
RACH198408
55
2
Drifting Gillnet
1984-10-02 09:36
14° 15.0' S 124° 57.0' E
RACH198408
59
2
Drifting Gillnet
1984-10-02 12:24
14° 50.0' S 124° 59.0' E
RACH198408
61
12
Longline
1984-10-02 12:49
14° 51.0' S 125° 00.0' E
RACH198408
64
12
Drifting Gillnet
1984-10-02 12:49
14° 51.0' S 125° 00.0' E
RACH198408
65
2
Drifting Gillnet
1984-10-03 10:31
15° 24.0' S 125° 00.0' E
RACH198408
67
6
Drifting Gillnet
1984-10-03 12:06
15° 24.0' S 125° 00.0' E
RACH198408
68
30
Drifting Gillnet
1984-10-05 10:30
15° 05.0' S 124° 13.0' E
RACH198408
70
3
Longline
1984-10-05 10:58
15° 03.0' S 124° 14.0' E
RACH198408
73
2
Drifting Gillnet
1984-10-10 09:57
18° 25.0' S 121° 37.0' E
RACH198408
82
1
Longline
1984-10-10 12:38
18° 31.0' S 121° 36.0' E
RACH198408
87
1
Drifting Gillnet
1985-01-25 10:15
10° 34.0' S 132° 42.0' E
RACH198509
1
1
Drifting Gillnet
1985-01-25 21:45
10° 39.0' S 132° 47.0' E
RACH198509
2
2
Longline
1985-01-26 04:05
10° 36.0' S 132° 47.0' E
RACH198509
3
1
Longline
1985-01-26 10:07
10° 34.0' S 132° 49.0' E
RACH198509
4
2
Drifting Gillnet
1985-01-26 19:30
10° 41.0' S 132° 50.0' E
RACH198509
5
6
Longline
1985-01-27 04:45
10° 23.0' S 132° 37.0' E
RACH198509
6
1
Longline
1985-01-27 19:32
10° 22.0' S 132° 27.0' E
RACH198509
8
2
Longline
1985-01-28 19:15
10° 45.0' S 132° 58.0' E
RACH198509
10
3
Longline
1985-01-31 10:08
12° 00.0' S 136° 47.0' E
RACH198509
14
62
Drifting Gillnet
1985-01-31 12:58
11° 59.0' S 136° 46.0' E
RACH198509
15
9
Drifting Gillnet
1985-01-31 14:06
12° 01.0' S 136° 46.0' E
RACH198509
16
4
Drifting Gillnet
1985-02-01 10:10
12° 03.0' S 136° 45.0' E
RACH198509
17
6
Drifting Gillnet
1985-02-02 05:15
11° 05.0' S 136° 54.0' E
RACH198509
21
1
Longline
1985-02-02 19:15
10° 39.0' S 136° 58.0' E
RACH198509
23
1
Longline
1985-02-04 19:25
9° 54.0' S 135° 59.0' E
RACH198509
29
1
Longline
1985-02-05 05:40
10° 34.0' S 135° 52.0' E
RACH198509
30
1
Longline
1985-02-05 10:05
10° 46.0' S 135° 46.0' E
RACH198509
31
1
Drifting Gillnet
1985-02-05 19:21
10° 46.0' S 135° 45.0' E
RACH198509
32
5
Longline
1985-02-06 05:12
11° 17.0' S 135° 38.0' E
RACH198509
33
2
Longline
1985-02-06 19:31
11° 25.0' S 135° 40.0' E
RACH198509
35
16
Longline
1985-02-07 03:00
11° 23.0' S 135° 42.0' E
RACH198509
36
6
Handline
1985-02-07 10:00
11° 19.0' S 135° 33.0' E
RACH198509
37
1
Drifting Gillnet
1985-02-07 19:25
11° 24.0' S 135° 40.0' E
RACH198509
38
10
Longline
1985-02-08 05:15
11° 21.0' S 135° 41.0' E
RACH198509
40
3
Longline
1985-02-08 10:04
11° 18.0' S 135° 42.0' E
RACH198509
41
1
Drifting Gillnet
1985-02-08 19:15
11° 18.0' S 135° 44.0' E
RACH198509
42
3
Longline
1985-02-09 09:50
10° 55.0' S 136° 15.0' E
RACH198509
44
2
Drifting Gillnet
1985-02-09 19:21
11° 04.0' S 136° 18.0' E
RACH198509
45
17
Longline
1985-02-10 05:45
10° 58.0' S 136° 52.0' E
RACH198509
46
10
Longline
1985-02-12 19:25
11° 11.0' S 137° 14.0' E
RACH198509
50
1
Longline
1985-02-13 11:30
12° 02.0' S 136° 45.0' E
RACH198509
53
4
Drifting Gillnet
1985-02-13 14:15
12° 02.0' S 136° 43.0' E
RACH198509
54
1
Drifting Gillnet
1985-02-14 02:32
12° 04.0' S 136° 42.0' E
RACH198509
55
20
Longline
1985-02-14 13:27
12° 06.0' S 136° 40.0' E
RACH198509
58
1
Drifting Gillnet
1985-02-22 07:00
12° 06.0' S 136° 42.0' E
RACH198510
1
4
Handline
1985-02-22 08:43
12° 04.0' S 136° 42.0' E
RACH198510
2
2
Handline
1985-02-23 04:58
12° 01.0' S 136° 47.0' E
RACH198510
5
1
Handline
1985-02-26 00:34
10° 05.0' S 137° 46.0' E
RACH198510
12
5
Longline
1985-02-26 04:55
10° 06.0' S 137° 49.0' E
RACH198510
13
5
Longline
1985-02-26 20:12
10° 06.0' S 138° 04.0' E
RACH198510
14
5
Longline
1985-02-27 00:17
10° 06.0' S 138° 07.0' E
RACH198510
15
9
Longline
1985-02-27 04:12
10° 06.0' S 138° 11.0' E
RACH198510
16
1
Longline
1985-02-27 19:47
10° 10.0' S 138° 25.0' E
RACH198510
17
1
Longline
1985-02-27 23:35
10° 13.0' S 138° 30.0' E
RACH198510
18
1
Longline
1985-02-28 03:11
10° 16.0' S 138° 34.0' E
RACH198510
19
3
Longline
1985-02-28 23:50
10° 33.0' S 138° 33.0' E
RACH198510
21
3
Longline
1985-03-01 03:14
10° 37.0' S 138° 37.0' E
RACH198510
22
3
Longline
1985-03-01 20:11
10° 51.0' S 138° 32.0' E
RACH198510
23
2
Longline
1985-03-03 12:04
12° 02.0' S 136° 44.0' E
RACH198510
26
31
Drifting Gillnet
1985-03-04 10:59
12° 04.0' S 136° 43.0' E
RACH198510
27
4
Drifting Gillnet
1985-03-04 11:56
12° 04.0' S 136° 43.0' E
RACH198510
28
1
Drifting Gillnet
1985-03-04 13:32
12° 03.0' S 136° 45.0' E
RACH198510
29
2
Drifting Gillnet
1985-03-04 14:54
12° 08.0' S 136° 43.0' E
RACH198510
30
4
Drifting Gillnet
1985-03-05 19:54
10° 49.0' S 136° 51.0' E
RACH198510
31
2
Longline
1985-03-06 20:30
10° 32.0' S 136° 58.0' E
RACH198510
33
1
Longline
1985-03-09 10:03
10° 59.0' S 136° 40.0' E
RACH198510
36
3
Drifting Gillnet
1985-03-09 12:05
10° 56.0' S 136° 41.0' E
RACH198510
37
1
Drifting Gillnet
1985-03-09 21:56
10° 49.0' S 136° 45.0' E
RACH198510
38
3
Longline
1985-03-10 02:03
10° 43.0' S 136° 44.0' E
RACH198510
39
2
Longline
1985-03-11 05:27
10° 11.0' S 136° 49.0' E
RACH198510
43
2
Longline
1985-03-11 23:02
10° 07.0' S 136° 55.0' E
RACH198510
44
1
Longline
1985-03-12 02:46
10° 08.0' S 136° 58.0' E
RACH198510
45
4
Longline
1985-03-12 22:41
10° 14.0' S 137° 12.0' E
RACH198510
47
3
Longline
1985-03-13 03:04
10° 14.0' S 137° 07.0' E
RACH198510
48
4
Longline
1985-03-13 06:40
10° 19.0' S 137° 07.0' E
RACH198510
49
3
Longline
1985-03-15 09:55
11° 59.0' S 136° 46.0' E
RACH198510
53
1
Drifting Gillnet
1985-03-16 03:45
10° 53.0' S 136° 41.0' E
RACH198510
56
57
Handline
1985-03-16 09:45
10° 54.0' S 136° 40.0' E
RACH198510
57
15
Drifting Gillnet
1985-03-16 10:57
10° 54.0' S 136° 41.0' E
RACH198510
58
17
Drifting Gillnet
1985-03-16 14:17
10° 54.0' S 136° 42.0' E
RACH198510
59
1
Drifting Gillnet
1985-03-29 10:10
11° 56.0' S 136° 39.0' E
RACH198511
1
1
Drifting Gillnet
1985-03-30 00:00
11° 55.0' S 136° 42.0' E
RACH198511
4
2
Handline
1985-03-30 02:50
12° 07.0' S 136° 43.0' E
RACH198511
5
1
Handline
1985-03-30 11:30
12° 06.0' S 136° 59.0' E
RACH198511
7
10
Drifting Gillnet
1985-03-30 13:28
12° 07.0' S 137° 01.0' E
RACH198511
8
21
Drifting Gillnet
1985-03-31 04:00
11° 42.0' S 138° 22.0' E
RACH198511
9
1
Longline
1985-04-01 11:30
10° 45.0' S 141° 09.0' E
RACH198511
12
1
Drifting Gillnet
1985-04-01 23:00
10° 29.0' S 142° 31.0' E
RACH198511
13
7
Handline
1985-04-02 09:50
10° 28.0' S 142° 35.0' E
RACH198511
14
6
Drifting Gillnet
1985-04-02 23:00
10° 29.0' S 142° 30.0' E
RACH198511
16
1
Handline
1985-04-03 09:50
9° 56.0' S 143° 09.0' E
RACH198511
18
3
Drifting Gillnet
1985-04-03 12:05
9° 54.0' S 143° 09.0' E
RACH198511
19
2
Drifting Gillnet
1985-04-04 10:45
9° 41.0' S 143° 13.0' E
RACH198511
20
13
Drifting Gillnet
1985-04-04 13:45
9° 42.0' S 143° 13.0' E
RACH198511
21
8
Drifting Gillnet
1985-04-05 02:00
9° 42.0' S 143° 13.0' E
RACH198511
22
7
Longline
1985-04-05 08:40
9° 26.0' S 143° 25.0' E
RACH198511
23
2
Drifting Gillnet
1985-04-05 10:30
9° 27.0' S 143° 22.0' E
RACH198511
24
1
Drifting Gillnet
1985-04-06 08:50
9° 08.0' S 144° 07.0' E
RACH198511
25
3
Drifting Gillnet
1985-04-06 11:00
9° 05.0' S 144° 06.0' E
RACH198511
26
4
Drifting Gillnet
1985-04-06 13:05
9° 03.0' S 144° 11.0' E
RACH198511
27
2
Drifting Gillnet
1985-04-07 01:35
9° 01.0' S 144° 08.0' E
RACH198511
28
4
Longline
1985-04-08 01:45
9° 36.0' S 143° 14.0' E
RACH198511
30
11
Longline
1985-04-08 13:10
9° 40.0' S 143° 15.0' E
RACH198511
32
2
Drifting Gillnet
1985-04-09 03:30
9° 37.0' S 143° 13.0' E
RACH198511
33
2
Longline
1985-04-13 09:15
12° 44.0' S 143° 29.0' E
RACH198511
39
11
Drifting Gillnet
1985-04-13 22:30
12° 48.0' S 143° 25.0' E
RACH198511
41
5
Handline
1985-04-14 01:30
12° 48.0' S 143° 25.0' E
RACH198511
42
11
Handline
1985-04-14 08:55
12° 42.0' S 143° 28.0' E
RACH198511
43
3
Drifting Gillnet
1985-04-14 11:35
12° 41.0' S 143° 28.0' E
RACH198511
44
10
Drifting Gillnet
1985-04-15 07:30
13° 37.0' S 143° 36.0' E
RACH198511
45
6
Handline
1985-04-15 09:45
13° 45.0' S 143° 40.0' E
RACH198511
46
7
Drifting Gillnet
1985-04-16 04:00
14° 07.0' S 143° 50.0' E
RACH198511
48
2
Handline
1985-04-16 23:50
14° 13.0' S 144° 00.0' E
RACH198511
52
15
Handline
1985-04-17 08:30
14° 15.0' S 143° 59.0' E
RACH198511
53
10
Drifting Gillnet
1985-04-17 11:15
14° 13.0' S 143° 58.0' E
RACH198511
54
3
Drifting Gillnet
1985-04-18 01:00
14° 18.0' S 144° 20.0' E
RACH198511
56
2
Handline
1985-04-18 04:20
14° 08.0' S 144° 21.0' E
RACH198511
57
12
Handline
1985-04-18 11:00
14° 08.0' S 144° 21.0' E
RACH198511
59
7
Drifting Gillnet
1985-04-20 10:00
15° 27.0' S 145° 20.0' E
RACH198511
62
1
Drifting Gillnet
1985-05-08 01:20
16° 24.0' S 145° 31.0' E
RACH198512
4
4
Handline
1985-05-08 04:00
16° 10.0' S 145° 29.0' E
RACH198512
5
1
Handline
1985-05-08 06:40
15° 55.0' S 145° 26.0' E
RACH198512
6
1
Handline
1985-05-09 10:39
14° 08.0' S 144° 26.0' E
RACH198512
8
1
Drifting Gillnet
1985-05-09 11:59
14° 09.0' S 144° 23.0' E
RACH198512
9
1
Drifting Gillnet
1985-05-09 13:20
14° 09.0' S 144° 22.0' E
RACH198512
10
1
Drifting Gillnet
1985-05-10 05:10
14° 15.0' S 144° 02.0' E
RACH198512
13
17
Handline
1985-05-10 09:38
14° 16.0' S 144° 02.0' E
RACH198512
15
1
Drifting Gillnet
1985-05-10 12:16
14° 17.0' S 144° 00.0' E
RACH198512
17
1
Drifting Gillnet
1985-05-10 22:15
14° 21.0' S 144° 03.0' E
RACH198512
18
2
Handline
1985-05-11 05:25
13° 50.0' S 143° 40.0' E
RACH198512
19
1
Handline
1985-05-12 05:50
12° 36.0' S 143° 24.0' E
RACH198512
20
1
Handline
1985-05-12 23:32
12° 27.0' S 143° 20.0' E
RACH198512
21
20
Longline
1985-05-13 23:00
11° 49.0' S 143° 03.0' E
RACH198512
23
32
Longline
1985-05-14 03:23
11° 49.0' S 143° 04.0' E
RACH198512
24
15
Longline
1985-05-14 10:30
11° 46.0' S 143° 05.0' E
RACH198512
25
1
Handline
1985-05-14 23:25
11° 40.0' S 142° 58.0' E
RACH198512
26
2
Longline
1985-05-17 05:03
10° 37.0' S 141° 44.0' E
RACH198512
27
1
Longline
1985-05-19 05:00
12° 10.0' S 136° 45.0' E
RACH198512
28
4
Handline
1985-05-22 05:41
11° 44.0' S 136° 31.0' E
RACH198512
33
2
Longline
1985-05-23 09:35
11° 26.0' S 136° 25.0' E
RACH198512
37
2
Drifting Gillnet
1985-05-24 02:38
11° 04.0' S 136° 30.0' E
RACH198512
40
2
Longline
1985-05-25 03:48
11° 08.0' S 136° 37.0' E
RACH198512
41
3
Longline
1985-05-25 11:36
11° 03.0' S 136° 40.0' E
RACH198512
43
6
Drifting Gillnet
1985-05-26 11:57
11° 31.0' S 136° 18.0' E
RACH198512
46
9
Drifting Gillnet
1985-05-27 13:41
12° 06.0' S 136° 43.0' E
RACH198512
48
9
Drifting Gillnet
1985-05-28 02:04
12° 05.0' S 136° 45.0' E
RACH198512
50
3
Drifting Gillnet
1985-05-28 10:07
12° 05.0' S 136° 41.0' E
RACH198512
51
1
Drifting Gillnet
1985-05-28 12:13
12° 07.0' S 136° 42.0' E
RACH198512
52
2
Drifting Gillnet
1985-05-28 13:33
12° 10.0' S 136° 42.0' E
RACH198512
53
1
Drifting Gillnet
1985-05-29 02:40
12° 09.0' S 136° 38.0' E
RACH198512
54
12
Handline
1985-05-29 09:45
12° 06.0' S 136° 40.0' E
RACH198512
55
1
Drifting Gillnet
1985-05-29 12:32
12° 05.0' S 136° 40.0' E
RACH198512
57
1
Drifting Gillnet
1985-05-29 13:22
12° 05.0' S 136° 40.0' E
RACH198512
56
8
Drifting Gillnet
1985-05-30 04:17
12° 05.0' S 136° 42.0' E
RACH198512
58
19
Longline
1986-08-11 12:55
12° 45.0' S 141° 39.0' E
AB198608
2
3
13
Stern Trawl
13 minutes
1986-08-11 23:26
12° 45.0' S 141° 39.0' E
AB198608
3
1
1.8
Stern Trawl
17 minutes
1986-08-12 02:42
12° 45.0' S 141° 39.0' E
AB198608
4
1
4.2
Stern Trawl
17 minutes
1986-08-12 12:41
12° 39.0' S 141° 21.0' E
AB198608
7
1
4
Stern Trawl
17 minutes
1987-08-26 11:35
12° 39.0' S 141° 32.0' E
AB198725
2
1
10.8
Stern Trawl
50 minutes
1987-08-26 22:08
12° 39.0' S 141° 32.0' E
AB198725
3
1
4.88
Stern Trawl
50 minutes
1987-08-27 01:30
12° 39.0' S 141° 32.0' E
AB198725
4
1
4.5
Stern Trawl
17 minutes
1987-08-27 02:54
12° 40.0' S 141° 21.0' E
AB198725
5
2
8.63
Stern Trawl
17 minutes
1987-08-28 02:50
12° 40.0' S 141° 21.0' E
AB198725
13
1
3.25
Stern Trawl
100 minutes
1987-08-28 05:50
12° 46.0' S 141° 21.0' E
AB198725
14
1
3
Stern Trawl
100 minutes
1987-08-28 22:02
12° 40.0' S 141° 21.0' E
AB198725
16
1
2.5
Stern Trawl
100 minutes
1987-08-29 11:22
12° 45.0' S 141° 40.0' E
AB198725
20
1
9.5
Stern Trawl
50 minutes
1987-11-28 22:55
12° 45.0' S 141° 30.0' E
AB198729
23
1
2.7
Stern Trawl
25 minutes
1989-09-28 06:39
20° 40.0' S 115° 06.4' E
POE198901
84
72 to 77
1.67
30 minutes
1997-02-28 14:00
15° 02.4' S 136° 52.5' E
SS199702
211
28 to 30
1
2.105
Trawl
29 Minutes
1997-03-05 04:55
13° 26.3' S 137° 00.4' E
SS199702
262
43 to 43
1
10.7
Trawl
35 Minutes
1998-09-30 04:05
13° 29.9' S 136° 19.4' E
SS199803
111
1
1.708
Trawl
31 Minutes
1998-09-30 22:10
13° 30.6' S 136° 19.0' E
SS199803
123
15 to 17
1
1.723
Trawl
29 Minutes
1998-10-08 00:34
14° 26.9' S 136° 24.6' E
SS199803
360
21 to 22
4
9.294
Trawl
30 Minutes
1998-10-10 16:35
14° 09.1' S 136° 07.5' E
SS199803
475
15 to 15
1
2.9
Trawl
30 Minutes
1998-10-11 19:05
14° 25.3' S 136° 21.7' E
SS199803
535
1
2.405
Trawl
31 Minutes
1998-10-16 22:52
14° 09.4' S 136° 14.2' E
SS199803
646
17 to 18
1
3.6
Trawl
30 Minutes
1998-10-17 02:15
14° 17.6' S 136° 12.0' E
SS199803
650
2
3.623
Trawl
28 Minutes
1998-10-17 04:06
14° 19.0' S 136° 11.9' E
SS199803
652
3
5.507
Trawl
28 Minutes