Please login if you have access to particular applications.
Survey details and related metadata, reports, events and data.
SO 2/81
Period: 1981-05-30 to 1981-07-14
Region: Gulf of Carpentaria/Arafura Sea
Ship: Soela [details]
Description: Soela cruise SO 02/81 was undertaken for a second reconnaissance of the fish resources in the Gulf of Carpentaria and the Australian Fishing Zone (AFZ) sector of the Arafura Sea, by carrying out an acoustic and trawl survey of midwater and demersal fish. Primary objectives were to examine the composition of catches and undertake biological studies on pelagic and semi-pelagic groups (Carangids, Clupeoids, Leiognathids, Rastrelliger, Scomberomorus and shark species). To estimate catch rates and establish a real extent of unusual concentrations of fish detected. Collect echosounder and sonar records. To estimate population size-age and sex ratios for Lethrinus nematacanthus, Lethrinus lentjan, Lethrinus laticadus and Lethrinus choerorynchus from areas fished and unfished for tiger prawns. Secondary objectives included to continue survey of heraphroditic fish families. Examine in areas the cathes of a prawn net. Examine lutjanid species from the Arafura Sea. To collect surface plankton samples for phyllosoma larvae. Carry out gear trials.
Leader: W. Okera (CSIRO)
Project: "Soela" fish surveys, 1980s [details]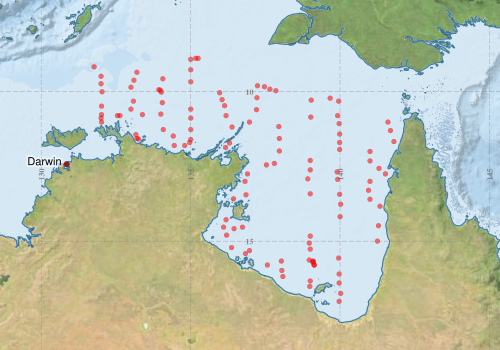 Voyage extents: 17° 01.0' S to 8° 53.0' S 131° 46.0' E to 141° 48.0' E
Participants:- no records
Data publishing:- This is a list of online datasets. use the Get data link on the right to extract data using the NCMI Data Trawler.
Data Stream
Data Summary
Get data
Catch Details

Time (UTC):
1981-06-07 21:06 to 1981-07-04 03:07
Latitude:
-17.02 to -8.88
Longitude:
131.77 to 141.80
Catch Summary:
Deployments: 110
Catch Composition: 4223
Measurements: 0
Specimens: 0

Get Data from Trawler


Deployments by start time:- Click on column header to sort
Deployment
Operation
Project
Start and end times
Start Location
End Location
Depth
Description
Catch [details]
1
35
1981-06-07 21:25
-11.0167
141.6000
-11.0500
141.6333
17
Trawling
Catch [details]
2
35
1981-06-08 00:10
1981-06-08 01:00
-11.3000
141.6833
18
Trawling
Catch [details]
3
35
1981-06-08 03:00
1981-06-08 03:50
-11.6667
141.8000
-11.6833
141.7833
18
Trawling
Catch [details]
4
35
1981-06-08 10:30
1981-06-08 11:20
-12.7500
141.5167
-12.7667
141.5167
19
Trawling
Catch [details]
6
35
1981-06-08 21:30
1981-06-08 22:20
-12.0000
141.0000
-12.0333
140.9667
51
Trawling
Catch [details]
7
35
1981-06-09 00:03
1981-06-09 00:53
-12.3167
141.0000
-12.3500
141.0000
68
Trawling
Catch [details]
8
35
1981-06-09 05:00
1981-06-09 05:50
-13.0000
141.0000
-13.0500
141.0000
44
Trawling
Catch [details]
9
35
1981-06-09 07:20
1981-06-09 08:10
-13.3000
140.9500
-13.2833
140.9500
42
Trawling
Catch [details]
10
35
1981-06-09 09:55
1981-06-09 10:45
-13.6000
141.0000
-13.6333
141.0000
25
Trawling
Catch [details]
11
35
1981-06-09 21:20
1981-06-09 22:10
-13.8333
141.3333
-13.8667
141.3167
21
Trawling
Catch [details]
12
35
1981-06-10 01:55
1981-06-10 04:50
-14.4833
141.2833
19
Trawling
Catch [details]
13
35
1981-06-10 08:00
1981-06-10 08:50
-15.0000
141.2500
-15.0333
141.2500
17
Trawling
Catch [details]
14
35
1981-06-10 22:05
1981-06-10 22:55
-17.0167
139.9667
-16.9667
139.9333
14
Trawling
Catch [details]
15
35
1981-06-11 00:30
1981-06-11 01:20
-16.7500
140.0167
-16.7333
139.9833
20
Trawling
Catch [details]
16
35
1981-06-11 03:40
1981-06-11 04:30
-16.4000
139.9667
-16.3667
139.9667
34
Trawling
Catch [details]
17
35
1981-06-11 06:50
1981-06-11 07:40
-16.1000
139.9667
-16.0667
139.9667
34
Trawling
Catch [details]
19
35
1981-06-11 21:30
1981-06-11 22:20
-14.1833
140.0000
-14.2167
139.9667
61
Trawling
Catch [details]
20
35
1981-06-12 01:15
1981-06-12 02:05
-13.7667
140.0167
70
Trawling
Catch [details]
21
35
1981-06-12 04:20
1981-06-12 05:10
-13.4333
139.9833
-13.4167
139.9500
69
Trawling
Catch [details]
22
35
1981-06-12 08:20
1981-06-12 09:10
-12.9333
139.9167
-12.9500
139.9167
61
Trawling
Catch [details]
24
35
1981-06-12 21:35
1981-06-12 22:25
-11.9333
139.9833
-11.9667
139.9667
62
Trawling
Catch [details]
25
35
1981-06-13 00:20
1981-06-13 01:10
-11.7000
139.9833
58
Trawling
Catch [details]
26
35
1981-06-13 03:10
1981-06-13 04:00
-11.4167
139.9833
-11.4500
139.9833
59
Trawling
Catch [details]
27
35
1981-06-13 07:20
1981-06-13 08:10
-11.0667
139.9667
-11.1000
139.9667
57
Trawling
Catch [details]
28
35
1981-06-13 10:15
1981-06-13 11:30
-10.8000
139.9167
-10.7333
139.9167
58
Trawling
Catch [details]
29
35
1981-06-13 21:25
1981-06-13 22:15
-10.3167
139.9500
-10.3333
140.0000
52
Trawling
Catch [details]
30
35
1981-06-14 00:30
1981-06-14 01:20
-10.2167
139.6667
58
Trawling
Catch [details]
31
35
1981-06-14 05:50
1981-06-14 06:40
-10.2833
139.0333
48
Trawling
Catch [details]
32
35
1981-06-14 11:25
1981-06-14 12:15
-10.8500
139.0167
-10.8667
139.0000
52
Trawling
Catch [details]
33
35
1981-06-14 21:25
1981-06-14 22:15
-12.3000
139.0000
-12.3500
138.9833
56
Trawling
Catch [details]
34
35
1981-06-15 00:05
1981-06-15 00:55
-12.6167
139.0000
-12.5833
139.0000
60
Trawling
Catch [details]
35
35
1981-06-15 02:40
1981-06-15 03:30
-12.9167
138.9167
-12.8667
138.9167
60
Trawling
Catch [details]
36
35
1981-06-15 07:45
1981-06-15 08:35
-13.4167
139.0000
-13.4000
139.0167
57
Trawling
Catch [details]
37
35
1981-06-15 21:30
1981-06-15 22:20
-14.8333
139.0000
-14.8000
139.0000
57
Trawling
Catch [details]
38
35
1981-06-16 04:50
1981-06-16 05:40
-15.0667
138.9667
-15.1333
138.9667
60
Trawling
Catch [details]
39
35
1981-06-16 07:25
1981-06-16 08:15
-15.2667
139.0000
-15.2833
139.0167
50
Trawling
Catch [details]
40
35
1981-06-16 10:00
1981-06-16 10:50
-15.6333
138.9667
-15.6000
138.9667
51
Trawling
Catch [details]
42
35
1981-06-16 21:45
1981-06-16 22:35
-16.5167
138.9833
-16.5000
138.9833
16
Trawling
Catch [details]
43
35
1981-06-17 00:20
1981-06-17 01:10
-16.3333
139.0000
-16.3500
139.0333
21
Trawling
Catch [details]
44
35
1981-06-17 05:50
1981-06-17 06:40
-15.8000
139.1333
-15.7667
139.1167
48
Trawling
Catch [details]
45
35
1981-06-17 07:30
1981-06-17 08:37
-15.6667
139.1000
48
Trawling
Catch [details]
47
35
1981-06-17 10:40
1981-06-17 12:20
-15.7167
139.1000
-15.6833
139.1333
42
Trawling
Catch [details]
48
35
1981-06-17 21:30
1981-06-17 22:20
-16.1833
138.0833
-16.2000
138.1000
20
Trawling
Catch [details]
49
35
1981-06-18 00:05
1981-06-18 00:55
-15.9833
138.0500
-15.9500
138.0167
28
Trawling
Catch [details]
50
35
1981-06-18 03:05
1981-06-18 03:55
-15.6667
138.0333
48
Trawling
Catch [details]
51
35
1981-06-17 15:30
1981-06-17 16:20
-15.8000
137.5667
-15.7667
137.5500
19
Trawling
Catch [details]
53
35
1981-06-18 21:30
1981-06-18 22:20
-15.4167
136.8333
-15.4000
136.8333
20
Trawling
Catch [details]
54
35
1981-06-19 01:10
1981-06-19 02:00
-15.2167
136.3667
-15.2000
136.3500
20
Trawling
Catch [details]
55
35
1981-06-19 04:45
1981-06-19 05:35
-14.8000
136.2000
-14.7833
136.1833
20
Trawling
Catch [details]
56
35
1981-06-19 08:25
1981-06-19 09:15
-14.2833
136.1833
-14.2667
136.1667
20
Trawling
Catch [details]
57
35
1981-06-19 21:05
1981-06-19 21:55
-14.5333
136.1000
20
Trawling
Catch [details]
58
35
1981-06-20 00:05
1981-06-20 00:55
-14.5833
136.4500
-14.5667
136.3833
25
Trawling
Catch [details]
59
35
1981-06-20 02:45
1981-06-20 03:35
-14.5333
136.7333
32
Trawling
Catch [details]
60
35
1981-06-21 00:20
1981-06-21 01:10
-13.5833
136.4333
22
Trawling
Catch [details]
61
35
1981-06-21 03:45
1981-06-21 04:35
-13.4500
136.8500
-13.4667
136.8667
39
Trawling
Catch [details]
62
35
1981-06-21 07:30
1981-06-21 08:20
-13.0000
136.8167
39
Trawling
Catch [details]
63
35
1981-06-21 10:00
1981-06-21 10:50
-12.7500
136.9000
-12.7167
136.9000
38
Trawling
Catch [details]
64
35
1981-06-21 21:30
1981-06-21 22:20
-12.4500
137.5333
48
Trawling
Catch [details]
65
35
1981-06-22 00:00
1981-06-22 00:50
-12.4000
137.8000
-12.3667
137.8000
48
Trawling
Catch [details]
66
35
1981-06-22 03:55
1981-06-22 04:45
-11.9833
137.9667
-11.9500
137.9667
50
Trawling
Catch [details]
67
35
1981-06-22 06:50
1981-06-22 07:40
-11.5667
137.9667
-11.6000
137.9833
50
Trawling
Catch [details]
68
35
1981-06-22 10:00
1981-06-22 10:50
-11.1667
137.9500
-11.1333
137.9500
50
Trawling
Catch [details]
69
35
1981-06-22 21:34
1981-06-22 22:24
-9.9667
137.8500
-9.9333
137.8167
42
Trawling
Catch [details]
70
35
1981-06-23 00:20
1981-06-23 01:10
-9.9167
137.6500
-9.8333
137.6167
40
Trawling
Catch [details]
71
35
1981-06-23 02:00
1981-06-23 02:50
-9.8333
137.4667
40
Trawling
Catch [details]
72
35
1981-06-23 04:15
1981-06-23 05:05
-9.8000
137.2333
40
Trawling
Catch [details]
73
35
1981-06-23 07:25
1981-06-23 08:15
-10.2000
137.2167
-10.2167
137.2167
49
Trawling
Catch [details]
74
35
1981-06-23 10:35
1981-06-23 11:25
-10.6000
137.2000
-10.6333
137.2000
51
Trawling
Catch [details]
76
35
1981-06-23 21:35
1981-06-23 22:25
-11.8667
136.1667
-11.8500
136.1833
19
Trawling
Catch [details]
77
35
1981-06-23 23:35
1981-06-24 00:25
-11.7167
136.3000
-11.6833
136.3333
24
Trawling
Catch [details]
78
35
1981-06-25 23:30
1981-06-26 00:20
-11.1833
136.3833
-11.1667
136.3667
28
Trawling
Catch [details]
79
35
1981-06-26 02:10
1981-06-26 03:00
-10.8000
136.1833
-10.7667
136.1667
56
Trawling
Catch [details]
80
35
1981-06-26 04:50
1981-06-26 05:40
-10.4667
136.1333
-10.4333
136.1167
53
Trawling
Catch [details]
81
35
1981-06-26 06:50
1981-06-26 07:40
-10.2667
136.0500
59
Trawling
Catch [details]
82
35
1981-06-26 09:45
1981-06-26 10:35
-10.0333
135.9667
-10.0167
135.9500
64
Trawling
Catch [details]
83
35
1981-06-26 21:30
1981-06-26 22:20
-8.8833
135.2500
80
Trawling
Catch [details]
84
35
1981-06-26 22:50
1981-06-26 23:40
-8.8833
135.1667
78
Trawling
Catch [details]
85
35
1981-06-27 01:35
1981-06-27 02:25
-8.9167
135.0000
-8.9500
135.0000
96
Trawling
Catch [details]
86
35
1981-06-27 04:35
1981-06-27 05:25
-9.2667
135.0000
-9.3167
135.0000
113
Trawling
Catch [details]
87
35
1981-06-27 07:45
1981-06-27 08:35
-9.6667
135.0000
-9.6833
135.0000
86
Trawling
Catch [details]
88
35
1981-06-27 21:45
1981-06-27 22:35
-10.5833
135.0000
-10.6333
135.0000
60
Trawling
Catch [details]
89
35
1981-06-28 00:10
1981-06-28 01:00
-10.8833
135.0000
-10.8500
135.0000
53
Trawling
Catch [details]
90
35
1981-06-28 03:45
1981-06-28 04:35
-11.2667
135.0000
-11.2333
135.0000
46
Trawling
Catch [details]
91
35
1981-06-28 06:55
1981-06-28 07:45
-11.6000
135.0000
-11.6333
135.0000
29
Trawling
Catch [details]
92
35
1981-06-28 08:25
1981-06-28 09:15
-11.7000
134.9667
-11.7333
134.9500
18
Trawling
Catch [details]
93
35
1981-06-28 21:25
1981-06-28 22:15
-11.8000
134.8000
-11.8333
134.7500
20
Trawling
Catch [details]
94
35
1981-06-29 00:00
1981-06-29 00:50
-11.8000
134.4500
19
Trawling
Catch [details]
95
35
1981-06-29 02:10
1981-06-29 03:00
-11.4833
134.4167
33
Trawling
Catch [details]
96
35
1981-06-29 06:00
1981-06-29 06:50
-11.2667
134.0833
-11.2500
134.0500
46
Trawling
Catch [details]
98
35
1981-06-29 21:10
1981-06-29 22:00
-10.7500
134.0000
-10.7167
134.0000
62
Trawling
Catch [details]
99
35
1981-06-30 00:10
1981-06-30 01:00
-10.3667
134.0500
66
Trawling
Catch [details]
100
35
1981-06-30 04:00
1981-06-30 04:50
-10.0167
134.0167
-9.9833
133.9500
69
Trawling
Catch [details]
101
35
1981-06-30 05:00
1981-06-30 05:50
-9.9333
133.9333
-9.8833
133.9167
78
Trawling
Catch [details]
102
35
1981-06-30 07:55
1981-06-30 08:45
-9.5667
134.0667
-9.6000
134.0333
90
Trawling
Catch [details]
104
35
1981-06-30 23:25
1981-07-01 00:15
-11.5833
133.2500
-11.5667
133.2000
17
Trawling
Catch [details]
105
35
1981-07-01 00:35
1981-07-01 01:25
-11.5667
133.2000
-11.5333
133.2000
24
Trawling
Catch [details]
106
35
1981-07-01 01:40
1981-07-01 02:30
-11.4333
133.1667
-11.4000
133.1667
28
Trawling
Catch [details]
109
35
1981-07-01 21:10
1981-07-01 22:00
-10.5833
133.0000
-10.5500
133.0000
72
Trawling
Catch [details]
110
35
1981-07-01 23:40
1981-07-02 00:30
-10.3167
133.0833
66
Trawling
Catch [details]
111
35
1981-07-02 03:15
1981-07-02 04:05
-9.8500
133.0000
-9.7833
133.0167
71
Trawling
Catch [details]
112
35
1981-07-02 05:45
1981-07-02 06:35
-9.6167
133.1000
-9.5667
133.1167
130
Trawling
Catch [details]
113
35
1981-07-02 08:05
1981-07-02 08:55
-9.3500
133.2000
-9.3167
133.2167
145
Trawling
Catch [details]
114
35
1981-07-02 21:15
1981-07-02 22:05
-9.1667
131.7667
-9.1500
131.8000
214
Trawling
Catch [details]
115
35
1981-07-03 00:55
1981-07-03 01:45
-9.4833
132.0000
134
Trawling
Catch [details]
116
35
1981-07-03 04:10
1981-07-03 05:00
-9.7333
132.0000
-9.7667
132.0000
108
Trawling
Catch [details]
117
35
1981-07-03 14:30
1981-07-03 15:20
-10.0000
132.0333
-10.0667
132.0333
78
Trawling
Catch [details]
118
35
1981-07-03 20:30
1981-07-03 21:20
-10.4833
132.0167
-10.5000
132.0500
62
Trawling
Catch [details]
119
35
1981-07-03 22:45
1981-07-03 23:35
-10.7667
132.0167
52
Trawling
Catch [details]
120
35
1981-07-04 00:35
1981-07-04 01:25
-10.8833
132.0000
40
Trawling
Catch [details]
121
35
1981-07-04 02:30
1981-07-04 03:20
-11.0167
132.0167
33
Trawling