Please login if you have access to particular applications.
Survey details and related metadata, reports, events and data.
SO 3/83
Period: 1983-06-01 to 1983-07-01
Region: Australian North West Shelf
Ship: Soela [details]
Description: Soela cruise SO 3/83 was undertaken to carry out a sampling programme in the North West Shelf for demersal fish, larval fish, benthic fauna, bottom types, zooplankton, phytoplankton and hydrology. Leg 1 cruise objectives were to determine the demersal fish community composition; determine zooplankton abundances at alternate trawl sites and collect larval fish; to obtain photography of trawls to determine gear efficiency and bottom types and to collect isopods, and other crustaceans for the National Museum of Victoria. Leg 2 cruise objectives were to conduct an intensive diel fish feeding study; sampling for hydrology, particulate matter, bacteria, phytoplankton, zooplankton and larval fish; to conduct a 24 hour study of phytoplankton, bacteria and zooplankton production cycles; examine the tidal currents on water column mixing and fluorescence properties, and to obtain benthic organisms.
This voyage forms part of the North West Shelf study conducted by CSIRO Division of Fisheries between 1982 and 1991. Related voyages are Soela SO 5/82, SO 6/82, SO 1/83, SO 2/83, SO 4/83, SO 5/83, SO 6/86, SO 7/87, SO 5/88; Pride of Eden PoE 4/89; Southen Surveyor SS 02/90, SS 04/91.
Leader: J. Stevens & A. Heron (CSIRO)
Project: North West Shelf Demersal Marine Resources Study (1982-1992) [details]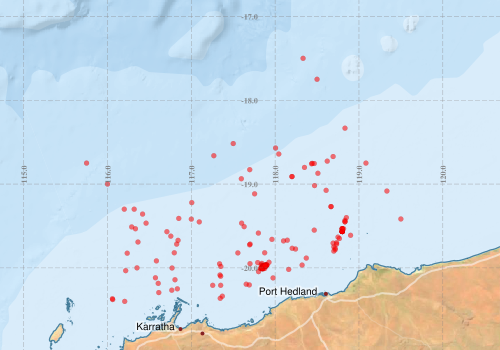 Voyage extents: 20° 15.0' S to 17° 30.0' S 115° 45.0' E to 119° 30.0' E
Participants:- no records
Data publishing:- This is a list of online datasets. use the Get data link on the right to extract data using the NCMI Data Trawler.
Data Stream
Data Summary
Get data
Catch Details

Time (UTC):
1983-06-01 04:06 to 1983-06-22 13:06
Latitude:
-20.40 to -18.57
Longitude:
116.06 to 118.90
Catch Summary:
Deployments: 67
Catch Composition: 2362
Measurements: 3695
Specimens: 3572

Get Data from Trawler


Hydrology

| | |
| --- | --- |
| Time (UTC): | 1983-06-19 00:06 to 1983-06-27 00:06 |
| Latitude: | -20.25 to -17.50 |
| Longitude: | 115.75 to 119.50 |
| Quantity: | 40 Casts |
| Max Pressure: | 1092 db |

Get Data from Trawler


Deployments by start time:- Click on column header to sort
Deployment
Operation
Project
Start and end times
Start Location
End Location
Depth
Description
Catch [details]
1
171
1983-06-01 04:55
1983-06-01 05:25
-19.9667
118.3217
-19.9833
118.3050
24
Catch [details]
2
171
1983-06-01 07:10
1983-06-01 07:40
-20.0183
118.1617
-20.0333
118.1600
28
Catch [details]
3
171
1983-06-01 09:05
1983-06-01 09:35
-20.1200
117.9750
-20.1333
117.9833
28
Catch [details]
4
171
1983-06-01 14:35
1983-06-01 21:05
-19.9517
117.3367
-20.0333
117.2750
50
Catch [details]
5
171
1983-06-01 23:10
1983-06-01 23:40
-19.9833
117.3517
-20.0167
117.3500
48
Catch [details]
6
171
1983-06-02 01:50
1983-06-02 02:20
-19.8217
117.5550
-19.8417
117.5750
54
Catch [details]
7
171
1983-06-02 04:05
1983-06-02 04:35
-19.9500
117.7000
-19.9533
117.6767
46
Catch [details]
8
171
1983-06-02 06:25
1983-06-02 06:55
-19.8200
117.8750
-19.8383
117.8933
51
Catch [details]
10
171
1983-06-02 14:00
1983-06-02 19:30
-19.7750
118.2433
-19.8183
118.2383
36
Catch [details]
11
171
1983-06-03 03:18
1983-06-03 03:48
-19.5500
118.4667
-19.5333
118.4800
42
Catch [details]
12
171
1983-06-03 05:55
1983-06-03 06:25
-19.7050
118.6917
-19.7250
118.6750
30
Catch [details]
13
171
1983-06-03 08:30
1983-06-03 09:00
-19.6117
118.9000
-19.6367
118.8950
32
Catch [details]
14
171
1983-06-03 12:30
1983-06-03 20:40
-19.2700
118.6667
-19.1250
118.7333
78
Catch [details]
15
171
1983-06-03 23:08
1983-06-03 23:38
-19.2683
118.6667
-19.2617
118.6950
76
Catch [details]
16
171
1983-06-04 01:03
1983-06-04 01:33
-19.0750
118.6083
-19.0917
118.5800
84
Catch [details]
17
171
1983-06-04 02:25
1983-06-04 02:55
-19.0183
118.4700
-19.0367
118.4500
87
Catch [details]
18
171
1983-06-04 04:30
1983-06-04 05:00
-18.8717
118.5100
-18.8500
118.5267
114
Catch [details]
19
171
1983-06-04 06:20
1983-06-04 06:50
-18.8017
118.3500
-18.7750
118.3500
124
Catch [details]
20
171
1983-06-04 07:40
1983-06-04 08:10
-18.7267
118.6217
-18.7050
118.6450
134
Catch [details]
21
171
1983-06-04 09:00
1983-06-04 09:30
-18.6717
118.6917
-18.6850
118.6700
136
Catch [details]
22
171
1983-06-04 12:15
1983-06-04 21:30
-18.7533
118.4417
144
Catch [details]
23
171
1983-06-04 23:00
1983-06-04 23:30
-18.7583
118.4350
-18.7833
118.4283
140
Catch [details]
24
171
1983-06-05 00:30
1983-06-05 01:00
-18.7550
118.4667
-18.7683
118.4850
140
Catch [details]
25
171
1983-06-05 13:00
1983-06-05 20:00
-18.5700
118.0050
-18.5083
117.9083
264
Catch [details]
26
171
1983-06-06 00:10
1983-06-06 00:40
-18.6417
118.0433
-18.6500
118.0667
184
Catch [details]
27
171
1983-06-06 02:55
1983-06-06 03:25
-18.9117
118.2000
-18.9300
118.2083
128
Catch [details]
28
171
1983-06-06 04:10
1983-06-06 04:40
-18.9100
118.2017
-18.8883
118.1950
136
Catch [details]
29
171
1983-06-06 07:45
1983-06-06 08:15
-18.8283
117.6967
-18.8583
117.6717
168
Catch [details]
31
171
1983-06-06 15:15
1983-06-06 21:15
-19.4183
117.0000
-19.4367
117.0850
104
Catch [details]
32
171
1983-06-06 23:00
1983-06-06 23:30
-19.4517
117.0950
-19.4617
117.0750
102
Catch [details]
33
171
1983-06-07 01:30
1983-06-07 02:00
-19.2217
117.0050
-19.2100
117.0250
140
Catch [details]
34
171
1983-06-07 04:05
1983-06-07 04:35
-19.4100
116.8500
-19.4200
116.8200
110
Catch [details]
35
171
1983-06-07 06:40
1983-06-07 07:10
-19.5683
116.7083
-19.5917
116.7300
52
Catch [details]
36
171
1983-06-07 08:25
1983-06-07 08:55
-19.6217
116.7550
-19.6517
116.7450
48
Catch [details]
37
171
1983-06-07 23:05
1983-06-07 23:35
-19.3000
116.3183
-19.3033
116.2883
144
Catch [details]
38
171
1983-06-08 01:10
1983-06-08 01:40
-19.3583
116.4183
-19.3917
116.4167
132
Catch [details]
39
171
1983-06-08 03:05
1983-06-08 03:35
-19.4667
116.4600
-19.4500
116.4783
122
Catch [details]
40
171
1983-06-08 05:20
1983-06-08 05:50
-19.5117
116.2883
-19.5283
116.3017
112
Catch [details]
41
171
1983-06-08 07:45
1983-06-08 08:15
-19.6917
116.3633
-19.6833
116.3633
64
Catch [details]
43
171
1983-06-08 14:00
1983-06-08 20:30
-20.3783
116.0617
-20.3517
115.9767
42
Catch [details]
44
171
1983-06-08 22:30
1983-06-08 23:00
-20.3683
116.0583
-20.3833
116.0700
40
Catch [details]
45
171
1983-06-09 00:10
1983-06-09 00:40
-20.4000
116.2050
-20.4200
116.2250
36
Catch [details]
46
171
1983-06-09 03:20
1983-06-09 03:50
-20.0333
116.2167
-20.0050
116.2183
58
Catch [details]
47
171
1983-06-09 06:15
1983-06-09 06:45
-20.0000
116.3517
-20.0200
116.3550
54
Catch [details]
48
171
1983-06-09 08:55
1983-06-09 09:25
-20.1850
116.6050
-20.2200
116.6117
51
Catch [details]
50
171
1983-06-09 23:00
1983-06-09 23:30
-20.2950
116.6117
-20.2933
116.5783
40
Catch [details]
51
171
1983-06-10 01:40
1983-06-10 02:10
-20.2667
116.7667
-20.2617
116.7867
44
Catch [details]
52
171
1983-06-10 03:55
1983-06-10 04:25
-20.1417
116.8050
-20.1267
116.8217
50
Catch [details]
53
171
1983-06-10 05:45
1983-06-10 06:15
-20.0017
116.7700
-19.9600
116.7583
58
Catch [details]
54
171
1983-06-10 07:35
1983-06-10 08:05
-19.8200
116.7967
-19.7867
116.8017
69
Catch [details]
55
171
1983-06-10 09:00
1983-06-10 09:30
-19.7167
116.8250
-19.6950
116.8350
60
Catch [details]
56
171
1983-06-10 10:15
1983-06-10 10:45
-19.6717
116.8417
-19.6967
116.8500
72
Catch [details]
57
171
1983-06-10 15:30
1983-06-10 21:40
-20.0850
117.3417
-20.0417
117.2383
46
Catch [details]
58
171
1983-06-10 23:05
1983-06-10 23:35
-20.1000
117.3500
-20.1250
117.3417
42
Catch [details]
60
171
1983-06-11 02:15
1983-06-11 02:45
-20.2083
117.2550
-20.2167
117.2333
36
Catch [details]
61
171
1983-06-11 04:20
1983-06-11 04:50
-20.3633
117.3450
-20.3517
117.3717
28
Catch [details]
62
171
1983-06-11 05:35
1983-06-11 06:05
-20.3383
117.3700
-20.3267
117.3917
32
Catch [details]
63
171
1983-06-11 07:55
1983-06-11 08:25
-20.1950
117.6550
-20.1767
117.6750
32
Catch [details]
64
171
1983-06-11 09:00
1983-06-11 09:30
-20.2033
117.6917
-20.2050
117.6617
32
Catch [details]
65
171
1983-06-11 23:18
1983-06-11 23:48
-19.1167
117.7550
-19.1383
117.7667
118
Catch [details]
67
171
1983-06-12 03:12
1983-06-12 03:42
-19.5083
117.6300
68
Catch [details]
68
171
1983-06-12 05:35
1983-06-12 06:05
-19.5850
117.8000
-19.5583
117.7917
64
Catch [details]
69
171
1983-06-12 07:40
1983-06-12 08:10
-19.7167
117.7017
-19.7300
117.6800
60
Catch [details]
71
171
1983-06-12 12:15
1983-06-12 20:35
-19.6783
118.1000
-19.6750
118.1083
51
Catch [details]
72
171
1983-06-12 23:05
1983-06-12 23:35
-19.6700
118.1450
-19.6883
118.1333
52
Catch [details]
73
171
1983-06-13 00:50
1983-06-13 01:20
-19.7667
118.2033
36
Catch [details]
123
171
1983-06-22 12:38
1983-06-22 13:45
-18.6617
117.2683
-18.7050
117.2117
388
Hydrology Cast [details]
1
171
1983-06-19 00:00
1983-06-19 00:00
-19.7833
118.7167
15
Hydrology Cast [details]
1
171
1983-06-19 00:00
1983-06-19 00:00
-19.7500
118.7000
20
Hydrology Cast [details]
1
171
1983-06-19 00:00
1983-06-19 00:00
-19.7000
118.7333
25
Hydrology Cast [details]
1
171
1983-06-19 00:00
1983-06-19 00:00
-19.6333
118.7500
30
Hydrology Cast [details]
1
171
1983-06-19 00:00
1983-06-19 00:00
-19.5333
118.8000
35
Hydrology Cast [details]
1
171
1983-06-19 00:00
1983-06-19 00:00
-19.4500
118.8333
40
Hydrology Cast [details]
1
171
1983-06-19 00:00
1983-06-19 00:00
-19.4333
118.8333
45
Hydrology Cast [details]
1
171
1983-06-19 00:00
1983-06-19 00:00
-19.5667
118.8000
30
Hydrology Cast [details]
1
171
1983-06-19 00:00
1983-06-19 00:00
-19.5667
118.8000
30
Hydrology Cast [details]
1
171
1983-06-19 00:00
1983-06-19 00:00
-19.5667
118.8000
30
Hydrology Cast [details]
1
171
1983-06-19 00:00
1983-06-19 00:00
-19.5667
118.8000
30
Hydrology Cast [details]
1
171
1983-06-19 00:00
1983-06-19 00:00
-19.5667
118.8000
30
Hydrology Cast [details]
1
171
1983-06-19 00:00
1983-06-19 00:00
-19.5667
118.8000
30
Hydrology Cast [details]
1
171
1983-06-19 00:00
1983-06-19 00:00
-19.5333
118.8000
30
Hydrology Cast [details]
1
171
1983-06-20 00:00
1983-06-20 00:00
-19.5667
118.8000
30
Hydrology Cast [details]
1
171
1983-06-20 00:00
1983-06-20 00:00
-19.5667
118.8000
30
Hydrology Cast [details]
1
171
1983-06-20 00:00
1983-06-20 00:00
-19.5667
118.8000
30
Hydrology Cast [details]
1
171
1983-06-20 00:00
1983-06-20 00:00
-19.5333
118.8000
30
Hydrology Cast [details]
1
171
1983-06-20 00:00
1983-06-20 00:00
-19.5333
118.8000
30
Hydrology Cast [details]
1
171
1983-06-20 00:00
1983-06-20 00:00
-19.5667
118.8000
30
Hydrology Cast [details]
1
171
1983-06-20 00:00
1983-06-20 00:00
-19.4167
119.5000
40
Hydrology Cast [details]
1
171
1983-06-21 00:00
1983-06-21 00:00
-19.0833
119.3333
65
Hydrology Cast [details]
1
171
1983-06-21 00:00
1983-06-21 00:00
-18.7500
119.0833
100
Hydrology Cast [details]
1
171
1983-06-21 00:00
1983-06-21 00:00
-18.3333
118.8333
113
Hydrology Cast [details]
1
171
1983-06-21 00:00
1983-06-21 00:00
-17.7500
118.5000
295
Hydrology Cast [details]
1
171
1983-06-22 00:00
1983-06-22 00:00
-17.5000
118.3333
1092
Hydrology Cast [details]
1
171
1983-06-22 00:00
1983-06-22 00:00
-18.5167
117.5000
329
Hydrology Cast [details]
1
171
1983-06-22 00:00
1983-06-22 00:00
-19.5333
116.3333
100
Hydrology Cast [details]
1
171
1983-06-23 00:00
1983-06-23 00:00
-19.3000
116.2000
175
Hydrology Cast [details]
1
171
1983-06-23 00:00
1983-06-23 00:00
-18.7500
115.7500
983
Hydrology Cast [details]
1
171
1983-06-23 00:00
1983-06-23 00:00
-19.0000
116.0000
350
Hydrology Cast [details]
1
171
1983-06-24 00:00
1983-06-24 00:00
-19.9167
116.5833
50
Hydrology Cast [details]
1
171
1983-06-24 00:00
1983-06-24 00:00
-20.2500
116.8333
40
Hydrology Cast [details]
1
171
1983-06-26 00:00
1983-06-26 00:00
-19.8000
118.7000
15
Hydrology Cast [details]
1
171
1983-06-26 00:00
1983-06-26 00:00
-19.7667
118.7167
20
Hydrology Cast [details]
1
171
1983-06-27 00:00
1983-06-27 00:00
-19.7167
118.7333
25
Hydrology Cast [details]
1
171
1983-06-27 00:00
1983-06-27 00:00
-19.6500
118.7667
30
Hydrology Cast [details]
1
171
1983-06-27 00:00
1983-06-27 00:00
-19.5333
118.8167
35
Hydrology Cast [details]
1
171
1983-06-27 00:00
1983-06-27 00:00
-19.4500
118.8333
40
Hydrology Cast [details]
1
171
1983-06-27 00:00
1983-06-27 00:00
-19.4000
118.8500
45