Please login if you have access to particular applications.
Survey details and related metadata, reports, events and data.
AB 29/87 (alternative identifier: AB198729)
Period: 1987-11-25 00:00 to 1987-11-30 00:00 Local
Duration: 5.00 days
From: Weipa To: Weipa
Region: Albatross Bay
Ship: Jacqueline D [details]
Description: November 1987 cruise (cruise 5 of 7) sampling demersal fish community of Albatross Bay, eastern Gulf of Carpentaria
Leader: S. Blaber (CSIRO)
Project: Tropical Fish Ecology Project: Gulf of Carpentaria studies (includes Albatross Bay and Embley Estuary studies) 1985-1990 [details]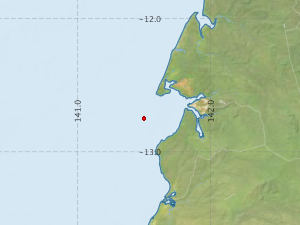 Voyage extents: 12° 45.0' S to 12° 45.0' S 141° 30.0' E to 141° 30.0' E
Marlin Metadata:-
Albatross Bay Fish Data 1986-1988 [details]

NOO - Torres Strait Characterisation - Fish Catch Rates [details]

Metadata from OBIS Australia datasets:- biological data is published via the OBIS-AU IPT server and delivered to one or more of OBIS, ALA and GBIF
Participants:- no records
Marine National Facility Reports - plans, summaries and data processing
There is no map for this survey.
Data publishing
This is a list of online datasets hosted by CSIRO. Other processed datasets hosted by collaborating organisations may be found on the 'Metadata' or "Reports, Publications and Maps' tab.
Use the Get data link on the right to extract data using the NCMI Data Trawler.
Data Stream
Data Summary
Get data
Marine biodiversity observations and/or samples

| | |
| --- | --- |
| Time (UTC): | 1987-11-25 12:42 to 1987-11-29 23:04 |
| Latitude: | -12.75 |
| Longitude: | 141.50 |

Get Data from Trawler


Catch Details

From:
25-Nov-1987 12:42 to 29-Nov-1987 23:54 UTC
Latitude:
-12.75 to 0.00
Longitude:
141.50 to 0.00
Catch Summary:
Deployments: 31
Catch Composition: 1151
Measurements: 0
Specimens: 0

Get Data from Trawler


Deployments by start time:- Click on column header to sort. Use link on 'Deployment' to see full details. Use the CSV button at the bottom to export data (tab delimited).
Search for deployments from this voyage and others
Deployment
Operation
Station
Cast
Gear
Project
Start and end times
Start Location
End Location
Depth
Description
Catch [details]
1

180
1987-11-25 12:42
1987-11-25 13:32
-12.7500
141.5000
Trawling
Catch [details]
2

180
1987-11-26 00:13
1987-11-26 01:03
-12.7500
141.5000
Trawling
Catch [details]
3

180
1987-11-26 02:31
1987-11-26 03:21
-12.7500
141.5000
Trawling
Catch [details]
4

180
1987-11-26 04:18
1987-11-26 05:08
-12.7500
141.5000
Trawling
Catch [details]
5

180
1987-11-26 06:15
1987-11-26 07:05
-12.7500
141.5000
Trawling
Catch [details]
6

180
1987-11-26 07:28
1987-11-26 08:18
-12.7500
141.5000
Trawling
Catch [details]
7

180
1987-11-26 11:37
1987-11-26 12:27
-12.7500
141.5000
Trawling
Catch [details]
8

180
1987-11-26 23:20
1987-11-27 00:10
-12.7500
141.5000
Trawling
Catch [details]
9

180
1987-11-27 01:24
1987-11-27 02:14
-12.7500
141.5000
Trawling
Catch [details]
10

180
1987-11-27 04:00
1987-11-27 04:25
-12.7500
141.5000
Trawling
Catch [details]
11

180
1987-11-27 05:30
1987-11-27 05:55
-12.7500
141.5000
Trawling
Catch [details]
12

180
1987-11-27 07:20
1987-11-27 07:45
-12.7500
141.5000
Trawling
Catch [details]
13

180
1987-11-27 08:30
1987-11-27 08:55
-12.7500
141.5000
Trawling
Catch [details]
14

180
1987-11-27 11:30
1987-11-27 11:55
-12.7500
141.5000
Trawling
Catch [details]
15

180
1987-11-27 23:15
1987-11-27 23:40
-12.7500
141.5000
Trawling
Catch [details]
16

180
1987-11-28 00:25
1987-11-28 00:50
-12.7500
141.5000
Trawling
Catch [details]
17

180
1987-11-28 02:26
1987-11-28 02:51
-12.7500
141.5000
Trawling
Catch [details]
18

180
1987-11-28 03:48
1987-11-28 04:13
-12.7500
141.5000
Trawling
Catch [details]
19

180
1987-11-28 05:05
1987-11-28 05:30
-12.7500
141.5000
Trawling
Catch [details]
20

180
1987-11-28 06:56
1987-11-28 07:21
-12.7500
141.5000
Trawling
Catch [details]
21

180
1987-11-28 08:15
1987-11-28 08:40
-12.7500
141.5000
Trawling
Catch [details]
22

180
1987-11-28 11:40
1987-11-28 12:05
-12.7500
141.5000
Trawling
Catch [details]
23

180
1987-11-28 22:55
1987-11-28 23:20
-12.7500
141.5000
Trawling
Catch [details]
24

180
1987-11-29 00:50
1987-11-29 01:15
-12.7500
141.5000
Trawling
Catch [details]
25

180
1987-11-29 01:46
1987-11-29 02:11
-12.7500
141.5000
Trawling
Catch [details]
26

180
1987-11-29 03:08
1987-11-29 03:33
-12.7500
141.5000
Trawling
Catch [details]
27

180
1987-11-29 04:23
1987-11-29 04:48
-12.7500
141.5000
Trawling
Catch [details]
28

180
1987-11-29 05:47
1987-11-29 06:37
-12.7500
141.5000
Trawling
Catch [details]
29

180
1987-11-29 07:20
1987-11-29 08:10
-12.7500
141.5000
Trawling
Catch [details]
30

180
1987-11-29 11:18
1987-11-29 12:08
-12.7500
141.5000
Trawling
Catch [details]
31

180
1987-11-29 23:04
1987-11-29 23:54
-12.7500
141.5000
Trawling