Please login if you have access to particular applications.
Survey details and related metadata, reports, events and data.
R 12 (1985)
Period:- 1985-05-07 to 1985-05-30
Region: Gulf of Carpentaria/Torres Strait/Qld coast
Ship :- Rachel [details]
Project:- Northern pelagic fish stock research (FIRTA project no. 83/49) 1983-1985 [details]
Description:- Rachel cruise 12 was the last in a series of 12 cruises undertaken for the Northern pelagic fish stock research project. Together these cruises provided survey data on size, geographical distribution, mortality, recruitment, and yield potential of the stocks of shark, tuna and mackerel taken by the Taiwanese gillnet fishery in the Arafura Sea. The cruise took place in May 1985.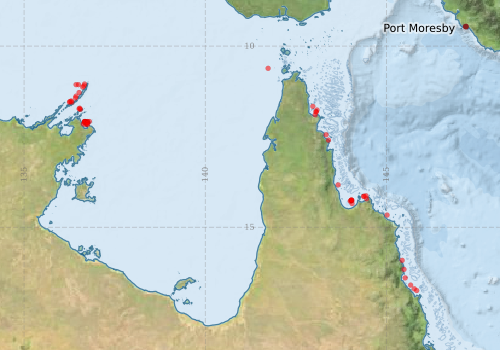 Metadata:-
Rachel Cruise 12 [1985] - Biological data overview [details]

Participants:- no records
Data publishing:- This is a list of online datasets. use the Get data link on the right to extract data using the O&A Data Trawler.
Data Stream
Data Summary
Get data
Catch Details

From:
7-May-1985 08:58 UTC
Latitude:
-16.75 to 0.00
Longitude:
136.25 to 0.00
Catch Summary:
Header 54
Composition 167
Measurement 591
Specimen 0

Get Data from Trawler


Deployments by start time:- Click on column header to sort
Deployment
Station
Project
Start and end times
Start Location
End Location
Depth
Description
Catch [details]
1
517
1985-05-07 08:58
-16.7500
145.8333
Catch [details]
4
517
1985-05-08 01:20
-16.4000
145.5167
Catch [details]
5
517
1985-05-08 04:00
-16.1667
145.4833
Catch [details]
6
517
1985-05-08 06:40
-15.9167
145.4333
Catch [details]
7
517
1985-05-08 22:40
-14.6667
145.0167
Catch [details]
8
517
1985-05-09 10:39
-14.1333
144.4333
Catch [details]
9
517
1985-05-09 11:59
-14.1500
144.3833
Catch [details]
10
517
1985-05-09 13:20
-14.1500
144.3667
Catch [details]
11
517
1985-05-09 21:20
-14.2167
144.4500
Catch [details]
12
517
1985-05-10 04:45
-14.2500
144.0333
Catch [details]
13
517
1985-05-10 05:10
-14.2500
144.0333
Catch [details]
14
517
1985-05-10 08:46
-14.2667
144.0500
Catch [details]
15
517
1985-05-10 09:38
-14.2667
144.0333
Catch [details]
16
517
1985-05-10 11:15
-14.2667
144.0167
Catch [details]
17
517
1985-05-10 12:16
-14.2833
144.0000
Catch [details]
18
517
1985-05-10 22:15
-14.3500
144.0500
Catch [details]
19
517
1985-05-11 05:25
-13.8333
143.6667
Catch [details]
20
517
1985-05-12 05:50
-12.6000
143.4000
Catch [details]
21
517
1985-05-12 23:32
-12.4500
143.3333
Catch [details]
22
517
1985-05-13 08:50
-11.9000
143.0333
Catch [details]
23
517
1985-05-13 23:00
-11.8167
143.0500
Catch [details]
24
517
1985-05-14 03:23
-11.8167
143.0667
Catch [details]
25
517
1985-05-14 10:30
-11.7667
143.0833
Catch [details]
26
517
1985-05-14 23:25
-11.6667
142.9667
Catch [details]
27
517
1985-05-17 05:03
-10.6167
141.7333
Catch [details]
28
517
1985-05-19 05:00
-12.1667
136.7500
Catch [details]
29
517
1985-05-19 09:35
-12.1333
136.7333
Catch [details]
30
517
1985-05-19 10:29
-12.1167
136.7500
Catch [details]
31
517
1985-05-19 12:43
-12.1000
136.6667
Catch [details]
32
517
1985-05-20 08:20
-12.0833
136.8000
Catch [details]
33
517
1985-05-22 05:41
-11.7333
136.5167
Catch [details]
35
517
1985-05-22 10:41
-11.7167
136.5333
Catch [details]
36
517
1985-05-22 21:30
-11.5500
136.2500
Catch [details]
37
517
1985-05-23 09:35
-11.4333
136.4167
Catch [details]
38
517
1985-05-23 12:09
-11.3833
136.4333
Catch [details]
39
517
1985-05-23 14:17
-11.2833
136.5167
Catch [details]
40
517
1985-05-24 02:38
-11.0667
136.5000
Catch [details]
41
517
1985-05-25 03:48
-11.1333
136.6167
Catch [details]
42
517
1985-05-25 09:37
-11.0667
136.4333
Catch [details]
43
517
1985-05-25 11:36
-11.0500
136.6667
Catch [details]
44
517
1985-05-25 14:24
-11.1000
136.6500
Catch [details]
45
517
1985-05-26 10:10
-11.5500
136.3167
Catch [details]
46
517
1985-05-26 11:57
-11.5167
136.3000
Catch [details]
48
517
1985-05-27 13:41
-12.1000
136.7167
Catch [details]
49
517
1985-05-27 21:15
-12.1000
136.7500
Catch [details]
50
517
1985-05-28 02:04
-12.0833
136.7500
Catch [details]
51
517
1985-05-28 10:07
-12.0833
136.6833
Catch [details]
52
517
1985-05-28 12:13
-12.1167
136.7000
Catch [details]
53
517
1985-05-28 13:33
-12.1667
136.7000
Catch [details]
54
517
1985-05-29 02:40
-12.1500
136.6333
Catch [details]
55
517
1985-05-29 09:45
-12.1000
136.6667
Catch [details]
56
517
1985-05-29 13:22
-12.0833
136.6667
Catch [details]
57
517
1985-05-29 12:32
-12.0833
136.6667
Catch [details]
58
517
1985-05-30 04:17
-12.0833
136.7000