Please login if you have access to particular applications.
Survey details and related metadata, reports, events and data.
SO 2/82
Period: 1982-03-20 to 1982-04-18
Region: Australian North West Shelf
Ship: Soela [details]
Description: Soela cruise SO 2/82 was undertaken for a demersal fish survey, and benthic sampling in the North West Shelf. Cruise aims were to conduct biological studies on selected species of lutjanids, carangids, lethrinids, carcharinids, sphyrnids and metanephrops. To conduct experimental shark fishing at night using gill net and longline. Collect mesopelagic fishes and squid. Evaluate methods of retaining live specimens of lethrinids for shipment back to Cronulla. To deploy two current meter moorings and to release two satellite buoys.
Leader: T. Davis (CSIRO)
Project: North West Shelf Demersal Marine Resources Study (1982-1992) [details]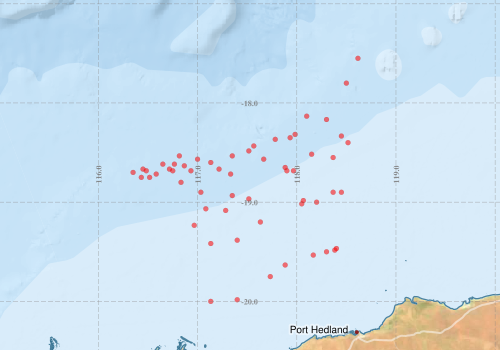 Voyage extents: 20° 00.0' S to 17° 33.0' S 116° 21.0' E to 118° 37.0' E
Marlin Metadata:-
Soela Voyage SO 2/82 Biological Data Overview [details]

Participants:- no records
Data publishing:- This is a list of online datasets. use the Get data link on the right to extract data using the NCMI Data Trawler.
Data Stream
Data Summary
Get data
Catch Details

Time (UTC):
1982-03-25 22:03 to 1982-04-16 02:04
Latitude:
-20.00 to -17.55
Longitude:
116.35 to 118.62
Catch Summary:
Deployments: 56
Catch Composition: 2646
Measurements: 0
Specimens: 0

Get Data from Trawler


Deployments by start time:- Click on column header to sort
Deployment
Operation
Project
Start and end times
Start Location
End Location
Depth
Description
Catch [details]
1
171
1982-03-25 22:30
1982-03-25 23:20
-19.4667
118.4000
-19.4833
118.3667
54
Trawling
Catch [details]
2
171
1982-03-26 00:45
1982-03-26 01:35
-19.5333
118.1667
52
Trawling
Catch [details]
3
171
1982-03-26 06:15
1982-03-26 07:05
-19.6333
117.8833
-19.6667
117.8833
52
Trawling
Catch [details]
4
171
1982-03-26 08:40
1982-03-26 09:30
-19.7500
117.7333
-19.7667
117.7333
52
Trawling
Catch [details]
5
171
1982-03-26 23:05
1982-03-26 23:55
-18.9000
118.3667
Trawling
Catch [details]
6
171
1982-03-27 03:00
1982-03-27 03:50
-19.0000
118.2000
Trawling
Catch [details]
7
171
1982-03-27 06:30
1982-03-27 07:20
-19.0167
118.0500
-19.0333
118.0333
103
Trawling
Catch [details]
8
171
1982-03-27 22:55
1982-03-27 23:45
-18.4000
118.5167
Trawling
Catch [details]
9
171
1982-03-28 01:35
1982-03-28 02:25
-18.5500
118.3667
Trawling
Catch [details]
10
171
1982-03-28 05:40
1982-03-28 06:30
-18.6833
117.9667
-18.7000
117.9500
Trawling
Catch [details]
11
171
1982-04-01 03:45
1982-04-01 04:35
-19.4833
118.3833
-19.4667
118.4167
Trawling
Catch [details]
12
171
1982-04-01 07:00
1982-04-01 07:50
-19.5000
118.3000
-19.4833
118.3333
Trawling
Catch [details]
13
171
1982-04-01 22:25
1982-04-01 23:15
-18.3333
118.4500
-18.3667
118.4167
Trawling
Catch [details]
14
171
1982-04-02 02:50
1982-04-02 03:40
-18.5167
118.1500
-18.5333
118.1333
Trawling
Catch [details]
15
171
1982-04-02 05:45
1982-04-02 06:35
-18.6500
117.8833
-18.6667
117.8667
Trawling
Catch [details]
16
171
1982-04-02 08:05
1982-04-02 08:55
-18.6833
117.9000
Trawling
Catch [details]
17
171
1982-04-02 21:50
1982-04-02 22:40
-17.8000
118.5000
-17.8333
118.4667
Trawling
Catch [details]
18
171
1982-04-03 05:20
1982-04-03 06:10
-18.1333
118.1000
Trawling
Catch [details]
19
171
1982-04-03 21:55
1982-04-03 22:45
-18.5667
117.0000
-18.5833
116.9833
Trawling
Catch [details]
20
171
1982-04-04 03:30
1982-04-04 04:20
-18.7500
116.5167
Trawling
Catch [details]
21
171
1982-04-04 06:00
1982-04-04 06:50
-18.7500
116.4333
Trawling
Catch [details]
22
171
1982-04-04 21:50
1982-04-04 22:40
-18.6667
116.4500
Trawling
Catch [details]
23
171
1982-04-05 03:00
1982-04-05 03:50
-18.7000
116.3500
Trawling
Catch [details]
24
171
1982-04-05 06:30
1982-04-05 07:20
-18.6167
116.6500
Trawling
Catch [details]
25
171
1982-04-05 21:55
1982-04-05 22:45
-18.5333
116.8167
-18.5167
116.8500
Trawling
Catch [details]
26
171
1982-04-06 03:00
1982-04-06 03:50
-18.6167
116.7667
-18.6333
116.7333
Trawling
Catch [details]
27
171
1982-04-06 06:30
1982-04-06 07:20
-18.6833
116.4833
Trawling
Catch [details]
28
171
1982-04-06 09:10
1982-04-06 10:00
-18.6667
116.7167
Trawling
Catch [details]
29
171
1982-04-06 21:55
1982-04-06 22:45
-18.7167
116.5833
Trawling
Catch [details]
30
171
1982-04-07 02:00
1982-04-07 02:50
-18.6333
116.8667
Trawling
Catch [details]
31
171
1982-04-07 04:25
1982-04-07 05:15
-18.6833
116.9333
Trawling
Catch [details]
32
171
1982-04-08 00:45
1982-04-08 01:35
-18.6000
117.1333
Trawling
Catch [details]
33
171
1982-04-08 03:15
1982-04-08 04:05
-18.5333
117.3500
Trawling
Catch [details]
34
171
1982-04-08 06:05
1982-04-08 06:55
-18.4833
117.5167
-18.5000
117.4833
Trawling
Catch [details]
35
171
1982-04-09 21:55
1982-04-09 22:45
-17.5500
118.6167
-17.5167
118.6500
Trawling
Catch [details]
36
171
1982-04-10 04:10
1982-04-10 05:00
-18.1667
118.3000
Trawling
Catch [details]
37
171
1982-04-10 08:20
1982-04-10 09:10
-18.3167
117.9833
-18.3000
118.0000
Trawling
Catch [details]
38
171
1982-04-10 22:01
1982-04-10 22:51
-18.3500
117.9333
-18.3833
117.9000
Trawling
Catch [details]
39
171
1982-04-11 01:30
1982-04-11 02:20
-18.3667
117.7833
Trawling
Catch [details]
40
171
1982-04-11 03:50
1982-04-11 04:40
-18.5667
117.6667
-18.5833
117.6333
Trawling
Catch [details]
41
171
1982-04-11 07:05
1982-04-11 07:55
-18.4333
117.5667
-18.4000
117.5833
Trawling
Catch [details]
42
171
1982-04-12 22:15
1982-04-12 23:05
-18.7167
117.3333
-18.7333
117.3167
Trawling
Catch [details]
43
171
1982-04-13 00:25
1982-04-13 01:15
-18.6667
117.2167
Trawling
Catch [details]
44
171
1982-04-13 03:05
1982-04-13 03:55
-18.9000
117.0333
-18.9167
117.0000
Trawling
Catch [details]
45
171
1982-04-13 06:15
1982-04-13 07:05
-18.8000
116.8333
Trawling
Catch [details]
46
171
1982-04-13 08:40
1982-04-13 09:30
-18.6833
116.7500
-18.6667
116.7667
Trawling
Catch [details]
47
171
1982-04-13 22:00
1982-04-13 22:50
-19.0667
117.0833
Trawling
Catch [details]
48
171
1982-04-14 04:05
1982-04-14 04:55
-18.9333
117.3500
-18.9500
117.3167
Trawling
Catch [details]
49
171
1982-04-14 06:45
1982-04-14 07:35
-19.0833
117.2833
-19.0667
117.3167
Trawling
Catch [details]
50
171
1982-04-14 09:00
1982-04-14 09:50
-18.9667
117.5167
-18.9833
117.5000
Trawling
Catch [details]
51
171
1982-04-14 22:00
1982-04-14 22:50
-19.2000
117.6333
-19.2167
117.6167
Trawling
Catch [details]
52
171
1982-04-15 01:50
1982-04-15 02:40
-19.3833
117.4000
-19.3667
117.4333
Trawling
Catch [details]
53
171
1982-04-15 05:00
1982-04-15 05:50
-19.4167
117.1333
-19.4333
117.1167
Trawling
Catch [details]
54
171
1982-04-15 07:55
1982-04-15 08:45
-19.2333
116.9667
Trawling
Catch [details]
55
171
1982-04-15 22:15
1982-04-15 23:05
-20.0000
117.1333
-19.9833
117.1667
Trawling
Catch [details]
56
171
1982-04-16 01:45
1982-04-16 02:35
-19.9833
117.4000
Trawling