Please login if you have access to particular applications.
Survey details and related metadata, reports, events and data.
SO 5/88 (alternative identifier: SO198805)
Period: 1988-09-16 00:00 to 1988-10-14 00:00 Local
Duration: 28.00 days
From: Port Hedland To: Port Hedland
Region: Australian North West Shelf
Ship: Soela [details]
Description: Soela cruise SO 5/88 was undertaken to carry out a demersal fish survey, and benthic sampling in the North West Shelf, encompassing three experimental management zones Barrow Island, Legendre and Port Hedland. Cruise aims include to collect data and samples from the fish trawls. Sediment and in-fauna samples from benthic sampling. Continue trials of various fish traps and bait types. Conduct hydrological sampling with the submersible data logger (SDL). Obtain taxonomic specimens and photographs of NW slope fish, mollusc and crustacea species.
This voyage forms part of the North West Shelf study conducted by CSIRO Division of Fisheries between 1982 and 1991. Related voyages are Soela SO 5/82, SO 6/82, SO 1/83, SO 2/83, SO 4/83, SO 5/83, SO 6/86, SO 7/87, Pride of Eden PoE 4/89; Southen Surveyor SS 02/90, SS 04/91.
Leader: K. Sainsbury (CSIRO)
Project: North West Shelf Demersal Marine Resources Study (1982-1992) [details]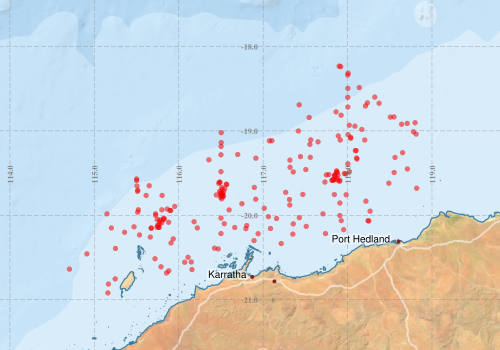 Voyage extents: 20° 55.2' S to 18° 36.0' S 114° 54.7' E to 118° 49.1' E
Marlin Metadata:-
Soela Voyage SO 5/88 Biological Data Overview [details]

Metadata from OBIS Australia datasets:-
Participants:- no records
MNF Reports
View the Survey plan - includes objectives, investigator details, proposed data collection, voyage track and equipment to be used.

View the Survey Summary report - includes preliminary results, voyage narrative, types of data collected with C77/ROSCOP codes.
Data publishing
This is a list of online datasets hosted by CSIRO. Other processed datasets hosted by collaborating organisations may be found on the 'Metadata' tab.
Use the Get data link on the right to extract data using the NCMI Data Trawler.
Data Stream
Data Summary
Get data
Marine biodiversity observations and/or samples

| | |
| --- | --- |
| Time (UTC): | 1988-09-17 02:20 to 1988-10-12 08:07 |
| Latitude: | -20.92 to -18.60 |
| Longitude: | 114.90 to 118.81 |

Get Data from Trawler


Catch Details

Time (UTC):
1988-09-17 02:09 to 1988-10-12 08:10
Latitude:
-20.92 to -18.60
Longitude:
114.91 to 118.82
Catch Summary:
Deployments: 120
Catch Composition: 4958
Measurements: 4122
Specimens: 2646

Get Data from Trawler


Deployments by start time:- Click on column header to sort. Use link on 'Deployment' to see full details. Use the CSV button at the bottom to export data (tab delimited).
Search for deployments from this voyage and others
Deployment
Operation
Station
Cast
Gear
Project
Start and end times
Start Location
End Location
Depth
Description
Catch [details]
3

Demersal Frank & Bryce trawl

171
1988-09-17 02:20
1988-09-17 02:50
-19.9517
118.2667
-19.9350
118.2833
25
Catch [details]
4

Demersal Frank & Bryce trawl

171
1988-09-17 04:50
1988-09-17 05:20
-19.8333
118.2167
-19.8100
118.2167
35
Catch [details]
5

Demersal Frank & Bryce trawl

171
1988-09-17 07:42
1988-09-17 08:12
-19.6200
118.4883
-19.5983
118.4783
37
Catch [details]
6

Demersal Frank & Bryce trawl

171
1988-09-17 09:35
1988-09-17 10:05
-19.4933
118.5517
-19.5067
118.5750
45
Catch [details]
7

Demersal Frank & Bryce trawl

171
1988-09-17 22:27
1988-09-17 22:57
-19.7550
117.8433
-19.7517
117.7983
52
Catch [details]
8

Demersal Frank & Bryce trawl

171
1988-09-18 00:26
1988-09-18 00:56
-19.8550
117.9083
-19.8850
117.9033
44
Catch [details]
9

Demersal Frank & Bryce trawl

171
1988-09-18 03:25
1988-09-18 03:55
-20.0033
117.9083
-20.0067
117.9317
38
Catch [details]
10

Demersal Frank & Bryce trawl

171
1988-09-18 05:32
1988-09-18 06:02
-20.0633
117.9250
-20.0933
117.9450
35
Catch [details]
11

Demersal Frank & Bryce trawl

171
1988-09-18 08:18
1988-09-18 08:48
-20.1700
117.9533
-20.1800
117.9167
27
Catch [details]
12

Demersal Frank & Bryce trawl

171
1988-09-18 22:36
1988-09-18 23:06
-20.2233
117.3517
-20.2567
117.3583
32
Catch [details]
13

Demersal Frank & Bryce trawl

171
1988-09-19 01:24
1988-09-19 01:54
-20.3350
117.2133
-20.3433
117.2417
25
Catch [details]
14

Demersal Frank & Bryce trawl

171
1988-09-19 04:05
1988-09-19 04:35
-20.3000
116.8917
-20.2783
116.9000
37
Catch [details]
15

Demersal Frank & Bryce trawl

171
1988-09-19 05:44
1988-09-19 06:14
-20.2183
116.9400
-20.2367
116.9117
40
Catch [details]
16

Demersal Frank & Bryce trawl

171
1988-09-19 08:23
1988-09-19 08:53
-20.1567
117.0867
-20.1683
117.1150
41
Catch [details]
17

Demersal Frank & Bryce trawl

171
1988-09-19 22:25
1988-09-19 22:55
-20.1017
117.3567
-20.1083
117.3267
41
Catch [details]
18

Demersal Frank & Bryce trawl

171
1988-09-20 00:28
1988-09-20 00:58
-20.0283
117.4283
-20.0250
117.4133
45
Catch [details]
19

Demersal Frank & Bryce trawl

171
1988-09-20 02:20
1988-09-20 02:50
-20.1317
117.5100
-20.1583
117.5100
35
Catch [details]
20

Demersal Frank & Bryce trawl

171
1988-09-20 04:55
1988-09-20 05:25
-19.9833
117.7083
-20.0500
117.7100
41
Catch [details]
21

Demersal Frank & Bryce trawl

171
1988-09-20 07:18
1988-09-20 07:48
-20.2167
117.7383
-20.2017
117.6833
31
Catch [details]
22

Demersal Frank & Bryce trawl

171
1988-09-20 15:55
1988-09-20 16:25
-19.5867
117.8133
-19.5250
117.8283
62
Catch [details]
23

Demersal Frank & Bryce trawl

171
1988-09-20 20:00
1988-09-20 20:30
-19.5833
117.8783
-19.5533
117.8850
63
Catch [details]
24

Demersal Frank & Bryce trawl

171
1988-09-21 00:08
1988-09-21 00:38
-19.4933
117.8750
-19.4900
117.8400
63
Catch [details]
25

CTD (Southern Surveyor)

171
1988-09-21 01:18
1988-09-21 01:28
-19.4733
117.8683
-19.4700
117.8717
63
Catch [details]
26

CTD (Southern Surveyor)

171
1988-09-21 03:08
1988-09-21 03:18
-19.5867
117.9083
-19.5950
117.9117
59
Catch [details]
27

Demersal Frank & Bryce trawl

171
1988-09-21 04:10
1988-09-21 04:40
-19.5983
117.9050
-19.5633
117.9033
61
Catch [details]
28

CTD (Southern Surveyor)

171
1988-09-21 06:51
1988-09-21 07:01
-19.5217
117.7483
64
Catch [details]
29

Demersal Frank & Bryce trawl

171
1988-09-21 08:00
1988-09-21 08:30
-19.5183
117.7783
-19.5050
117.7550
64
Catch [details]
30

Demersal Frank & Bryce trawl

171
1988-09-21 12:04
1988-09-21 12:49
-19.5783
117.8433
-19.5300
117.8533
62
Catch [details]
31

Demersal Frank & Bryce trawl

171
1988-09-21 16:01
1988-09-21 16:46
-19.5367
117.8500
-19.5967
117.8533
61
Catch [details]
32

Demersal Frank & Bryce trawl

171
1988-09-21 19:58
1988-09-21 20:43
-19.5267
117.8867
-19.5750
117.8983
64
Catch [details]
33

Demersal Frank & Bryce trawl

171
1988-09-21 23:58
1988-09-22 00:28
-19.5750
117.8267
-19.5967
117.8200
61
Catch [details]
34

CTD (Southern Surveyor)

171
1988-09-22 01:17
1988-09-22 01:27
-19.5883
117.8250
-19.5867
117.8250
60
Catch [details]
35

CTD (Southern Surveyor)

171
1988-09-22 03:08
1988-09-22 03:18
-19.5283
117.8450
-19.5317
117.8383
60
Catch [details]
36

Demersal Frank & Bryce trawl

171
1988-09-22 04:00
1988-09-22 04:30
-19.5200
117.8500
-19.5000
117.8733
62
Catch [details]
37

Demersal Frank & Bryce trawl

171
1988-09-22 05:43
1988-09-22 06:13
-19.4833
118.0217
67
Catch [details]
38

CTD (Southern Surveyor)

171
1988-09-22 06:57
1988-09-22 07:07
-19.5050
117.9617
64
Catch [details]
39

Demersal Frank & Bryce trawl

171
1988-09-22 08:00
1988-09-22 08:30
-19.5100
117.9767
-19.5067
117.9517
65
Catch [details]
40

Demersal Frank & Bryce trawl

171
1988-09-22 11:58
1988-09-22 12:43
-19.6067
117.7317
-19.5633
117.7500
63
Catch [details]
41

Demersal Frank & Bryce trawl

171
1988-09-22 22:00
1988-09-22 22:30
-20.0167
117.0617
-20.0533
117.0683
50
Catch [details]
42

Demersal Frank & Bryce trawl

171
1988-09-23 00:36
1988-09-23 01:06
-19.9167
117.0133
-19.9450
117.0117
58
Catch [details]
43

Demersal Frank & Bryce trawl

171
1988-09-23 03:15
1988-09-23 03:45
-19.8783
117.3150
-19.8350
117.3650
59
Catch [details]
44

Demersal Frank & Bryce trawl

171
1988-09-23 04:51
1988-09-23 05:21
-19.8133
117.3117
-19.7767
117.3450
61
Catch [details]
45

Demersal Frank & Bryce trawl

171
1988-09-23 06:41
1988-09-23 07:11
-19.7533
117.4700
-19.7633
117.4933
60
Catch [details]
46

Demersal Frank & Bryce trawl

171
1988-09-23 08:58
1988-09-23 09:28
-19.7283
117.2667
-19.7233
117.2383
66
Catch [details]
47

Demersal Frank & Bryce trawl

171
1988-09-23 22:18
1988-09-23 22:48
-20.3983
116.4683
-20.3950
116.4400
37
Catch [details]
48

Demersal Frank & Bryce trawl

171
1988-09-24 00:00
1988-09-24 00:30
-20.3900
116.4233
-20.3633
116.4450
40
Catch [details]
49

Demersal Frank & Bryce trawl

171
1988-09-24 02:30
1988-09-24 03:00
-20.2167
116.5000
-20.2417
116.4950
47
Catch [details]
50

Demersal Frank & Bryce trawl

171
1988-09-24 04:45
1988-09-24 05:15
-20.1450
116.6633
-20.1067
116.6550
50
Catch [details]
51

Demersal Frank & Bryce trawl

171
1988-09-24 06:37
1988-09-24 07:07
-20.1217
116.8050
-20.1417
116.8317
47
Catch [details]
52

Demersal Frank & Bryce trawl

171
1988-09-24 08:57
1988-09-24 09:27
-20.1583
116.7950
-20.1933
116.7883
43
Catch [details]
53

Demersal Frank & Bryce trawl

171
1988-09-24 21:57
1988-09-24 22:27
-20.4983
116.1100
30
Catch [details]
54

Demersal Frank & Bryce trawl

171
1988-09-25 00:03
1988-09-25 00:33
-20.5533
116.1483
-20.5617
116.1183
30
Catch [details]
56

Demersal Frank & Bryce trawl

171
1988-09-25 05:17
1988-09-25 05:47
-20.5567
116.0700
-20.5250
116.0900
31
Catch [details]
57

Demersal Frank & Bryce trawl

171
1988-09-25 07:42
1988-09-25 08:12
-20.6583
115.8817
-20.6700
115.8550
23
Catch [details]
58

Demersal Frank & Bryce trawl

171
1988-09-25 09:00
1988-09-25 09:30
-20.6833
115.8550
-20.6533
115.8633
23
Catch [details]
59

Demersal Frank & Bryce trawl

171
1988-09-25 22:03
1988-09-25 22:33
-20.6100
115.7900
-20.5783
115.7900
27
Catch [details]
60

Demersal Frank & Bryce trawl

171
1988-09-26 00:08
1988-09-26 00:38
-20.5150
115.7183
-20.4700
115.7100
34
Catch [details]
61

Demersal Frank & Bryce trawl

171
1988-09-26 02:35
1988-09-26 03:05
-20.3283
115.9083
-20.3567
115.9317
44
Catch [details]
62

Demersal Frank & Bryce trawl

171
1988-09-26 04:12
1988-09-26 04:42
-20.2800
115.9350
-20.2917
115.9083
49
Catch [details]
63

Demersal Frank & Bryce trawl

171
1988-09-26 07:08
1988-09-26 07:38
-20.1500
116.2200
-20.1200
116.2450
53
Catch [details]
64

Demersal Frank & Bryce trawl

171
1988-09-26 08:58
1988-09-26 09:28
-20.0767
116.1817
-20.0967
116.1583
54
Catch [details]
65

Demersal Frank & Bryce trawl

171
1988-09-26 22:03
1988-09-26 22:33
-20.9200
115.1600
-20.9300
115.1350
68
Catch [details]
66

Demersal Frank & Bryce trawl

171
1988-09-27 00:08
1988-09-27 00:38
-20.8150
115.1667
-20.7917
115.1750
70
Catch [details]
67

Demersal Frank & Bryce trawl

171
1988-09-27 01:38
1988-09-27 02:08
-20.7533
115.2467
-20.7300
115.2500
44
Catch [details]
68

Demersal Frank & Bryce trawl

171
1988-09-27 04:55
1988-09-27 05:25
-20.3933
115.2500
-20.4250
115.2500
50
Catch [details]
69

Demersal Frank & Bryce trawl

171
1988-09-27 07:56
1988-09-27 08:26
-20.4567
114.9117
-20.4283
114.8967
148
Catch [details]
71

171
1988-09-27 23:15
-19.7650
115.6133
0.0000
0.0000
37
Catch [details]
72

Demersal Frank & Bryce trawl

171
1988-09-28 22:02
1988-09-28 22:32
-20.1000
116.5400
-20.0833
116.5683
51
Catch [details]
73

Demersal Frank & Bryce trawl

171
1988-09-29 00:10
1988-09-29 00:40
-19.9367
116.5967
-19.9567
116.5983
57
Catch [details]
74

Demersal Frank & Bryce trawl

171
1988-09-29 02:12
1988-09-29 02:42
-19.8633
116.7483
-19.8583
116.7300
66
Catch [details]
75

Demersal Frank & Bryce trawl

171
1988-09-29 04:45
1988-09-29 05:15
-19.6700
116.8950
-19.6933
116.9033
75
Catch [details]
76

Demersal Frank & Bryce trawl

171
1988-09-29 06:29
1988-09-29 06:59
-19.8100
116.9117
-19.8283
116.9400
64
Catch [details]
77

Demersal Frank & Bryce trawl

171
1988-09-29 09:05
1988-09-29 09:35
-20.0383
117.1583
-20.0533
117.1850
47
Catch [details]
78

Demersal Frank & Bryce trawl

171
1988-09-30 22:00
1988-09-30 22:30
-19.6800
118.8183
-19.6367
118.7683
29
Catch [details]
79

Demersal Frank & Bryce trawl

171
1988-10-01 00:03
1988-10-01 00:33
-19.4517
118.7083
-19.4217
118.7150
46
Catch [details]
80

Demersal Frank & Bryce trawl

171
1988-10-01 02:13
1988-10-01 02:43
-19.3150
118.5617
-19.3133
118.5450
67
Catch [details]
81

Demersal Frank & Bryce trawl

171
1988-10-01 04:04
1988-10-01 04:34
-19.2583
118.6517
-19.3017
118.6917
73
Catch [details]
82

Demersal Frank & Bryce trawl

171
1988-10-01 06:40
1988-10-01 07:10
-19.0383
118.8117
-18.9833
118.8150
86
Catch [details]
83

Demersal Frank & Bryce trawl

171
1988-10-01 08:05
1988-10-01 08:35
-19.0100
118.7800
-19.0000
118.7367
86
Catch [details]
84

171
1988-10-01 11:05
-18.9217
118.6400
0.0000
0.0000
85
Catch [details]
85

Demersal Frank & Bryce trawl

171
1988-10-01 21:59
1988-10-01 22:29
-18.9033
118.8000
-18.9400
118.7800
92
Catch [details]
86

Demersal Frank & Bryce trawl

171
1988-10-01 23:50
1988-10-02 00:20
-18.9117
118.7067
-18.8800
118.6850
87
Catch [details]
87

Demersal Frank & Bryce trawl

171
1988-10-02 01:45
1988-10-02 02:15
-18.8350
118.5500
-18.8183
118.5267
121
Catch [details]
88

Demersal Frank & Bryce trawl

171
1988-10-02 03:08
1988-10-02 03:38
-18.8367
118.5067
-18.8133
118.5133
122
Catch [details]
89

Demersal Frank & Bryce trawl

171
1988-10-02 05:20
1988-10-02 05:50
-18.6733
118.3733
145
Catch [details]
90

Demersal Frank & Bryce trawl

171
1988-10-02 07:03
1988-10-02 07:33
-18.6000
118.3217
-18.6100
118.2883
129
Catch [details]
91

Demersal Frank & Bryce trawl

171
1988-10-02 09:02
1988-10-02 09:32
-18.7050
118.2117
-18.6817
118.2317
134
Catch [details]
92

171
1988-10-02 10:15
-18.6683
118.2350
0.0000
0.0000
134
Catch [details]
93

171
1988-10-02 11:45
-18.4867
118.1383
0.0000
0.0000
225
Catch [details]
94

171
1988-10-02 13:30
-18.3167
118.0067
0.0000
0.0000
320
Catch [details]
95

171
1988-10-02 14:35
-18.2400
117.9183
0.0000
0.0000
427
Catch [details]
96

Demersal Frank & Bryce trawl

171
1988-10-02 22:04
1988-10-02 22:34
-18.9450
118.0867
-18.9533
118.1267
131
Catch [details]
97

Demersal Frank & Bryce trawl

171
1988-10-02 23:52
1988-10-03 00:22
-18.9833
118.1683
-18.9767
118.1933
110
Catch [details]
98

Demersal Frank & Bryce trawl

171
1988-10-03 01:42
1988-10-03 02:12
-19.1083
118.2033
-19.0967
118.1800
87
Catch [details]
99

Demersal Frank & Bryce trawl

171
1988-10-03 04:04
1988-10-03 04:34
-19.2350
118.1017
-19.2100
118.0767
84
Catch [details]
100

171
1988-10-03 05:10
-19.2333
118.0917
0.0000
0.0000
84
Catch [details]
101

Demersal Frank & Bryce trawl

171
1988-10-03 06:06
1988-10-03 06:36
-19.3217
118.1067
-19.3550
118.1400
76
Catch [details]
102

Demersal Frank & Bryce trawl

171
1988-10-03 07:33
1988-10-03 08:03
-19.3333
118.1117
-19.2933
118.1067
78
Catch [details]
103

171
1988-10-03 09:50
-19.1083
117.9133
0.0000
0.0000
100
Catch [details]
104

171
1988-10-03 13:50
-18.8417
117.5450
0.0000
0.0000
200
Catch [details]
105

171
1988-10-03 15:45
-18.6917
117.4267
0.0000
0.0000
304
Catch [details]
106

Demersal Frank & Bryce trawl

171
1988-10-03 22:04
1988-10-03 22:34
-19.0017
117.4167
-19.0283
117.4100
167
Catch [details]
107

Demersal Frank & Bryce trawl

171
1988-10-04 00:22
1988-10-04 00:52
-19.1067
117.5633
-19.1300
117.5700
125
Catch [details]
108

Demersal Frank & Bryce trawl

171
1988-10-04 01:52
1988-10-04 02:22
-19.1600
117.5533
-19.1817
117.5683
117
Catch [details]
109

Demersal Frank & Bryce trawl

171
1988-10-04 03:24
1988-10-04 03:54
-19.1300
117.6500
-19.1650
117.6333
125
Catch [details]
110

Demersal Frank & Bryce trawl

171
1988-10-04 05:26
1988-10-04 05:56
-19.3133
117.5583
-19.3250
117.5250
94
Catch [details]
111

Demersal Frank & Bryce trawl

171
1988-10-04 06:51
1988-10-04 07:21
-19.3050
117.4417
-19.3150
117.4050
105
Catch [details]
112

Demersal Frank & Bryce trawl

171
1988-10-04 08:20
1988-10-04 08:50
-19.3467
117.3167
-19.3483
117.2800
108
Catch [details]
113

Demersal Frank & Bryce trawl

171
1988-10-04 22:01
1988-10-04 22:31
-19.4583
117.5050
-19.4317
117.4883
84
Catch [details]
114

Demersal Frank & Bryce trawl

171
1988-10-05 00:03
1988-10-05 00:33
-19.4867
117.3567
-19.4850
117.3350
84
Catch [details]
115

Demersal Frank & Bryce trawl

171
1988-10-05 01:32
1988-10-05 02:02
-19.4317
117.3183
-19.4350
117.2983
91
Catch [details]
116

Demersal Frank & Bryce trawl

171
1988-10-05 04:55
1988-10-05 05:25
-19.1167
117.1033
-19.1217
117.0733
184
Catch [details]
117

Demersal Frank & Bryce trawl

171
1988-10-05 06:15
1988-10-05 06:45
-19.1183
117.0733
-19.1350
117.0533
183
Catch [details]
118

Demersal Frank & Bryce trawl

171
1988-10-05 09:03
1988-10-05 09:33
-19.3233
116.9133
-19.3350
116.9350
118
Catch [details]
119

171
1988-10-05 13:24
-19.0217
116.5033
0.0000
0.0000
300
Catch [details]
120

171
1988-10-05 14:30
-19.1383
116.5033
0.0000
0.0000
250
Catch [details]
121

171
1988-10-05 15:15
-19.1850
116.5017
0.0000
0.0000
200
Catch [details]
122

171
1988-10-05 16:30
-19.2833
116.5000
0.0000
0.0000
150
Catch [details]
123

171
1988-10-05 18:10
-19.4833
116.5000
0.0000
0.0000
97
Catch [details]
124

171
1988-10-05 21:55
-20.0333
116.5000
0.0000
0.0000
55
Catch [details]
125

Demersal Frank & Bryce trawl

171
1988-10-06 00:00
1988-10-06 00:30
-19.7617
116.5000
-19.7267
116.5033
59
Catch [details]
126

CTD (Southern Surveyor)

171
1988-10-06 01:17
1988-10-06 01:27
-19.7317
116.5033
0.0000
0.0000
59
Catch [details]
127

CTD (Southern Surveyor)

171
1988-10-06 03:08
1988-10-06 03:18
-19.6700
116.5100
0.0000
0.0000
59
Catch [details]
128

Demersal Frank & Bryce trawl

171
1988-10-06 04:02
1988-10-06 04:32
-19.6950
116.5133
-19.6600
116.5250
59
Catch [details]
129

171
1988-10-06 05:25
-19.7167
116.4833
0.0000
0.0000
59
Catch [details]
130

CTD (Southern Surveyor)

171
1988-10-06 06:56
1988-10-06 07:06
-19.7733
116.5300
-19.7683
116.5283
59
Catch [details]
131

Demersal Frank & Bryce trawl

171
1988-10-06 08:04
1988-10-06 08:34
-19.7800
116.5217
-19.7500
116.5050
58
Catch [details]
132

Demersal Frank & Bryce trawl

171
1988-10-06 12:01
1988-10-06 12:46
-19.7400
116.4950
-19.6983
116.4933
61
Catch [details]
133

Demersal Frank & Bryce trawl

171
1988-10-06 16:20
1988-10-06 17:05
-19.7233
116.5317
-19.7667
116.5500
58
Catch [details]
134

Demersal Frank & Bryce trawl

171
1988-10-06 20:02
1988-10-06 20:47
-19.7600
116.4450
-19.7017
116.4900
60
Catch [details]
135

Demersal Frank & Bryce trawl

171
1988-10-07 00:00
1988-10-07 00:30
-19.7650
116.5150
-19.7417
116.5217
59
Catch [details]
136

CTD (Southern Surveyor)

171
1988-10-07 01:13
1988-10-07 01:23
-19.7483
116.5200
0.0000
0.0000
59
Catch [details]
137

CTD (Southern Surveyor)

171
1988-10-07 03:12
1988-10-07 03:22
-19.6367
116.5683
0.0000
0.0000
62
Catch [details]
138

Demersal Frank & Bryce trawl

171
1988-10-07 04:05
1988-10-07 04:35
-19.6317
116.5633
-19.6567
116.5433
59
Catch [details]
139

171
1988-10-07 05:45
-19.6083
116.4883
0.0000
0.0000
70
Catch [details]
140

CTD (Southern Surveyor)

171
1988-10-07 06:45
1988-10-07 06:55
-19.6217
116.4733
-19.6283
116.4767
66
Catch [details]
141

Demersal Frank & Bryce trawl

171
1988-10-07 08:00
1988-10-07 08:30
-19.6083
116.4833
-19.6400
116.4917
69
Catch [details]
142

Demersal Frank & Bryce trawl

171
1988-10-07 12:02
1988-10-07 12:47
-19.7867
116.4950
-19.7500
116.5100
59
Catch [details]
143

Demersal Frank & Bryce trawl

171
1988-10-07 15:59
1988-10-07 16:44
-19.6867
116.5450
-19.6517
116.5300
61
Catch [details]
144

Demersal Frank & Bryce trawl

171
1988-10-07 20:01
1988-10-07 20:46
-19.8050
116.5083
-19.8000
116.4650
59
Catch [details]
145

Demersal Frank & Bryce trawl

171
1988-10-08 00:18
1988-10-08 00:48
-19.9433
115.9050
-19.9417
115.8850
70
Catch [details]
146

CTD (Southern Surveyor)

171
1988-10-08 01:37
1988-10-08 01:47
-19.9433
115.8967
0.0000
0.0000
69
Catch [details]
147

CTD (Southern Surveyor)

171
1988-10-08 03:12
1988-10-08 03:22
-20.0367
115.8200
0.0000
0.0000
67
Catch [details]
148

Demersal Frank & Bryce trawl

171
1988-10-08 04:05
1988-10-08 04:35
-20.0417
115.8300
-20.0067
115.8333
68
Catch [details]
149

Demersal Frank & Bryce trawl

171
1988-10-08 05:55
1988-10-08 06:25
-19.8950
115.9517
-19.9033
115.9250
71
Catch [details]
150

CTD (Southern Surveyor)

171
1988-10-08 07:04
1988-10-08 07:14
-19.9267
115.8633
-19.9300
115.8583
70
Catch [details]
151

Demersal Frank & Bryce trawl

171
1988-10-08 08:00
1988-10-08 08:30
-19.9350
115.8000
-19.9700
115.7517
71
Catch [details]
152

Demersal Frank & Bryce trawl

171
1988-10-08 12:02
1988-10-08 12:47
-20.0833
115.8800
-20.0483
115.8850
66
Catch [details]
153

Demersal Frank & Bryce trawl

171
1988-10-08 15:59
1988-10-08 16:44
-20.0517
115.7450
-20.0917
115.7100
67
Catch [details]
154

Demersal Frank & Bryce trawl

171
1988-10-08 20:00
1988-10-08 20:30
-20.0767
115.7750
67
Catch [details]
155

Demersal Frank & Bryce trawl

171
1988-10-09 00:00
1988-10-09 00:30
-20.1417
115.7417
-20.1167
115.7517
66
Catch [details]
156

CTD (Southern Surveyor)

171
1988-10-09 01:05
1988-10-09 01:15
-20.1200
115.7483
0.0000
0.0000
65
Catch [details]
157

CTD (Southern Surveyor)

171
1988-10-09 03:21
1988-10-09 03:31
-20.1433
115.7633
0.0000
0.0000
64
Catch [details]
158

Demersal Frank & Bryce trawl

171
1988-10-09 04:04
1988-10-09 04:34
-20.1450
115.7667
-20.1417
115.7400
65
Catch [details]
159

Demersal Frank & Bryce trawl

171
1988-10-09 05:47
1988-10-09 06:17
-20.2583
115.6633
-20.2200
115.6317
59
Catch [details]
160

CTD (Southern Surveyor)

171
1988-10-09 07:03
1988-10-09 07:13
-20.1517
115.6750
63
Catch [details]
161

Demersal Frank & Bryce trawl

171
1988-10-09 08:30
1988-10-09 09:00
-20.1533
115.6733
-20.1500
115.7067
63
Catch [details]
162

171
1988-10-09 10:05
-20.0550
115.7767
0.0000
0.0000
66
Catch [details]
163

Demersal Frank & Bryce trawl

171
1988-10-09 12:02
1988-10-09 12:47
-20.1100
115.7667
-20.1317
115.7317
66
Catch [details]
164

171
1988-10-09 14:05
-20.0900
115.7983
0.0000
0.0000
67
Catch [details]
165

Demersal Frank & Bryce trawl

171
1988-10-09 15:59
1988-10-09 16:44
-20.0533
115.8150
-20.0050
115.8100
69
Catch [details]
166

171
1988-10-09 18:08
-19.9833
115.7250
0.0000
0.0000
71
Catch [details]
167

Demersal Frank & Bryce trawl

171
1988-10-09 20:02
1988-10-09 20:47
-20.0017
115.7267
-19.9833
115.6683
71
Catch [details]
169

Demersal Frank & Bryce trawl

171
1988-10-10 01:15
1988-10-10 01:45
-19.9350
115.5217
-19.9167
115.5133
75
Catch [details]
170

Demersal Frank & Bryce trawl

171
1988-10-10 04:09
1988-10-10 04:39
-19.9833
115.1500
-20.0100
115.1067
213
Catch [details]
171

Demersal Frank & Bryce trawl

171
1988-10-10 06:10
1988-10-10 06:40
-20.1500
115.2017
-20.1850
115.2400
77
Catch [details]
173

Demersal Frank & Bryce trawl

171
1988-10-10 09:06
1988-10-10 09:36
-20.1367
115.4700
-20.1083
115.4683
68
Catch [details]
174

171
1988-10-10 11:17
-20.2333
115.5350
0.0000
0.0000
52
Catch [details]
175

171
1988-10-10 15:05
-19.7167
115.5117
0.0000
0.0000
100
Catch [details]
176

171
1988-10-10 15:35
-19.7033
115.5150
0.0000
0.0000
142
Catch [details]
177

171
1988-10-10 16:25
-19.6533
115.5050
0.0000
0.0000
200
Catch [details]
178

171
1988-10-10 17:30
-19.5883
115.5000
0.0000
0.0000
255
Catch [details]
179

171
1988-10-10 18:20
-19.5700
115.5017
0.0000
0.0000
337
Catch [details]
180

Demersal Frank & Bryce trawl

171
1988-10-10 22:05
1988-10-10 22:35
-19.6500
115.6500
180
Catch [details]
181

Demersal Frank & Bryce trawl

171
1988-10-11 01:00
1988-10-11 01:30
-19.7650
115.8033
-19.7867
115.7850
107
Catch [details]
182

Demersal Frank & Bryce trawl

171
1988-10-11 06:10
1988-10-11 06:40
-19.3433
116.3567
-19.3067
116.3667
149
Catch [details]
183

Demersal Frank & Bryce trawl

171
1988-10-11 09:08
1988-10-11 09:38
-19.2800
116.6983
-19.3050
116.7017
140
Catch [details]
184

Demersal Frank & Bryce trawl

171
1988-10-11 22:02
1988-10-11 22:32
-19.0600
117.8900
-19.0967
117.8800
114
Catch [details]
185

Demersal Frank & Bryce trawl

171
1988-10-12 00:05
1988-10-12 00:35
-19.0767
118.0367
-19.0867
118.0600
89
Catch [details]
186

Demersal Frank & Bryce trawl

171
1988-10-12 00:45
1988-10-12 01:15
-19.0883
118.0367
-19.1117
118.0317
90
Catch [details]
187

Demersal Frank & Bryce trawl

171
1988-10-12 04:05
1988-10-12 04:35
-18.9333
118.0200
-18.9117
118.0400
140
Catch [details]
188

Demersal Frank & Bryce trawl

171
1988-10-12 06:16
1988-10-12 06:46
-18.8150
117.9233
-18.8017
117.9583
140
Catch [details]
189

Demersal Frank & Bryce trawl

171
1988-10-12 08:07
1988-10-12 08:37
-18.7750
117.8633
-18.8083
117.8533
162
Catch [details]
190

Demersal Frank & Bryce trawl

171
1988-10-12 13:10
1988-10-12 15:10
-18.2333
117.9000
-18.1467
117.9083
582
Catch [details]
191

171
1988-10-13 12:24
-18.3383
118.0017
0.0000
0.0000
300
Catch [details]
192

171
1988-10-13 13:30
-18.4967
118.0033
0.0000
0.0000
250
Catch [details]
193

171
1988-10-13 14:35
-18.6033
118.0017
0.0000
0.0000
200
Catch [details]
194

171
1988-10-13 15:45
-18.7183
118.0033
0.0000
0.0000
150
Catch [details]
195

171
1988-10-13 18:00
-19.0450
118.0050
0.0000
0.0000
102
Catch [details]
196

171
1988-10-13 20:25
-19.3900
118.0033
0.0000
0.0000
70
Catch [details]
197

171
1988-10-13 21:35
-19.4867
117.8750
0.0000
0.0000
61
Catch [details]
198

171
1988-10-13 22:05
-19.5633
117.8717
0.0000
0.0000
59
Catch [details]
199

171
1988-10-13 23:30
-19.7567
117.9833
0.0000
0.0000
50
Catch Failed [details]
1

171
1988-09-16 22:23
1988-09-16 22:53
-20.0683
118.2517
-20.0917
118.2767
29
Catch Failed [details]
2

Demersal Frank & Bryce trawl

171
1988-09-17 00:12
1988-09-17 00:42
-20.0633
118.2417
-20.0567
118.2083
21
Catch Failed [details]
55

Demersal Frank & Bryce trawl

171
1988-09-25 02:30
1988-09-25 03:00
-20.6433
116.1567
-20.6183
116.1667
29
Catch Failed [details]
70

Demersal Frank & Bryce trawl

171
1988-09-27 12:25
1988-09-27 13:00
-20.6383
114.7050
-20.6800
114.7233
517
Catch Failed [details]
168

Demersal Frank & Bryce trawl

171
1988-10-09 22:12
1988-10-09 22:22
-19.9633
115.5133
-19.9750
115.5167
75
Catch Failed [details]
172

Demersal Frank & Bryce trawl

171
1988-10-10 07:37
1988-10-10 08:07
-20.2017
115.3583
-20.1733
115.3650
45