Please login if you have access to particular applications.
Voyage details and related metadata, reports, events and data.
IN2022_V06 - is a Marine National Facility

voyage
Title: Integrated Marine Observing System: monitoring of East Australian Current property transports at 27 degrees South.
Voyage details on MNF site: https://mnf.csiro.au/en/Voyages/IN2022_V06
Period: 2022-07-14 04:00 to 2022-07-28 22:30 UTC
Duration: 14.77 days
From: Brisbane To: Brisbane
Region: Queensland Coast; East Australian Current
Ship: Investigator (RV) [details]
Description: This voyage will recover an array of six full-depth current meter and property (temperature, salinity and pressure) moorings from the continental slope to the abyssal waters off Brisbane (27oS). The observing system is designed to capture the mean and time-varying flow of the EAC. We will undertake biological and oceanographic sampling, using CTDs, Triaxus tows, SADCP, to characterise the shelf waters off the Stradbroke NRS, and to sample dynamic, ephemeral frontal eddies flowing down from Fraser Island and shelf – boundary exchanges. These observations will enable us to discover the spatial and temporal variability of shelf water and plankton around the Stradbroke Island National Reference Station (NRS) mooring (Canyon monitoring). The data from the EAC mooring array and other oceanographic sampling are essential for understanding, at the regional to global scale, the role of boundary current in the climate system, and, at the local scale, simulating cross-shelf flows, upwelling, and frontal eddy formation. These local-scale processes have a fundamental impact on nutrient and phytoplankton concentrations and therefore far-reaching effects on annual fisheries productivity and coastal shark interactions along the eastern seaboard. We will undertake CTD/02 and nutrient samples, numerous Triaxus and ship ADCP sections across the EAC mooring line and across the shelf-EAC. These surveys will includeTriaxus/SADCP lines in the area between 28oS and 26oS. These operations will occur in between the mooring operations and at the completion of the mooring operations. We will deploy 2 Standard Argo floats during the voyage. Should time allow, we will conduct hydrographic survey of a "superproductive" Richmond submarine canyon between the Gold Coast and Byron Bay. We will undertake a long sub-bottom profiler section in this region in order to identify future coring sites for paleoclimate studies. We will use the 36-bottle rosette with the lowered ADCPs (150 kHz and 300 kHz) attached. We will collect salinity and oxygen samples for calibration of the CTD salinity and oxygen sensors, as well as for calibration and quality control of recovered mooring instruments. We will also collect nutrient (silicate, phosphate and nitrate) and carbon samples. Although we use the 36 bottle rosette, only 18 niskin bottles will be required. Removing one in two bottles will enable us to fix brackets for the post-recovery "dips' of recovered instruments (as in previous mooring voyage IN2021_V03).
Leader: Chris Chapman
Projects: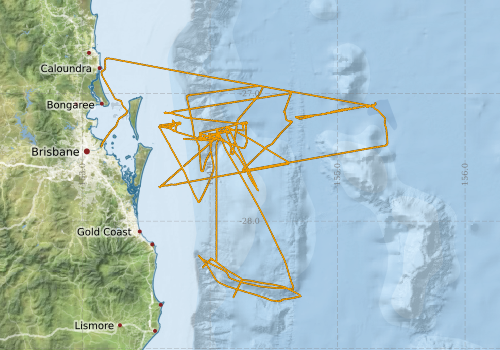 Underway data from NRUD
Voyage extents: 28° 37.8' S to 26° 43.4' S 153° 08.7' E to 155° 23.5' E
Get voyage track shapefile
Get CSV
Participants:- no records
Data publishing
This is a list of online datasets hosted by CSIRO. Other processed datasets hosted by collaborating organisations may be found on the 'Metadata' tab.
Use the Get data link on the right to extract data using the NCMI Data Trawler.
Data Stream
Data Summary
Get data
Hydrology

| | |
| --- | --- |
| Time (UTC): | 2022-07-14 22:28 to 2022-07-27 04:48 |
| Latitude: | -27.73 to -27.08 |
| Longitude: | 153.59 to 155.30 |
| Quantity: | 19 Casts |
| Max Pressure: | 4848.6 db |

Get Data from Trawler

Download the Hydrology Deployments Data (NetCDF format)

Download the Hydrology UWY Data (CSV format)

Download the Hydrology Deployments Data (CSV format)

Download the Hydrology TSG data (CSV)

Download the Hydrology TSG Elogs (CSV format)

Download the Hydrology UWY Elogs (CSV Format)


Deployments by start time:- Click on column header to sort. Use link on 'Deployment' to see full details. Use the CSV button at the bottom to export data (tab delimited).
Search for deployments from this voyage and others
Deployment
Operation
Station
Cast
Gear
Project
Start and end times
Start Location
End Location
Depth
Description
CTD Cast / Hydrology [details]
Cast 1

Autosal Salinometer,CTD 24 - SN 1332,SCRIPPS Automated Photometric Oxygen System,SEAL AutoAnalyzer 3 HR,SEAL AutoAnalyzer 3 HR,SEAL AutoAnalyzer 3 HR,SEAL AutoAnalyzer 3 HR,SEAL AutoAnalyzer 3 HR,Temperature CTD 24 - SN 4718

2022-07-14 22:28
2022-07-14 23:29
-27.1093
155.2322
1000.6
CTD Cast / Hydrology [details]
Cast 2

Autosal Salinometer,CTD 24 - SN 1332,SCRIPPS Automated Photometric Oxygen System,SEAL AutoAnalyzer 3 HR,SEAL AutoAnalyzer 3 HR,SEAL AutoAnalyzer 3 HR,SEAL AutoAnalyzer 3 HR,SEAL AutoAnalyzer 3 HR,Temperature CTD 24 - SN 4718

2022-07-15 02:05
2022-07-15 05:47
-27.0784
155.3006
4848.6
CTD Cast / Hydrology [details]
Cast 4

Autosal Salinometer,CTD 24 - SN 1332,SCRIPPS Automated Photometric Oxygen System,SEAL AutoAnalyzer 3 HR,SEAL AutoAnalyzer 3 HR,SEAL AutoAnalyzer 3 HR,SEAL AutoAnalyzer 3 HR,SEAL AutoAnalyzer 3 HR,Temperature CTD 24 - SN 4718

2022-07-15 10:54
2022-07-15 14:31
-27.1918
154.6866
4841.5
CTD Cast / Hydrology [details]
Cast 7

Autosal Salinometer,CTD 24 - SN 1332,SCRIPPS Automated Photometric Oxygen System,SEAL AutoAnalyzer 3 HR,SEAL AutoAnalyzer 3 HR,SEAL AutoAnalyzer 3 HR,SEAL AutoAnalyzer 3 HR,SEAL AutoAnalyzer 3 HR,Temperature CTD 24 - SN 4718

2022-07-17 15:49
2022-07-17 16:20
-27.1514
153.6812
165.4
CTD Cast / Hydrology [details]
Cast 8

Autosal Salinometer,CTD 24 - SN 1332,SCRIPPS Automated Photometric Oxygen System,SEAL AutoAnalyzer 3 HR,SEAL AutoAnalyzer 3 HR,SEAL AutoAnalyzer 3 HR,SEAL AutoAnalyzer 3 HR,SEAL AutoAnalyzer 3 HR,Temperature CTD 24 - SN 4718

2022-07-17 16:55
2022-07-17 17:30
-27.1589
153.6427
132.2
CTD Cast / Hydrology [details]
Cast 9

Autosal Salinometer,CTD 24 - SN 1332,SCRIPPS Automated Photometric Oxygen System,SEAL AutoAnalyzer 3 HR,SEAL AutoAnalyzer 3 HR,SEAL AutoAnalyzer 3 HR,SEAL AutoAnalyzer 3 HR,SEAL AutoAnalyzer 3 HR,Temperature CTD 24 - SN 4718

2022-07-17 21:26
2022-07-18 00:50
-27.2652
154.2582
4171.8
CTD Cast / Hydrology [details]
Cast 10

Autosal Salinometer,CTD 24 - SN 1332,SCRIPPS Automated Photometric Oxygen System,Temperature CTD 24 - SN 4718

2022-07-18 02:21
2022-07-18 04:50
-27.2906
154.2614
2099.7
CTD Cast / Hydrology [details]
Cast 11

Autosal Salinometer,CTD 24 - SN 1332,SCRIPPS Automated Photometric Oxygen System,SEAL AutoAnalyzer 3 HR,SEAL AutoAnalyzer 3 HR,SEAL AutoAnalyzer 3 HR,SEAL AutoAnalyzer 3 HR,SEAL AutoAnalyzer 3 HR,Temperature CTD 24 - SN 4718

2022-07-18 06:03
2022-07-18 09:24
-27.3133
154.1460
3262.7
CTD Cast / Hydrology [details]
Cast 12

Autosal Salinometer,CTD 24 - SN 1332,SCRIPPS Automated Photometric Oxygen System,SEAL AutoAnalyzer 3 HR,SEAL AutoAnalyzer 3 HR,SEAL AutoAnalyzer 3 HR,SEAL AutoAnalyzer 3 HR,SEAL AutoAnalyzer 3 HR,Temperature CTD 24 - SN 4718

2022-07-18 11:32
2022-07-18 13:11
-27.3461
154.0035
1640
CTD Cast / Hydrology [details]
Cast 13

Autosal Salinometer,CTD 24 - SN 1332,SCRIPPS Automated Photometric Oxygen System,SEAL AutoAnalyzer 3 HR,SEAL AutoAnalyzer 3 HR,SEAL AutoAnalyzer 3 HR,SEAL AutoAnalyzer 3 HR,SEAL AutoAnalyzer 3 HR,Temperature CTD 24 - SN 4718

2022-07-19 05:34
2022-07-19 06:30
-27.3365
153.9301
600.6
CTD Cast / Hydrology [details]
Cast 14

Autosal Salinometer,CTD 24 - SN 1332,SCRIPPS Automated Photometric Oxygen System,SEAL AutoAnalyzer 3 HR,SEAL AutoAnalyzer 3 HR,SEAL AutoAnalyzer 3 HR,SEAL AutoAnalyzer 3 HR,SEAL AutoAnalyzer 3 HR,Temperature CTD 24 - SN 4718

2022-07-19 09:14
2022-07-19 09:35
-27.2641
153.5949
69.2
CTD Cast / Hydrology [details]
Cast 15

Autosal Salinometer,CTD 24 - SN 1332,SCRIPPS Automated Photometric Oxygen System,SEAL AutoAnalyzer 3 HR,SEAL AutoAnalyzer 3 HR,SEAL AutoAnalyzer 3 HR,SEAL AutoAnalyzer 3 HR,SEAL AutoAnalyzer 3 HR,Temperature CTD 24 - SN 4718

2022-07-19 10:22
2022-07-19 10:44
-27.2560
153.6403
103.3
CTD Cast / Hydrology [details]
Cast 16

Autosal Salinometer,CTD 24 - SN 1332,SCRIPPS Automated Photometric Oxygen System,Temperature CTD 24 - SN 4718

2022-07-20 07:57
2022-07-20 10:26
-27.3498
154.0674
2001.6
CTD Cast / Hydrology [details]
Cast 17

Autosal Salinometer,CTD 24 - SN 1332,SCRIPPS Automated Photometric Oxygen System,SEAL AutoAnalyzer 3 HR,SEAL AutoAnalyzer 3 HR,SEAL AutoAnalyzer 3 HR,SEAL AutoAnalyzer 3 HR,SEAL AutoAnalyzer 3 HR,Temperature CTD 24 - SN 4718

2022-07-24 04:42
2022-07-24 05:05
-27.7264
153.6069
57.2
CTD Cast / Hydrology [details]
Cast 18

Autosal Salinometer,CTD 24 - SN 1332,SCRIPPS Automated Photometric Oxygen System,SEAL AutoAnalyzer 3 HR,SEAL AutoAnalyzer 3 HR,SEAL AutoAnalyzer 3 HR,SEAL AutoAnalyzer 3 HR,SEAL AutoAnalyzer 3 HR,Temperature CTD 24 - SN 4718

2022-07-24 05:52
2022-07-24 06:15
-27.7221
153.6580
74
CTD Cast / Hydrology [details]
Cast 19

Autosal Salinometer,CTD 24 - SN 1332,SCRIPPS Automated Photometric Oxygen System,SEAL AutoAnalyzer 3 HR,SEAL AutoAnalyzer 3 HR,SEAL AutoAnalyzer 3 HR,SEAL AutoAnalyzer 3 HR,SEAL AutoAnalyzer 3 HR,Temperature CTD 24 - SN 4718

2022-07-24 07:04
2022-07-24 07:26
-27.7139
153.7051
78.2
CTD Cast / Hydrology [details]
Cast 20

Autosal Salinometer,CTD 24 - SN 1332,SCRIPPS Automated Photometric Oxygen System,SEAL AutoAnalyzer 3 HR,SEAL AutoAnalyzer 3 HR,SEAL AutoAnalyzer 3 HR,SEAL AutoAnalyzer 3 HR,SEAL AutoAnalyzer 3 HR,Temperature CTD 24 - SN 4718

2022-07-26 06:14
2022-07-26 08:36
-27.3694
154.0342
2000.8
CTD Cast / Hydrology [details]
Cast 21

Autosal Salinometer,CTD 24 - SN 1332,SCRIPPS Automated Photometric Oxygen System,SEAL AutoAnalyzer 3 HR,SEAL AutoAnalyzer 3 HR,SEAL AutoAnalyzer 3 HR,SEAL AutoAnalyzer 3 HR,SEAL AutoAnalyzer 3 HR,Temperature CTD 24 - SN 4718

2022-07-26 23:38
2022-07-27 00:53
-27.0965
154.4112
602.7
CTD Cast / Hydrology [details]
Cast 22

Autosal Salinometer,CTD 24 - SN 1332,SCRIPPS Automated Photometric Oxygen System,SEAL AutoAnalyzer 3 HR,SEAL AutoAnalyzer 3 HR,SEAL AutoAnalyzer 3 HR,SEAL AutoAnalyzer 3 HR,SEAL AutoAnalyzer 3 HR,Temperature CTD 24 - SN 4718

2022-07-27 02:24
2022-07-27 04:48
-27.1064
154.3926
2002.2