Please login if you have access to particular applications.
Catch Data - from CSIRO surveys.
CAAB Code:
37 467000 [taxon report]
Scientific Name
and Authority:
Tetraodontidae
CAAB category:
37 - Pisces

| | |
| --- | --- |
| Standard Name: | toadfishes |
Distribution map:
View detailed map or click on map to see same.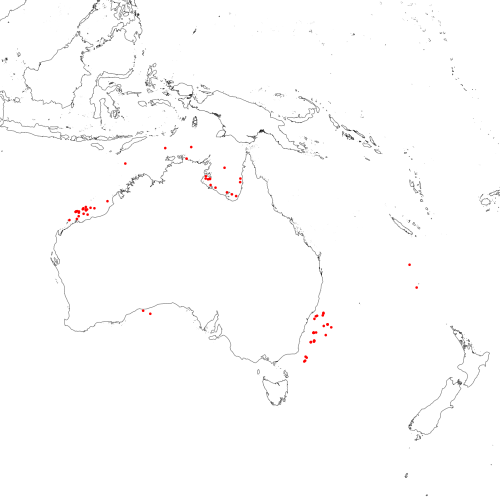 Occurrence locations [64] shown as red circles - View CSIRO Catch records
Catch records - 65 records found.
Click on survey to see survey details. Click on Operation to see full details of the catch. Use the CSV button at the bottom to export data.
Date (UTC)
Position
Survey
Operation
Depth
Range (m)
Count
Weight (kg)
Method
Effort
Gear
1978-06-02 16:55
18° 44.0' S 119° 28.0' E
COUR197835
21
100 to 105
Stern Trawl
100 minutes
1979-08-23 13:20
33° 12.0' S 152° 34.0' E
SP197909
8
40 to 62
Stern Trawl
100 minutes
1979-08-24 16:55
33° 08.0' S 152° 45.0' E
SP197909
16
235 to 490
1
Stern Trawl
100 minutes
1979-08-26 12:40
32° 46.0' S 153° 42.0' E
SP197909
19
255 to 400
1
Stern Trawl
100 minutes
1979-08-26 16:00
32° 52.0' S 153° 41.0' E
SP197909
21
1
Stern Trawl
100 minutes
1979-09-22 01:55
33° 05.0' S 153° 36.0' E
SP197910
5
225 to 324
1
Stern Trawl
117 minutes
1979-09-26 18:30
34° 24.0' S 153° 45.0' E
SP197910
25
0 to 0
1
Stern Trawl
108 minutes
1979-10-02 03:20
33° 31.0' S 152° 21.0' E
SP197910
39
176 to 231
1
Stern Trawl
100 minutes
1979-10-17 23:55
35° 31.0' S 154° 03.0' E
SP197911
8
96 to 100
1
Stern Trawl
100 minutes
1979-10-27 03:05
34° 34.0' S 154° 52.0' E
SP197911
35
20 to 22
2
Stern Trawl
100 minutes
1979-10-28 01:05
34° 13.0' S 154° 20.0' E
SP197911
38
52 to 60
1
Stern Trawl
100 minutes
1979-10-28 03:25
34° 12.0' S 154° 18.0' E
SP197911
39
14 to 20
2
Stern Trawl
100 minutes
1980-02-06 22:45
36° 11.0' S 152° 20.0' E
SP198003
2
88 to 92
2
Stern Trawl
100 minutes
1980-02-07 21:10
35° 12.0' S 152° 36.0' E
SP198003
6
33 to 41
18
Stern Trawl
100 minutes
1980-02-08 00:55
36° 13.0' S 152° 18.0' E
SP198003
3
75 to 98
3
Stern Trawl
100 minutes
1980-02-08 05:00
36° 19.0' S 152° 17.0' E
SP198003
5
41 to 51
2
Stern Trawl
100 minutes
1980-02-09 23:35
36° 21.0' S 151° 50.0' E
SP198003
11
76 to 82
20
Stern Trawl
100 minutes
1980-02-10 20:30
35° 13.0' S 152° 14.0' E
SP198003
14
303 to 312
1
Stern Trawl
100 minutes
1980-02-10 22:00
35° 14.0' S 152° 14.0' E
SP198003
15
185 to 205
2
Stern Trawl
100 minutes
1980-02-10 23:30
35° 15.0' S 152° 14.0' E
SP198003
16
95 to 104
25
Stern Trawl
100 minutes
1980-02-11 00:55
36° 23.0' S 151° 48.0' E
SP198003
12
111 to 118
1
Stern Trawl
100 minutes
1980-05-13 22:40
38° 40.0' S 150° 50.0' E
SP198007
7
44 to 53
1
Stern Trawl
100 minutes
1980-05-15 02:00
38° 34.0' S 150° 58.0' E
SP198007
9
23 to 26
4
Stern Trawl
100 minutes
1980-05-15 18:30
38° 06.0' S 151° 02.0' E
SP198007
18
94 to 102
1
Stern Trawl
100 minutes
1980-05-16 00:02
38° 13.0' S 151° 12.0' E
SP198007
14
2
Stern Trawl
100 minutes
1980-06-03 06:30
19° 31.0' S 117° 51.0' E
SO198004
27
64 to 68
1
Stern Trawl
50 minutes
1980-06-04 07:15
19° 38.0' S 118° 27.0' E
SO198004
33
40 to 40
1
Stern Trawl
50 minutes
1980-07-08 06:15
10° 02.0' S 130° 03.0' E
SO198005
58
216 to 216
Trawling
50 minutes
1980-07-16 04:00
12° 18.0' S 124° 05.0' E
SO198005
68
82 to 82
1
3
Trawling
50 minutes
1980-07-20 04:00
17° 44.0' S 121° 25.0' E
SO198005
87
68 to 68
1
Trawling
50 minutes
1980-07-22 04:00
20° 24.0' S 115° 44.0' E
SO198005
89
48 to 52
Trawling
192 minutes
1980-11-17 02:00
9° 53.0' S 133° 56.0' E
SO198007
45
96 to 104
1
Trawling
50 minutes
1980-11-28 21:15
14° 29.0' S 136° 06.0' E
SO198007
82
18 to 18
2
Trawling
50 minutes
1980-11-29 08:10
14° 32.0' S 136° 44.0' E
SO198007
84
32 to 34
Trawling
50 minutes
1980-12-02 00:05
12° 55.0' S 138° 55.0' E
SO198007
92
58 to 58
1
Trawling
50 minutes
1980-12-07 00:15
17° 00.0' S 140° 39.0' E
SO198007
114
12 to 12
40
Trawling
50 minutes
1981-06-10 01:55
14° 29.0' S 141° 17.0' E
SO198102
12
18 to 19
45
Stern Trawl
175 minutes
1981-06-10 08:00
15° 00.0' S 141° 15.0' E
SO198102
13
17 to 17
43
Stern Trawl
50 minutes
1981-06-11 00:30
16° 45.0' S 140° 01.0' E
SO198102
15
19 to 20
3
Stern Trawl
50 minutes
1981-06-17 15:30
15° 48.0' S 137° 34.0' E
SO198102
51
19 to 19
47
1
Stern Trawl
50 minutes
1981-06-18 21:30
15° 25.0' S 136° 50.0' E
SO198102
53
18 to 20
38
1
Stern Trawl
50 minutes
1981-06-20 00:05
14° 35.0' S 136° 27.0' E
SO198102
58
25 to 25
6
Stern Trawl
50 minutes
1981-06-20 02:45
14° 32.0' S 136° 44.0' E
SO198102
59
32 to 32
13
Stern Trawl
50 minutes
1981-06-30 23:25
11° 35.0' S 133° 15.0' E
SO198102
104
17 to 17
5
Stern Trawl
50 minutes
1981-12-01 13:10
32° 30.0' S 126° 45.0' E
SO198105
18
35 to 36
4
Stern Trawl
50 minutes
1981-12-02 07:30
32° 53.0' S 127° 49.0' E
SO198105
22
49 to 51
1
Stern Trawl
50 minutes
1982-03-26 23:05
18° 54.0' S 118° 22.0' E
SO198202
5
1
Stern Trawl
50 minutes
1983-01-24 22:30
19° 15.1' S 116° 39.0' E
SO198301
22
1
0.3
30 minutes
1983-01-29 22:10
18° 52.4' S 117° 43.7' E
SO198301
44
1
0.01
30 minutes
1983-01-30 06:15
18° 53.5' S 118° 08.7' E
SO198301
47
2
0.2
30 minutes
1983-04-09 22:30
19° 51.3' S 117° 07.0' E
SO198302
12
57 to 58
30 minutes
1983-04-11 02:40
20° 14.7' S 116° 51.1' E
SO198302
21
42 to 44
30 minutes
1983-04-14 22:35
18° 40.2' S 118° 53.3' E
SO198302
40
130 to 130
30 minutes
1983-04-16 02:42
19° 02.8' S 118° 12.3' E
SO198302
48
88 to 90
30 minutes
1983-08-11 01:00
19° 12.0' S 116° 43.2' E
SO198304
62
4
0.08
30 minutes
1983-08-14 08:45
19° 21.8' S 117° 08.5' E
SO198304
79
1
0.005
30 minutes
1983-08-15 23:50
18° 44.2' S 117° 48.8' E
SO198304
88
2
0.02
30 minutes
1983-10-09 22:15
18° 33.6' S 118° 11.3' E
SO198305
17
30 minutes
1984-06-26 01:30
16° 28.0' S 139° 17.0' E
RACH198405
80
2
Handline
1986-10-23 22:53
19° 08.9' S 116° 52.6' E
SO198606
84
0.435
30 minutes
1991-09-20 03:50
19° 11.1' S 117° 09.1' E
SS199104
55
128 to 134
0.1
30 minutes
1998-10-14 16:31
14° 08.5' S 136° 08.0' E
SS199803
593
14 to 14
1
0
Trawl
30 Minutes
2003-05-14 15:50
29° 31.8' S 167° 38.1' E
TAN0308
23
1300 to 1880
4
0
Trawl
2003-05-18 04:35
26° 31.4' S 166° 34.4' E
TAN0308
45
3550 to 3588
2
0.002
Trawl
2003-05-29 22:43
32° 36.3' S 167° 35.7' E
TAN0308
117
120 to 127
1
0.01
Trawl