Please login if you have access to particular applications.
Survey details and related metadata, reports, events and data.
SP 11/79
Period: 1979-10-17 to 1979-10-30
From: Sydney To: Sydney
Region: NSW coast/Tasman Sea
Ship: Sprightly [details]
Description: East Australian Current/eddy studies, including underway physical and nutrient data, plus thermal structure, nutrients, zooplankton and midwater fauna across the eddy.
Leader: D. Tranter (CSIRO)
Project: East Australian Current and eddy studies ("Courageous", "Sprightly"), 1978-1984 [details]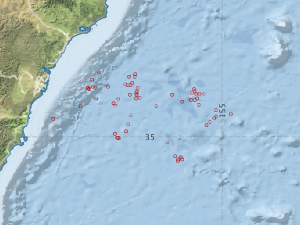 Voyage extents: 35° 29.0' S to 33° 37.0' S 151° 24.0' E to 155° 11.0' E
Participants:- no records
Data publishing:- This is a list of online datasets. use the Get data link on the right to extract data using the NCMI Data Trawler.
Data Stream
Data Summary
Get data
Catch Details

Time (UTC):
1979-10-15 19:10 to 1979-10-29 02:10
Latitude:
-35.52 to -33.72
Longitude:
152.13 to 154.87
Catch Summary:
Deployments: 41
Catch Composition: 1404
Measurements: 0
Specimens: 0

Get Data from Trawler


Hydrology

| | |
| --- | --- |
| Time (UTC): | 1979-10-16 00:10 to 1979-10-29 00:10 |
| Latitude: | -35.48 to -33.62 |
| Longitude: | 151.40 to 155.18 |
| Quantity: | 22 Casts |
| Max Pressure: | 458 db |

Get Data from Trawler


Deployments by start time:- Click on column header to sort
Deployment
Operation
Project
Start and end times
Start Location
End Location
Depth
Description
Catch [details]
1
12
1979-10-15 19:15
1979-10-15 20:55
-33.9333
152.5667
-33.9500
152.5500
22
Trawling
Catch [details]
2
12
1979-10-15 23:05
1979-10-16 00:45
-33.9833
152.1667
-34.0000
152.1500
390
Trawling
Catch [details]
3
12
1979-10-17 01:07
1979-10-17 02:47
-33.9833
152.1500
-33.9667
152.1500
300
Trawling
Catch [details]
4
12
1979-10-17 03:00
1979-10-17 04:40
-33.9500
152.1333
-33.9167
152.1500
206
Trawling
Catch [details]
5
12
1979-10-17 19:05
1979-10-17 19:30
-35.4333
154.1167
132
Trawling
Catch [details]
6
12
1979-10-17 20:20
1979-10-17 22:00
-35.4500
154.1000
-35.4667
154.0833
Trawling
Catch [details]
7
12
1979-10-17 22:20
1979-10-18 00:00
-35.4833
154.0667
-35.5000
154.0667
115
Trawling
Catch [details]
8
12
1979-10-17 23:55
1979-10-18 01:35
-35.5167
154.0500
100
Trawling
Catch [details]
9
12
1979-10-19 02:30
1979-10-19 04:10
-35.4167
154.0000
-35.4000
154.0333
200
Trawling
Catch [details]
10
12
1979-10-19 19:15
1979-10-19 20:55
-33.9833
154.4000
-34.0000
154.4167
215
Trawling
Catch [details]
11
12
1979-10-19 21:23
1979-10-19 23:03
-34.0333
154.4167
-34.0500
154.4167
220
Trawling
Catch [details]
12
12
1979-10-19 23:42
1979-10-20 01:22
-34.0833
154.4500
-34.1000
154.4500
224
Trawling
Catch [details]
13
12
1979-10-21 02:04
1979-10-21 03:44
-34.0833
154.5167
248
Trawling
Catch [details]
14
12
1979-10-21 03:50
1979-10-21 05:30
-34.0833
154.6167
254
Trawling
Catch [details]
15
12
1979-10-21 20:09
1979-10-21 21:49
-33.7833
152.2333
-33.8500
152.2333
215
Trawling
Catch [details]
16
12
1979-10-21 22:15
1979-10-21 23:55
-33.9333
152.2500
-34.0000
152.2500
230
Trawling
Catch [details]
17
12
1979-10-23 02:35
1979-10-23 04:15
-34.2000
152.3167
-34.2500
152.3000
276
Trawling
Catch [details]
18
12
1979-10-22 19:30
1979-10-22 21:10
-33.9500
153.2000
-33.9833
153.2000
312
Trawling
Catch [details]
19
12
1979-10-22 21:30
1979-10-22 23:10
-34.0167
153.1833
-34.0500
153.1833
344
Trawling
Catch [details]
20
12
1979-10-22 23:12
1979-10-23 00:52
-34.0500
153.1833
-34.0833
153.1833
310
Trawling
Catch [details]
21
12
1979-10-24 01:02
1979-10-24 02:42
-34.1167
153.1833
-34.1500
153.1833
215
Trawling
Catch [details]
22
12
1979-10-24 02:51
1979-10-24 04:31
-34.1833
153.1667
-34.2167
153.1667
220
Trawling
Catch [details]
23
12
1979-10-23 20:09
1979-10-23 21:49
-33.7167
153.0167
-33.7333
153.0500
320
Trawling
Catch [details]
24
12
1979-10-23 22:30
1979-10-24 00:10
-33.8500
153.0833
-33.8667
153.0667
310
Trawling
Catch [details]
25
12
1979-10-25 00:23
1979-10-25 02:03
-33.9000
153.0500
336
Trawling
Catch [details]
26
12
1979-10-25 02:05
1979-10-25 03:45
-33.9000
152.9833
-33.8833
152.9667
324
Trawling
Catch [details]
27
12
1979-10-25 03:43
1979-10-25 05:23
-33.8833
152.9333
-33.8667
152.9000
304
Trawling
Catch [details]
28
12
1979-10-24 19:35
1979-10-24 21:15
-35.0167
152.7667
26
Trawling
Catch [details]
29
12
1979-10-24 21:20
1979-10-24 23:00
-35.0167
152.7833
-35.0333
152.8000
214
Trawling
Catch [details]
30
12
1979-10-26 00:30
1979-10-26 02:10
-35.0333
152.8000
-35.0167
152.8167
220
Trawling
Catch [details]
31
12
1979-10-26 03:20
1979-10-26 05:00
-34.8833
152.9500
330
Trawling
Catch [details]
32
12
1979-10-25 22:15
1979-10-25 23:55
-34.7500
154.6667
-34.7167
154.7333
220
Trawling
Catch [details]
33
12
1979-10-27 00:00
1979-10-27 01:40
-34.6833
154.7500
-34.6333
154.8000
100
Trawling
Catch [details]
34
12
1979-10-27 01:30
1979-10-27 03:10
-34.6000
154.8333
-34.5833
154.8500
49
Trawling
Catch [details]
35
12
1979-10-27 03:05
1979-10-27 04:45
-34.5667
154.8667
-34.5500
154.9333
22
Trawling
Catch [details]
36
12
1979-10-26 22:05
1979-10-26 23:45
-34.1833
154.4667
-34.2000
154.4500
235
Trawling
Catch [details]
37
12
1979-10-26 23:40
1979-10-27 01:20
-34.2167
154.4167
106
Trawling
Catch [details]
38
12
1979-10-28 01:05
1979-10-28 03:45
-34.2167
154.3333
-34.2000
154.3167
60
Trawling
Catch [details]
39
12
1979-10-28 03:25
1979-10-28 04:05
-34.2000
154.3000
-34.1833
154.2500
20
Trawling
Catch [details]
40
12
1979-10-27 23:05
1979-10-28 00:45
-34.0833
153.1667
-34.0667
153.1000
73
Trawling
Catch [details]
41
12
1979-10-29 01:15
1979-10-29 02:55
-34.1000
153.0333
-34.1333
152.9500
120
Trawling
Hydrology Cast [details]
1
12
1979-10-16 00:00
1979-10-16 00:00
-33.9500
152.2833
450
Hydrology Cast [details]
1
12
1979-10-17 00:00
1979-10-17 00:00
-34.2000
152.7833
445
Hydrology Cast [details]
1
12
1979-10-18 00:00
1979-10-18 00:00
-35.4833
154.1500
443
Hydrology Cast [details]
1
12
1979-10-19 00:00
1979-10-19 00:00
-35.1167
153.8333
447
Hydrology Cast [details]
1
12
1979-10-20 00:00
1979-10-20 00:00
-34.0667
154.3500
446
Hydrology Cast [details]
1
12
1979-10-21 00:00
1979-10-21 00:00
-34.1000
153.9333
434
Hydrology Cast [details]
1
12
1979-10-21 00:00
1979-10-21 00:00
-33.6667
153.1500
443
Hydrology Cast [details]
1
12
1979-10-22 00:00
1979-10-22 00:00
-33.6167
152.3833
458
Hydrology Cast [details]
1
12
1979-10-22 00:00
1979-10-22 00:00
-34.3333
152.7167
450
Hydrology Cast [details]
1
12
1979-10-24 00:00
1979-10-24 00:00
-33.7167
153.1333
446
Hydrology Cast [details]
1
12
1979-10-24 00:00
1979-10-24 00:00
-34.5333
153.0500
450
Hydrology Cast [details]
1
12
1979-10-25 00:00
1979-10-25 00:00
-34.9333
152.7167
438
Hydrology Cast [details]
1
12
1979-10-26 00:00
1979-10-26 00:00
-34.7333
153.0000
436
Hydrology Cast [details]
1
12
1979-10-26 00:00
1979-10-26 00:00
-34.5167
155.1833
446
Hydrology Cast [details]
1
12
1979-10-27 00:00
1979-10-27 00:00
-34.4333
154.8667
423
Hydrology Cast [details]
1
12
1979-10-27 00:00
1979-10-27 00:00
-34.3167
154.5000
450
Hydrology Cast [details]
1
12
1979-10-27 00:00
1979-10-27 00:00
-34.2500
154.1500
450
Hydrology Cast [details]
1
12
1979-10-28 00:00
1979-10-28 00:00
-34.3500
153.5833
450
Hydrology Cast [details]
1
12
1979-10-28 00:00
1979-10-28 00:00
-34.1667
153.2500
450
Hydrology Cast [details]
1
12
1979-10-28 00:00
1979-10-28 00:00
-34.2833
152.6833
443
Hydrology Cast [details]
1
12
1979-10-29 00:00
1979-10-29 00:00
-34.3500
151.9833
423
Hydrology Cast [details]
1
12
1979-10-29 00:00
1979-10-29 00:00
-34.6167
151.4000
442