Please login if you have access to particular applications.
Survey details and related metadata, reports, events and data.
SO 2/89
Period: 1989-02-28 to 1989-03-22
Region: Victoria, Tasmania
Ship: Soela [details]
Description: Soela cruise SO 2/89 was undertaken to conduct a depth stratified random trawl and acoustic survey for orange roughy in southeastern Australian waters between Portland, Victoria and Low rocky Point, Tasmania. Cruise aims included to trawl for orange roughy between the 800 and 1200 m depth contours; to locate roughy aggregations by acoustic survey; to investigate the depth distribution of the roughy between 800 m and 1200 m with the Engel high rise net and a beam trawl; to carry out a replicate haul experiment to determine the extent of the variation in catch rates (not achieved); to investigate roughy escarpment from the Engel high rise net and to investigate the height packing density and dimesions of roughy aggreation with the 38 kHz sounder, the stereo camera, and the beam trawl. Other aims included to collect orange roughy for morphometric analysis; sediment sampling; photography of the random stations and to collect specimens for the SA Museum, the Department of Primary Industry, Queensland Government and the CSIRO taxonomic fish collection.
Leader: C. Stanley (CSIRO)
Project: Abundance, distribution, movements and population dynamics of orange roughy in southeast Australian waters (FIRTA project no. 87/129) 1987-1990 [details]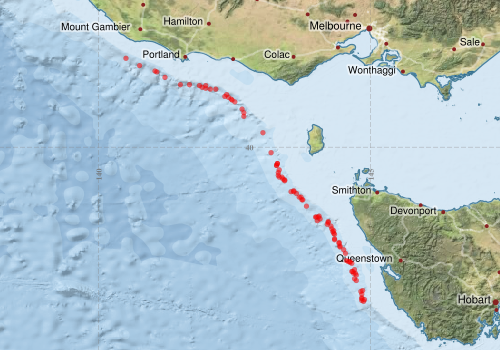 Voyage extents: 42° 50.0' S to 38° 22.0' S 140° 30.0' E to 144° 53.0' E
Marlin Metadata:-
Soela Voyage SO 2/89 Biological Data Overview [details]

Participants:- no records
Data publishing:- This is a list of online datasets. use the Get data link on the right to extract data using the NCMI Data Trawler.
Data Stream
Data Summary
Get data
Catch Details

Time (UTC):
1989-02-28 08:02 to 1989-03-20 09:03
Latitude:
-42.83 to -38.37
Longitude:
140.50 to 144.88
Catch Summary:
Deployments: 85
Catch Composition: 1701
Measurements: 1855
Specimens: 0

Get Data from Trawler


Deployments by start time:- Click on column header to sort
Deployment
Operation
Project
Start and end times
Start Location
End Location
Depth
Description
Catch [details]
1
533
1989-02-28 08:18
1989-02-28 09:08
-38.3667
140.5000
-38.3833
140.5333
940
Trawling
Catch [details]
2
533
1989-02-28 12:43
1989-02-28 13:33
-38.5000
140.7500
-38.4667
140.7167
895
Trawling
Catch [details]
3
533
1989-02-28 17:35
1989-02-28 18:25
-38.6000
141.0333
860
Trawling
Catch [details]
4
533
1989-02-28 20:41
1989-02-28 21:31
-38.6167
141.0667
920
Trawling
Catch [details]
5
533
1989-03-01 02:54
1989-03-01 03:44
-38.7167
141.2167
-38.7333
141.2500
870
Trawling
Catch [details]
6
533
1989-03-01 08:33
1989-03-01 09:26
-38.8500
141.5000
-38.8333
141.5167
885
Trawling
Catch [details]
7
533
1989-03-01 04:00
-38.8500
141.6667
Catch [details]
8
533
1989-03-01 17:01
1989-03-01 17:51
-38.8667
141.8500
965
Trawling
Catch [details]
9
533
1989-03-01 20:18
1989-03-01 21:08
-38.9000
141.9000
-38.8833
141.9333
1255
Catch [details]
10
533
1989-03-02 00:05
1989-03-02 00:53
-38.9167
141.9667
-38.8833
141.9167
1120
Trawling
Catch [details]
11
533
1989-03-02 03:30
1989-03-02 04:20
-38.8667
141.9667
-38.8833
142.0000
880
Trawling
Catch [details]
12
533
1989-03-02 07:04
1989-03-02 07:54
-38.9333
142.0500
-38.9167
142.0333
1210
Trawling
Catch [details]
13
533
1989-03-02 11:12
1989-03-02 12:02
-38.9333
142.1500
1045
Trawling
Catch [details]
14
533
1989-03-02 16:06
1989-03-02 16:56
-39.0667
142.3167
-39.0000
142.3167
1020
Trawling
Catch [details]
15
533
1989-03-02 20:07
1989-03-02 20:57
-39.0333
142.3500
-39.0000
142.3167
1020
Trawling
Catch [details]
16
533
1989-03-03 00:30
1989-03-03 01:20
-39.0833
142.3833
-39.0667
142.3167
1160
Trawling
Catch [details]
17
533
1989-03-03 04:35
1989-03-03 05:10
-39.1167
142.4333
-39.1333
142.4500
1100
Trawling
Catch [details]
18
533
1989-03-03 09:40
1989-03-03 10:30
-39.1333
142.4500
-39.1500
142.4833
1045
Trawling
Catch [details]
19
533
1989-03-03 15:46
1989-03-03 16:36
-39.1667
142.5000
-39.2000
142.5000
1150
Trawling
Catch [details]
21
533
1989-03-03 23:49
1989-03-04 00:39
-39.3000
142.6333
-39.3167
142.6667
1090
Trawling
Catch [details]
22
533
1989-03-04 02:56
1989-03-04 03:46
-39.3667
142.6667
-39.3333
142.6500
1120
Trawling
Catch [details]
24
533
1989-03-04 16:33
1989-03-04 17:03
-39.7333
143.0167
-39.7167
143.0000
1125
Trawling
Catch [details]
26
533
1989-03-05 07:00
1989-03-05 07:50
-40.3000
143.2833
-40.2667
143.2833
855
Trawling
Catch [details]
27
533
1989-03-05 11:04
1989-03-05 11:54
-40.3000
143.2833
-40.2500
143.2667
970
Trawling
Catch [details]
28
533
1989-03-05 15:03
1989-03-05 15:53
-40.3333
143.2667
-40.3000
143.2667
1030
Trawling
Catch [details]
30
533
1989-03-05 20:04
1989-03-05 20:51
-40.4167
143.3167
-40.3833
143.3000
960
Trawling
Catch [details]
31
533
1989-03-06 00:36
1989-03-06 01:26
-40.3333
143.2667
-40.3833
143.2667
1045
Trawling
Catch [details]
32
533
1989-03-06 03:33
1989-03-06 04:23
-40.4667
143.3000
-40.4333
143.2833
1060
Trawling
Catch [details]
33
533
1989-03-06 07:56
1989-03-06 08:49
-40.5167
143.3000
-40.5500
143.3167
1140
Trawling
Catch [details]
34
533
1989-03-06 14:14
1989-03-06 15:04
-40.5500
143.3667
-40.5667
143.3833
900
Trawling
Catch [details]
35
533
1989-03-06 18:13
1989-03-06 18:38
-40.5500
143.3167
-40.5667
143.3500
1090
Trawling
Catch [details]
36
533
1989-03-06 22:53
1989-03-06 23:43
-40.5833
143.3833
-40.5500
143.3500
965
Trawling
Catch [details]
37
533
1989-03-07 03:40
1989-03-07 04:30
-40.6167
143.4167
-40.6500
143.4500
980
Trawling
Catch [details]
38
533
1989-03-07 21:26
1989-03-07 22:16
-40.6000
143.4167
-40.6333
143.4500
860
Trawling
Catch [details]
39
533
1989-03-08 01:54
1989-03-08 02:44
-40.8167
143.5833
-40.8000
143.5500
920
Trawling
Catch [details]
40
533
1989-03-08 04:13
1989-03-08 05:01
-40.8000
143.5833
-40.8167
143.6167
860
Trawling
Catch [details]
43
533
1989-03-09 13:55
1989-03-09 14:30
-40.8500
143.6333
-40.8667
143.6667
1020
Trawling
Catch [details]
44
533
1989-03-08 17:29
1989-03-08 18:19
-40.8167
143.5333
-40.8500
143.5833
1210
Trawling
Catch [details]
45
533
1989-03-08 22:28
1989-03-08 23:18
-40.9167
143.7167
-40.8833
143.6833
850
Trawling
Catch [details]
46
533
1989-03-09 02:14
1989-03-09 03:04
-40.9667
143.7500
-40.9333
143.7333
840
Trawling
Catch [details]
47
533
1989-03-09 05:05
1989-03-09 05:55
-40.9667
143.7333
-41.0000
143.7500
915
Trawling
Catch [details]
48
533
1989-03-09 08:52
1989-03-09 09:42
-41.0833
143.8167
-41.0500
143.7833
1040
Trawling
Catch [details]
49
533
1989-03-10 07:51
1989-03-10 08:49
-41.3167
144.0667
-41.2667
144.0333
960
Trawling
Catch [details]
50
533
1989-03-10 12:11
1989-03-10 13:01
-41.2833
144.0333
-41.2500
144.0000
980
Trawling
Catch [details]
51
533
1989-03-10 15:24
1989-03-10 16:14
-41.2667
144.0500
-41.3167
144.1167
880
Trawling
Catch [details]
52
533
1989-03-10 19:02
1989-03-10 19:52
-41.3500
144.0167
-41.3833
144.1000
1260
Trawling
Catch [details]
53
533
1989-03-10 22:59
1989-03-10 23:49
-41.2833
144.0000
-41.3000
144.0167
1055
Trawling
Catch [details]
54
533
1989-03-11 02:58
1989-03-11 03:48
-41.2833
143.9833
-41.3167
144.0167
1130
Trawling
Catch [details]
56
533
1989-03-11 08:50
1989-03-11 09:28
-41.4167
144.2000
-41.3833
144.1500
1190
Trawling
Catch [details]
57
533
1989-03-12 12:36
1989-03-12 13:26
-41.3833
144.2167
-41.3667
144.1833
995
Trawling
Catch [details]
58
533
1989-03-11 16:11
1989-03-11 16:53
-41.3667
144.2167
-41.4167
144.2500
960
Trawling
Catch [details]
59
533
1989-03-12 03:58
1989-03-12 04:48
-41.4500
144.2667
-41.4833
144.2833
1040
Trawling
Catch [details]
60
533
1989-03-12 08:06
1989-03-12 08:56
-41.5000
144.2833
-41.4667
144.2500
1130
Trawling
Catch [details]
61
533
1989-03-12 11:41
1989-03-12 12:31
-41.5333
144.3167
-41.5000
144.3000
1040
Trawling
Catch [details]
62
533
1989-03-12 14:59
1989-03-12 15:49
-41.5500
144.3000
-41.5000
144.2833
1090
Trawling
Catch [details]
63
533
1989-03-12 18:29
1989-03-12 19:19
-41.5833
144.3167
-41.5667
144.3000
1040
Trawling
Catch [details]
64
533
1989-03-12 23:15
1989-03-13 00:05
-41.6000
144.3333
-41.6333
144.3333
1045
Trawling
Catch [details]
66
533
1989-03-13 08:07
1989-03-13 08:57
-41.7000
144.3333
-41.6333
144.3333
1145
Trawling
Catch [details]
67
533
1989-03-13 21:21
1989-03-13 22:11
-41.7667
144.4167
-41.7333
144.4167
940
Trawling
Catch [details]
68
533
1989-03-14 00:14
1989-03-14 01:04
-41.7500
144.4167
-41.7833
144.4333
850
Trawling
Catch [details]
69
533
1989-03-14 02:57
1989-03-14 03:47
-41.8167
144.4333
-41.7833
144.4167
980
Trawling
Catch [details]
70
533
1989-03-14 06:06
1989-03-14 06:56
-41.8333
144.4333
-41.8833
144.4500
1050
Trawling
Catch [details]
72
533
1989-03-14 10:27
1989-03-14 11:17
-41.8833
144.5000
-41.9167
144.5167
840
Trawling
Catch [details]
73
533
1989-03-14 14:20
1989-03-14 15:10
-41.9500
144.5333
-41.9333
144.5167
860
Trawling
Catch [details]
74
533
1989-03-14 18:11
1989-03-14 19:01
-42.0833
144.5500
-42.0500
144.5500
1070
Trawling
Catch [details]
75
533
1989-03-14 22:05
1989-03-14 22:55
-42.1000
144.6167
-42.0667
144.6000
950
Trawling
Catch [details]
76
533
1989-03-15 03:00
1989-03-15 03:50
-42.1167
144.6167
-42.1333
144.6167
1000
Trawling
Catch [details]
77
533
1989-03-17 23:40
1989-03-18 00:30
-42.1000
144.5833
-42.0667
144.5833
1150
Trawling
Catch [details]
78
533
1989-03-18 03:03
1989-03-18 03:53
-42.1333
144.6500
-42.1667
144.6667
870
Trawling
Catch [details]
79
533
1989-03-18 05:46
1989-03-18 06:36
-42.2500
144.7000
-42.2333
144.7000
900
Trawling
Catch [details]
80
533
1989-03-18 06:47
1989-03-18 07:59
-42.2833
144.6500
-42.2500
144.6333
1100
Trawling
Catch [details]
81
533
1989-03-19 12:45
1989-03-19 13:35
-42.2833
144.6667
-42.2667
144.6667
1030
Trawling
Catch [details]
82
533
1989-03-18 14:51
1989-03-18 15:41
-42.3167
144.6833
-42.3500
144.7000
940
Trawling
Catch [details]
83
533
1989-03-18 17:32
1989-03-18 18:22
-42.3167
144.7167
-42.2833
144.7167
890
Trawling
Catch [details]
84
533
1989-03-18 22:06
1989-03-18 22:56
-42.3500
144.7333
-42.4000
144.7500
830
Trawling
Catch [details]
85
533
1989-03-19 01:18
1989-03-19 02:08
-42.4167
144.7000
-42.4667
144.7167
1035
Trawling
Catch [details]
87
533
1989-03-19 05:45
1989-03-19 06:35
-42.4500
144.7333
-42.4167
144.7000
1010
Trawling
Catch [details]
88
533
1989-03-19 09:52
1989-03-19 10:42
-42.7000
144.8333
-42.7167
144.8333
1050
Trawling
Catch [details]
89
533
1989-03-19 12:50
1989-03-19 13:32
-42.6500
144.8167
-42.6333
144.8167
1140
Trawling
Catch [details]
90
533
1989-03-19 16:05
1989-03-19 17:03
-42.6333
144.8500
-42.6667
144.8333
980
Trawling
Catch [details]
91
533
1989-03-19 19:13
1989-03-19 20:03
-42.8000
144.8833
-42.8167
144.8833
905
Trawling
Catch [details]
93
533
1989-03-20 01:22
1989-03-20 02:09
-42.8333
144.8667
-42.7833
144.8500
940
Trawling
Catch [details]
94
533
1989-03-20 04:06
1989-03-20 04:56
-42.7833
144.8333
-42.8000
144.8500
1025
Trawling
Catch [details]
95
533
1989-03-20 08:21
1989-03-20 09:11
-42.8167
144.8333
-42.8500
144.8500
1155
Trawling
Catch Failed [details]
65
533
1989-03-13 03:11
-41.6833
144.3333
-41.6333
144.3500
1160