Please login if you have access to particular applications.
Catch Data - from CSIRO surveys.
CAAB Code:
37 067012 [taxon report]
Scientific Name
and Authority:
Bassanago bulbiceps Whitley, 1948
CAAB category:
37 - Pisces
Standard Name (AS5300):
Swollenhead Conger
Distribution map:
View detailed map or click on map to see same.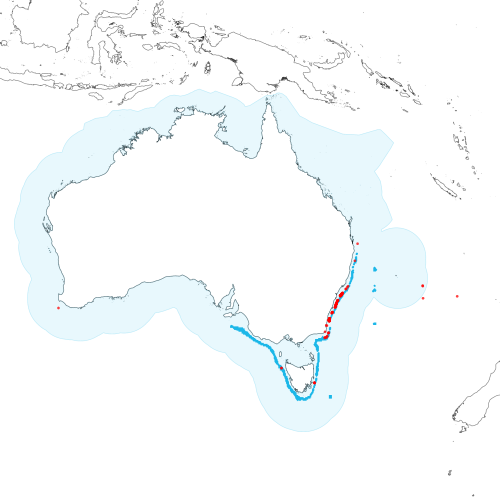 Modelled distribution shown as blue polygon (source: Australian National Fish Expert Distributions) Updated on 2008-11-19.
Occurrence locations [123] shown as red circles - View CSIRO Catch records
Get expert distribution shapefile
Catch records - 174 records found.
Click on survey to see survey details. Click on Operation to see full details of the catch. Use the CSV button at the bottom to export data.
Date (UTC)
Position
Survey
Operation
Depth
Range (m)
Count
Weight (kg)
Method
Effort
Gear
1976-07-06 01:00
35° 32.0' S 150° 45.0' E
KAPALA
345
521 to 521
1
?
60 Minutes
1976-12-20 04:00
33° 40.0' S 151° 53.0' E
KAPALA
412
473 to 492
1
?
60 Minutes
1976-12-20 20:00
33° 33.0' S 152° 00.0' E
KAPALA
417
483 to 483
1
?
120 Minutes
1977-04-20 04:00
33° 45.0' S 151° 50.0' E
KAPALA
440
444 to 483
3
?
60 Minutes
1977-07-04 04:00
33° 40.0' S 151° 53.0' E
KAPALA
485
483 to 483
1
?
60 Minutes
1977-08-07 14:00
33° 42.0' S 151° 53.0' E
KAPALA
518
483 to 483
1
?
60 Minutes
1977-08-07 16:00
33° 33.0' S 151° 57.0' E
KAPALA
519
386 to 386
1
?
60 Minutes
1977-08-23 08:00
29° 53.0' S 153° 42.0' E
KAPALA
535
521 to 531
1
?
60 Minutes
1977-09-20 05:00
33° 42.0' S 151° 52.0' E
KAPALA
545
483 to 483
15
?
60 Minutes
1977-11-21 08:00
34° 43.0' S 151° 14.0' E
KAPALA
584
483 to 483
5
?
120 Minutes
1977-11-21 18:00
35° 33.0' S 150° 46.0' E
KAPALA
585
483 to 483
10
?
60 Minutes
1977-11-21 21:00
35° 30.0' S 150° 46.0' E
KAPALA
586
415 to 434
15
?
90 Minutes
1977-11-29 12:00
37° 41.0' S 150° 18.0' E
KAPALA
591
772 to 772
1
?
60 Minutes
1978-05-05 04:00
33° 45.0' S 151° 45.0' E
KAPALA
635
483 to 483
1
?
60 Minutes
1978-05-24 00:00
34° 17.0' S 151° 26.0' E
KAPALA
636
463 to 473
1
?
60 Minutes
1978-11-05 23:00
27° 56.0' S 154° 03.0' E
KAPALA
761
579 to 579
5
?
60 Minutes
1978-12-06 03:00
32° 50.0' S 152° 42.0' E
KAPALA
778
579 to 579
5
?
60 Minutes
1978-12-12 06:00
34° 54.0' S 151° 13.0' E
KAPALA
782
579 to 579
5
?
60 Minutes
1979-06-25 10:00
33° 42.0' S 151° 52.0' E
KAPALA
803
459 to 463
2
?
60 Minutes
1979-06-26 04:00
33° 40.0' S 151° 54.0' E
KAPALA
807
463 to 463
2
?
60 Minutes
1979-09-27 02:00
35° 02.0' S 151° 06.0' E
KAPALA
877
463 to 463
1
?
90 Minutes
1979-10-02 23:00
33° 31.0' S 152° 02.0' E
KAPALA
880
425 to 425
1
?
60 Minutes
1979-10-03 01:00
33° 37.0' S 151° 57.0' E
KAPALA
881
502 to 502
5
?
120 Minutes
1979-10-03 05:00
33° 45.0' S 151° 52.0' E
KAPALA
882
540 to 540
3
?
60 Minutes
1979-12-04 22:00
33° 33.0' S 152° 02.0' E
KAPALA
918
463 to 463
3
?
60 Minutes
1979-12-05 03:00
33° 42.0' S 151° 51.0' E
KAPALA
920
483 to 483
2
?
60 Minutes
1980-12-09 07:00
33° 26.0' S 152° 06.0' E
KAPALA
981
483 to 502
5
?
60 Minutes
1980-12-16 00:00
33° 46.0' S 151° 49.0' E
KAPALA
983
454 to 463
1
?
60 Minutes
1980-12-16 03:00
33° 39.0' S 151° 56.0' E
KAPALA
984
492 to 502
12
?
60 Minutes
1981-05-12 03:00
34° 42.0' S 151° 14.0' E
KAPALA
1006
540 to 540
15
?
60 Minutes
1981-05-12 06:00
34° 33.0' S 151° 17.0' E
KAPALA
1007
502 to 502
1
?
60 Minutes
1981-05-27 07:00
35° 33.0' S 150° 45.0' E
KAPALA
1024
502 to 502
6
?
90 Minutes
1981-09-09 02:00
33° 46.0' S 151° 49.0' E
KAPALA
1072
463 to 502
2
?
60 Minutes
1982-05-26 00:00
32° 43.0' S 152° 48.0' E
KAPALA
1101
483 to 483
1
?
60 Minutes
1982-06-30 04:00
34° 39.0' S 151° 15.0' E
KAPALA
1108
502 to 521
15
?
120 Minutes
1982-08-22 03:00
38° 04.0' S 150° 05.0' E
KAPALA
1118
579 to 579
1
?
60 Minutes
1982-10-12 06:00
33° 44.0' S 151° 52.0' E
KAPALA
1123
502 to 521
15
?
60 Minutes
1982-10-13 05:00
33° 47.0' S 151° 51.0' E
KAPALA
1124
492 to 492
5
?
30 Minutes
1982-10-13 07:00
33° 41.0' S 151° 53.0' E
KAPALA
1125
511 to 531
15
?
60 Minutes
1982-11-13 04:00
38° 02.0' S 150° 04.0' E
KAPALA
1133
521 to 598
1
?
120 Minutes
1982-11-23 04:00
33° 46.0' S 151° 50.0' E
KAPALA
1136
492 to 492
5
?
30 Minutes
1982-11-23 07:00
33° 42.0' S 151° 55.0' E
KAPALA
1137
598 to 598
3
?
120 Minutes
1982-11-25 01:00
35° 02.0' S 151° 07.0' E
KAPALA
1138
502 to 511
3
?
60 Minutes
1982-12-20 11:00
33° 48.0' S 151° 48.0' E
KAPALA
1139
483 to 502
5
?
60 Minutes
1983-05-17 05:00
34° 19.0' S 151° 26.0' E
KAPALA
1140
473 to 531
1
?
70 Minutes
1983-05-18 05:00
34° 25.0' S 151° 21.0' E
KAPALA
1141
347 to 425
3
?
95 Minutes
1983-05-19 08:00
33° 46.0' S 151° 51.0' E
KAPALA
1142
531 to 598
4
?
60 Minutes
1983-10-26 21:00
33° 41.0' S 151° 54.0' E
KAPALA
1173
463 to 560
15
?
120 Minutes
1983-11-30 19:00
34° 17.0' S 151° 27.0' E
KAPALA
1183
463 to 502
3
?
105 Minutes
1983-12-05 06:00
34° 20.0' S 151° 25.0' E
KAPALA
1184
473 to 531
3
?
120 Minutes
1984-04-17 10:15
42° 40.0' S 148° 25.0' E
SO198402
5
1
0.6
Stern Trawl
50 minutes
1984-04-17 16:05
42° 40.0' S 148° 26.0' E
SO198402
6
1
0.025
Stern Trawl
42 minutes
1984-05-14 21:00
34° 35.0' S 151° 17.0' E
KAPALA
1203
656 to 685
1
?
120 Minutes
1984-06-24 22:59
42° 41.0' S 148° 25.0' E
SO198403
74
320 to 540
3
0.08
Stern Trawl
50 minutes
1984-07-02 23:10
37° 41.0' S 150° 14.0' E
SO198403
96
440 to 456
1
0.4
Stern Trawl
100 minutes
1984-08-15 04:38
42° 42.0' S 148° 26.0' E
SO198404
1
410 to 483
1
0.1
Stern Trawl
50 minutes
1984-09-10 05:00
33° 44.0' S 151° 49.0' E
KAPALA
1241
434 to 463
15
?
120 Minutes
1984-09-10 21:00
33° 35.0' S 152° 01.0' E
KAPALA
1243
540 to 560
15
?
120 Minutes
1984-09-12 21:00
33° 47.0' S 151° 48.0' E
KAPALA
1245
357 to 463
5
?
160 Minutes
1984-10-03 21:00
34° 37.0' S 151° 19.0' E
KAPALA
1256
811 to 830
3
?
120 Minutes
1984-10-14 20:40
38° 10.0' S 149° 57.0' E
SO198405
31
1
0.8
Stern Trawl
100 minutes
1984-10-18 23:30
41° 14.0' S 144° 06.0' E
SO198405
45
4
1.4
Stern Trawl
100 minutes
1984-10-19 15:45
41° 15.0' S 144° 08.0' E
SO198405
51
480 to 520
29
8
Stern Trawl
100 minutes
1984-11-27 21:45
38° 11.0' S 149° 56.0' E
SO198406
12
636 to 644
1
0.6
Stern Trawl
100 minutes
1984-11-28 03:13
37° 45.0' S 150° 13.0' E
SO198406
13
426 to 430
2
0.1
Stern Trawl
100 minutes
1984-12-13 06:00
34° 49.0' S 151° 11.0' E
KAPALA
1303
521 to 540
15
?
120 Minutes
1984-12-13 10:00
34° 44.0' S 151° 13.0' E
KAPALA
1304
483 to 502
2
?
60 Minutes
1985-05-22 21:00
34° 48.0' S 151° 12.0' E
KAPALA
1350
521 to 540
7
?
90 Minutes
1985-11-13 20:00
33° 29.0' S 152° 03.0' E
KAPALA
1392
473 to 492
15
?
90 Minutes
1985-11-13 23:00
33° 36.0' S 151° 57.0' E
KAPALA
1393
444 to 483
15
?
120 Minutes
1985-12-19 03:00
33° 43.0' S 151° 53.0' E
KAPALA
1426
463 to 492
5
?
90 Minutes
1985-12-19 07:00
33° 41.0' S 151° 55.0' E
KAPALA
1427
502 to 560
2
?
90 Minutes
1986-02-10 23:00
33° 30.0' S 152° 05.0' E
KAPALA
1433
479 to 552
9
?
60 Minutes
1986-04-14 08:00
34° 19.0' S 151° 25.0' E
KAPALA
1498
510 to 521
5
?
120 Minutes
1986-04-14 22:00
34° 38.0' S 151° 16.0' E
KAPALA
1499
463 to 569
8
?
130 Minutes
1986-04-15 02:00
34° 46.0' S 151° 13.0' E
KAPALA
1500
521 to 608
5
?
120 Minutes
1986-04-15 06:00
34° 56.0' S 151° 09.0' E
KAPALA
1501
511 to 598
6
?
120 Minutes
1986-04-22 02:00
33° 02.0' S 152° 30.0' E
KAPALA
1505
463 to 540
10
?
130 Minutes
1986-04-23 01:00
33° 01.0' S 152° 33.0' E
KAPALA
1509
483 to 531
5
?
120 Minutes
1986-09-09 22:00
34° 56.0' S 151° 10.0' E
KAPALA
1576
525 to 618
15
?
120 Minutes
1986-09-17 00:00
34° 36.0' S 151° 16.0' E
KAPALA
1582
483 to 531
35
?
120 Minutes
1986-10-08 23:00
34° 20.0' S 151° 24.0' E
KAPALA
1609
467 to 515
3
?
120 Minutes
1986-10-16 00:00
35° 39.0' S 150° 41.0' E
KAPALA
1615
589 to 627
25
?
120 Minutes
1987-12-01 03:00
34° 15.0' S 151° 29.0' E
KAPALA
1644
469 to 529
2
?
60 Minutes
1987-12-14 08:00
34° 14.0' S 151° 30.0' E
KAPALA
1653
428 to 459
15
?
60 Minutes
1987-12-14 19:30
34° 18.0' S 151° 27.0' E
KAPALA
1654
479 to 527
5
?
65 Minutes
1988-12-14 20:30
34° 39.0' S 151° 18.0' E
KAPALA
1750
830 to 849
15
?
120 Minutes
1988-12-15 00:30
34° 32.0' S 151° 19.0' E
KAPALA
1751
492 to 540
15
?
100 Minutes
1989-02-14 20:00
34° 56.0' S 151° 07.0' E
KAPALA
1752
471 to 490
1
?
65 Minutes
1989-02-26 22:00
38° 09.0' S 149° 48.0' E
KAPALA
1771
353 to 380
2
?
60 Minutes
1989-02-27 01:00
38° 13.0' S 149° 45.0' E
KAPALA
1772
454 to 496
5
?
60 Minutes
1991-02-18 21:40
35° 04.9' S 114° 59.7' E
SS199101
96
870 to 920
1
0.665
Trawl
22 minutes
1993-07-23 17:10
42° 42.1' S 148° 26.0' E
SS199305
35
Trawl
1993-07-24 01:55
42° 41.7' S 148° 25.2' E
SS199305
37
Trawl
1993-07-30 20:28
37° 55.6' S 148° 14.5' E
SS199305
99
Sled
1993-08-01 01:05
38° 01.9' S 149° 11.1' E
SS199305
116
Sled
1993-08-01 01:05
38° 01.9' S 149° 11.1' E
SS199305
116
Sled
1993-08-02 06:00
37° 24.5' S 150° 17.5' E
SS199305
124
Trawl
1993-08-04 03:35
36° 58.1' S 150° 02.7' E
SS199305
145
Sled
1993-08-04 03:35
36° 58.1' S 150° 02.7' E
SS199305
145
Sled
1993-08-04 22:35
36° 54.8' S 149° 57.5' E
SS199305
147
Trawl
1993-08-05 01:40
36° 56.9' S 150° 02.5' E
SS199305
150
Trawl
1993-08-09 04:40
38° 16.5' S 148° 50.7' E
SS199305
199
Sled
1993-08-09 04:40
38° 16.5' S 148° 50.7' E
SS199305
199
Sled
1993-08-12 01:35
37° 16.7' S 149° 59.2' E
SS199305
227
Sled
1993-08-12 04:35
37° 16.3' S 149° 57.9' E
SS199305
229
Sled
1993-08-12 04:35
37° 16.3' S 149° 57.9' E
SS199305
229
Sled
1993-08-12 23:07
37° 24.2' S 149° 58.2' E
SS199305
237
Sled
1993-08-12 23:07
37° 24.2' S 149° 58.2' E
SS199305
237
Sled
1993-08-13 02:10
37° 24.2' S 149° 58.9' E
SS199305
239
Trawl
1993-08-13 05:05
37° 23.0' S 149° 58.4' E
SS199305
240
Trawl
1993-08-13 08:10
37° 22.6' S 149° 58.5' E
SS199305
242
Sled
1993-08-14 04:15
36° 24.4' S 150° 18.9' E
SS199305
251
Trawl
1993-08-14 07:10
36° 24.4' S 150° 14.9' E
SS199305
253
Trawl
1993-08-15 01:40
36° 23.3' S 150° 10.7' E
SS199305
266
Sled
1993-08-15 02:50
36° 24.0' S 150° 07.5' E
SS199305
267
Trawl
1993-08-15 04:10
36° 21.2' S 150° 12.2' E
SS199305
268
Trawl
1993-08-15 08:25
36° 26.0' S 150° 14.3' E
SS199305
270
Sled
1993-08-15 11:40
36° 27.8' S 150° 18.2' E
SS199305
272
Sled
1994-08-30 05:32
37° 39.6' S 149° 47.4' E
SS199405
86
Sled
1994-08-30 05:32
37° 39.6' S 149° 47.4' E
SS199405
86
Sled
1994-08-31 05:25
37° 51.1' S 149° 50.7' E
SS199405
98
Sled
1994-08-31 05:25
37° 51.1' S 149° 50.7' E
SS199405
98
11
0.097
Sled
1994-09-03 05:45
37° 00.1' S 150° 02.9' E
SS199405
129
Sled
1994-09-05 05:35
36° 25.2' S 150° 18.5' E
SS199405
148
Sled
1996-04-16 09:30
42° 42.7' S 148° 24.9' E
SS199602
3
450 to 700
Trawl
1996-11-21 03:20
38° 59.6' S 148° 30.3' E
SS199606
4
215
3.486
Sled
1996-11-23 09:25
38° 32.6' S 148° 25.0' E
SS199606
33
Trawl
1996-11-24 03:25
37° 53.9' S 148° 14.3' E
SS199606
40
Sled
1996-11-25 10:00
38° 03.4' S 149° 09.4' E
SS199606
57
Sled
1996-11-25 10:00
38° 03.4' S 149° 09.4' E
SS199606
57
Sled
1996-11-26 18:45
37° 56.2' S 150° 01.9' E
SS199606
71
Trawl
1996-11-28 01:45
37° 35.1' S 149° 53.1' E
SS199606
89
30
0.317
Sled
1996-11-30 00:20
36° 22.0' S 150° 09.1' E
SS199606
112
Sled
1996-12-01 00:45
36° 28.5' S 150° 12.8' E
SS199606
117
Trawl
1996-12-01 18:30
37° 27.6' S 150° 15.5' E
SS199606
127
Trawl
1996-12-04 00:45
36° 55.4' S 150° 13.1' E
SS199606
156
3
0.154
Sled
1996-12-04 20:00
35° 35.0' S 150° 40.0' E
KAPALA
4109
396 to 409
2
?
60 Minutes
1996-12-06 17:05
37° 19.0' S 150° 17.0' E
SS199606
163
Sled
1996-12-06 17:05
37° 19.0' S 150° 17.0' E
SS199606
163
Sled
1996-12-07 17:20
37° 43.4' S 150° 06.6' E
SS199606
171
Sled
1996-12-11 18:25
38° 07.8' S 149° 20.7' E
SS199606
208
155 to 155
Trawl
1996-12-13 18:33
37° 35.0' S 149° 48.4' E
SS199606
226
Trawl
1996-12-18 12:00
42° 41.9' S 148° 24.4' E
SS199606
241
Sled
1997-05-28 02:00
35° 35.0' S 150° 44.0' E
KAPALA
4145
515 to 535
1
?
60 Minutes
1999-08-23 21:00
36° 13.0' S 150° 24.0' E
KAPALA
4150
513 to 531
14
?
90 Minutes
1999-08-23 23:30
36° 10.0' S 150° 25.0' E
KAPALA
4151
506 to 525
2
?
90 Minutes
1999-08-24 02:00
36° 12.0' S 150° 24.0' E
KAPALA
4152
444 to 454
5
?
75 Minutes
1999-08-24 05:40
36° 14.0' S 150° 23.0' E
KAPALA
4153
425 to 444
3
?
60 Minutes
1999-08-24 20:35
36° 14.0' S 150° 24.0' E
KAPALA
4154
510 to 519
5
?
75 Minutes
1999-08-24 23:10
36° 11.0' S 150° 25.0' E
KAPALA
4155
502 to 511
16
?
85 Minutes
1999-08-25 01:35
36° 12.0' S 150° 24.0' E
KAPALA
4156
446 to 455
1
?
65 Minutes
1999-08-25 03:50
36° 15.0' S 150° 22.0' E
KAPALA
4157
425 to 444
17
?
65 Minutes
1999-08-29 20:50
36° 26.0' S 150° 20.0' E
KAPALA
4158
388 to 396
15
?
100 Minutes
1999-08-29 23:40
36° 26.0' S 150° 20.0' E
KAPALA
4159
396 to 398
5
?
110 Minutes
1999-08-30 02:55
36° 26.0' S 150° 20.0' E
KAPALA
4160
409 to 421
11
?
85 Minutes
1999-08-31 20:50
36° 13.0' S 150° 24.0' E
KAPALA
4162
440 to 448
11
?
90 Minutes
1999-08-31 23:50
36° 13.0' S 150° 23.0' E
KAPALA
4163
483 to 531
67
?
115 Minutes
1999-09-26 20:45
36° 25.0' S 150° 20.0' E
KAPALA
4164
405 to 415
19
?
90 Minutes
1999-09-27 00:55
36° 28.0' S 150° 21.0' E
KAPALA
4165
463 to 483
30
?
90 Minutes
1999-10-01 00:30
36° 26.0' S 150° 21.0' E
KAPALA
4168
463 to 483
6
?
120 Minutes
2000-02-14 19:00
36° 25.0' S 150° 20.0' E
KAPALA
1
560 to 579
1
?
180 Minutes
2000-04-17 20:45
36° 30.0' S 150° 21.0' E
KAPALA
18
463 to 598
1
?
165 Minutes
2000-05-01 22:20
36° 27.0' S 150° 21.0' E
KAPALA
22
434 to 502
1
?
160 Minutes
2000-05-02 02:00
36° 26.0' S 150° 21.0' E
KAPALA
23
444 to 492
1
?
180 Minutes
2001-02-26 02:45
36° 25.0' S 150° 20.0' E
KAPALA
67
444 to 463
3
?
135 Minutes
2001-06-05 20:30
36° 26.0' S 150° 21.0' E
KAPALA
106
579 to 637
3
?
200 Minutes
2001-07-05 00:45
36° 25.0' S 150° 21.0' E
KAPALA
131
425 to 502
1
?
195 Minutes
2001-07-05 21:00
36° 13.0' S 150° 24.0' E
KAPALA
132
463 to 560
2
?
160 Minutes
2001-07-17 01:00
36° 12.0' S 150° 24.0' E
KAPALA
137
540 to 618
5
?
170 Minutes
2003-05-24 16:55
32° 39.3' S 162° 33.1' E
TAN0308
78
864 to 870
1
0.82
Trawl
2003-05-24 21:54
32° 42.5' S 162° 33.9' E
TAN0308
80
850 to 872
1
0.3
Trawl
2003-05-25 07:16
34° 02.0' S 162° 36.0' E
TAN0308
81
812 to 818
1
0.5
Trawl
2003-05-27 11:26
33° 49.2' S 167° 03.3' E
TAN0308
95
805 to 938
2
1.4
Trawl