Please login if you have access to particular applications.
Catch Data - from CSIRO surveys.
CAAB Code:
25 105005 [taxon report]
Scientific Name
and Authority:
Luidia maculata Müller & Troschel, 1842
CAAB category:
25 - Echinodermata
Distribution map:
View detailed map or click on map to see same.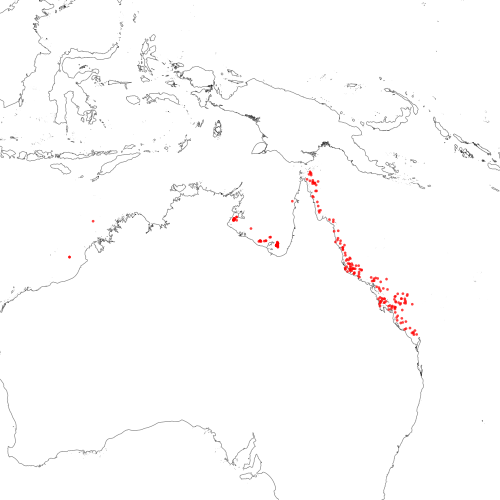 Occurrence locations [224] shown as red circles - View CSIRO Catch records
Catch records - 225 records found.
Click on survey to see survey details. Click on Operation to see full details of the catch. Use the CSV button at the bottom to export data.
Date (UTC)
Position
Survey
Operation
Depth
Range (m)
Count
Weight (kg)
Method
Effort
Gear
1997-02-14 17:04
10° 05.0' S 143° 03.9' E
SS199702
10
1
0.069
Trawl
30 Minutes
1997-02-16 00:35
10° 18.6' S 142° 58.6' E
SS199702
33
1
0.2
Trawl
30 Minutes
1997-02-20 04:41
16° 40.7' S 140° 02.1' E
SS199702
75
21 to 22
3
0.009
Dredge
20 Minutes
1997-02-20 10:52
16° 44.5' S 139° 55.8' E
SS199702
78
22 to 22
1
0.057
Trawl
32 Minutes
1997-02-20 14:18
16° 44.2' S 139° 55.0' E
SS199702
82
19 to 23
1
0.036
Trawl
31 Minutes
1997-02-20 18:27
16° 43.1' S 140° 02.7' E
SS199702
87
18 to 19
2
0.181
Trawl
30 Minutes
1997-10-12 04:00
14° 28.9' S 136° 14.9' E
SS199708
130
22 to 22
1
0.976
Trawl
30 Minutes
1997-10-12 08:54
14° 26.2' S 135° 59.7' E
SS199708
133
21 to 21
3
0.039
Sled
15 Minutes
1997-10-12 13:50
14° 26.9' S 136° 00.8' E
SS199708
139
22 to 22
1
0.022
Trawl
30 Minutes
1997-10-12 17:32
14° 25.2' S 136° 00.0' E
SS199708
143
22 to 22
1
0.019
Trawl
28 Minutes
1997-10-12 19:36
14° 27.5' S 135° 59.3' E
SS199708
145
21 to 22
1
0.001
Trawl
34 Minutes
1997-10-12 22:12
14° 29.5' S 135° 56.1' E
SS199708
146
20 to 20
2
0.388
Trawl
31 Minutes
1997-10-12 22:57
14° 27.3' S 135° 57.3' E
SS199708
147
21 to 21
1
0.01
Trawl
30 Minutes
1997-10-12 23:44
14° 25.1' S 135° 58.5' E
SS199708
148
20 to 21
1
0.004
Trawl
31 Minutes
1997-10-13 04:16
14° 27.7' S 136° 00.1' E
SS199708
153
21 to 21
2
0.179
Trawl
29 Minutes
1997-10-13 05:25
14° 25.8' S 135° 59.7' E
SS199708
154
21 to 22
1
0
Sled
14 Minutes
1997-10-14 07:43
14° 20.2' S 136° 03.5' E
SS199708
182
19 to 20
7
0.606
Sled
14 Minutes
1997-10-14 12:44
14° 22.0' S 136° 00.9' E
SS199708
187
20 to 21
1
0.001
Trawl
32 Minutes
1997-10-14 14:30
14° 20.1' S 136° 01.6' E
SS199708
189
20 to 20
1
0.089
Trawl
31 Minutes
1997-10-14 14:30
14° 20.1' S 136° 01.6' E
SS199708
189
20 to 20
1
0.002
Trawl
31 Minutes
1997-10-14 17:14
14° 22.5' S 135° 59.7' E
SS199708
192
20 to 21
1
0.001
Trawl
29 Minutes
1997-10-14 18:01
14° 20.1' S 136° 00.7' E
SS199708
193
20 to 21
1
0.006
Trawl
29 Minutes
1997-10-15 02:37
14° 21.9' S 136° 00.8' E
SS199708
201
21 to 21
2
0.279
Trawl
30 Minutes
1997-10-19 21:36
15° 13.3' S 137° 34.6' E
SS199708
292
44 to 45
1
0.046
Trawl
30 Minutes
1997-10-22 00:18
16° 23.1' S 138° 30.5' E
SS199708
311
24 to 24
1
0.309
Trawl
30 Minutes
1997-10-22 03:37
16° 22.6' S 138° 18.5' E
SS199708
315
19 to 20
1
0.002
Trawl
28 Minutes
1997-10-22 14:51
16° 20.5' S 138° 24.8' E
SS199708
327
25 to 26
1
0.001
Trawl
30 Minutes
1997-10-22 16:41
16° 18.7' S 138° 24.0' E
SS199708
329
26 to 26
1
0.008
Trawl
31 Minutes
1997-10-22 17:27
16° 18.8' S 138° 26.5' E
SS199708
330
26 to 26
1
0.007
Trawl
30 Minutes
1997-10-22 18:20
16° 19.8' S 138° 29.2' E
SS199708
331
27 to 27
1
0.001
Trawl
30 Minutes
1997-10-23 00:13
16° 20.5' S 138° 48.6' E
SS199708
336
26 to 26
1
0.05
Trawl
34 Minutes
1997-10-23 16:10
16° 19.4' S 138° 57.6' E
SS199708
351
26 to 27
1
0.021
Trawl
30 Minutes
1997-10-23 16:56
16° 18.5' S 138° 58.5' E
SS199708
352
26 to 26
1
0.013
Trawl
31 Minutes
1997-10-24 12:17
16° 00.0' S 139° 19.5' E
SS199708
362
41 to 42
1
0.014
Trawl
30 Minutes
1997-10-24 17:41
15° 59.3' S 139° 24.3' E
SS199708
366
42 to 42
1
0.006
Trawl
30 Minutes
1997-10-26 02:50
16° 32.6' S 140° 03.8' E
SS199708
393
23 to 24
1
0.005
Trawl
30 Minutes
1997-10-26 03:34
16° 34.6' S 140° 02.9' E
SS199708
394
21 to 23
1
0.007
Trawl
30 Minutes
1997-10-26 04:16
16° 36.8' S 140° 02.6' E
SS199708
395
22 to 23
1
0.074
Trawl
30 Minutes
1997-10-26 08:39
16° 32.2' S 140° 04.9' E
SS199708
398
28 to 31
1
0.028
Trawl
33 Minutes
1997-10-26 09:25
16° 34.5' S 140° 04.7' E
SS199708
399
29 to 30
1
0.015
Trawl
30 Minutes
1997-10-26 12:05
16° 36.7' S 140° 02.2' E
SS199708
402
29 to 29
2
0.01
Trawl
30 Minutes
1997-10-26 13:35
16° 39.7' S 139° 58.8' E
SS199708
404
30 to 31
2
0.043
Trawl
32 Minutes
1997-10-26 14:22
16° 41.6' S 139° 57.3' E
SS199708
405
30 to 34
1
0.097
Trawl
33 Minutes
1997-10-26 15:12
16° 39.4' S 139° 57.2' E
SS199708
406
33 to 33
1
0.082
Trawl
30 Minutes
1997-10-26 16:54
16° 39.1' S 140° 02.2' E
SS199708
408
21 to 22
4
0.194
Trawl
30 Minutes
1997-10-26 17:53
16° 41.1' S 140° 04.1' E
SS199708
409
19 to 21
1
0.03
Trawl
29 Minutes
1997-10-26 17:53
16° 41.1' S 140° 04.1' E
SS199708
409
19 to 21
1
0.003
Trawl
29 Minutes
1997-10-26 18:37
16° 42.4' S 140° 03.6' E
SS199708
410
20 to 21
1
0.005
Trawl
30 Minutes
1997-10-26 19:48
16° 41.4' S 140° 01.1' E
SS199708
411
20 to 23
0.004
Trawl
30 Minutes
1997-10-26 19:48
16° 41.4' S 140° 01.1' E
SS199708
411
20 to 23
1
0.032
Trawl
30 Minutes
1997-10-26 21:52
16° 44.6' S 139° 55.3' E
SS199708
412
18 to 22
4
0.273
Trawl
30 Minutes
1997-10-26 22:40
16° 44.2' S 139° 58.3' E
SS199708
413
17 to 19
1
0.026
Trawl
30 Minutes
1997-10-27 01:10
16° 26.2' S 140° 01.8' E
SS199708
416
17 to 18
4
0.105
Trawl
35 Minutes
1997-10-27 02:40
16° 28.1' S 140° 01.6' E
SS199708
417
16 to 17
3
0.314
Trawl
30 Minutes
1997-10-27 03:20
16° 45.8' S 140° 04.3' E
SS199708
418
17 to 17
3
0.06
Trawl
30 Minutes
1997-10-27 04:55
16° 51.4' S 140° 04.3' E
SS199708
420
15 to 15
2
0.012
Trawl
30 Minutes
1997-10-27 05:40
16° 53.0' S 140° 04.7' E
SS199708
421
15 to 15
1
0.054
Trawl
30 Minutes
1997-10-27 13:31
16° 44.3' S 140° 01.5' E
SS199708
429
22 to 23
1
0.051
Trawl
29 Minutes
1997-10-27 14:12
16° 45.7' S 139° 59.6' E
SS199708
430
22 to 23
2
0.181
Trawl
30 Minutes
1997-10-27 16:50
16° 45.6' S 139° 58.0' E
SS199708
433
23 to 23
8
0.674
Trawl
172 Minutes
1997-10-27 20:12
16° 44.6' S 139° 57.5' E
SS199708
434
23 to 25
3
0.19
Sled
15 Minutes
1997-10-28 19:39
12° 45.4' S 141° 25.1' E
SS199708
436
30 to 31
1
0.012
Trawl
30 Minutes
1997-10-31 14:09
10° 10.4' S 143° 06.3' E
SS199708
482
26 to 32
1
0.077
Trawl
32 Minutes
1997-11-01 00:57
10° 14.0' S 143° 09.8' E
SS199708
490
30 to 31
1
0.03
Trawl
30 Minutes
1997-11-01 18:55
10° 22.7' S 143° 10.3' E
SS199708
507
26 to 29
1
0.003
Trawl
35 Minutes
1998-10-13 04:24
14° 10.5' S 136° 14.9' E
SS199803
559
1
0.296
Trawl
26 Minutes
1998-10-14 10:54
14° 19.9' S 136° 00.9' E
SS199803
589
1
0.064
Trawl
29 Minutes
1998-10-17 00:31
14° 12.3' S 136° 13.9' E
SS199803
648
1
0.005
Trawl
29 Minutes
2003-09-17 14:06
18° 58.5' S 146° 56.1' E
LB200301
3
26 to 26
1
Benthic Sled
2003-09-18 02:16
18° 51.9' S 146° 47.1' E
LB200301
5
27 to 27
1
Benthic Sled
2003-09-18 05:48
18° 46.5' S 147° 02.7' E
LB200301
6
41 to 41
1
Benthic Sled
2003-09-18 08:00
18° 47.7' S 147° 09.9' E
LB200301
7
42 to 42
1
Benthic Sled
2003-09-18 22:13
18° 31.5' S 147° 20.7' E
LB200301
10
62 to 62
1
Benthic Sled
2003-09-20 03:34
18° 55.5' S 147° 51.3' E
LB200301
19
61 to 61
1
Benthic Sled
2003-09-21 15:40
18° 50.1' S 147° 41.1' E
LB200301
27
70 to 70
1
Benthic Sled
2003-09-24 18:08
18° 48.9' S 146° 57.3' E
LB200301
51
34 to 34
1
Benthic Sled
2003-09-25 11:25
17° 54.3' S 146° 48.9' E
LB200301
58
68 to 68
1
Benthic Sled
2003-09-26 11:56
18° 00.9' S 146° 38.7' E
LB200301
67
59 to 59
1
Benthic Sled
2003-09-26 13:49
17° 57.3' S 146° 30.9' E
LB200301
68
41 to 41
1
Benthic Sled
2003-10-05 15:33
14° 24.9' S 144° 51.9' E
LB200301
156
23 to 23
1
Benthic Sled
2003-10-08 13:44
16° 05.1' S 145° 39.9' E
LB200301
173
28 to 28
1
Benthic Sled
2003-10-08 17:30
16° 14.7' S 145° 36.9' E
LB200301
175
37 to 37
1
Benthic Sled
2003-10-10 08:26
17° 23.7' S 146° 19.5' E
LB200301
199
49 to 49
1
Benthic Sled
2003-10-10 22:17
18° 19.5' S 146° 35.7' E
LB200301
206
42 to 42
1
Benthic Sled
2003-10-11 03:11
18° 36.9' S 146° 27.9' E
LB200301
208
24 to 24
1
Benthic Sled
2003-10-11 06:42
18° 49.5' S 146° 20.7' E
LB200301
210
11 to 11
1
Benthic Sled
2003-11-17 13:41
16° 25.5' S 145° 25.5' E
GM200301
3
8 to 8
1
Prawn Trawl
2003-11-19 16:49
14° 36.9' S 145° 13.5' E
GM200301
16
17 to 17
1
Prawn Trawl
2003-11-21 17:45
16° 33.3' S 145° 52.5' E
GM200301
29
42 to 42
2
Prawn Trawl
2003-11-22 13:41
16° 54.9' S 146° 05.7' E
GM200301
32
41 to 41
1
Prawn Trawl
2003-11-22 14:30
16° 54.3' S 146° 07.5' E
GM200301
33
43 to 43
1
Prawn Trawl
2003-11-25 10:37
17° 36.3' S 146° 21.3' E
GM200301
43
40 to 40
1
Prawn Trawl
2003-11-25 15:04
18° 03.9' S 146° 25.5' E
GM200301
45
37 to 37
1
Prawn Trawl
2003-11-26 10:04
18° 49.5' S 146° 20.7' E
GM200301
49
11 to 11
1
Prawn Trawl
2003-11-26 12:37
19° 02.1' S 146° 32.7' E
GM200301
51
12 to 12
1
Prawn Trawl
2003-11-27 15:43
17° 50.1' S 146° 45.3' E
GM200301
56
70 to 70
1
Prawn Trawl
2003-11-29 10:07
18° 29.1' S 147° 00.3' E
GM200301
59
63 to 63
1
Prawn Trawl
2003-11-29 14:43
18° 47.7' S 147° 15.9' E
GM200301
60
47 to 47
1
Prawn Trawl
2003-11-29 18:23
18° 46.5' S 147° 02.7' E
GM200301
62
41 to 41
1
Prawn Trawl
2003-11-30 17:16
18° 53.1' S 147° 51.3' E
GM200301
65
67 to 67
1
Prawn Trawl
2003-12-01 12:32
19° 15.9' S 147° 36.9' E
GM200301
68
32 to 32
1
Prawn Trawl
2003-12-01 16:11
19° 26.7' S 147° 33.9' E
GM200301
70
20 to 20
1
Prawn Trawl
2003-12-02 11:57
19° 14.1' S 147° 08.7' E
GM200301
75
16 to 16
1
Prawn Trawl
2003-12-02 12:39
19° 11.1' S 147° 10.5' E
GM200301
76
19 to 19
1
Prawn Trawl
2003-12-02 13:20
19° 07.5' S 147° 11.1' E
GM200301
77
24 to 24
1
Prawn Trawl
2003-12-07 14:57
21° 38.7' S 151° 00.9' E
GM200301
92
75 to 75
1
Prawn Trawl
2003-12-08 11:37
22° 18.3' S 150° 57.3' E
GM200301
96
58 to 58
1
Prawn Trawl
2003-12-08 12:52
22° 11.7' S 150° 56.1' E
GM200301
97
60 to 60
1
Prawn Trawl
2003-12-08 13:51
22° 06.9' S 150° 55.5' E
GM200301
98
61 to 61
1
Prawn Trawl
2003-12-08 16:43
22° 15.3' S 150° 38.7' E
GM200301
99
48 to 48
1
Prawn Trawl
2003-12-09 15:35
21° 45.3' S 149° 56.7' E
GM200301
103
26 to 26
1
Prawn Trawl
2003-12-09 16:09
21° 44.1' S 149° 59.7' E
GM200301
104
27 to 27
1
Prawn Trawl
2003-12-11 09:25
19° 52.5' S 148° 50.1' E
GM200301
111
65 to 65
1
Prawn Trawl
2003-12-14 09:22
18° 31.5' S 147° 35.1' E
GM200301
124
75 to 75
1
Prawn Trawl
2003-12-15 09:13
18° 39.3' S 146° 50.1' E
GM200301
129
42 to 42
1
Prawn Trawl
2003-12-15 10:06
18° 34.5' S 146° 48.9' E
GM200301
130
44 to 44
2
Prawn Trawl
2003-12-15 12:28
18° 20.7' S 146° 56.7' E
GM200301
131
68 to 68
1
Prawn Trawl
2004-04-13 16:59
24° 29.1' S 152° 42.9' E
GM200401
11
31 to 31
1
Prawn Trawl
2004-04-21 17:24
23° 22.5' S 151° 58.5' E
GM200401
35
43 to 43
1
Prawn Trawl
2004-04-25 18:06
22° 02.7' S 150° 43.5' E
GM200401
60
60 to 60
1
Prawn Trawl
2004-04-27 01:15
18° 48.9' S 146° 45.9' E
LB200401
20
28 to 28
1
Benthic Sled
2004-04-27 15:03
22° 02.7' S 149° 33.9' E
GM200401
70
14 to 14
1
Prawn Trawl
2004-04-27 17:00
21° 52.5' S 149° 30.9' E
GM200401
72
10 to 10
1
Prawn Trawl
2004-04-27 21:16
17° 03.3' S 146° 06.3' E
LB200401
27
35 to 35
1
Benthic Sled
2004-04-27 23:11
17° 07.5' S 146° 07.5' E
LB200401
28
31 to 31
1
Benthic Sled
2004-04-28 11:06
21° 35.7' S 149° 42.3' E
GM200401
76
19 to 19
1
Prawn Trawl
2004-04-28 12:16
21° 37.5' S 149° 35.7' E
GM200401
77
16 to 16
1
Prawn Trawl
2004-04-28 16:08
21° 17.7' S 149° 34.5' E
GM200401
79
23 to 23
1
Prawn Trawl
2004-04-29 10:18
18° 22.5' S 146° 44.7' E
LB200401
41
54 to 54
1
Benthic Sled
2004-04-29 13:33
20° 43.5' S 149° 36.9' E
GM200401
85
50 to 50
1
Prawn Trawl
2004-04-29 15:00
20° 35.1' S 149° 30.9' E
GM200401
86
50 to 50
1
Prawn Trawl
2004-04-29 16:23
20° 26.7' S 149° 27.9' E
GM200401
87
54 to 54
1
Prawn Trawl
2004-04-29 18:23
20° 22.5' S 149° 15.3' E
GM200401
88
58 to 58
1
Prawn Trawl
2004-04-30 18:39
19° 32.1' S 147° 39.9' E
GM200401
95
21 to 21
1
Prawn Trawl
2004-05-01 08:44
18° 22.5' S 146° 44.7' E
GM200401
96
54 to 54
1
Prawn Trawl
2004-05-08 03:42
21° 26.1' S 150° 00.3' E
LB200401
52
36 to 36
1
Benthic Sled
2004-05-09 18:13
22° 03.3' S 150° 21.3' E
LB200401
60
31 to 31
1
Benthic Sled
2004-05-11 03:15
22° 20.7' S 150° 23.1' E
LB200401
73
22 to 22
1
Benthic Sled
2004-05-11 08:36
22° 06.9' S 150° 39.3' E
LB200401
74
55 to 55
1
Benthic Sled
2004-05-20 23:39
23° 15.9' S 151° 09.9' E
LB200401
133
28 to 28
1
Benthic Sled
2004-05-24 09:43
21° 42.3' S 151° 02.7' E
LB200401
162
76 to 76
1
Benthic Sled
2004-05-24 15:16
21° 44.7' S 151° 17.7' E
LB200401
166
83 to 83
1
Benthic Sled
2004-05-25 18:54
20° 58.5' S 151° 41.7' E
LB200401
182
66 to 66
1
Benthic Sled
2004-05-26 01:07
20° 59.1' S 151° 12.9' E
LB200401
183
57 to 57
1
Benthic Sled
2004-09-08 08:14
19° 05.1' S 147° 37.5' E
LB200402
2
48 to 48
1
Benthic Sled
2004-09-11 16:19
19° 40.5' S 149° 00.3' E
LB200402
23
62 to 62
1
Benthic Sled
2004-09-11 19:13
19° 36.3' S 149° 09.9' E
LB200402
25
56 to 56
1
Benthic Sled
2004-09-12 07:07
19° 38.7' S 149° 21.3' E
LB200402
28
49 to 49
1
Benthic Sled
2004-09-17 15:08
21° 27.9' S 150° 54.3' E
LB200402
52
70 to 70
1
Benthic Sled
2004-09-18 18:54
22° 35.1' S 150° 59.1' E
LB200402
67
49 to 49
1
Benthic Sled
2004-09-19 11:27
23° 01.5' S 151° 06.9' E
LB200402
77
28 to 28
1
Benthic Sled
2004-09-19 19:57
23° 26.7' S 151° 40.5' E
LB200402
82
34 to 34
1
Benthic Sled
2004-09-19 21:44
23° 29.7' S 151° 29.7' E
LB200402
83
32 to 32
1
Benthic Sled
2004-09-20 17:36
15° 27.9' S 145° 18.3' E
GM200402
3
15 to 15
1
Prawn Trawl
2004-09-25 10:49
10° 45.9' S 142° 47.1' E
GM200402
21
23 to 23
1
Prawn Trawl
2004-09-25 15:21
10° 54.3' S 143° 03.3' E
GM200402
24
24 to 24
1
Prawn Trawl
2004-09-26 15:43
10° 57.9' S 143° 48.9' E
GM200402
29
26 to 26
1
Prawn Trawl
2004-09-27 13:02
11° 17.1' S 143° 38.1' E
GM200402
33
32 to 32
1
Prawn Trawl
2004-09-28 07:53
21° 22.5' S 149° 44.1' E
LB200402
130
23 to 23
1
Benthic Sled
2004-09-28 09:31
21° 27.9' S 149° 47.7' E
LB200402
131
24 to 24
1
Benthic Sled
2004-09-28 11:17
21° 23.7' S 149° 57.3' E
LB200402
132
32 to 32
1
Benthic Sled
2004-09-28 14:01
11° 05.7' S 143° 31.5' E
GM200402
39
29 to 29
2
Prawn Trawl
2004-09-28 15:19
11° 07.5' S 143° 28.5' E
GM200402
40
33 to 33
1
Prawn Trawl
2004-09-28 18:07
11° 09.9' S 143° 18.3' E
GM200402
42
33 to 33
1
Prawn Trawl
2004-09-30 04:19
20° 30.9' S 149° 52.5' E
LB200402
157
52 to 52
1
Benthic Sled
2004-09-30 16:40
11° 49.5' S 143° 40.5' E
GM200402
53
23 to 23
1
Prawn Trawl
2004-10-02 18:24
12° 23.1' S 143° 22.5' E
GM200402
63
32 to 32
1
Prawn Trawl
2004-10-03 17:33
21° 25.5' S 149° 25.5' E
LB200402
193
12 to 12
1
Benthic Sled
2004-10-04 03:51
21° 44.1' S 149° 36.3' E
LB200402
197
16 to 16
1
Benthic Sled
2004-10-04 18:51
13° 34.5' S 144° 02.1' E
GM200402
68
42 to 42
1
Prawn Trawl
2004-10-11 11:10
16° 42.3' S 146° 15.9' E
GM200402
79
50 to 50
2
Prawn Trawl
2004-10-16 17:16
15° 25.5' S 145° 41.1' E
GM200402
89
47 to 47
1
Prawn Trawl
2005-01-14 06:31
16° 18.9' S 145° 54.3' E
LB200501
7
30 to 30
1
Benthic Sled
2005-01-25 15:30
13° 11.7' S 143° 49.5' E
LB200501
80
22 to 22
1
Benthic Sled
2005-01-26 06:10
12° 49.5' S 143° 44.7' E
LB200501
87
22 to 22
1
Benthic Sled
2005-01-26 17:26
12° 18.3' S 143° 17.7' E
LB200501
95
22 to 22
1
Benthic Sled
2005-02-02 06:16
10° 51.3' S 143° 19.5' E
LB200501
116
32 to 32
1
Benthic Sled
2005-02-02 14:44
11° 00.3' S 143° 18.3' E
LB200501
120
27 to 27
1
Benthic Sled
2005-02-02 15:59
11° 00.9' S 143° 21.3' E
LB200501
121
31 to 31
1
Benthic Sled
2005-02-02 17:58
11° 07.5' S 143° 28.5' E
LB200501
122
33 to 33
1
Benthic Sled
2005-02-04 05:23
11° 49.5' S 143° 35.1' E
LB200501
144
61 to 61
1
Benthic Sled
2005-02-08 03:12
13° 37.5' S 143° 53.7' E
LB200501
175
36 to 36
1
Benthic Sled
2005-02-08 06:11
13° 45.9' S 143° 55.5' E
LB200501
176
44 to 44
1
Benthic Sled
2005-02-09 00:47
14° 26.1' S 145° 14.1' E
LB200501
181
25 to 25
1
Benthic Sled
2005-10-28 22:17
21° 11.7' S 151° 00.3' E
LB200502
5
59 to 59
1
Benthic Sled
2005-10-30 04:49
21° 24.3' S 151° 33.3' E
LB200502
11
64 to 64
1
Benthic Sled
2005-10-31 06:39
21° 48.3' S 151° 57.3' E
LB200502
18
54 to 54
1
Benthic Sled
2005-11-03 01:46
23° 05.7' S 151° 35.7' E
LB200502
38
43 to 43
1
Benthic Sled
2005-11-04 18:56
23° 55.5' S 152° 21.3' E
LB200502
56
44 to 44
1
Benthic Sled
2005-11-05 03:40
24° 08.1' S 152° 48.9' E
LB200502
60
51 to 51
2
Benthic Sled
2005-11-05 10:35
24° 21.3' S 152° 40.5' E
LB200502
64
27 to 27
1
Benthic Sled
2005-11-05 17:38
24° 27.9' S 152° 58.5' E
LB200502
69
37 to 37
1
Benthic Sled
2005-11-06 06:13
24° 15.9' S 152° 39.9' E
LB200502
75
30 to 30
1
Benthic Sled
2005-11-06 07:40
24° 20.1' S 152° 32.1' E
LB200502
76
30 to 30
1
Benthic Sled
2005-11-08 06:40
24° 02.1' S 151° 51.9' E
LB200502
89
31 to 31
1
Benthic Sled
2005-11-08 08:00
23° 58.5' S 151° 59.1' E
LB200502
90
35 to 35
1
Benthic Sled
2005-11-12 11:19
21° 44.1' S 149° 36.3' E
GM200501
2
16 to 16
1
Prawn Trawl
2005-11-13 17:11
21° 59.7' S 150° 29.7' E
GM200501
10
49 to 49
1
Prawn Trawl
2005-11-15 09:42
22° 08.7' S 151° 00.9' E
GM200501
14
63 to 63
1
Prawn Trawl
2005-11-15 15:30
21° 53.7' S 151° 26.1' E
GM200501
17
86 to 86
1
Prawn Trawl
2005-11-15 17:09
21° 48.3' S 151° 29.7' E
GM200501
18
84 to 84
1
Prawn Trawl
2005-11-17 04:19
21° 53.1' S 152° 33.9' E
LB200502
140
59 to 59
1
Benthic Sled
2005-11-18 06:57
21° 33.9' S 151° 54.3' E
LB200502
147
61 to 61
1
Benthic Sled
2005-11-18 22:07
21° 24.9' S 151° 52.5' E
LB200502
149
68 to 68
1
Benthic Sled
2005-11-20 17:22
22° 53.1' S 151° 12.9' E
GM200501
32
46 to 46
1
Prawn Trawl
2005-11-22 03:34
21° 08.7' S 152° 05.1' E
LB200502
172
65 to 65
1
Benthic Sled
2005-11-22 06:40
21° 02.1' S 152° 06.9' E
LB200502
174
51 to 51
1
Benthic Sled
2005-11-22 14:46
22° 23.1' S 151° 38.1' E
GM200501
42
78 to 78
1
Prawn Trawl
2005-11-25 15:46
19° 42.3' S 150° 10.5' E
LB200502
188
72 to 72
1
Benthic Sled
2005-11-26 09:12
21° 46.5' S 151° 50.1' E
GM200501
52
62 to 62
1
Prawn Trawl
2005-11-26 09:47
19° 33.3' S 148° 44.7' E
LB200502
193
63 to 63
1
Benthic Sled
2005-11-26 10:56
21° 39.9' S 151° 56.7' E
GM200501
53
50 to 50
1
Prawn Trawl
2005-11-26 16:21
21° 24.3' S 151° 33.3' E
GM200501
55
64 to 64
1
Prawn Trawl
2005-11-27 10:57
19° 50.7' S 149° 01.5' E
LB200502
199
72 to 72
1
Benthic Sled
2005-11-27 11:51
19° 51.3' S 148° 57.9' E
LB200502
200
69 to 69
1
Benthic Sled
2005-11-27 12:39
21° 14.1' S 150° 56.7' E
GM200501
58
61 to 61
2
Prawn Trawl
2005-11-28 12:07
21° 38.1' S 150° 07.5' E
GM200501
62
28 to 28
1
Prawn Trawl
2005-12-04 09:12
20° 36.3' S 150° 15.9' E
GM200501
74
51 to 51
1
Prawn Trawl
2005-12-06 15:28
19° 56.7' S 149° 38.1' E
GM200501
84
52 to 52
1
Prawn Trawl
2005-12-10 11:14
18° 51.9' S 146° 47.1' E
GM200501
97
27 to 27
1
Prawn Trawl
2005-12-10 12:28
18° 58.5' S 146° 47.7' E
GM200501
98
24 to 24
1
Prawn Trawl
2005-12-10 18:13
18° 42.9' S 146° 19.5' E
GM200501
103
9 to 9
1
Prawn Trawl
2007-06-20 12:36
17° 45.6' S 120° 42.5' E
SS200705
96
108 to 109
1
0.12
Catch
2007-06-20 13:47
17° 46.1' S 120° 43.2' E
SS200705
97
97 to 109
1
0.009
Catch
2007-07-04 03:41
14° 33.7' S 122° 54.4' E
SS200705
162
135 to 165
1
0.007
Catch