Please login if you have access to particular applications.
Catch Data - from CSIRO surveys.
CAAB Code:
37 107000 [taxon report]
Scientific Name
and Authority:
Sternoptychidae
CAAB category:
37 - Pisces

| | |
| --- | --- |
| Standard Name: | hatchetfishes |
Distribution map:
View detailed map or click on map to see same.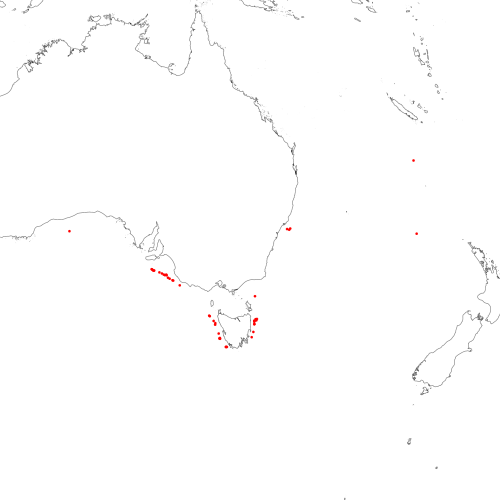 Occurrence locations [46] shown as red circles - View CSIRO Catch records
Catch records - 66 records found.
Click on survey to see survey details. Click on Operation to see full details of the catch. Use the CSV button at the bottom to export data.
Date (UTC)
Position
Survey
Operation
Depth
Range (m)
Count
Weight (kg)
Method
Effort
Gear
1979-03-27 17:42
33° 23.0' S 128° 00.0' E
COUR197947
21
380 to 400
1
Stern Trawl
100 minutes
1979-08-23 11:15
33° 11.0' S 152° 24.0' E
SP197909
7
28 to 40
1
Stern Trawl
100 minutes
1979-08-24 03:00
33° 15.0' S 152° 38.0' E
SP197909
11
230 to 237
1
Stern Trawl
100 minutes
1979-08-24 16:55
33° 08.0' S 152° 45.0' E
SP197909
16
235 to 490
2
Stern Trawl
100 minutes
1988-01-29 03:07
37° 24.0' S 138° 42.0' E
SO198801
35
1150 to 1200
Stern Trawl
50 minutes
1988-03-19 15:24
40° 55.0' S 143° 40.0' E
SO198802
24
1100 to 1110
Stern Trawl
50 minutes
1988-03-20 07:53
41° 22.0' S 144° 10.0' E
SO198802
27
900 to 935
Stern Trawl
52 minutes
1988-03-21 19:08
41° 33.0' S 144° 21.0' E
SO198802
36
795 to 835
Stern Trawl
53 minutes
1988-03-24 06:26
42° 25.0' S 144° 44.0' E
SO198802
53
920 to 985
Stern Trawl
50 minutes
1988-03-25 00:17
42° 50.0' S 144° 51.0' E
SO198802
58
1040 to 1060
Stern Trawl
50 minutes
1988-03-25 15:31
42° 51.0' S 144° 53.0' E
SO198802
62
925 to 930
1
Stern Trawl
50 minutes
1988-03-25 18:52
42° 47.0' S 144° 52.0' E
SO198802
63
775 to 800
2
Stern Trawl
60 minutes
1988-03-26 05:42
43° 31.0' S 145° 39.0' E
SO198802
64
940 to 945
Stern Trawl
45 minutes
1988-03-26 10:27
43° 31.0' S 145° 33.0' E
SO198802
65
1100 to 1140
Stern Trawl
50 minutes
1988-03-27 00:13
43° 31.0' S 145° 33.0' E
SO198802
67
1075 to 1085
Stern Trawl
50 minutes
1988-03-31 16:31
42° 43.0' S 148° 26.0' E
SO198802
75
740 to 750
18 minutes
1988-04-01 17:10
41° 38.0' S 148° 43.0' E
SO198802
77
1060 to 1100
Stern Trawl
53 minutes
1988-04-02 06:03
41° 38.0' S 148° 44.0' E
SO198802
79
1110 to 1150
Stern Trawl
52 minutes
1988-04-03 07:09
41° 22.0' S 148° 44.0' E
SO198802
83
880 to 890
Stern Trawl
50 minutes
1988-04-03 12:11
41° 26.0' S 148° 43.0' E
SO198802
84
850 to 860
Stern Trawl
50 minutes
1988-04-03 17:05
41° 21.0' S 148° 43.0' E
SO198802
85
895 to 940
Stern Trawl
60 minutes
1989-01-21 13:00
41° 19.0' S 148° 57.0' E
SO198901
6
Stern Trawl
0
1989-01-22 13:00
41° 12.0' S 149° 01.0' E
SO198901
7
Stern Trawl
0
1989-01-22 13:00
41° 13.0' S 148° 52.0' E
SO198901
8
Stern Trawl
0
1989-01-25 11:20
36° 52.0' S 137° 13.0' E
SO198901
14
940 to 970
2
Stern Trawl
50 minutes
1989-01-26 11:27
36° 58.0' S 137° 22.0' E
SO198901
21
1020 to 1040
Stern Trawl
50 minutes
1989-01-26 14:41
36° 53.0' S 137° 16.0' E
SO198901
15
870 to 890
Stern Trawl
50 minutes
1989-01-26 15:37
37° 00.0' S 137° 27.0' E
SO198901
22
1030 to 1060
1
0.1
Stern Trawl
52 minutes
1989-01-26 23:47
36° 59.0' S 137° 30.0' E
SO198901
24
940 to 960
Stern Trawl
48 minutes
1989-01-27 15:53
37° 09.0' S 138° 05.0' E
SO198901
27
940 to 960
Stern Trawl
30 minutes
1989-01-28 06:09
37° 15.0' S 138° 22.0' E
SO198901
31
820 to 890
Stern Trawl
42 minutes
1989-01-29 16:50
37° 21.0' S 138° 34.0' E
SO198901
39
1110 to 1130
Stern Trawl
13 minutes
1989-01-31 03:22
37° 21.0' S 138° 51.0' E
SO198901
49
1030 to 1085
Stern Trawl
48 minutes
1989-01-31 11:59
37° 25.0' S 138° 54.0' E
SO198901
51
1025 to 1080
1
Stern Trawl
50 minutes
1989-02-02 03:15
37° 38.0' S 139° 03.0' E
SO198901
61
1025 to 1025
0.1
Stern Trawl
53 minutes
1989-02-03 08:15
37° 43.0' S 139° 14.0' E
SO198901
69
1130 to 1150
Stern Trawl
45 minutes
1989-02-05 22:02
37° 53.0' S 139° 38.0' E
SO198901
79
1020 to 1040
Stern Trawl
50 minutes
1989-02-06 02:11
37° 51.0' S 139° 33.0' E
SO198901
80
Stern Trawl
52 minutes
1989-02-08 00:49
38° 18.0' S 140° 22.0' E
SO198901
93
1055 to 1080
Stern Trawl
52 minutes
1989-03-09 05:05
40° 58.0' S 143° 44.0' E
SO198902
47
900 to 915
Stern Trawl
50 minutes
1989-03-13 03:11
41° 41.0' S 144° 20.0' E
SO198902
65
1080 to 1160
33 minutes
1989-03-20 08:21
42° 49.0' S 144° 50.0' E
SO198902
95
1140 to 1155
Stern Trawl
50 minutes
1989-04-18 04:31
42° 17.0' S 148° 37.0' E
SO198903
7
950 to 1050
Stern Trawl
55 minutes
1989-04-26 11:09
39° 15.0' S 148° 48.0' E
SO198903
45
845 to 868
Stern Trawl
62 minutes
2003-05-11 01:49
34° 06.7' S 171° 39.7' E
TAN0308
1
351 to 400
13
0.002
Trawl
2003-05-11 04:15
34° 09.4' S 171° 27.8' E
TAN0308
2
544 to 584
2
0.006
Trawl
2003-05-11 07:37
34° 03.2' S 171° 08.1' E
TAN0308
3
1051 to 1320
2
0.006
Trawl
2003-05-12 07:18
32° 32.3' S 169° 43.6' E
TAN0308
10
3580 to 3610
3
0.1
Trawl
2003-05-13 21:59
29° 59.6' S 167° 38.7' E
TAN0308
16
1268 to 1285
1
0
Trawl
2003-05-14 15:50
29° 31.8' S 167° 38.1' E
TAN0308
23
1300 to 1880
36
0.043
Trawl
2003-05-17 22:31
26° 25.9' S 167° 10.9' E
TAN0308
43
750 to 774
1
0.02
Trawl
2003-05-18 04:35
26° 31.4' S 166° 34.4' E
TAN0308
45
3550 to 3588
5
0.036
Trawl
2003-05-23 19:40
32° 11.6' S 160° 51.7' E
TAN0308
72
1350 to 1361
1
0.01
Trawl
2003-05-25 15:20
34° 11.8' S 162° 37.1' E
TAN0308
83
761 to 765
1
0.01
Trawl
2003-05-27 16:33
33° 37.1' S 166° 55.5' E
TAN0308
96
1017 to 1042
1
0.02
Trawl
2003-05-28 12:55
33° 46.5' S 167° 29.3' E
TAN0308
103
1431 to 1460
1
0.01
Trawl
2003-05-29 03:47
32° 35.7' S 167° 44.1' E
TAN0308
108
698 to 719
1
0.05
Trawl
2003-05-31 07:31
33° 23.4' S 170° 11.6' E
TAN0308
126
490 to 526
1
0.01
Sled
2003-05-31 11:14
33° 23.6' S 170° 09.9' E
TAN0308
128
627 to 662
1
0.01
Trawl
2003-06-01 01:17
33° 23.7' S 170° 13.0' E
TAN0308
133
465 to 490
1
0.1
Trawl
2003-06-01 03:16
33° 20.5' S 170° 14.0' E
TAN0308
134
614 to 675
1
0.01
Trawl
2003-06-01 06:28
33° 23.6' S 170° 12.4' E
TAN0308
136
469 to 490
1
0.01
Trawl
2003-06-03 10:32
34° 37.2' S 168° 57.0' E
TAN0308
154
521 to 539
1
0.01
Trawl
2003-06-03 14:41
34° 34.3' S 168° 56.5' E
TAN0308
156
1013 to 1350
1
0.01
Trawl
2003-06-04 00:28
35° 08.1' S 169° 28.4' E
TAN0308
159
870 to 871
1
0.01
Trawl
2003-06-05 00:00
35° 35.8' S 169° 33.4' E
TAN0308
167
1760 to 1786
1
0.01
Trawl