Please login if you have access to particular applications.
Catch Data - from CSIRO surveys.
CAAB Code:
28 720009 [taxon report]
Scientific Name
and Authority:
Parasergestes stimulator (Burkenroad, 1940)
CAAB category:
28 - Crustacea - Malacostraca

| | |
| --- | --- |
| Common Name: | [a penaeoid prawn] |
Distribution map:
View detailed map or click on map to see same.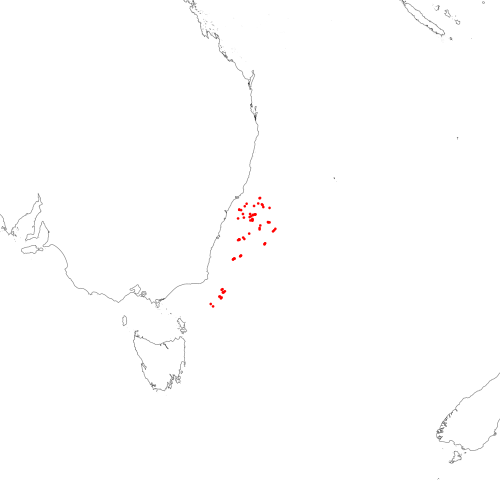 Occurrence locations [67] shown as red circles - View CSIRO Catch records
Catch records - 67 records found.
Click on survey to see survey details. Click on Operation to see full details of the catch. Use the CSV button at the bottom to export data.
Date (UTC)
Position
Survey
Operation
Depth
Range (m)
Count
Weight (kg)
Method
Effort
Gear
1979-08-24 03:00
33° 15.0' S 152° 38.0' E
SP197909
11
230 to 237
8
Stern Trawl
100 minutes
1979-08-25 02:00
33° 06.0' S 152° 46.0' E
SP197909
14
183 to 245
1
Stern Trawl
100 minutes
1979-08-26 10:55
32° 45.0' S 153° 44.0' E
SP197909
17
205 to 260
12
Stern Trawl
100 minutes
1979-08-26 12:40
32° 46.0' S 153° 42.0' E
SP197909
19
255 to 400
2
Stern Trawl
100 minutes
1979-08-27 10:58
33° 14.0' S 153° 18.0' E
SP197909
23
140 to 200
9
Stern Trawl
100 minutes
1979-08-29 13:35
33° 43.0' S 152° 30.0' E
SP197909
27
110 to 212
2
1
Stern Trawl
100 minutes
1979-09-20 18:43
33° 18.0' S 153° 58.0' E
SP197910
1
35 to 52
9
9
Stern Trawl
150 minutes
1979-09-20 21:10
33° 11.0' S 153° 55.0' E
SP197910
2
82 to 107
6
3
Stern Trawl
117 minutes
1979-09-20 22:30
33° 08.0' S 153° 52.0' E
SP197910
3
182 to 200
33
54
Stern Trawl
117 minutes
1979-09-22 01:55
33° 05.0' S 153° 36.0' E
SP197910
5
225 to 324
2
1
Stern Trawl
117 minutes
1979-09-24 18:25
33° 44.0' S 153° 24.0' E
SP197910
13
199 to 223
1
Stern Trawl
108 minutes
1979-09-24 19:57
33° 45.0' S 153° 21.0' E
SP197910
14
53 to 59
13
Stern Trawl
108 minutes
1979-09-24 22:53
33° 46.0' S 153° 15.0' E
SP197910
16
28 to 31
1
Stern Trawl
100 minutes
1979-09-25 03:40
33° 45.0' S 153° 23.0' E
SP197910
12
93 to 112
7
Stern Trawl
100 minutes
1979-09-25 20:00
34° 33.0' S 153° 42.0' E
SP197910
20
49 to 54
14
Stern Trawl
108 minutes
1979-09-26 00:18
33° 47.0' S 153° 12.0' E
SP197910
17
259 to 297
2
Stern Trawl
103 minutes
1979-09-26 18:30
34° 24.0' S 153° 45.0' E
SP197910
25
0 to 0
1
3
Stern Trawl
108 minutes
1979-09-27 00:30
34° 38.0' S 153° 42.0' E
SP197910
23
79 to 110
15
25
Stern Trawl
117 minutes
1979-09-30 01:50
33° 21.0' S 154° 25.0' E
SP197910
28
0 to 0
5
Stern Trawl
117 minutes
1979-09-30 18:25
33° 27.0' S 152° 14.0' E
SP197910
34
360 to 376
1
Stern Trawl
108 minutes
1979-09-30 19:55
33° 28.0' S 152° 14.0' E
SP197910
35
101 to 109
1
3
Stern Trawl
108 minutes
1979-09-30 23:53
33° 29.0' S 152° 22.0' E
SP197910
37
292 to 376
1
Stern Trawl
105 minutes
1979-10-15 19:15
33° 56.0' S 152° 34.0' E
SP197911
1
11 to 22
3
Stern Trawl
100 minutes
1979-10-17 01:07
33° 59.0' S 152° 09.0' E
SP197911
3
248 to 300
12
Stern Trawl
100 minutes
1979-10-17 20:20
35° 27.0' S 154° 06.0' E
SP197911
6
1
Stern Trawl
100 minutes
1979-10-17 22:20
35° 29.0' S 154° 04.0' E
SP197911
7
104 to 115
1
Stern Trawl
100 minutes
1979-10-17 23:55
35° 31.0' S 154° 03.0' E
SP197911
8
96 to 100
1
Stern Trawl
100 minutes
1979-10-22 21:30
34° 01.0' S 153° 11.0' E
SP197911
19
295 to 344
4
Stern Trawl
100 minutes
1979-10-22 23:12
34° 03.0' S 153° 11.0' E
SP197911
20
280 to 310
4
Stern Trawl
100 minutes
1979-10-23 20:09
33° 43.0' S 153° 01.0' E
SP197911
23
292 to 320
11
Stern Trawl
100 minutes
1979-10-23 22:30
33° 51.0' S 153° 05.0' E
SP197911
24
256 to 310
1
Stern Trawl
100 minutes
1979-10-24 01:02
34° 07.0' S 153° 11.0' E
SP197911
21
194 to 215
3
Stern Trawl
100 minutes
1979-10-25 02:05
33° 54.0' S 152° 59.0' E
SP197911
26
292 to 324
7
Stern Trawl
100 minutes
1979-10-25 22:15
34° 45.0' S 154° 40.0' E
SP197911
32
168 to 220
1
Stern Trawl
100 minutes
1979-10-26 03:20
34° 53.0' S 152° 57.0' E
SP197911
31
235 to 330
1
Stern Trawl
100 minutes
1979-10-26 23:40
34° 13.0' S 154° 25.0' E
SP197911
37
98 to 106
4
Stern Trawl
100 minutes
1979-10-27 00:00
34° 41.0' S 154° 45.0' E
SP197911
33
90 to 100
34
Stern Trawl
100 minutes
1979-10-27 01:30
34° 36.0' S 154° 50.0' E
SP197911
34
44 to 49
1
Stern Trawl
100 minutes
1979-10-27 23:05
34° 05.0' S 153° 10.0' E
SP197911
40
62 to 73
1
Stern Trawl
100 minutes
1979-10-28 01:05
34° 13.0' S 154° 20.0' E
SP197911
38
52 to 60
3
Stern Trawl
100 minutes
1979-10-28 03:25
34° 12.0' S 154° 18.0' E
SP197911
39
14 to 20
12
Stern Trawl
100 minutes
1979-10-29 01:15
34° 06.0' S 153° 02.0' E
SP197911
41
94 to 120
3
Stern Trawl
100 minutes
1980-02-06 20:10
36° 10.0' S 152° 22.0' E
SP198003
1
52 to 58
3
Stern Trawl
100 minutes
1980-02-06 22:45
36° 11.0' S 152° 20.0' E
SP198003
2
88 to 92
6
Stern Trawl
100 minutes
1980-02-07 21:10
35° 12.0' S 152° 36.0' E
SP198003
6
33 to 41
4
Stern Trawl
100 minutes
1980-02-08 00:55
36° 13.0' S 152° 18.0' E
SP198003
3
75 to 98
1
Stern Trawl
100 minutes
1980-02-08 23:15
35° 07.0' S 152° 31.0' E
SP198003
7
80 to 120
31
Stern Trawl
100 minutes
1980-02-09 20:10
36° 21.0' S 151° 54.0' E
SP198003
9
214 to 235
3
1
Stern Trawl
100 minutes
1980-02-09 21:57
36° 20.0' S 151° 52.0' E
SP198003
10
272 to 290
1
Stern Trawl
100 minutes
1980-02-10 20:30
35° 13.0' S 152° 14.0' E
SP198003
14
303 to 312
2
1
Stern Trawl
100 minutes
1980-02-10 22:00
35° 14.0' S 152° 14.0' E
SP198003
15
185 to 205
3
1
Stern Trawl
100 minutes
1980-02-10 23:30
35° 15.0' S 152° 14.0' E
SP198003
16
95 to 104
17
1
Stern Trawl
100 minutes
1980-02-11 00:55
36° 23.0' S 151° 48.0' E
SP198003
12
111 to 118
3
Stern Trawl
100 minutes
1980-02-11 02:23
36° 24.0' S 151° 47.0' E
SP198003
13
248 to 278
20
5
Stern Trawl
100 minutes
1980-02-12 00:50
35° 16.0' S 152° 09.0' E
SP198003
17
183 to 205
1
Stern Trawl
100 minutes
1980-05-12 20:20
38° 56.0' S 150° 11.0' E
SP198007
1
52 to 53
1
Stern Trawl
100 minutes
1980-05-14 02:35
39° 04.0' S 150° 21.0' E
SP198007
5
101 to 108
1
Stern Trawl
100 minutes
1980-05-14 18:50
38° 31.0' S 150° 48.0' E
SP198007
12
88 to 103
18
Stern Trawl
100 minutes
1980-05-14 20:15
38° 31.0' S 150° 51.0' E
SP198007
13
136 to 175
20
Stern Trawl
100 minutes
1980-05-15 00:25
38° 37.0' S 150° 55.0' E
SP198007
8
167 to 206
4
Stern Trawl
100 minutes
1980-05-15 02:00
38° 34.0' S 150° 58.0' E
SP198007
9
23 to 26
4
Stern Trawl
100 minutes
1980-05-15 18:30
38° 06.0' S 151° 02.0' E
SP198007
18
94 to 102
1
Stern Trawl
100 minutes
1980-05-15 20:00
38° 08.0' S 150° 58.0' E
SP198007
19
150 to 171
7
Stern Trawl
100 minutes
1980-05-16 00:02
38° 13.0' S 151° 12.0' E
SP198007
14
3
Stern Trawl
100 minutes
1980-05-16 01:25
38° 16.0' S 151° 07.0' E
SP198007
15
187 to 200
1
Stern Trawl
100 minutes
1980-05-16 02:50
38° 17.0' S 151° 05.0' E
SP198007
16
2
Stern Trawl
100 minutes
1980-05-16 04:20
38° 17.0' S 151° 03.0' E
SP198007
17
251 to 319
1
Stern Trawl
100 minutes