Please login if you have access to particular applications.
Catch Data - from CSIRO surveys.
CAAB Code:
54 025003 [taxon report]
Scientific Name
and Authority:
Dictyopteris muelleri (Sonder) Reinbold
CAAB category:
54 - Phaeophyta

| | |
| --- | --- |
| Common Name: | [a brown alga] |
Distribution map:
View detailed map or click on map to see same.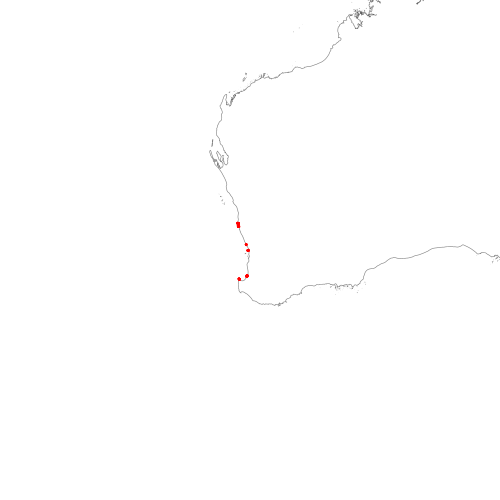 Occurrence locations [92] shown as red circles - View CSIRO Catch records
Catch records - 92 records found.
Click on survey to see survey details. Click on Operation to see full details of the catch. Use the CSV button at the bottom to export data.
Date (UTC)
Position
Survey
Operation
Depth
Range (m)
Count
Weight (kg)
Method
Effort
Gear
2003-05-26 00:00
30° 20.1' S 115° 00.3' E
NE
5165
6 to 6
18
Diving
2003-09-18 00:00
33° 33.4' S 115° 04.1' E
EB
5256
6 to 6
0
Diving
2003-09-18 00:00
33° 33.4' S 115° 04.1' E
EB
5308
6 to 6
2
Diving
2003-09-18 00:00
33° 33.4' S 115° 04.1' E
EB
5216
6 to 6
5
Diving
2003-10-08 00:00
30° 17.7' S 114° 59.4' E
NM
5203
6 to 10
16
Diving
2004-01-20 00:00
33° 33.4' S 115° 04.1' E
EB
5280
6 to 6
114
Diving
2004-01-20 00:00
33° 33.4' S 115° 04.1' E
EB
5310
6 to 6
52
Diving
2004-01-20 00:00
33° 32.2' S 115° 02.0' E
QU
5278
6 to 6
1
Diving
2004-01-22 00:00
33° 23.6' S 115° 36.2' E
DN
5182
6 to 6
16
Diving
2004-01-22 00:00
33° 23.6' S 115° 36.2' E
DN
5274
6 to 6
1
Diving
2004-01-22 00:00
33° 23.6' S 115° 36.2' E
DN
5183
6 to 6
8
Diving
2004-01-22 00:00
33° 20.8' S 115° 37.1' E
SB
5177
6 to 10
2
Diving
2004-01-22 00:00
33° 20.8' S 115° 37.1' E
SB
5176
6 to 10
10
Diving
2004-01-22 00:00
33° 19.9' S 115° 36.2' E
BY08
5226
10 to 10
17
Diving
2004-01-28 00:00
31° 48.5' S 115° 41.6' E
LTISW1
5293
10 to 10
0
Diving
2004-01-29 00:00
31° 26.9' S 115° 32.8' E
CL
5326
6 to 6
1
Diving
2004-03-10 00:00
31° 48.2' S 115° 40.7' E
3MRN-C
5305
10 to 10
2
Diving
2004-03-10 00:00
31° 49.8' S 115° 41.2' E
3MRS-C
5190
10 to 10
1
Diving
2004-03-10 00:00
31° 49.8' S 115° 41.2' E
3MRS-C
5191
10 to 10
1
Diving
2004-03-10 00:00
31° 49.8' S 115° 41.2' E
3MRS-C
5208
10 to 10
10
Diving
2004-03-10 00:00
31° 48.2' S 115° 40.7' E
3MRN-C
5186
10 to 10
4
Diving
2004-03-11 00:00
31° 48.2' S 115° 40.7' E
3MRN+C
5302
10 to 10
22
Diving
2004-03-11 00:00
31° 49.8' S 115° 41.2' E
3MRS+C
5207
10 to 10
21
Diving
2004-03-11 00:00
31° 49.8' S 115° 41.2' E
3MRS+C
5306
10 to 10
20
Diving
2004-03-11 00:00
31° 48.2' S 115° 40.7' E
3MRN+C
5303
10 to 10
16
Diving
2004-03-11 00:00
31° 49.8' S 115° 41.2' E
3MRS+C
5198
10 to 10
47
Diving
2004-04-28 00:00
30° 17.8' S 114° 58.0' E
SWD13M
5503
10 to 10
47
Diving
2004-04-29 00:00
30° 07.9' S 114° 56.0' E
FISH12
5486
10 to 10
263
Diving
2004-04-29 00:00
30° 07.9' S 114° 56.0' E
FISH12
5485
10 to 10
9
Diving
2004-04-29 00:00
30° 07.9' S 114° 56.0' E
FISH12
5484
10 to 10
10
Diving
2004-04-29 00:00
30° 07.9' S 114° 56.0' E
FISH12
5483
10 to 10
48
Diving
2004-04-29 00:00
30° 08.1' S 114° 58.4' E
FISZ3
5490
6 to 6
1
Diving
2004-04-29 00:00
30° 08.1' S 114° 58.4' E
FISZ3
5488
6 to 6
2
Diving
2004-04-29 00:00
30° 09.4' S 114° 59.7' E
JR
5495
6 to 6
1
Diving
2004-04-29 00:00
30° 08.1' S 114° 58.4' E
FISZ3
5491
6 to 6
3
Diving
2004-05-03 00:00
33° 20.8' S 115° 37.1' E
SB
5463
6 to 10
12
Diving
2004-05-03 00:00
33° 20.8' S 115° 37.1' E
SB
5462
6 to 10
192
Diving
2004-05-03 00:00
33° 20.8' S 115° 37.1' E
SB
5464
6 to 10
8
Diving
2004-05-03 00:00
33° 23.5' S 115° 36.2' E
DAL
5460
6 to 10
3
Diving
2004-05-03 00:00
33° 23.5' S 115° 36.2' E
DAL
5459
6 to 10
3
Diving
2004-05-03 00:00
33° 23.5' S 115° 36.2' E
DAL
5456
6 to 10
190
Diving
2004-05-05 00:00
33° 32.2' S 115° 02.0' E
QU
5453
6 to 6
14
Diving
2004-08-09 00:00
33° 33.4' S 115° 04.1' E
EB
5591
6 to 6
2
Diving
2004-08-09 00:00
33° 33.4' S 115° 04.1' E
EB
5594
6 to 6
3
Diving
2004-10-26 00:00
30° 13.6' S 114° 59.6' E
NH
5661
6 to 6
1
Diving
2004-10-26 00:00
30° 13.6' S 114° 59.6' E
NH
5662
6 to 6
0
Diving
2004-10-26 00:00
30° 13.6' S 114° 59.6' E
NH
5663
6 to 6
9
Diving
2004-10-26 00:00
30° 13.6' S 114° 59.6' E
NH
5660
6 to 6
3
Diving
2004-10-27 00:00
30° 09.4' S 114° 59.7' E
JR
5685
6 to 6
0
Diving
2004-10-27 00:00
30° 08.1' S 114° 58.4' E
FISZ3
5693
6 to 6
0
Diving
2004-10-27 00:00
30° 09.4' S 114° 59.7' E
JR
5688
6 to 6
4
Diving
2004-11-08 00:00
33° 33.4' S 115° 04.1' E
EB
5731
6 to 6
43
Diving
2004-11-08 00:00
33° 33.4' S 115° 04.1' E
EB
5728
6 to 6
89
Diving
2004-11-08 00:00
33° 33.4' S 115° 04.1' E
EB
5729
6 to 6
316
Diving
2005-01-19 00:00
30° 09.4' S 114° 59.7' E
JR
5755
6 to 6
2
Diving
2005-01-19 00:00
30° 09.4' S 114° 59.7' E
JR
5754
6 to 6
4
Diving
2005-01-19 00:00
30° 09.4' S 114° 59.7' E
JR
5758
6 to 6
4
Diving
2005-01-24 00:00
31° 47.6' S 115° 43.0' E
SL
5760
6 to 6
1
Diving
2005-01-25 00:00
31° 28.4' S 115° 33.6' E
MR
5775
6 to 6
1
Diving
2005-01-25 00:00
31° 26.9' S 115° 32.8' E
CL
5770
6 to 6
1
Diving
2005-02-02 00:00
33° 32.2' S 115° 02.0' E
QU
5782
6 to 6
13
Diving
2005-04-14 00:00
33° 20.8' S 115° 37.1' E
SB
5804
6 to 10
51
Diving
2005-04-14 00:00
33° 20.8' S 115° 37.1' E
SB
5805
6 to 10
1
Diving
2005-04-14 00:00
33° 20.8' S 115° 37.1' E
SB
5807
6 to 10
7
Diving
2005-04-14 00:00
33° 20.8' S 115° 37.1' E
SB
5808
6 to 10
21
Diving
2005-04-14 00:00
33° 23.5' S 115° 36.2' E
DAL
5799
6 to 10
26
Diving
2005-04-14 00:00
33° 23.5' S 115° 36.2' E
DAL
5800
6 to 10
623
Diving
2005-04-14 00:00
33° 23.5' S 115° 36.2' E
DAL
5801
6 to 10
47
Diving
2005-04-14 00:00
33° 23.5' S 115° 36.2' E
DAL
5802
6 to 10
306
Diving
2005-04-14 00:00
33° 23.5' S 115° 36.2' E
DAL
5803
6 to 10
40
Diving
2005-04-15 00:00
33° 32.2' S 115° 02.0' E
QU
5933
6 to 6
20
Diving
2005-04-19 00:00
31° 26.9' S 115° 32.8' E
CL
5820
6 to 6
4
Diving
2005-04-27 00:00
30° 17.4' S 114° 58.3' E
WAM2
5860
6 to 6
11
Diving
2005-04-27 00:00
30° 17.0' S 115° 00.1' E
WAM3
5869
6 to 6
340
Diving
2005-04-27 00:00
30° 17.0' S 115° 00.1' E
WAM3
5868
6 to 6
9
Diving
2005-04-27 00:00
30° 17.0' S 115° 00.1' E
WAM3
5866
6 to 6
3
Diving
2005-04-28 00:00
30° 20.7' S 115° 02.2' E
WAM4a
5873
6 to 6
29
Diving
2005-05-01 00:00
30° 20.4' S 114° 58.8' E
WAM6
5884
10 to 10
77
Diving
2005-05-01 00:00
30° 20.4' S 114° 58.8' E
WAM6
5880
10 to 10
21
Diving
2005-05-01 00:00
30° 20.4' S 114° 58.8' E
WAM6
5881
10 to 10
48
Diving
2005-05-01 00:00
30° 12.1' S 114° 58.0' E
WAM9
5899
6 to 6
2
Diving
2005-05-01 00:00
30° 20.3' S 114° 58.9' E
WAM7
5889
6 to 10
29
Diving
2005-05-01 00:00
30° 20.3' S 114° 58.9' E
WAM7
5888
6 to 10
21
Diving
2005-05-01 00:00
30° 20.3' S 114° 58.9' E
WAM7
5886
6 to 10
43
Diving
2005-05-02 00:00
30° 08.1' S 114° 58.4' E
FISZ3
5903
6 to 6
10
Diving
2005-05-02 00:00
30° 07.3' S 114° 56.5' E
WAM11
5907
6 to 6
12
Diving
2005-05-03 00:00
30° 09.4' S 114° 59.8' E
WAM14
5923
6 to 6
86
Diving
2005-05-03 00:00
30° 09.4' S 114° 59.8' E
WAM14
5922
6 to 6
138
Diving
2005-05-03 00:00
30° 09.4' S 114° 59.8' E
WAM14
5924
6 to 6
10
Diving
2005-05-03 00:00
30° 09.4' S 114° 59.8' E
WAM14
5921
6 to 6
61
Diving
2005-05-03 00:00
30° 09.4' S 114° 59.8' E
WAM14
5925
6 to 6
7
Diving
2005-08-04 00:00
33° 32.2' S 115° 02.0' E
QU
5966
6 to 6
5
Diving