Please login if you have access to particular applications.
Survey details and related metadata, reports, events and data.
TT 1/2008
Period: 2008-12-15 to 2009-01-17
From: Hobart To: Hobart
Region: Southern Tasmania Seamounts
Ship : Thomas G Thompson (RV) [details]
Description: The TT 01/2008 survey was a follow up survey to the SS 01/2008 to sample beds of high quality live, sub-fossil and fossil corals off SE Tasmania, and to document and sample the communities in depths up to 4000 m using the deep-diving Remotely operated vehicle (ROV) Jason. 16 dives were completed in or close to areas in the South-east Commonwealth Marine Reserves; the ROV Jason spent almost 400 hours underwater, took over 36000 photographs and 300 hours of video of the deep-reef, and collected over 1000 biological specimens, most new to science.
Leader:- Ron Thresher (CMAR) & Jess Adkins (CALTEC)
Project: Records of Past Climate (2004 - 2010) [details]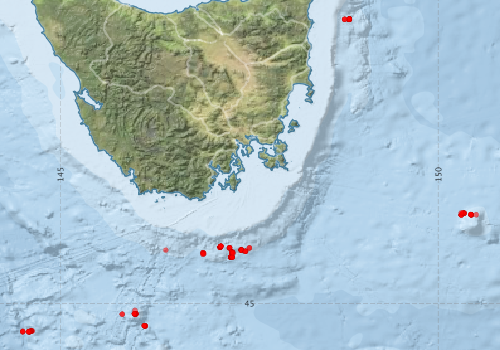 Map extents: 50° 00.0' S to 0° 00.0' N 95° 00.0' E to 180° 00.0' E
Participants:- no records
MNF Reports
There is no map for this survey.
Publications from data derived from this voyage
Alderslade, P. and McFadden, C. S. (2012), A new genus and species of the family Isididae (Coelenterata: Octocorallia) from a CMAR Biodiversity study, and a discussion on the subfamilial placement of some nominal isidid genera. Zootaxa, 3154: pp. 21-39

Fallon, S. J., Thresher, R. E. and Adkins, J. (2014) Age and growth of the cold-water scleractinian Solenosmilia variabilis and its reef on SW Pacific seamounts. Coral Reefs 33 31-38 doi:10.1007/s00338-013-1097-y

Moore, K. M., Alderslade, P. and Miller, K. J. (2017), A taxonomic revision of Antothela (Octocorallia: Scleraxonia: Antothelidae) and related genera, with the addition of new taxa, using morphological and molecular data. Zootaxa, 4304: pp. 001-212.

Moore, K., Alderslade, P. and Miller, K. (2016) A taxonomic revision of the genus Primnoisis Studer & Wright , 1887 (Coelenterata: Octocorallia: Isididae) using morphological and molecular data. Zootaxa 4075 1-+

Thresher, R. E., Adkins, J., Fallon, S. J., Gowlett-Holmes, K., Althaus, F. and Williams, A. (2011) Extraordinarily high biomass benthic community on Southern Ocean seamounts. Nature - Scientific Reports Volume 1 Issue 119 pp1-5 doi:10.1038/srep00119

Williams, G. C. and Alderslade, P. (2011) Three new species of pennatulacean octocorals with the ability to attach to rocky substrata (Cnidaria: Anthozoa: Pennatulacea). Zootaxa 3001 33-48
Search for publications and reports from this and other voyages
Data publishing:- This is a list of online datasets. use the Get data link on the right to extract data using the O&A Data Trawler.
Data Stream
Data Summary
Get data
Catch Details

From:
2008-12-16 00:00 to UTC
Latitude:
-45.38 to -41.24
Longitude:
144.50 to 150.50
Catch Summary:
Deployments: 181
Catch Composition: 1075
Measurements: 0
Specimens: 0

Get Data from Trawler


Deployments by start time:- Click on column header to sort
Deployment
Operation
Project
Start and end times
Start Location
End Location
Depth
Description
Catch [details]
1
2252
2008-12-16 13:50
-44.3495
146.8852
1523
Area A1 Event TT200801_382-03
Catch [details]
2
2252
2008-12-16 14:37
-44.3420
146.8983
1462
Area A1 Event TT200801_382-04
Catch [details]
3
2252
2008-12-16 15:42
-44.3333
147.2813
1441
Area A1 Event TT200801_382-05
Catch [details]
4
2252
2008-12-16 16:19
-44.3330
146.8855
1433
Area A1 Event TT200801_382-11
Catch [details]
5
2252
2008-12-16 16:34
-44.3330
147.2811
1427.9
Area A1 Event TT200801_382-12
Catch [details]
6
2252
2008-12-16 18:20
-44.3313
146.8865
1372
Area A1 Event TT200801_382-14
Catch [details]
7
2252
2008-12-16 18:46
-44.3308
146.8865
1335
Area A1 Event TT200801_382-15
Catch [details]
8
2252
2008-12-16 19:30
-44.3298
146.8872
1305
Area A1 Event TT200801_382-16
Catch [details]
9
2252
2008-12-16 00:00
-44.3495
146.8852
-44.3298
147.2813
Area A1 Event TT200801_382-Biobox washings
Catch [details]
10
2252
2008-12-17 07:25
-44.3225
147.2641
1575
Area A1 Event TT200801_383-01
Catch [details]
11
2252
2008-12-17 08:52
-44.3227
147.2640
1548
Area A1 Event TT200801_383-03
Catch [details]
12
2252
2008-12-17 10:24
-44.3237
147.2656
1500
Area A1 Event TT200801_383-04
Catch [details]
13
2252
2008-12-17 13:20
-44.3243
147.2691
1460
Area A1 Event TT200801_383-05
Catch [details]
14
2252
2008-12-17 15:30
-44.3245
147.2710
1441
Area A1 Event TT200801_383-06
Catch [details]
15
2252
2008-12-17 16:11
-44.3246
147.2728
1397
Area A1 Event TT200801_383-07
Catch [details]
16
2252
2008-12-17 17:10
-44.3241
147.2728
1390
Area A1 Event TT200801_383-08
Catch [details]
17
2252
2008-12-17 18:00
-44.3246
147.2738
1346
Area A1 Event TT200801_383-09
Catch [details]
18
2252
2008-12-17 19:08
-44.3249
147.2745
1295.2
Area A1 Event TT200801_383-10
Catch [details]
19
2252
2008-12-17 00:00
-44.3249
147.2640
-44.3225
147.2745
1575
Area A1 Event TT200801_383-Biobox washings
Catch [details]
20
2252
2008-12-17 00:00
-44.3249
147.2640
-44.3225
147.2745
1575
Area A1 Event TT200801_383-Unknown
Catch [details]
21
2252
2008-12-18 08:57
-44.2633
147.2373
958
Area North Sister Event TT200801_384-01
Catch [details]
22
2252
2008-12-18 09:50
-44.2634
147.2374
952
Area North Sister Event TT200801_384-02
Catch [details]
23
2252
2008-12-18 14:18
-44.2659
147.5000
928
Area North Sister Event TT200801_384-04
Catch [details]
24
2252
2008-12-18 15:06
-44.2660
147.5000
928
Area North Sister Event TT200801_384-05
Catch [details]
25
2252
2008-12-18 15:25
-44.2660
147.2359
921
Area North Sister Event TT200801_384-06
Catch [details]
26
2252
2008-12-18 19:44
-44.2666
147.2359
941
Area North Sister Event TT200801_384-07
Catch [details]
27
2252
2008-12-18 00:00
-44.2666
147.2359
-44.2633
147.5000
958
Area North Sister Event TT200801_384-Biobox washings
Catch [details]
28
2252
2008-12-20 21:49
-44.2430
147.1230
1240
Area Z27 Event TT200801_385-01
Catch [details]
29
2252
2008-12-21 00:26
-44.2437
147.1223
1184
Area Z27 Event TT200801_385-02
Catch [details]
30
2252
2008-12-21 01:48
-44.2437
147.1222
1180
Area Z27 Event TT200801_385-03
Catch [details]
31
2252
2008-12-21 02:29
-44.2451
147.1210
1123
Area Z27 Event TT200801_385-04
Catch [details]
32
2252
2008-12-21 05:58
-44.2452
147.1213
1060
Area Z27 Event TT200801_385-05
Catch [details]
33
2252
2008-12-21 00:00
-44.2452
147.1210
-44.2430
147.1230
Area Z27 Event TT200801_385-Biobox
Catch [details]
34
2252
2008-12-23 02:35
-44.2487
147.1154
1109
Area Mongrel Event TT200801_386-01
Catch [details]
35
2252
2008-12-23 03:30
-44.2512
147.1145
1050
Area Mongrel Event TT200801_386-02
Catch [details]
36
2252
2008-12-23 05:15
-44.2528
147.1148
1000
Area Mongrel Event TT200801_386-04
Catch [details]
37
2252
2008-12-23 06:49
-44.2536
147.1146
982
Area Mongrel Event TT200801_386-06
Catch [details]
38
2252
2008-12-23 07:39
-44.2543
147.1145
958
Area Mongrel Event TT200801_386-07
Catch [details]
39
2252
2008-12-23 10:41
-44.2569
147.1139
817
Area Mongrel Event TT200801_386-08
Catch [details]
40
2252
2008-12-23 12:40
-44.2553
147.1141
904
Area Mongrel Event TT200801_386-09
Catch [details]
41
2252
2008-12-23 13:21
-44.2554
147.1140
898
Area Mongrel Event TT200801_386-10
Catch [details]
42
2252
2008-12-23 13:45
-44.2554
147.1141
899
Area Mongrel Event TT200801_386-11
Catch [details]
43
2252
2008-12-23 17:52
-44.2566
147.1137
812
Area Mongrel Event TT200801_386-14
Catch [details]
44
2252
2008-12-23 20:15
-44.2589
147.1122
729
Area Mongrel Event TT200801_386-15
Catch [details]
45
2252
2008-12-23 00:00
-44.2589
147.1122
-44.2487
147.1154
904
Area Mongrel Event TT200801_386-Biobox 2 washings
Catch [details]
46
2252
2008-12-23 00:00
-44.2589
147.1122
-44.2487
147.1154
Area Mongrel Event TT200801_386-Loc unknown
Catch [details]
47
2252
2008-12-24 23:55
-44.3897
147.2730
2051
Area Z39 Event TT200801_387-01
Catch [details]
48
2252
2008-12-25 01:47
-44.3892
147.2730
2066
Area Z39 Event TT200801_387-02
Catch [details]
49
2252
2008-12-25 03:18
-44.3891
147.2729
2040
Area Z39 Event TT200801_387-03
Catch [details]
50
2252
2008-12-25 04:39
-44.3891
147.2713
2004
Area Z39 Event TT200801_387-04
Catch [details]
51
2252
2008-12-25 06:46
-44.3853
147.2629
1939
Area Z39? Event TT200801_387-05
Catch [details]
52
2252
2008-12-25 07:00
-44.3845
147.2616
1921
Area Z39? Event TT200801_387-06
Catch [details]
53
2252
2008-12-25 07:48
-44.3832
147.2515
1893
Area Z39? Event TT200801_387-08
Catch [details]
54
2252
2008-12-25 08:13
-44.3831
147.2614
1886
Area Z39? Event TT200801_387-09
Catch [details]
55
2252
2008-12-25 11:33
-44.3839
147.2636
1888
Area Z40 Event TT200801_387-10
Catch [details]
56
2252
2008-12-25 12:53
-44.3833
147.2622
1898
Area Z40 Event TT200801_387-11
Catch [details]
57
2252
2008-12-25 19:50
-44.3823
147.2633
1776
Area Z40 Event TT200801_387-12
Catch [details]
58
2252
2008-12-25 20:30
-44.3827
147.2638
1791
Area Z40 Event TT200801_387-13a
Catch [details]
59
2252
2008-12-25 22:28
-44.3827
147.2633
1791
Area Z40 Event TT200801_387-13b
Catch [details]
60
2252
2008-12-25 23:45
-44.3827
147.2638
1794
Area Z40? Event TT200801_387-14
Catch [details]
61
2252
2008-12-26 03:31
-44.3874
147.2572
1701
Area Z40? Event TT200801_387-16
Catch [details]
62
2252
2008-12-26 11:48
-44.3880
147.2578
1680
Area Z39 Event TT200801_387-20
Catch [details]
63
2252
2008-12-26 14:17
-44.3880
147.2563
1636
Area Z39 Event TT200801_387-21
Catch [details]
64
2252
2008-12-26 15:07
-44.3882
147.2558
1616
Area Z39 Event TT200801_387-22
Catch [details]
65
2252
2008-12-26 16:35
-44.3887
147.2558
1599
Area Z39 Event TT200801_387-23
Catch [details]
66
2252
2008-12-25 22:07
-44.3904
147.2536
1502
Area Z39 Event TT200801_387-24
Catch [details]
67
2252
2008-12-26 23:30
-44.3904
147.2523
1448
Area Z39 Event TT200801_387-25
Catch [details]
68
2252
2008-12-26 23:57
-44.3905
147.2520
1438
Area Z39 Event TT200801_387-26
Catch [details]
69
2252
2008-12-27 00:12
-44.3906
147.2518
1439
Area Z39 Event TT200801_387-27
Catch [details]
70
2252
2008-12-27 06:15
-44.3882
147.2575
1758
Area Z39 Event TT200801_387-17-19
Catch [details]
71
2252
2008-12-27 00:00
-44.3906
147.2515
-44.3823
147.2730
3040
Area Z39 or Z40 Event TT200801_387-Biobox 2 washings
Catch [details]
72
2252
2008-12-27 00:00
-44.3906
147.2515
-44.3823
147.2730
1636
Area Z39 Event TT200801_387-Biobox 3 washings
Catch [details]
73
2252
2008-12-27 00:00
-44.3906
147.2515
-44.3823
147.2730
1886
Area Z39 or Z40 Event TT200801_387-Slurp Flush
Catch [details]
74
2252
2008-12-27 00:00
-44.3906
147.2515
-44.3823
147.2730
Area Z39 or Z40 Event TT200801_387-Unknown
Catch [details]
75
2252
2008-12-31 00:38
-41.2431
148.7594
1018
Area St. Helens Event TT200801_388-01
Catch [details]
76
2252
2008-12-31 01:58
-41.2417
148.7593
958
Area St. Helens Event TT200801_388-02
Catch [details]
77
2252
2008-12-31 02:49
-41.2409
148.7580
913
Area St. Helens Event TT200801_388-03
Catch [details]
78
2252
2008-12-31 03:30
-41.2385
148.8188
1428
Area Hill offshore of St. Helens Event TT200801_389-01
Catch [details]
79
2252
2008-12-31 05:18
-41.2397
148.8206
1356
Area Hill offshore of St. Helens Event TT200801_389-02
Catch [details]
80
2252
2008-12-31 05:54
-41.2399
148.8210
1325
Area Hill offshore of St. Helens Event TT200801_389-03
Catch [details]
81
2252
2008-12-31 07:32
-41.2389
148.8206
1374
Area Hill offshore of St. Helens Event TT200801_389-04a
Catch [details]
82
2252
2008-12-31 08:09
-41.2389
148.8206
1373
Area Hill offshore of St. Helens Event TT200801_389-04b
Catch [details]
83
2252
2008-12-31 08:38
-41.2391
148.8214
1325
Area Hill offshore of St. Helens Event TT200801_389-05
Catch [details]
84
2252
2008-12-31 09:05
-41.2391
148.8216
1309
Area Hill offshore of St. Helens Event TT200801_389-06
Catch [details]
85
2252
2008-12-31 09:30
-41.2393
148.8218
1296
Area Hill offshore of St. Helens Event TT200801_389-07
Catch [details]
86
2252
2008-12-31 09:42
-41.2395
148.8221
1286
Area Hill offshore of St. Helens Event TT200801_389-08
Catch [details]
87
2252
2008-12-31 10:18
-41.2403
148.8225
1266
Area Hill offshore of St. Helens Event TT200801_389-09
Catch [details]
88
2252
2008-12-31 10:24
-41.2405
148.8227
1261
Area Hill offshore of St. Helens Event TT200801_389-10
Catch [details]
89
2252
2008-12-31 10:36
-41.2408
148.8228
1254
Area Hill offshore of St. Helens Event TT200801_389-11
Catch [details]
90
2252
2008-12-31 11:04
-41.2428
148.8228
1254
Area Hill offshore of St. Helens Event TT200801_389-12
Catch [details]
91
2252
2008-12-31 11:33
-41.2432
148.8239
1212
Area Hill offshore of St. Helens Event TT200801_389-13
Catch [details]
92
2252
2008-12-31 00:00
-41.2432
148.8188
-41.2385
148.8239
1356
Area Hill offshore of St. Helens Event TT200801_389-Biobox 2 washings
Catch [details]
93
2252
2008-12-31 00:00
-41.2432
148.8188
-41.2385
148.8239
1286
Area Hill offshore of St. Helens Event TT200801_389-Biobox 4 washings
Catch [details]
94
2252
2008-12-31 00:00
-41.2432
148.8188
-41.2385
148.8239
1356
Area Hill offshore of St. Helens Event TT200801_389-Slurp Flush
Catch [details]
95
2252
2009-01-03 07:13
-43.8026
150.3028
2508
Area Cascade Plateau Event TT200801_390-01
Catch [details]
96
2252
2009-01-03 08:15
-43.8030
150.3211
2395
Area Cascade Plateau Event TT200801_390-02
Catch [details]
97
2252
2009-01-03 11:45
-43.8060
150.3220
2279
Area Cascade Plateau Event TT200801_390-04
Catch [details]
98
2252
2009-01-03 15:48
-43.8068
150.3378
2173
Area Cascade Plateau Event TT200801_390-05
Catch [details]
99
2252
2009-01-03 16:15
-43.8068
150.3379
2170
Area Cascade Plateau Event TT200801_390-06
Catch [details]
100
2252
2009-01-03 17:25
-43.8069
150.3395
2105
Area Cascade Plateau Event TT200801_390-07
Catch [details]
101
2252
2009-01-03 17:43
-43.8070
150.3401
2082
Area Cascade Plateau Event TT200801_390-08
Catch [details]
102
2252
2009-01-03 18:28
-43.8077
150.3416
2009
Area Cascade Plateau Event TT200801_390-09
Catch [details]
103
2252
2009-01-04 00:37
-43.8237
150.4268
1310
Area Cascade Plateau Event TT200801_390-11
Catch [details]
104
2252
2009-01-04 03:40
-43.8270
150.4324
1119
Area Cascade Plateau Event TT200801_390-12
Catch [details]
105
2252
2009-01-04 04:48
-43.8274
150.4325
1089
Area Cascade Plateau Event TT200801_390-13
Catch [details]
106
2252
2009-01-04 05:31
-43.8278
150.4327
1061
Area Cascade Plateau Event TT200801_390-14
Catch [details]
107
2252
2009-01-04 06:07
-43.8284
150.4333
1014
Area Cascade Plateau Event TT200801_390-15a
Catch [details]
108
2252
2009-01-04 06:25
-43.8284
150.5000
1061
Area Cascade Plateau Event TT200801_390-15
Catch [details]
109
2252
2009-01-04 08:15
-43.8307
150.4339
968
Area Cascade Plateau Event TT200801_390-16
Catch [details]
110
2252
2009-01-04 09:24
-43.8307
150.4339
969
Area Cascade Plateau Event TT200801_390-17
Catch [details]
111
2252
2009-01-04 10:54
-43.8290
150.4351
1036
Area Cascade Plateau Event TT200801_390-18
Catch [details]
112
2252
2009-01-04 00:00
-43.8307
150.3028
-43.8026
150.5000
1119
Area Cascade Plateau Event TT200801_390-Biobox 1 washings (stn 13?)
Catch [details]
113
2252
2009-01-04 00:00
-43.8307
150.3028
-43.8026
150.5000
2508
Area Cascade Plateau Event TT200801_390-Biobox 2 washings
Catch [details]
114
2252
2009-01-04 00:00
-43.8307
150.3028
-43.8026
150.5000
2173
Area Cascade Plateau Event TT200801_390-Biobox 4 washings
Catch [details]
115
2252
2009-01-04 00:00
-43.8307
150.3028
-43.8026
150.5000
2082
Area Cascade Plateau Event TT200801_390-Slurp Flush Stn 8?
Catch [details]
116
2252
2009-01-08 15:21
-45.3762
144.5740
4011
Area Tasman Fracture Zone Event TT200801_391-01
Catch [details]
117
2252
2009-01-08 16:07
-45.3760
144.5754
3950
Area Tasman Fracture Zone Event TT200801_391-02
Catch [details]
118
2252
2009-01-08 17:12
-45.3759
144.5801
3719
Area Tasman Fracture Zone Event TT200801_391-03
Catch [details]
119
2252
2009-01-08 18:01
-45.3758
144.5837
3589
Area Tasman Fracture Zone Event TT200801_391-04
Catch [details]
120
2252
2009-01-08 19:07
-45.3734
144.5878
3402
Area Tasman Fracture Zone Event TT200801_391-07
Catch [details]
121
2252
2009-01-08 21:12
-45.3740
144.5905
3333
Area Tasman Fracture Zone Event TT200801_391-09
Catch [details]
122
2252
2009-01-08 21:33
-45.3742
144.5916
3316
Area Tasman Fracture Zone Event TT200801_391-10
Catch [details]
123
2252
2009-01-08 22:05
-45.3742
144.5929
3271
Area Tasman Fracture Zone Event TT200801_391-11
Catch [details]
124
2252
2009-01-08 22:15
-45.3742
144.5936
3256
Area Tasman Fracture Zone Event TT200801_391-12
Catch [details]
125
2252
2009-01-08 22:33
-45.3742
144.5942
3231
Area Tasman Fracture Zone Event TT200801_391-13
Catch [details]
126
2252
2009-01-08 23:59
-45.3703
144.5994
3065
Area Tasman Fracture Zone Event TT200801_391-15
Catch [details]
127
2252
2009-01-09 00:55
-45.3692
144.5000
2861
Area Tasman Fracture Zone Event TT200801_391-16
Catch [details]
128
2252
2009-01-09 01:08
-45.3693
144.6031
2814
Area Tasman Fracture Zone Event TT200801_391-17
Catch [details]
129
2252
2009-01-09 02:08
-45.3697
144.6031
2727
Area Tasman Fracture Zone Event TT200801_391-18
Catch [details]
130
2252
2009-01-09 02:59
-45.3702
144.6055
2709
Area Tasman Fracture Zone Event TT200801_391-19
Catch [details]
131
2252
2009-01-09 04:11
-45.3673
144.6090
2632
Area Tasman Fracture Zone Event TT200801_391-20
Catch [details]
132
2252
2009-01-09 05:01
-45.3655
144.6116
2559
Area Tasman Fracture Zone Event TT200801_391-21
Catch [details]
133
2252
2009-01-09 05:30
-45.3651
144.6117
2517
Area Tasman Fracture Zone Event TT200801_391-22
Catch [details]
134
2252
2009-01-09 06:16
-45.3661
144.6162
2459
Area Tasman Fracture Zone Event TT200801_391-23
Catch [details]
135
2252
2009-01-09 07:45
-45.3656
144.6225
2378
Area Tasman Fracture Zone Event TT200801_391-24
Catch [details]
136
2252
2009-01-09 09:30
-45.3663
144.6246
2386
Area Tasman Fracture Zone Event TT200801_391-25
Catch [details]
137
2252
2009-01-09 00:00
-45.3762
144.5000
-45.3651
144.6246
4011
Area Tasman Fracture Zone Event TT200801_391-Biobox 2 washings
Catch [details]
138
2252
2009-01-09 00:00
-45.3762
144.5000
-45.3651
144.6246
3402
Area Tasman Fracture Zone Event TT200801_391-Slurp Flush
Catch [details]
139
2252
2009-01-09 00:00
-45.3762
144.5000
-45.3651
144.6246
Area Tasman Fracture Zone Event TT200801_391-Unknown Loc
Catch [details]
140
2252
2009-01-10 01:07
-45.2958
146.1056
2898
Area Tasman Fracture Zone Event TT200801_392-01
Catch [details]
141
2252
2009-01-10 03:47
-45.2943
146.1098
2693
Area Tasman Fracture Zone Event TT200801_392-03
Catch [details]
142
2252
2009-01-10 04:15
-45.2947
146.1104
2613
Area Tasman Fracture Zone Event TT200801_392-04
Catch [details]
143
2252
2009-01-10 05:06
-45.2954
146.1121
2573
Area Tasman Fracture Zone Event TT200801_392-05
Catch [details]
144
2252
2009-01-10 07:48
-45.2948
146.1144
2423
Area Tasman Fracture Zone Event TT200801_392-06
Catch [details]
145
2252
2009-01-10 11:20
-45.2972
146.1175
2341
Area Tasman Fracture Zone Event TT200801_392-07
Catch [details]
146
2252
2009-01-10 14:09
-45.3004
146.1205
2225
Area Tasman Fracture Zone Event TT200801_392-08
Catch [details]
147
2252
2009-01-10 15:47
-45.3004
146.1205
2217
Area Tasman Fracture Zone Event TT200801_392-10
Catch [details]
148
2252
2009-01-10 15:53
-45.3004
146.1205
2213
Area Tasman Fracture Zone Event TT200801_392-11
Catch [details]
149
2252
2009-01-10 15:57
-45.3004
146.1205
2213
Area Tasman Fracture Zone Event TT200801_392-12
Catch [details]
150
2252
2009-01-11 18:51
-45.1369
145.9776
1816
Area Tasman Fracture Zone Event TT200801_393-02a
Catch [details]
151
2252
2009-01-11 19:45
-45.1369
145.9776
1813
Area Tasman Fracture Zone Event TT200801_393-02b
Catch [details]
152
2252
2009-01-11 20:23
-45.1370
145.9777
1801
Area Tasman Fracture Zone Event TT200801_393-03
Catch [details]
153
2252
2009-01-11 22:18
-45.1398
145.9803
1695
Area Tasman Fracture Zone Event TT200801_393-04
Catch [details]
154
2252
2009-01-12 01:24
-45.1426
145.9839
1657
Area Tasman Fracture Zone Event TT200801_393-06
Catch [details]
155
2252
2009-01-12 02:07
-45.1428
145.9840
1645
Area Tasman Fracture Zone Event TT200801_393-07
Catch [details]
156
2252
2009-01-12 02:45
-45.1428
145.8174
1629
Area Tasman Fracture Zone Event TT200801_393-08
Catch [details]
157
2252
2009-01-12 02:56
-45.0931
145.9848
1610
Area Tasman Fracture Zone Event TT200801_393-09
Catch [details]
158
2252
2009-01-12 04:20
-45.1445
145.9928
1516
Area Tasman Fracture Zone Event TT200801_393-10
Catch [details]
159
2252
2009-01-12 04:37
-45.1443
145.9898
1518
Area Tasman Fracture Zone Event TT200801_393-11
Catch [details]
160
2252
2009-01-12 06:49
-45.1392
145.9984
1483
Area Tasman Fracture Zone Event TT200801_393-12
Catch [details]
161
2252
2009-01-12 07:30
-45.1380
145.9977
1442
Area Tasman Fracture Zone Event TT200801_393-13
Catch [details]
162
2252
2009-01-12 08:27
-45.1380
145.9978
1439
Area Tasman Fracture Zone Event TT200801_393-14
Catch [details]
163
2252
2009-01-12 09:04
-45.1373
145.9981
1410
Area Tasman Fracture Zone Event TT200801_393-15
Catch [details]
164
2252
2009-01-12 09:18
-45.1377
145.9979
1434
Area Tasman Fracture Zone Event TT200801_393-16
Catch [details]
165
2252
2009-01-12 09:37
-45.1379
145.9981
1435
Area Tasman Fracture Zone Event TT200801_393-17
Catch [details]
166
2252
2009-01-12 00:00
-45.1445
145.8174
-45.0931
145.9984
1801
Area Tasman Fracture Zone Event TT200801_393-Biobox 4
Catch [details]
167
2252
2009-01-13 12:06
-44.3136
147.4465
2193
Area Hill Z8X Event TT200801_395-01
Catch [details]
168
2252
2009-01-13 14:54
-44.3127
147.4461
2139
Area Hill Z8X Event TT200801_395-02
Catch [details]
169
2252
2009-01-13 15:30
-44.3129
147.4461
2090
Area Hill Z8X Event TT200801_395-03
Catch [details]
170
2252
2009-01-13 18:30
-44.3076
147.4522
1947
Area Hill Z8X Event TT200801_395-05
Catch [details]
171
2252
2009-01-13 23:45
-44.2960
147.3951
1585
Area K1 Event TT200801_395-06
Catch [details]
172
2252
2009-01-14 00:17
-44.2962
147.3946
1557
Area K1 Event TT200801_395-08
Catch [details]
173
2252
2009-01-14 00:57
-44.2967
146.3937
1500
Area K1 Event TT200801_395-09
Catch [details]
174
2252
2009-01-14 01:34
-44.2967
147.3930
1454
Area K1 Event TT200801_395-10
Catch [details]
175
2252
2009-01-14 02:08
-44.2968
147.3929
1454
Area K1 Event TT200801_395-11
Catch [details]
176
2252
2009-01-14 02:20
-44.2968
147.3929
1452
Area K1 Event TT200801_395-12
Catch [details]
177
2252
2009-01-14 03:06
-44.2965
147.3925
1436
Area K1 Event TT200801_395-13
Catch [details]
178
2252
2009-01-14 03:54
-44.2959
147.3916
1430
Area K1 Event TT200801_395-15
Catch [details]
179
2252
2009-01-14 05:00
-44.2950
147.3904
1391
Area K1 Event TT200801_395-16
Catch [details]
180
2252
2009-01-14 05:55
-44.2934
147.3890
1345
Area K1 Event TT200801_395-17
Catch [details]
181
2252
2009-01-14 08:01
-44.2929
147.3870
1238
Area K1 Event TT200801_395-18