Trade exhibits
The Exhibition Foyer at Wrest Point Hotel and Convention Centre provides an ideal location for exhibits. Morning and afternoon teas and lunches will be served in this area which is also adjacent to the plenary theatre, poster room, registration desk and speaker preparation room.
Companies and organisations exhibiting at Bio-logging 4 will enjoy exclusive access to all participants at the conference. Exhibiting at Bio-logging 4 will provide you with exposure to an influential regional and global audience. Bio-logging participants represent a wide range of employment sectors and roles (including decision makers, scientists, students and community members).
Bio-logging 4 will provide an important venue for companies and organisations to directly distribute information, promote products and develop company loyalty. At the same time, exhibiting at Bio-logging 4 will increase the educational value of the conference for participants.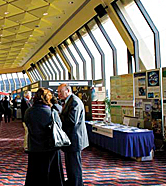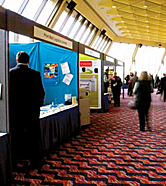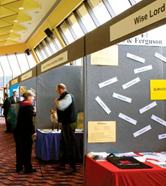 Information on how your company can exhibit
Information on trade exhibit packages including costs can be found here
Companies exhibiting at Bio-logging 4
| | |
| --- | --- |
| | |
| www.cls.fr; www.argos-system.org | www.cefastechnology.co.uk |
| | |
| www.desertstar.com | |
| | |
| | www.lotek.com |
| | |
| www.sirtrack.com | |
| | |
| www.technosmart.eu | |