Please login if you have access to particular applications.
Catch Data - from CSIRO surveys.
CAAB Code:
37 382901 [taxon report]
Scientific Name
and Authority:
Sphyraena spp.
CAAB category:
37 - Pisces
Standard Name (AS5300):
STRIPED SEAPIKES
Distribution map:
View detailed map or click on map to see same.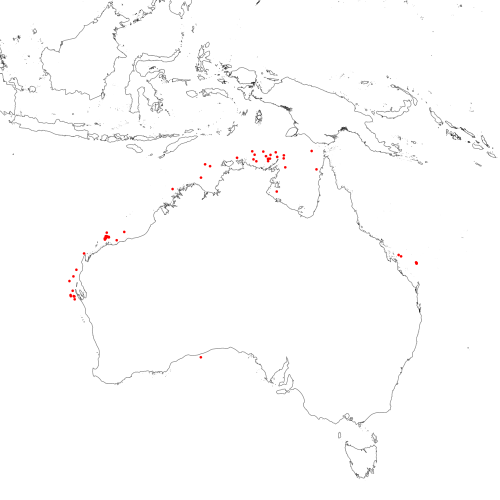 Occurrence locations [55] shown as red circles - View CSIRO Catch records
Catch records - 55 records found.
Click on survey to see survey details. Click on Operation to see full details of the catch. Use the CSV button at the bottom to export data.
Date (UTC)
Position
Survey
Operation
Depth
Range (m)
Count
Weight (kg)
Method
Effort
Gear
1965-05-07 00:00
25° 40.0' S 112° 38.0' E
BERG196503
656
130 to 130
20
Trawl
30 minutes
1967-02-26 00:00
19° 17.1' S 118° 41.1' E
LIRA196702
39
74 to 80
2
Trawl
60 minutes
1967-02-28 00:00
20° 12.1' S 117° 48.1' E
LIRA196702
51
26 to 28
1
Trawl
60 minutes
1967-03-02 00:00
19° 53.1' S 116° 53.1' E
LIRA196702
56
64 to 65
1
Trawl
60 minutes
1967-03-02 00:00
19° 50.0' S 116° 52.0' E
LIRA196702
57
58 to 64
3
Trawl
60 minutes
1967-03-03 00:00
19° 54.0' S 116° 36.0' E
LIRA196702
70
4
Trawl
1967-03-03 00:00
20° 00.0' S 116° 24.0' E
LIRA196702
75
3
Trawl
1967-03-03 00:00
19° 51.1' S 116° 36.1' E
LIRA196702
73
60 to 61
300
Trawl
60 minutes
1967-03-04 00:00
20° 08.0' S 116° 25.1' E
LIRA196702
77
50 to 50
1
Trawl
60 minutes
1967-03-05 00:00
19° 46.1' S 116° 32.0' E
LIRA196702
94
58 to 62
20
Trawl
60 minutes
1967-03-05 00:00
19° 47.0' S 116° 36.2' E
LIRA196702
97
58 to 61
8
Trawl
60 minutes
1967-03-05 00:00
19° 46.1' S 116° 32.0' E
LIRA196702
93
56 to 60
20
Trawl
60 minutes
1967-03-05 00:00
19° 45.0' S 116° 34.2' E
LIRA196702
96
56 to 56
17
Trawl
60 minutes
1967-03-06 00:00
20° 00.0' S 116° 30.0' E
LIRA196702
99
8
Trawl
1967-05-28 00:00
11° 02.1' S 135° 35.0' E
BERG196705
11
46 to 49
4
Trawl
60 minutes
1967-05-28 00:00
10° 59.1' S 135° 48.0' E
BERG196705
12
50 to 50
35
Trawl
90 minutes
1967-05-28 00:00
10° 42.0' S 135° 20.1' E
BERG196705
10
50 to 50
11
Trawl
60 minutes
1967-05-29 00:00
10° 57.1' S 137° 25.1' E
BERG196705
14
54 to 54
2
Trawl
60 minutes
1967-06-06 00:00
11° 51.0' S 128° 46.0' E
BERG196705
68
66 to 69
10
Trawl
60 minutes
1967-06-17 00:00
19° 48.1' S 116° 41.0' E
BERG196705
158
60 to 65
2
Trawl
60 minutes
1968-06-04 00:00
10° 53.1' S 131° 56.1' E
LIRA196806
1
42 to 44
3
Trawl
60 minutes
1968-06-05 00:00
10° 08.1' S 133° 43.1' E
LIRA196806
3
75 to 75
10
Trawl
60 minutes
1968-06-05 00:00
10° 10.2' S 135° 01.0' E
LIRA196806
6
59 to 59
20
Trawl
60 minutes
1968-06-06 00:00
10° 15.0' S 136° 29.0' E
LIRA196806
9
65 to 65
4
Trawl
60 minutes
1968-06-17 00:00
21° 58.1' S 151° 12.1' E
LIRA196806
29
67 to 69
5
Trawl
60 minutes
1968-06-17 00:00
21° 49.0' S 150° 55.0' E
LIRA196806
30
60 to 65
3
Trawl
60 minutes
1968-10-13 00:00
14° 45.0' S 136° 36.0' E
LIRA196806
454
30 to 31
1
Trawl
60 minutes
1971-03-06 00:00
26° 16.1' S 112° 50.1' E
ALBA197103
7
133 to 134
12
Trawl
60 minutes
1971-03-06 00:00
26° 14.0' S 112° 45.1' E
ALBA197103
6
132 to 132
150
Trawl
60 minutes
1971-03-15 00:00
32° 29.1' S 127° 41.1' E
ALBA197103
26
39 to 42
2
Trawl
60 minutes
1971-08-12 00:00
26° 14.1' S 112° 25.0' E
POSE197107
267
197 to 210
100
Trawl
60 minutes
1971-08-12 00:00
26° 07.0' S 112° 23.0' E
POSE197107
268
178 to 180
Trawl
60 minutes
1971-08-13 00:00
24° 08.0' S 112° 43.0' E
POSE197107
274
145 to 157
Trawl
60 minutes
1971-08-13 00:00
24° 38.0' S 112° 15.0' E
POSE197107
269
208 to 217
200
Trawl
60 minutes
1972-11-04 00:00
13° 10.0' S 127° 42.0' E
RADU197206
326
65 to 80
1
Trawl
37 minutes
1972-11-10 00:00
10° 32.0' S 134° 00.0' E
RADU197206
336
60 to 60
2
Trawl
60 minutes
1972-11-11 00:00
10° 33.1' S 135° 52.1' E
RADU197206
339
54 to 55
7
Trawl
60 minutes
1972-11-14 00:00
11° 59.0' S 137° 36.0' E
RADU197206
349
52 to 52
5
Trawl
60 minutes
1972-11-22 00:00
12° 13.0' S 141° 16.0' E
RADU197206
376
40 to 41
3
Trawl
60 minutes
1972-11-23 00:00
10° 06.1' S 140° 42.1' E
RADU197206
379
34 to 36
2
Trawl
60 minutes
1972-11-24 00:00
10° 47.0' S 136° 39.0' E
RADU197206
384
48 to 52
18
Trawl
60 minutes
1972-11-24 00:00
10° 36.0' S 137° 26.1' E
RADU197206
383
52 to 52
3
Trawl
60 minutes
1972-11-25 00:00
11° 16.1' S 135° 35.1' E
RADU197206
390
38 to 40
4
Trawl
60 minutes
1972-11-25 00:00
11° 00.0' S 135° 35.1' E
RADU197206
389
48 to 50
13
Trawl
60 minutes
1972-11-26 00:00
11° 17.1' S 134° 12.1' E
RADU197206
396
44 to 44
12
Trawl
60 minutes
1972-11-26 00:00
11° 04.0' S 133° 52.0' E
RADU197206
397
48 to 52
9
Trawl
60 minutes
1972-11-28 00:00
11° 38.0' S 128° 11.0' E
RADU197206
402
38 to 64
7
Trawl
60 minutes
1972-11-30 00:00
14° 28.0' S 124° 22.1' E
RADU197206
409
82 to 82
3
Trawl
60 minutes
1973-03-23 00:00
26° 34.0' S 112° 52.0' E
P-DER197210
354
140 to 145
20
Trawl
60 minutes
1973-03-26 00:00
19° 22.0' S 116° 38.1' E
P-DER197210
355
130 to 132
10
Trawl
54 minutes
1975-06-11 00:00
22° 37.0' S 152° 58.0' E
BACA197506
9
130 to 130
4300
430
Trawl
60 minutes
1975-06-11 00:00
22° 45.0' S 153° 01.0' E
BACA197506
8
170 to 175
10
2
Trawl
80 minutes
1975-06-11 00:00
22° 43.0' S 153° 02.0' E
BACA197506
7
180 to 180
10
1
Trawl
80 minutes
1991-01-24 11:00
21° 39.3' S 113° 58.2' E
SS199101
7
209 to 215
1
0.14
Trawl
30 minutes
1991-01-26 08:25
23° 25.4' S 113° 03.9' E
SS199101
17
300 to 302
1
0.24
Trawl
34 minutes