Please login if you have access to particular applications.
Catch Data - from CSIRO surveys.
CAAB Code:
37 122022 [taxon report]
Scientific Name
and Authority:
Notoscopelus resplendens (Richardson, 1845)
CAAB category:
37 - Pisces
Standard Name (AS5300):
Patchwork Lanternfish
Distribution map:
View detailed map or click on map to see same.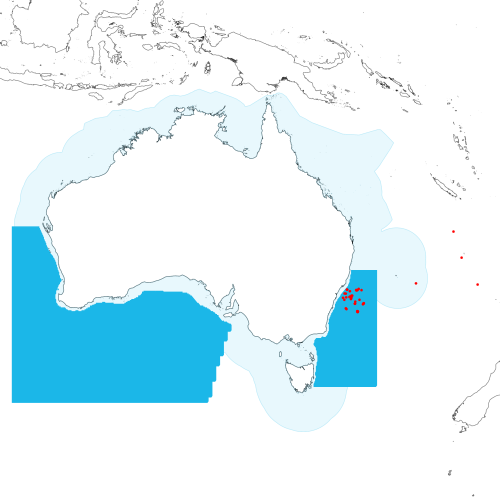 Modelled distribution shown as blue polygon (source: Australian National Fish Expert Distributions) Updated on 2009-01-06.
Occurrence locations [37] shown as red circles - View CSIRO Catch records
Get expert distribution shapefile
Catch records - 37 records found.
Click on survey to see survey details. Click on Operation to see full details of the catch. Use the CSV button at the bottom to export data.
Date (UTC)
Position
Survey
Operation
Depth
Range (m)
Count
Weight (kg)
Method
Effort
Gear
1979-08-24 10:35
33° 06.0' S 152° 41.0' E
SP197909
12
65 to 112
1
Stern Trawl
100 minutes
1979-08-24 11:50
33° 06.0' S 152° 40.0' E
SP197909
13
220 to 310
1
Stern Trawl
100 minutes
1979-09-20 21:10
33° 11.0' S 153° 55.0' E
SP197910
2
82 to 107
1
Stern Trawl
117 minutes
1979-09-20 22:30
33° 08.0' S 153° 52.0' E
SP197910
3
182 to 200
1
Stern Trawl
117 minutes
1979-09-21 20:55
33° 08.0' S 154° 03.0' E
SP197910
7
37 to 60
1
Stern Trawl
125 minutes
1979-09-23 03:40
33° 01.0' S 154° 12.0' E
SP197910
10
6
Stern Trawl
108 minutes
1979-09-24 19:57
33° 45.0' S 153° 21.0' E
SP197910
14
53 to 59
2
Stern Trawl
108 minutes
1979-09-24 22:53
33° 46.0' S 153° 15.0' E
SP197910
16
28 to 31
1
Stern Trawl
100 minutes
1979-09-25 23:00
34° 36.0' S 153° 43.0' E
SP197910
22
10 to 13
3
Stern Trawl
108 minutes
1979-09-26 03:15
33° 59.0' S 153° 14.0' E
SP197910
18
198 to 232
1
Stern Trawl
108 minutes
1979-09-26 18:30
34° 24.0' S 153° 45.0' E
SP197910
25
0 to 0
3
Stern Trawl
108 minutes
1979-09-27 00:30
34° 38.0' S 153° 42.0' E
SP197910
23
79 to 110
7
Stern Trawl
117 minutes
1979-09-28 18:55
33° 09.0' S 154° 34.0' E
SP197910
26
0 to 0
1
Stern Trawl
192 minutes
1979-10-01 02:10
33° 16.0' S 153° 03.0' E
SP197910
32
186 to 242
1
Stern Trawl
108 minutes
1979-10-01 20:00
33° 32.0' S 152° 31.0' E
SP197910
41
209 to 219
2
Stern Trawl
100 minutes
1979-10-02 03:20
33° 31.0' S 152° 21.0' E
SP197910
39
176 to 231
1
Stern Trawl
100 minutes
1979-10-15 19:15
33° 56.0' S 152° 34.0' E
SP197911
1
11 to 22
6
Stern Trawl
100 minutes
1979-10-17 01:07
33° 59.0' S 152° 09.0' E
SP197911
3
248 to 300
1
Stern Trawl
100 minutes
1979-10-17 20:20
35° 27.0' S 154° 06.0' E
SP197911
6
1
Stern Trawl
100 minutes
1979-10-17 22:20
35° 29.0' S 154° 04.0' E
SP197911
7
104 to 115
1
Stern Trawl
100 minutes
1979-10-17 23:55
35° 31.0' S 154° 03.0' E
SP197911
8
96 to 100
4
Stern Trawl
100 minutes
1979-10-19 02:30
35° 25.0' S 154° 00.0' E
SP197911
9
175 to 200
2
Stern Trawl
100 minutes
1979-10-22 19:30
33° 57.0' S 153° 12.0' E
SP197911
18
270 to 312
2
Stern Trawl
100 minutes
1979-10-23 02:35
34° 12.0' S 152° 19.0' E
SP197911
17
206 to 276
1
Stern Trawl
100 minutes
1979-10-23 22:30
33° 51.0' S 153° 05.0' E
SP197911
24
256 to 310
1
Stern Trawl
100 minutes
1979-10-24 01:02
34° 07.0' S 153° 11.0' E
SP197911
21
194 to 215
1
Stern Trawl
100 minutes
1979-10-25 02:05
33° 54.0' S 152° 59.0' E
SP197911
26
292 to 324
5
Stern Trawl
100 minutes
1979-10-27 00:00
34° 41.0' S 154° 45.0' E
SP197911
33
90 to 100
1
Stern Trawl
100 minutes
1979-10-27 01:30
34° 36.0' S 154° 50.0' E
SP197911
34
44 to 49
8
Stern Trawl
100 minutes
1979-10-27 03:05
34° 34.0' S 154° 52.0' E
SP197911
35
20 to 22
30
Stern Trawl
100 minutes
1979-10-28 03:25
34° 12.0' S 154° 18.0' E
SP197911
39
14 to 20
5
Stern Trawl
100 minutes
1980-02-07 21:10
35° 12.0' S 152° 36.0' E
SP198003
6
33 to 41
1
Stern Trawl
100 minutes
1980-02-08 23:15
35° 07.0' S 152° 31.0' E
SP198003
7
80 to 120
4
Stern Trawl
100 minutes
2003-05-12 07:18
32° 32.3' S 169° 43.6' E
TAN0308
10
3580 to 3610
4
0.03
Trawl
2003-05-14 15:50
29° 31.8' S 167° 38.1' E
TAN0308
23
1300 to 1880
1
0.001
Trawl
2003-05-18 04:35
26° 31.4' S 166° 34.4' E
TAN0308
45
3550 to 3588
3
0.01
Trawl
2003-05-24 10:14
32° 24.3' S 161° 40.6' E
TAN0308
76
1257 to 1288
1
0.01
Trawl