Please login if you have access to particular applications.
Catch Data - from CSIRO surveys.
CAAB Code:
28 815004 [taxon report]
Scientific Name
and Authority:
Polycheles enthrix (Bate, 1878)
CAAB category:
28 - Crustacea - Malacostraca

| | |
| --- | --- |
| Common Name: | [a polychelid lobster] |
Distribution map:
View detailed map or click on map to see same.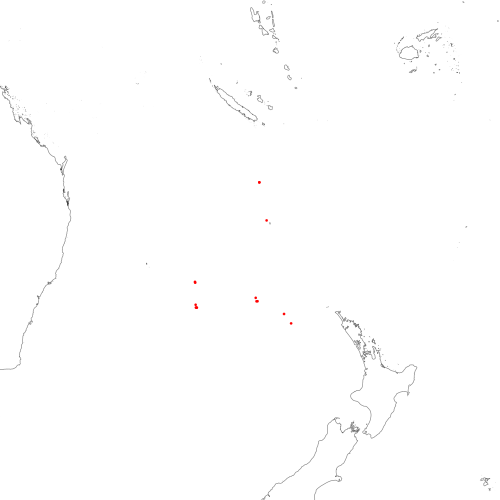 Occurrence locations [14] shown as red circles - View CSIRO Catch records
Catch records - 14 records found.
Click on survey to see survey details. Click on Operation to see full details of the catch. Use the CSV button at the bottom to export data.
Date (UTC)
Position
Survey
Operation
Depth
Range (m)
Count
Weight (kg)
Method
Effort
Gear
2003-05-15 11:45
28° 51.2' S 167° 42.5' E
TAN0308
29
690 to 812
1
0
Trawl
2003-05-17 06:55
26° 25.3' S 167° 11.3' E
TAN0308
40
714 to 742
1
Sled
2003-05-17 22:31
26° 25.9' S 167° 10.9' E
TAN0308
43
750 to 774
3
0
Trawl
2003-05-24 16:55
32° 39.3' S 162° 33.1' E
TAN0308
78
864 to 870
3
Trawl
2003-05-24 21:54
32° 42.5' S 162° 33.9' E
TAN0308
80
850 to 872
13
Trawl
2003-05-25 07:16
34° 02.0' S 162° 36.0' E
TAN0308
81
812 to 818
23
Trawl
2003-05-25 13:06
34° 12.4' S 162° 39.5' E
TAN0308
82
758 to 760
14
0
Trawl
2003-05-25 15:20
34° 11.8' S 162° 37.1' E
TAN0308
83
761 to 765
2
0
Trawl
2003-05-26 01:49
34° 12.2' S 162° 41.2' E
TAN0308
89
748 to 763
16
Trawl
2003-05-27 09:24
33° 49.5' S 166° 58.8' E
TAN0308
94
950 to 987
1
Trawl
2003-05-27 11:26
33° 49.2' S 167° 03.3' E
TAN0308
95
805 to 938
8
0
Trawl
2003-05-27 16:33
33° 37.1' S 166° 55.5' E
TAN0308
96
1017 to 1042
2
0
Trawl
2003-06-03 12:35
34° 34.8' S 168° 57.8' E
TAN0308
155
813 to 1000
1
Trawl
2003-06-04 00:28
35° 08.1' S 169° 28.4' E
TAN0308
159
870 to 871
1
Trawl