Please login if you have access to particular applications.
Catch Data - from CSIRO surveys.
CAAB Code:
11 185005 [taxon report]
Scientific Name
and Authority:
Dichotella gemmacea (Milne Edwards & Haime, 1857)
CAAB category:
11 - Cnidaria

| | |
| --- | --- |
| Common Name: | [an octocoral] |
Distribution map:
View detailed map or click on map to see same.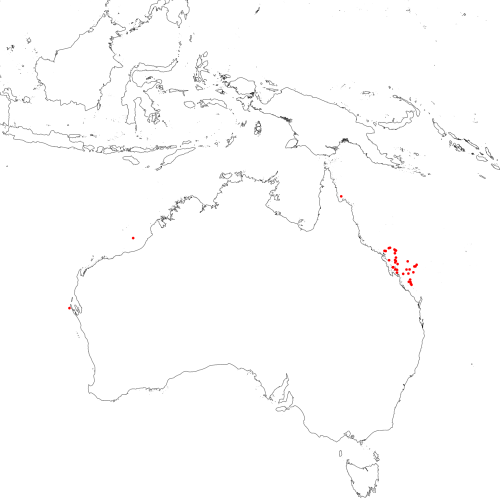 Occurrence locations [36] shown as red circles - View CSIRO Catch records
Catch records - 36 records found.
Click on survey to see survey details. Click on Operation to see full details of the catch. Use the CSV button at the bottom to export data.
Date (UTC)
Position
Survey
Operation
Depth
Range (m)
Count
Weight (kg)
Method
Effort
Gear
2004-04-21 19:07
23° 21.3' S 152° 03.3' E
GM200401
36
64 to 64
1
Prawn Trawl
2004-04-26 18:23
21° 36.3' S 150° 02.7' E
GM200401
65
32 to 32
1
Prawn Trawl
2004-04-26 19:09
21° 36.9' S 149° 59.1' E
GM200401
66
30 to 30
1
Prawn Trawl
2004-05-09 14:34
22° 10.5' S 150° 27.9' E
LB200401
58
35 to 35
1
Benthic Sled
2004-05-25 18:54
20° 58.5' S 151° 41.7' E
LB200401
182
66 to 66
1
Benthic Sled
2004-05-28 05:47
20° 34.5' S 150° 20.7' E
LB200401
197
44 to 44
1
Benthic Sled
2004-09-10 21:17
19° 33.3' S 149° 31.5' E
LB200402
15
73 to 73
1
Benthic Sled
2004-09-16 05:33
20° 06.3' S 150° 13.5' E
LB200402
37
77 to 77
1
Benthic Sled
2004-09-16 18:13
20° 50.1' S 150° 14.7' E
LB200402
43
55 to 55
1
Benthic Sled
2004-09-16 21:22
20° 56.7' S 150° 20.1' E
LB200402
45
43 to 43
1
Benthic Sled
2004-09-17 09:40
21° 15.9' S 150° 32.1' E
LB200402
50
59 to 59
1
Benthic Sled
2004-09-18 03:32
21° 51.3' S 151° 33.3' E
LB200402
58
85 to 85
1
Benthic Sled
2004-09-18 13:29
22° 18.9' S 151° 10.5' E
LB200402
64
58 to 58
1
Benthic Sled
2004-09-23 09:28
21° 50.1' S 150° 15.9' E
LB200402
111
37 to 37
1
Benthic Sled
2004-09-28 22:49
21° 05.7' S 150° 15.9' E
LB200402
140
59 to 59
1
Benthic Sled
2004-09-29 14:13
20° 51.3' S 149° 33.3' E
LB200402
148
44 to 44
2
Benthic Sled
2004-10-07 00:13
21° 50.7' S 151° 54.9' E
LB200402
227
66 to 66
1
Benthic Sled
2005-01-18 06:03
13° 51.3' S 144° 03.3' E
LB200501
35
53 to 53
2
Benthic Sled
2005-10-31 21:46
22° 17.1' S 151° 46.5' E
LB200502
26
81 to 81
1
Benthic Sled
2005-11-08 17:28
23° 09.3' S 151° 49.5' E
LB200502
94
54 to 54
1
Benthic Sled
2005-11-13 15:56
21° 53.1' S 150° 27.9' E
GM200501
9
48 to 48
1
Prawn Trawl
2005-11-15 01:06
22° 08.7' S 152° 20.7' E
LB200502
120
69 to 69
1
Benthic Sled
2005-11-18 09:10
23° 28.5' S 152° 08.1' E
GM200501
21
66 to 66
1
Prawn Trawl
2005-11-18 13:20
23° 11.1' S 152° 00.9' E
GM200501
22
67 to 67
1
Prawn Trawl
2005-11-19 15:40
22° 55.5' S 151° 58.5' E
GM200501
26
77 to 77
1
Prawn Trawl
2005-11-20 04:18
21° 31.5' S 152° 27.3' E
LB200502
158
62 to 62
2
Benthic Sled
2005-11-20 06:43
21° 30.9' S 152° 35.7' E
LB200502
159
75 to 75
1
Benthic Sled
2005-11-20 20:37
21° 20.7' S 152° 43.5' E
LB200502
164
95 to 95
1
Benthic Sled
2005-11-25 12:04
19° 48.9' S 150° 20.7' E
LB200502
185
73 to 73
1
Benthic Sled
2005-11-25 13:25
19° 48.9' S 150° 15.9' E
LB200502
186
70 to 70
1
Benthic Sled
2005-11-25 15:46
19° 42.3' S 150° 10.5' E
LB200502
188
72 to 72
1
Benthic Sled
2005-11-25 20:34
19° 30.9' S 149° 39.9' E
LB200502
190
61 to 61
1
Benthic Sled
2005-11-27 09:14
19° 51.9' S 149° 10.5' E
LB200502
198
63 to 63
1
Benthic Sled
2005-11-27 10:57
19° 50.7' S 149° 01.5' E
LB200502
199
72 to 72
1
Benthic Sled
2005-12-06 07:25
25° 54.5' S 112° 49.4' E
SS200510
112
100 to 100
1
0.027
Catch
2007-06-19 07:08
18° 27.6' S 120° 08.7' E
SS200705
82
80 to 81
6
0.017
Catch