Please login if you have access to particular applications.
Voyage details and related metadata, reports, events and data.
SS2013_T04 - is a Marine National Facility

voyage
Period: 2013-09-21 22:00 to 2013-10-02 23:00 UTC
Duration: 11.04 days
From: Brisbane To: Hobart
Region: East coast of Australia
Ship: Southern Surveyor [details]
Description: MNF Southern Surveyor research voyage SS2013_t04. Use the EM300 to search and survey HMAS Australia and HMAS Voyager. Scientific Objective: This work forms part of a wider study to investigate the site formation processes of deepwater shipwrecks. The debris field of the HMAS Australia wreck has never been adequately explored. This work will explore the extent of the debris field from the wreck, including the location of loose guns (rifled cannons) and funnels which were stored on deck, along with the location of the gun turrets which would have fallen out of their mounts during the sinking. These surveys will be the deepest survey of a wreck in NSW water and will provide baseline data for future potential research projects at the University of Sydney and internationally. When used in conjunction with other deepwater Australian shipwreck inspections (eg HMAS Sydney/ Kormoran and Centaur), the proposed survey will contribute further to the understanding of the site formation processes (ie how shipwreck sites form and deteriorate) and the physical decomposition processes of deep water wrecks. Scientific Objectives: The project aims to improve our understanding of the sources, sinks and background concentrations of key greenhouse gases in the Southern Hemisphere. a) Make continuous measurements of carbon dioxide, methane, nitrous oxide, carbon monoxide and ozone as the RV Southern Surveyor travels along the chosen transect; b) Assimilate measured data into a variety of atmospheric chemical transport, inverse and statistical models to improve our knowledge and understanding of atmospheric greenhouse gases and their sources and sinks.
Leader: B Duncan (Office of Environ and Heritage NSW)
Project: National Facility External Users: B. Duncan (Office of Env and Heritage NSW) [details]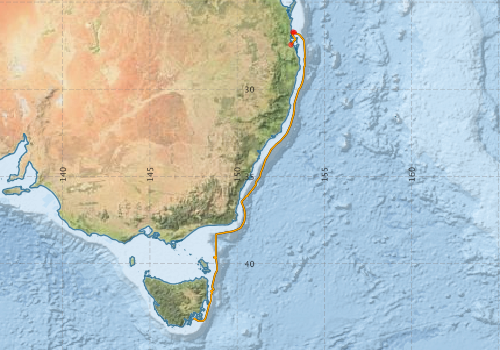 Voyage extents: 43° 17.5' S to 26° 42.4' S 147° 30.6' E to 153° 53.8' E
Get voyage track shapefile
Get CSV
Participants - on ship:- Click on column header to sort
| Name | Role | Organisation |
| --- | --- | --- |
| Dagmar Kubistin | PI, greenhouse gases | University of Wollongong |
| Jeff Cordell | MNF Electronics Support | CMAR |
| Pamela Brodie | MNF Computing Support | CMAR |
| Stuart Edwards | MNF Swath Support | CMAR |
| Tara Martin | Voyage Manager / MNF Swath Support | CMAR |
This list includes those that may have only been on part of the voyage. See voyage reports on 'Reports and Maps' tab for details.
MNF Reports
Publications from data derived from this voyage
Dataset
Bakker, Dorothee C E; Pfeil, Benjamin; Smith, Karl; Hankin, Steven; Olsen, Are; Alin, Simone R; Cosca, Catherine E; Harasawa, Sumiko; Kozyr, Alexander; Nojiri, Yukihiro; O'Brien, Kevin M; Schuster, Ute; Telszewski, Maciej; Tilbrook, Bronte; Wada, Chisato; Akl, John; Barbero, Leticia; Bates, Nicolas R; Boutin, Jacqueline; Bozec, Yann; Cai, Wei-Jun; Castle, Robert D; Chavez, Francisco P; Chen, Lei; Chierici, Melissa; Currie, Kim I; de Baar, Hein J W; Evans, Wiley; Feely, Richard A; Fransson, Agneta; Gao, Zhongyong; Hales, Burke; Hardman-Mountford, Nicolas J; Hoppema, Mario; Huang, Wei-Jen; Hunt, Christopher W; Huss, Betty; Ichikawa, Tadafumi; Johannessen, Truls; Jones, Elizabeth M; Jones, Steve D; Jutterstrøm, Sara; Kitidis, Vassilis; Körtzinger, Arne; Landschützer, Peter; Lauvset, Siv K; Lefèvre, Nathalie; Manke, Ansley; Mathis, Jeremy T; Merlivat, Liliane; Metzl, Nicolas; Murata, Akihiko; Newberger, Timothy; Omar, Abdirahman M; Ono, Tsuneo; Park, Geun-Ha; Paterson, Kristina; Pierrot, Denis; Ríos, Aida F; Sabine, Christopher L; Saito, Shu; Salisbury, Joe; Sarma, Vedula V S S; Schlitzer, Reiner; Sieger, Rainer; Skjelvan, Ingunn; Steinhoff, Tobias; Sullivan, Kevin; Sun, Heng; Sutton, Adrienne; Suzuki, Toru; Sweeney, Colm; Takahashi, Taro; Tjiputra, Jerry; Tsurushima, Nobuo; van Heuven, Steven; Vandemark, Doug; Vlahos, Penny; Wallace, Douglas WR; Wanninkhof, Rik; Watson, Andrew J (2014): Surface Ocean CO2 Atlas (SOCAT) V2. PANGAEA, 10.1594/PANGAEA.811776
Data publishing
This is a list of online datasets hosted by CSIRO. Other processed datasets hosted by collaborating organisations may be found on the 'Metadata' tab.
Use the Get data link on the right to extract data using the NCMI Data Trawler.
Data Stream
Data Summary
Get data
ADCP Data

| | |
| --- | --- |
| Time (UTC): | 2013-09-27 03:09 to 2013-10-01 00:10 |
| Latitude: | -39.35 to -26.75 |
| Longitude: | 148.78 to 153.90 |
| Ensembles: | 839 |
| Depth per cell: | 8 m |
| Cells per ensemble: | 80 |
| Ensemble period: | 300 sec |

Get Data from Trawler

Download NetCDF ss2013_t04_ADCP_nc.zip

Overview ADCP Dataset HTML

Download Processing Report ss2013_t04ADCP.pdf


Multibeam echosounder

| | |
| --- | --- |
| Time (UTC): | 2013-09-27 04:09 to 2013-10-02 19:10 |
| Latitude: | -43.29 to -26.72 |
| Longitude: | 147.50 to 153.89 |
| Datafiles: | 187 |
| Total size: | 3.12 Gb |

Get Data from Trawler


Underway

| | |
| --- | --- |
| Time (UTC): | 2013-09-26 21:09 to 2013-10-02 11:10 |
| Latitude: | -27.45 |
| Longitude: | 153.08 |
| Track length: | 2487.056 km |
| Locations: | 96,086 |
| Measurements: | 2,065,965 |

Get Data from Trawler

Download 5 sec NetCDF dataset ss2013_t04UWYnc.zip


Deployments by start time:- Click on column header to sort. Use link on 'Deployment' to see full details. Use the CSV button at the bottom to export data (tab delimited).
Search for deployments from this voyage and others
Deployment
Operation
Station
Cast
Gear
Project
Start and end times
Start Location
End Location
Depth
Description
ADCP Data [details]

RDI Ocean Surveyor Acoustic Doppler current profiler

2415
2013-09-27 03:58
2013-10-01 00:08
-26.7510
153.2728
-39.3488
148.7766
653
Multibeam echosounder [details]

EM300 Multibeam Echosounder

2013-09-27 04:31
2013-10-02 19:19
-26.7211
153.2019
-43.0949
147.4253
2938.1
Underway System [details]

Air Temperature Sensor-HMP230,Barometer,Doppler speed log,Fluorometer WS3S-443P,Gill Ultrasonic Wind Sensor,Gill Ultrasonic Wind Sensor,Humidity Sensor-HMP230,IMOS Port Pyranometer-SN 35122F3,IMOS Port Radiometer-SN 35111F3,IMOS Stbd Pyranometer-SN 35123F3,IMOS Stbd Radiometer-SN 35093F3,IMOS rain gauge,IMOS rain gauge,Licor - LI-190SL Q46072,RM Young 05106 wind monitor-75621,RM Young 05106 wind monitor-75621,RM Young 05106 wind monitor-75621,RM Young Rain Gauge,Seapath 200,Seapath 200,Seapath 200,Simrad EK60 echosounder,ThermoSalinoGraph (TSG)-SS-SN 1777,ThermoSalinoGraph (TSG)-SS-SN 1777

2415
2013-09-26 21:56
2013-10-02 11:24
-27.4464
153.0762
-43.1930
147.6028