Please login if you have access to particular applications.
Voyage details and related metadata, reports, events and data.
IN2019_E01 - is a Marine National Facility

voyage
Title: Calibration, Trials and Upcoming Voyage User Equipment Testing
Period: 2019-07-19 to 2019-08-02
From: Singapore To: Cairns
Region: Indian Ocean; Timor Sea; Arafura Sea; Coral Sea; Great Barrier Reef; Queensland coast northeast.
Ship: Investigator (RV) [details]
Description:
Project: Investigator - general vessel operations, gear trials, etc. [details] Primary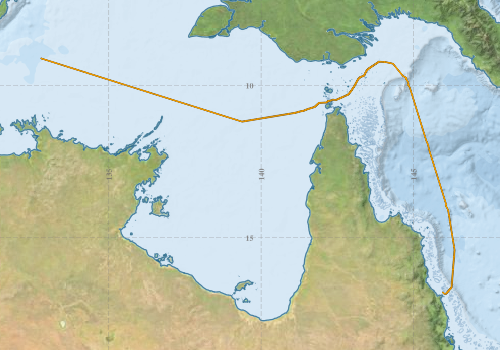 Voyage extents: 16° 50.6' S to 9° 07.0' S 132° 47.1' E to 146° 20.7' E
Get voyage track shapefile
Participants - on ship:- Click on column header to sort
| Name | Role | Organisation | Project |
| --- | --- | --- | --- |
| Jason Fazey | Voyage Manager | CSIRO MNF | Voyage Management on RV Investigator |
This list includes those that may have only been on part of the voyage. See voyage reports on 'Reports and Maps' tab for details.
Data publishing:- This is a list of online datasets. use the Get data link on the right to extract data using the NCMI Data Trawler.
Data Stream
Data Summary
Get data
XBT Profile

| | |
| --- | --- |
| Time (UTC): | 2019-07-27 11:07 to 2019-07-30 09:07 |
| Latitude: | -9.94 to -9.23 |
| Longitude: | 133.13 to 144.83 |
| Quantity: | 4 Casts |
| Max Pressure: | 1100.3 db |

Get Data from Trawler


ADCP Data

| | |
| --- | --- |
| Time (UTC): | 2019-07-27 20:07 to 2019-08-02 11:08 |
| Latitude: | -16.93 to -9.17 |
| Longitude: | 132.97 to 146.26 |
| Ensembles: | 1,763 |

Get Data from Trawler

in2019_e01_ADCP_Processing_Report.pdf

in2019_e01_os75nb_nc.zip

in2019_e01_os75nb_webpy.zip

in2019_e01_os150nb_nc.zip

in2019_e01_os150nb_webpy.zip


Singlebeam echosounder

| | |
| --- | --- |
| Time (UTC): | 2019-07-27 13:07 to 2019-08-02 23:08 |
| Latitude: | -16.84 to -9.22 |
| Longitude: | 133.24 to 146.34 |

Get Data from Trawler

Geophysical Survey and Mapping acquisition report


Multibeam echosounder

| | |
| --- | --- |
| Time (UTC): | to |
| Latitude: | 0.00 |
| Longitude: | 0.00 |
| Datafiles: | 215 |
| Total size: | 53.01 Gb |

Get Data from Trawler


Sub-bottom profiler

| | |
| --- | --- |
| Time (UTC): | 2019-07-27 13:07 to 2019-08-02 23:08 |
| Latitude: | -16.84 to -9.22 |
| Longitude: | 133.24 to 146.34 |

Get Data from Trawler

Geophysical Survey and Mapping data acquisition and processing report


Deployments by start time:- Click on column header to sort
Deployment
Operation
Project
Start and end times
Start Location
End Location
Depth
Description
ADCP Data [details]
2457
2019-07-27 20:25
2019-08-02 11:56
-9.1745
132.9656
-16.9258
145.7807
782
XBT Cast [details]
2391
2019-07-27 21:16
404.9
XBT Cast [details]
2391
2019-07-30 16:11
1100.3
XBT Cast [details]
2391
2019-07-30 16:19
1100.3
XBT Cast [details]
2391
2019-07-30 19:55
996.8