Please login if you have access to particular applications.
Voyage details and related metadata, reports, events and data.
IN2016_T03 - is a Marine National Facility

voyage
Voyage details on MNF site: https://mnf.csiro.au/en/Voyages/IN2016_T03
Period: 2016-11-18 to 2016-11-21
From: Brisbane To: Sydney
Region: Australia East Coast
Ship: Investigator (RV) [details]
Description: Dry dock activities at Garden Island. The Primary objective of IN2016_T03 is to transit the Investigator to Sydney for dry dock activities & deploy 1 x Argo float. During the transit the following activities will be ongoing (1) Multibeam maintenance - 1 x Konsberg technician on board; (2) CTD Shaft removal preparations - 1 x Rapp technician on board. (3) One Argo Float will be deployed during transit from Brisbane to Sydney The following list details the key activities planned for 2016_T03 (Refer to section 4.2 for a detailed activity schedule): * Confirm all demobilization work is complete whilst alongside in Brisbane; * Confirm wires have been spooled off from the 2 x CTD winches, and spooling equipment is loaded onboard; * Depart Port of Brisbane with pilot on board; * Clear port limits and disembark pilot; * Transit to Argo deployment location & deploy 1 x Argo float; * Transit to Garden Island.
Leader: Mark Scanlon (CSIRO)
Project: Investigator National Facility - transit voyage [details] Primary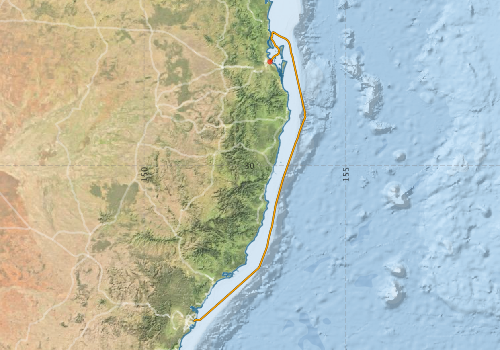 Voyage extents: 33° 51.7' S to 26° 41.2' S 151° 13.5' E to 153° 59.9' E
Get voyage track shapefile
Participants - on ship:- Click on column header to sort
| Name | Role | Organisation | Project |
| --- | --- | --- | --- |
| Muhtar Latif | Multibeam Technician | Kongsberg | |
| Rod Palmer | Voyage Manager | CSIRO MNF | Voyage Management on RV Investigator |
| Steve Van Graas | Data Acquisition and Processing Computing Support | CSIRO MNF | Data Acquisition and Processing |
| Tara Martin | Observer | CSIRO MNF | |
This list includes those that may have only been on part of the voyage. See voyage reports on 'Reports and Maps' tab for details.
Data publishing:- This is a list of online datasets. use the Get data link on the right to extract data using the NCMI Data Trawler.
Data Stream
Data Summary
Get data
Underway

| | |
| --- | --- |
| Time (UTC): | 2016-11-18 07:11 to 2016-11-20 22:11 |
| Latitude: | -27.43 |
| Longitude: | 153.12 |
| Track length: | 1006.419 km |
| Locations: | 45,432 |
| Measurements: | 2,907,648 |

Get Data from Trawler

in2016_t03_UWY_ProcessingReport.pdf

in2016_t03uwy10sec_csv.zip

in2016_t03uwy5min_csv.zip

in2016_t03uwy_nc.zip