Please login if you have access to particular applications.
Voyage details and related metadata, reports, events and data.
IN2016_T03 - is a Marine National Facility

voyage
Voyage details on MNF site: https://mnf.csiro.au/en/Voyages/IN2016_T03
Period: 2016-11-18 02:00 to 2016-11-21 21:00 UTC
Duration: 3.79 days
From: Brisbane To: Sydney
Region: Australia East Coast
Ship: Investigator (RV) [details]
Description: Dry dock activities at Garden Island. The Primary objective of IN2016_T03 is to transit the Investigator to Sydney for dry dock activities & deploy 1 x Argo float. During the transit the following activities will be ongoing (1) Multibeam maintenance - 1 x Konsberg technician on board; (2) CTD Shaft removal preparations - 1 x Rapp technician on board. (3) One Argo Float will be deployed during transit from Brisbane to Sydney The following list details the key activities planned for 2016_T03 (Refer to section 4.2 for a detailed activity schedule): * Confirm all demobilization work is complete whilst alongside in Brisbane; * Confirm wires have been spooled off from the 2 x CTD winches, and spooling equipment is loaded onboard; * Depart Port of Brisbane with pilot on board; * Clear port limits and disembark pilot; * Transit to Argo deployment location & deploy 1 x Argo float; * Transit to Garden Island.
Leader: Mark Scanlon (CSIRO)
Project: Investigator National Facility - transit voyage [details] Primary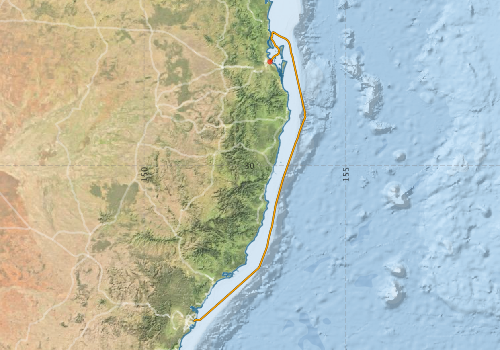 Voyage extents: 33° 51.7' S to 26° 41.2' S 151° 13.5' E to 153° 59.9' E
Get voyage track shapefile
Get CSV
Marlin Metadata:-
RV Investigator Voyage IN2016_T03 End of Voyage (EOV) Archive [details]

RV Investigator Voyage IN2016_T03 Underway UWY Data [details]

Cruise Summary Report at SeaDataNet:-
Participants - on ship:-
| Name | Role | Organisation | Project |
| --- | --- | --- | --- |
| Rod Palmer | Voyage Manager | Marine National Facility | Voyage Management on RV Investigator |
This list includes those that may have only been on part of the voyage. See voyage reports on 'Reports and Maps' tab for details.
Marine National Facility Reports - plans, summaries and data processing
Data publishing
This is a list of online datasets hosted by CSIRO. Other processed datasets hosted by collaborating organisations may be found on the 'Metadata' or "Reports, Publications and Maps' tab.
Use the Get data link on the right to extract data using the NCMI Data Trawler.
Data Stream
Data Summary
Get data
Underway

| | |
| --- | --- |
| Time (UTC): | 2016-11-18 07:11 to 2016-11-20 22:11 |
| Latitude: | -27.43 |
| Longitude: | 153.12 |
| Track length: | 1006.419 km |
| Locations: | 45,432 |
| Measurements: | 2,907,648 |

Get Data from Trawler

Download: 10-second (csv data): in2016_t03uwy10sec_csv.zip

Download: 5-minute (csv data): in2016_t03uwy5min_csv.zip

Download: 5-second (netcdf data): in2016_t03uwy_nc.zip


Deployments by start time:- Click on column header to sort. Use link on 'Deployment' to see full details. Use the CSV button at the bottom to export data (tab delimited).
Search for deployments from this voyage and others
Deployment
Operation
Station
Cast
Gear
Project
Start and end times
Start Location
End Location
Depth
Description
Underway System [details]

Altimeter-163,Autosal Salinometer,Burket Flow meter,Burket Flow meter,CSIRO Hobart pCO2,CSIRO Hobart pCO2,CSIRO Hobart pCO2,CSIRO Hobart pCO2,CSIRO Hobart pCO2,CSIRO Hobart pCO2,CSIRO Hobart pCO2,CSIRO Hobart pCO2,CSIRO Hobart pCO2,CSIRO Hobart pCO2,CSIRO air sampling inlet,CSIRO air sampling inlet,Chelsea Tech Fluorometer,Gyrocompass,Humidity Sensor-HMT333,Humidity Sensor-HMT333,Humidity Sensor-HMT333,Humidity Sensor-HMT333,IMOS Port Pyranometer-SN 29125F3,IMOS Port Radiometer-SN 29140F3,IMOS Stbd Pyranometer-SN 29125F3,IMOS Stbd Radiometer-SN 29140F3,IMOS wind monitor,IMOS wind monitor,IMOS wind monitor,IMOS wind monitor,ISAR SST,Kobold MIK-C Flow meter,Kongsberg Maritime Skipper DL850 doppler log,Kongsberg Maritime Skipper DL850 doppler log,Kongsberg Maritime Skipper DL850 doppler log,Kongsberg Maritime Skipper DL850 doppler log,Kongsberg Maritime Skipper DL850 doppler log,Kongsberg Maritime Skipper DL850 doppler log,LI-COR LI-190 Quantum Sensor,LI-COR LI-190 Quantum Sensor,Multiangle Absorption Photometer (MAAP),Multiangle Absorption Photometer (MAAP),Ozone Monitor RVT1,Ozone Monitor RVT1,Ozone Monitor RVT2,Ozone Monitor RVT2,Picarro Greenhouse Gas Spectrometer CO2,CH4,H2o,Picarro Greenhouse Gas Spectrometer CO2,CH4,H2o,Picarro Greenhouse Gas Spectrometer CO2,CH4,H2o,Port drop keel sensor,RM Young 05106 wind monitor-SN 82705,RM Young Rain Gauge,RM Young Wind Sensor Type 05107,RM Young Wind Sensor Type 05107,RM Young Wind Sensor Type 05107,RM Young Wind Sensor Type 05107,RM Young Wind Sensor Type 05108,RM Young Wind Sensor Type 05108,RM Young Wind Sensor Type 05108,RM Young Wind Sensor Type 05108,Remote Temperature (T) - SN 671,Seapath 330+,Seapath 330+,Seapath 330+,Simrad EK60 multi-frequency split-beam echosounder,Starboard drop keel sensor,ThermoSalinoGraph (TSG)-SS-SN 1777,Vaisala Ship's Barometer PTB330

2457
2016-11-18 07:02
2016-11-20 22:08
-27.4288
153.1223
-33.8610
151.2263