Please login if you have access to particular applications.
Catch Data - from CSIRO surveys.
CAAB Code:
54 103042 [taxon report]
Scientific Name
and Authority:
Platythalia angustifolia Sonder
CAAB category:
54 - Phaeophyta

| | |
| --- | --- |
| Common Name: | [a brown alga] |
Distribution map:
View detailed map or click on map to see same.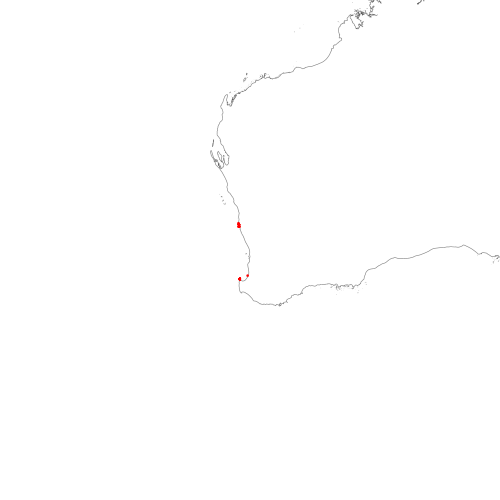 Occurrence locations [51] shown as red circles - View CSIRO Catch records
Catch records - 51 records found.
Click on survey to see survey details. Click on Operation to see full details of the catch. Use the CSV button at the bottom to export data.
Date (UTC)
Position
Survey
Operation
Depth
Range (m)
Count
Weight (kg)
Method
Effort
Gear
2003-07-24 00:00
33° 32.2' S 115° 02.0' E
QU
5246
6 to 6
501
Diving
2003-07-24 00:00
33° 32.2' S 115° 02.0' E
QU
5248
6 to 6
3334
Diving
2003-09-18 00:00
33° 32.2' S 115° 02.0' E
QU
5221
6 to 6
360
Diving
2003-09-18 00:00
33° 32.2' S 115° 02.0' E
QU
5254
6 to 6
7568
Diving
2003-09-18 00:00
33° 32.2' S 115° 02.0' E
QU
5255
6 to 6
33
Diving
2003-09-18 00:00
33° 32.2' S 115° 02.0' E
QU
5199
6 to 6
3881
Diving
2003-09-18 00:00
33° 32.2' S 115° 02.0' E
QU
5200
6 to 6
1870
Diving
2004-01-20 00:00
33° 32.2' S 115° 02.0' E
QU
5275
6 to 6
987
Diving
2004-01-20 00:00
33° 32.2' S 115° 02.0' E
QU
5279
6 to 6
1603
Diving
2004-01-20 00:00
33° 32.2' S 115° 02.0' E
QU
5278
6 to 6
560
Diving
2004-01-20 00:00
33° 32.2' S 115° 02.0' E
QU
5276
6 to 6
1152
Diving
2004-01-22 00:00
33° 19.9' S 115° 36.2' E
BY08
5175
10 to 10
14
Diving
2004-05-05 00:00
33° 32.2' S 115° 02.0' E
QU
5451
6 to 6
6
Diving
2004-05-05 00:00
33° 32.2' S 115° 02.0' E
QU
5454
6 to 6
265
Diving
2004-05-05 00:00
33° 32.2' S 115° 02.0' E
QU
5455
6 to 6
1772
Diving
2004-05-05 00:00
33° 32.2' S 115° 02.0' E
QU
5453
6 to 6
406
Diving
2004-08-09 00:00
33° 32.2' S 115° 02.0' E
QU
5588
6 to 6
33
Diving
2004-08-09 00:00
33° 32.2' S 115° 02.0' E
QU
5589
6 to 6
1973
Diving
2004-08-09 00:00
33° 32.2' S 115° 02.0' E
QU
5587
6 to 6
2403
Diving
2004-08-09 00:00
33° 32.2' S 115° 02.0' E
QU
5586
6 to 6
2326
Diving
2004-10-26 00:00
30° 13.6' S 114° 59.6' E
NH
5661
6 to 6
27
Diving
2004-10-26 00:00
30° 13.6' S 114° 59.6' E
NH
5662
6 to 6
9
Diving
2004-11-08 00:00
33° 32.2' S 115° 02.0' E
QU
5736
6 to 6
4471
Diving
2004-11-08 00:00
33° 32.2' S 115° 02.0' E
QU
5734
6 to 6
887
Diving
2004-11-08 00:00
33° 32.2' S 115° 02.0' E
QU
5733
6 to 6
1979
Diving
2004-11-08 00:00
33° 32.2' S 115° 02.0' E
QU
5735
6 to 6
5
Diving
2005-02-02 00:00
33° 32.2' S 115° 02.0' E
QU
5783
6 to 6
10
Diving
2005-02-02 00:00
33° 32.2' S 115° 02.0' E
QU
5782
6 to 6
541
Diving
2005-02-02 00:00
33° 32.2' S 115° 02.0' E
QU
5781
6 to 6
215
Diving
2005-02-02 00:00
33° 32.2' S 115° 02.0' E
QU
5779
6 to 6
62
Diving
2005-02-02 00:00
33° 32.2' S 115° 02.0' E
QU
5780
6 to 6
17
Diving
2005-04-15 00:00
33° 32.2' S 115° 02.0' E
QU
5936
6 to 6
513
Diving
2005-04-15 00:00
33° 32.2' S 115° 02.0' E
QU
5935
6 to 6
13
Diving
2005-04-15 00:00
33° 32.2' S 115° 02.0' E
QU
5932
6 to 6
925
Diving
2005-04-15 00:00
33° 32.2' S 115° 02.0' E
QU
5933
6 to 6
1935
Diving
2005-05-01 00:00
30° 12.1' S 114° 58.0' E
WAM9
5896
6 to 6
4636
Diving
2005-05-01 00:00
30° 20.3' S 114° 58.9' E
WAM7
5889
6 to 10
361
Diving
2005-05-01 00:00
30° 12.1' S 114° 58.0' E
WAM9
5897
6 to 6
8476
Diving
2005-05-01 00:00
30° 20.3' S 114° 58.9' E
WAM7
5888
6 to 10
236
Diving
2005-05-01 00:00
30° 12.1' S 114° 58.0' E
WAM9
5895
6 to 6
12496
Diving
2005-05-01 00:00
30° 20.3' S 114° 58.9' E
WAM7
5887
6 to 10
198
Diving
2005-05-01 00:00
30° 20.3' S 114° 58.9' E
WAM7
5886
6 to 10
21
Diving
2005-05-01 00:00
30° 12.1' S 114° 58.0' E
WAM9
5898
6 to 6
5562
Diving
2005-05-01 00:00
30° 12.1' S 114° 58.0' E
WAM9
5899
6 to 6
1718
Diving
2005-05-01 00:00
30° 20.4' S 114° 58.8' E
WAM6
5884
10 to 10
1612
Diving
2005-05-01 00:00
30° 20.4' S 114° 58.8' E
WAM6
5883
10 to 10
458
Diving
2005-05-01 00:00
30° 20.4' S 114° 58.8' E
WAM6
5881
10 to 10
8
Diving
2005-05-03 00:00
30° 07.3' S 114° 56.5' E
WAM12
5914
6 to 10
7
Diving
2005-08-04 00:00
33° 32.2' S 115° 02.0' E
QU
5962
6 to 6
851
Diving
2005-08-04 00:00
33° 32.2' S 115° 02.0' E
QU
5963
6 to 6
1970
Diving
2005-08-04 00:00
33° 32.2' S 115° 02.0' E
QU
5965
6 to 6
4382
Diving