Please login if you have access to particular applications.
Survey details and related metadata, reports, events and data.
SS 01/99 (alternative identifier: SS199901)
Period: 1999-01-10 00:00 to 1999-02-04 00:00 UTC
Duration: 25.00 days
Region: Southern Ocean (Macquarie Island region)
Ship: Southern Surveyor [details]
Description: Southern Surveyor cruise SS 01/99 is aimed at studying the population size and ecological interactions of the Patagonian toothfish populations in the area around Macquarie Island. Acoustic and trawl surveys of the Patagonian toothfish and other dominant species are planned in depths to 1500m, fish diets will be studied, and zooplankton and nekton sammples will be taken in the upper 200m and 1500 m respectively, using Bongo nets and MIDOC tows. Benthic habitats will be studied using acoustic mapping, underwater video transects and dredge samples. Observations of seabirds and sea mammals will also be made, and genetic samples of Patagonian toothfish taken for stock discrimination studies.
Leader: J.A. Koslow (CSIRO)
Project: The benthic fauna around Macquarie Island and the potential impact of the Patagonian toothfish trawl fishery 1998-2001 [details]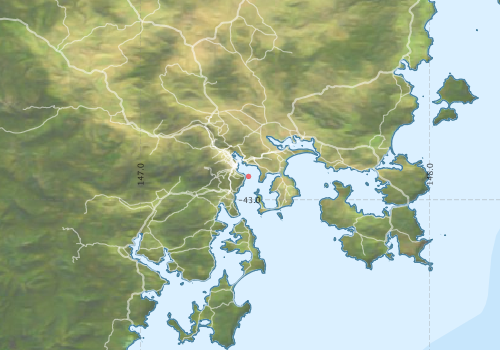 Voyage extents: 55° 30.0' S to 53° 30.0' S 158° 30.0' E to 159° 06.0' E
Marlin Metadata:-
Metadata from OBIS Australia datasets:-
Participants - on ship:- Click on column header to sort
| Name | Role | Organisation |
| --- | --- | --- |
| Alan Williams | | CSIRO Marine Research |
| Jeff Cordell | | CSIRO Marine Research |
| Karen Gowlett-Holmes | | CSIRO Marine Research |
| Mark Lewis | | CSIRO Marine Research |
| Matt Sherlock | | CSIRO Marine Research |
| Miroslav Ryba | | CSIRO Marine Research |
| R Williams | | Australian Antarctic Division |
| Rudy Kloser | | CSIRO Marine Research |
| Tim Ryan | | CSIRO Marine Research |
| Tony Kolsov | Cruise Leader | CSIRO Oceans & Atmosphere - Hobart |
This list includes those that may have only been on part of the voyage. See voyage reports on 'Reports and Maps' tab for details.
MNF Reports
SS199901 Voyage Plan - includes objectives, investigator details, proposed data collection, voyage track and equipment to be used.

SS199901 Voyage Report 10.4225/08/58712d755cf79 - includes preliminary results, voyage narrative, types of data collected with C77/ROSCOP codes.
Publications from data derived from this voyage
Journal Article
Berge, J.,(2003), The taxonomy of the amphipod genus Stilipes (Crustacea: Amphipoda: Stilipedidae), with description of one new species. Organisms Diversity & Evolution 3 305

Gaskett, A. C.,Bulman, C.,He, X.,Goldsworthy, S. D. (2001) Diet composition and guild structure of mesopelagic and bathypelagic fishes near Macquarie Island, Australia. New Zealand Journal of Marine and Freshwater Research 35 pp469-476. 10.1080/00288330.2001.9517016

Komai, T. and Taylor, J. (2010) Three new species of the crangonid genus Metacrangon Zarenkov (Crustacea: Decapoda: Caridea) from Australia. Memoirs of Museum of Victoria 67 45-59

Moore, K., Alderslade, P. and Miller, K. (2016) A taxonomic revision of the genus Primnoisis Studer & Wright , 1887 (Coelenterata: Octocorallia: Isididae) using morphological and molecular data. Zootaxa 4075 1-+

O'Hara, Timothy D.,England, Phillip R.,Gunasekera, Rasanthi M.,Naughton, Kate M. (2014) Limited phylogeographic structure for five bathyal ophiuroids at continental scales. Deep Sea Research Part I: Oceanographic Research Papers 84 pp18-28. 10.1016/j.dsr.2013.09.009

O'Hara, Timothy D.,Smith, Peter J.,Mills, V. Sadie,Smirnov, Igor,Steinke, Dirk (2013) Biogeographical and phylogeographical relationships of the bathyal ophiuroid fauna of the Macquarie Ridge, Southern Ocean. Polar Biology 36 pp321-333. 10.1007/s00300-012-1261-9

Watson, Jeanette W. (2003), Deep-water hydroids (Hydrozoa: Leptolida) from Macquarie Island. Memoirs of Museum Victoria, 60: pp. 151-180.

Woods, Briannyn,Trebilco, Rowan,Walters, Andrea,Hindell, Mark,Duhamel, Guy,Flores, Hauke,Moteki, Masato,Pruvost, Patrice,Reiss, Christian,Saunders, Ryan A.,Sutton, Caroline,Gan, Yi-Ming,Van de Putte, Anton (2022) Myctobase, a circumpolar database of mesopelagic fishes for new insights into deep pelagic prey fields. Scientific Data 9 pp-. 10.1038/s41597-022-01496-y

Zeidler, W. (2015) A review of the hyperiidean amphipod genus Hyperoche Bovallius, 1887 (Crustacea: Amphipoda: Hyperiidea: Hyperiidae), with the description of a new genus to accommodate H. shihi Gasca, 2005. Zootaxa 3905 151-192
Report
Eades, D. (2001). Observations of seabirds in Macquarie Island waters. In Ecologically sustainable development of the fishery for Patagonian toothfish (Dissostichus eleginoides) around Macquarie Island: Population parameters, population assessment and ecological interactions. (Eds He, X. and Furlani, D.M.) (CSIRO Marine Research, Australian Antarctic Division, and Austral Fisheries Pty Ltd. Hobart.) External link to reference

Sutton, Caroline; Kloser, Rudy; Gershwin, Lisa. Micronekton in southern Australia and the Southern Ocean: A collation of the biomass, abundance, diversity and distribution data from CSIRO's historical mesopelagic depth stratified net samples.. Hobart: CSIRO; 2018. http://hdl.handle.net/102.100.100/365479?index=1
Data publishing
This is a list of online datasets hosted by CSIRO. Other processed datasets hosted by collaborating organisations may be found on the 'Metadata' tab.
Use the Get data link on the right to extract data using the NCMI Data Trawler.
Data Stream
Data Summary
Get data
Marine biodiversity observations and/or samples

| | |
| --- | --- |
| Time (UTC): | 1999-01-16 00:00 to 1999-01-31 05:02 |
| Latitude: | -54.88 to -52.34 |
| Longitude: | 157.79 to 160.29 |

Get Data from Trawler


Deployments - None have been recorded in the Data Trawler.