Please login if you have access to particular applications.
Survey details and related metadata, reports, events and data.
SO 1/79 (alternative identifier: SO197901)
Period: 1979-11-27 00:00 to 1979-12-17 00:00 Local
Duration: 20.00 days
From: Cockburn Sound To: Cockburn Sound
Region: Australian North West Shelf
Ship: Soela [details]
Description: Soela cruise SO 1/79 was undertaken to investigate the biology of fishes on the Australian North West Shelf between latitudes 19 and 21 degrees S, and longitudes 115 and 117 degrees E. Primary objectives were to collect biological information on fishes of the families Lethrinidae, Lutjanidae, Nemipteridae, and Priacanthidae. Secondary objectives included completing a hydrographic transect across the shelf, collecting biological information and photographs for other fish species, and collecting deep and midwater fishes for the Australian Museum and benthic invertebrates for the Western Australian Museum.
Leader: P. Young (CSIRO)
Project: North West Shelf Demersal Marine Resources Study (1982-1992) [details]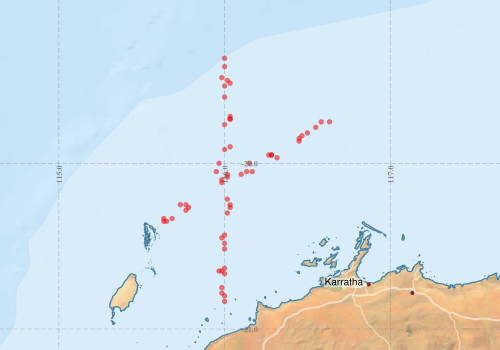 Voyage extents: 20° 50.0' S to 19° 22.0' S 116° 00.0' E to 116° 01.0' E
Participants:- no records
Marine National Facility Reports - plans, summaries and data processing
View the Survey Summary report - includes preliminary results, voyage narrative, types of data collected with C77/ROSCOP codes.
Data publishing
This is a list of online datasets hosted by CSIRO. Other processed datasets hosted by collaborating organisations may be found on the 'Metadata' or "Reports, Publications and Maps' tab.
Use the Get data link on the right to extract data using the NCMI Data Trawler.
Data Stream
Data Summary
Get data
Hydrology

| | |
| --- | --- |
| Time (UTC): | 1979-12-01 00:12 to 1979-12-01 00:12 |
| Latitude: | -20.83 to -19.37 |
| Longitude: | 116.00 to 116.02 |
| Quantity: | 6 Casts |
| Max Pressure: | 200 db |

Get Data from Trawler


Deployments by start time:- Click on column header to sort. Use link on 'Deployment' to see full details. Use the CSV button at the bottom to export data (tab delimited).
Search for deployments from this voyage and others
Deployment
Operation
Station
Cast
Gear
Project
Start and end times
Start Location
End Location
Depth
Description
Hydrology Cast [details]
1

171
1979-12-01 00:00
1979-12-01 00:00
-19.3667
116.0000
200
Hydrology Cast [details]
1

171
1979-12-01 00:00
1979-12-01 00:00
-19.4167
116.0000
150
Hydrology Cast [details]
1

171
1979-12-01 00:00
1979-12-01 00:00
-19.6000
116.0000
100
Hydrology Cast [details]
1

171
1979-12-01 00:00
1979-12-01 00:00
-20.2167
116.0167
50
Hydrology Cast [details]
1

171
1979-12-01 00:00
1979-12-01 00:00
-20.6333
116.0000
20
Hydrology Cast [details]
1

171
1979-12-01 00:00
1979-12-01 00:00
-20.8333
116.0000
10
Catch [details]
2

Demersal Frank & Bryce trawl

171
1979-12-01 11:50
1979-12-01 12:40
-20.8000
116.0000
-20.7667
115.9833
22
Trawling
Catch [details]
3

Demersal Frank & Bryce trawl

171
1979-12-01 15:00
1979-12-01 15:50
-20.7500
115.9833
-20.7833
116.0000
23
Trawling
Catch [details]
4

Demersal Frank & Bryce trawl

171
1979-12-01 16:40
1979-12-01 17:30
-20.6500
115.9667
28
Trawling
Catch [details]
5

Demersal Frank & Bryce trawl

171
1979-12-01 18:50
1979-12-01 19:40
-20.6500
115.9833
29
Trawling
Catch [details]
6

Demersal Frank & Bryce trawl

171
1979-12-01 23:25
1979-12-02 00:15
-20.4833
116.0000
-20.5167
116.0000
38
Trawling
Catch [details]
7

Demersal Frank & Bryce trawl

171
1979-12-02 00:25
1979-12-02 01:15
-20.5167
116.0000
-20.5333
115.9833
38
Trawling
Catch [details]
8

Demersal Frank & Bryce trawl

171
1979-12-02 02:45
1979-12-02 03:35
-20.3000
116.0167
-20.2667
116.0167
Trawling
Catch [details]
10

Demersal Frank & Bryce trawl

171
1979-12-02 06:30
1979-12-02 07:20
-20.1167
115.9833
-20.0833
116.0000
66
Trawling
Catch [details]
11

Demersal Frank & Bryce trawl

171
1979-12-02 07:40
1979-12-02 08:30
-20.0667
116.0167
-20.1000
116.0000
66
Trawling
Catch [details]
12

Demersal Frank & Bryce trawl

171
1979-12-02 11:05
1979-12-02 11:55
-20.0000
115.9667
-20.0500
115.9500
80
Trawling
Catch [details]
13

Demersal Frank & Bryce trawl

171
1979-12-02 12:40
1979-12-02 13:30
-20.0500
115.9500
-20.0167
115.9667
80
Trawling
Catch [details]
14

Demersal Frank & Bryce trawl

171
1979-12-02 14:30
1979-12-02 15:20
-19.7333
116.0333
-19.7667
116.0000
100
Trawling
Catch [details]
16

Demersal Frank & Bryce trawl

171
1979-12-02 18:40
1979-12-02 19:30
-19.4833
115.9833
142
Trawling
Catch [details]
17

Demersal Frank & Bryce trawl

171
1979-12-02 20:00
1979-12-02 20:50
-19.5000
116.0167
-19.5167
115.9833
142
Trawling
Catch [details]
18

Demersal Frank & Bryce trawl

171
1979-12-02 22:50
1979-12-02 23:40
-19.5333
116.0000
-19.5167
116.0167
144
Trawling
Catch [details]
19

Demersal Frank & Bryce trawl

171
1979-12-02 23:45
1979-12-03 00:35
-19.5167
116.0333
-19.5000
116.0000
144
Trawling
Catch [details]
20

Demersal Frank & Bryce trawl

171
1979-12-03 02:35
1979-12-03 03:25
-19.7167
116.0333
-19.7333
116.0167
105
Trawling
Catch [details]
21

Demersal Frank & Bryce trawl

171
1979-12-03 03:35
1979-12-03 04:25
-19.7333
116.0333
-19.7167
116.0667
105
Trawling
Catch [details]
22

Demersal Frank & Bryce trawl

171
1979-12-03 05:55
1979-12-03 06:45
-19.9000
116.0333
-19.9167
116.0000
78
Trawling
Catch [details]
23

Demersal Frank & Bryce trawl

171
1979-12-03 08:10
1979-12-03 09:00
-19.9167
116.0000
-19.9000
116.0333
78
Trawling
Catch [details]
24

Demersal Frank & Bryce trawl

171
1979-12-03 11:15
1979-12-03 12:05
-19.9500
116.2833
-19.9667
116.3000
72
Trawling
Catch [details]
25

Demersal Frank & Bryce trawl

171
1979-12-03 12:15
1979-12-03 13:05
-19.9667
116.3167
-19.9833
116.3000
73
Trawling
Catch [details]
26

Demersal Frank & Bryce trawl

171
1979-12-03 14:50
1979-12-03 15:40
-19.8500
116.4500
-19.8333
116.4667
70
Trawling
Catch [details]
15

Demersal Frank & Bryce trawl

171
1979-12-03 15:50
1979-12-03 16:40
-19.7667
116.0000
-19.7333
116.0167
100
Trawling
Catch [details]
27

Demersal Frank & Bryce trawl

171
1979-12-03 16:05
1979-12-03 16:55
-19.8333
116.4667
-19.8667
116.4500
70
Trawling
Catch [details]
37

Demersal Frank & Bryce trawl

171
1979-12-03 16:25
1979-12-03 17:15
-20.2833
115.7667
-20.2667
115.7833
57
Trawling
Catch [details]
28

Demersal Frank & Bryce trawl

171
1979-12-03 18:35
1979-12-03 19:25
-19.7500
116.6333
-19.7333
116.6667
60
Trawling
Catch [details]
29

Demersal Frank & Bryce trawl

171
1979-12-03 22:40
1979-12-03 23:30
-19.7500
116.5833
-19.7833
116.5500
64
Trawling
Catch [details]
30

Demersal Frank & Bryce trawl

171
1979-12-03 23:55
1979-12-04 00:45
-19.7833
116.5500
-19.7500
116.5833
64
Trawling
Catch [details]
31

Demersal Frank & Bryce trawl

171
1979-12-04 02:15
1979-12-04 03:05
-19.8167
116.5000
-19.8500
116.4833
65
Trawling
Catch [details]
32

Demersal Frank & Bryce trawl

171
1979-12-04 03:20
1979-12-04 04:10
-19.8667
116.4500
68
Trawling
Catch [details]
33

Demersal Frank & Bryce trawl

171
1979-12-04 05:40
1979-12-04 06:30
-19.9500
116.2833
-19.9333
116.2667
71
Trawling
Catch [details]
34

Demersal Frank & Bryce trawl

171
1979-12-04 06:40
1979-12-04 07:30
-19.9500
116.2667
-19.9333
116.2833
71
Trawling
Catch [details]
35

Demersal Frank & Bryce trawl

171
1979-12-04 10:50
1979-12-04 11:40
-20.0500
116.1333
Trawling
Catch [details]
36

Demersal Frank & Bryce trawl

171
1979-12-04 11:45
1979-12-04 12:35
-20.0500
116.1667
-20.0667
116.1500
64
Trawling
Catch [details]
38

Demersal Frank & Bryce trawl

171
1979-12-04 17:25
1979-12-04 18:15
-20.2667
115.7833
-20.2833
115.7667
57
Trawling
Catch [details]
39

Demersal Frank & Bryce trawl

171
1979-12-04 19:15
1979-12-04 20:05
-20.3500
115.6500
-20.3333
115.6833
55
Trawling
Catch [details]
40

Demersal Frank & Bryce trawl

171
1979-12-04 20:25
1979-12-04 21:15
-20.3333
115.6833
-20.3500
115.6500
55
Trawling
Catch [details]
41

Demersal Frank & Bryce trawl

171
1979-12-04 23:15
1979-12-05 00:05
-20.3500
115.6333
-20.3333
115.6167
52
Trawling
Catch [details]
42

Demersal Frank & Bryce trawl

171
1979-12-04 23:45
1979-12-05 00:35
-20.3333
115.6333
-20.3167
115.6500
52
Trawling
Catch [details]
43

Demersal Frank & Bryce trawl

171
1979-12-05 05:30
1979-12-05 06:20
-20.2500
115.7333
64
Trawling
Catch [details]
44

Demersal Frank & Bryce trawl

171
1979-12-05 06:30
1979-12-05 07:20
-20.2500
115.7667
-20.2333
115.8000
64
Trawling
Catch [details]
45

Demersal Frank & Bryce trawl

171
1979-12-05 09:25
1979-12-05 10:15
-20.0667
116.1000
63
Trawling
Catch [details]
46

Demersal Frank & Bryce trawl

171
1979-12-05 10:05
1979-12-05 10:55
-20.0000
116.1500
-20.0333
116.1167
65
Trawling
Catch [details]
47

Demersal Frank & Bryce trawl

171
1979-12-05 11:35
1979-12-05 12:25
-20.0833
116.0167
-20.1000
115.9833
65
Trawling
Catch [details]
48

Demersal Frank & Bryce trawl

171
1979-12-05 12:35
1979-12-05 13:25
-20.1000
115.9833
-20.0667
116.0333
65
Trawling
Catch [details]
49

Demersal Frank & Bryce trawl

171
1979-12-05 14:55
1979-12-05 15:45
-20.2667
116.0333
-20.2500
116.0167
55
Trawling
Catch [details]
50

Demersal Frank & Bryce trawl

171
1979-12-05 16:25
1979-12-05 17:15
-20.2500
116.0333
60
Trawling
Catch [details]
51

Demersal Frank & Bryce trawl

171
1979-12-05 19:40
1979-12-05 20:30
-20.4333
116.0000
-20.4500
115.9833
45
Trawling
Catch [details]
52

Demersal Frank & Bryce trawl

171
1979-12-05 20:32
1979-12-05 21:22
-20.4500
115.9833
-20.4333
116.0000
45
Trawling
Catch [details]
53

Demersal Frank & Bryce trawl

171
1979-12-05 23:35
1979-12-06 00:25
-20.6667
116.0000
-20.7000
116.0000
25
Trawling
Catch [details]
55

Demersal Frank & Bryce trawl

171
1979-12-06 04:40
1979-12-06 05:30
-20.7833
115.9833
-20.8167
115.9833
20
Trawling