Please login if you have access to particular applications.
Voyage details and related metadata, reports, events and data.
IN2021_E04 - is a Marine National Facility

voyage
Title: Calibration, Science trials - Kongsberg and seismic commissioning and trials
Voyage details on MNF site: https://mnf.csiro.au/en/Voyages/IN2021_E04
Period: 2021-12-14 21:00 to 2021-12-19 21:00 UTC
Duration: 5.00 days
From: Hobart To: Hobart
Region: Derwent estuary; Tasmania coast southeast; Southern Ocean
Ship: Investigator (RV) [details]
Description: Equipment testing
Project: Investigator - general vessel operations, gear trials, etc. [details] Primary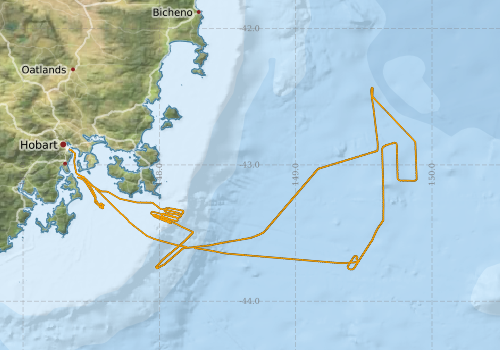 Underway data from NRUD
Voyage extents: 43° 46.0' S to 42° 26.0' S 147° 20.4' E to 149° 53.3' E
Get voyage track shapefile
Get CSV
Participants:- no records
Data publishing
This is a list of online datasets hosted by CSIRO. Other processed datasets hosted by collaborating organisations may be found on the 'Metadata' tab.
Use the Get data link on the right to extract data using the NCMI Data Trawler.
Data Stream
Data Summary
Get data
Gravity Measurements
Multibeam echosounder

| | |
| --- | --- |
| Time (UTC): | 2021-12-14 21:03 to 2021-12-19 20:50 |
| Latitude: | -43.75 to -42.45 |
| Longitude: | 147.38 to 149.89 |
| Datafiles: | 105 |
| Total size: | 15.74 Gb |

Get Data from Trawler


Sub-bottom profiler
Get Data from Trawler


Singlebeam echosounder
Get Data from Trawler


Deployments by start time:- Click on column header to sort. Use link on 'Deployment' to see full details. Use the CSV button at the bottom to export data (tab delimited).
Search for deployments from this voyage and others
Deployment
Operation
Station
Cast
Gear
Project
Start and end times
Start Location
End Location
Depth
Description
ADCP Data [details]

Teledyne RDI ADCP 150 kHz,Teledyne RDI ADCP 75 kHz

2549
2021-12-14 22:32
2021-12-19 18:20
-43.0926
147.4362
-43.0806
147.4263
750