Please login if you have access to particular applications.
Voyage details and related metadata, reports, events and data.
IN2019_T04 - is a Marine National Facility

voyage
Title: Dry Dock Transit
Period: 2019-06-15 to 2019-06-25
From: Fremantle To: Singapore
Region: West Australia coast, Indian Ocean, Java Sea.
Ship: Investigator (RV) [details]
Description:
Project: none linked to this survey.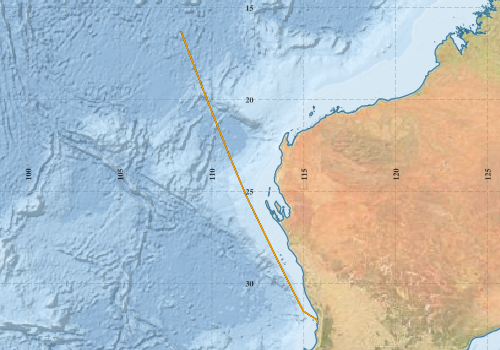 Voyage extents: 32° 03.4' S to 9° 23.4' S 105° 49.0' E to 115° 44.6' E
Get voyage track shapefile
Participants - on ship:- Click on column header to sort
| Name | Role | Organisation | Project |
| --- | --- | --- | --- |
| Pamela Brodie | Voyage Manager | CSIRO MNF | Voyage Management on RV Investigator |
This list includes those that may have only been on part of the voyage. See voyage reports on 'Reports and Maps' tab for details.
Data publishing:- This is a list of online datasets. use the Get data link on the right to extract data using the NCMI Data Trawler.
Data Stream
Data Summary
Get data
ADCP Data

| | |
| --- | --- |
| Time (UTC): | 2019-06-16 12:06 to 2019-06-20 19:06 |
| Latitude: | -29.60 to -9.40 |
| Longitude: | 105.82 to 114.01 |
| Ensembles: | 2,475 |
| Cell depths: | 16 m |
| Number of cells: | 50 |
| Ensemble period: | 300 sec |

Get Data from Trawler

Download ADCP Processing Report (PDF)

Download ADCP Data (NetCDF, 5 minute)

Download overview plots of collected data

Download overview plots of collected data


Underway

| | |
| --- | --- |
| Time (UTC): | 2019-06-15 11:06 to 2019-06-20 09:06 |
| Latitude: | -32.05 |
| Longitude: | 115.74 |
| Track length: | 2727.393 km |
| Locations: | 85,041 |
| Measurements: | 6,122,952 |

Get Data from Trawler

in2019_t04uwy_nc.zip

in2019_t04uwy5sec_csv.zip

in2019_t04uwy10sec_csv.zip

in2019_t04uwy1min_csv.zip

in2019_t04uwy5min_csv.zip

in2019_t04_UWY_ProcessingReport.pdf


Deployments by start time:- Click on column header to sort
Deployment
Operation
Project
Start and end times
Start Location
End Location
Depth
Description
ADCP Data [details]
500
2019-06-16 12:34
2019-06-20 19:43
-29.6042
114.0068
-9.4012
105.8212
781.9
Underway System [details]
500
2019-06-15 11:40
2019-06-20 09:47
-32.0513
115.7434
-9.3892
105.8170