Please login if you have access to particular applications.
Overview of Data holdings
This page describes the current data holdings by data type that the Data Trawler can deliver.
Singlebeam echosounder - [view map]
Singlebeam echosounder data has been acquired from EA500, EK500 and EK60 systems. The RV Southern Surveyor carried a dual band EK60 (12 and 38-120 kHz) whilst the RV Investigator has an enhanced EK60 operating at 7 bands (12, 18, 38, 70, 120, 200 and 300 kHz).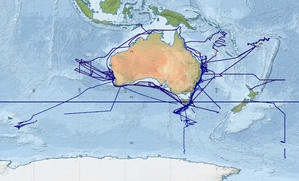 Click on map for interactive view
Mapping layer(s): - mnf:singlebeam_ek60_38_120 mnf:singlebeam_ek60_12 mnf:singlebeam_ek60_12_333