Please login if you have access to particular applications.
Survey details and related metadata, reports, events and data.
IM 1/95 (alternative identifier: IM199501)
Period: 1995-09-03 00:00 to 1995-09-05 00:00 Local
Duration: 2.00 days
Ship: Imlay [details]
Description: Scientific fishery data collected by the chartered commercial fishing vessel "Imlay" in September 1995
Leader: Dr Patrick De Deckker (ANU)
Project: Unknown (no details available) [details]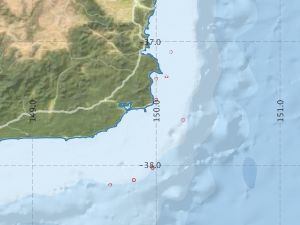 Voyage extents: 38° 09.6' S to 37° 05.1' S 149° 37.8' E to 150° 13.0' E
Metadata - No Marlin metadata records found or has not been linked to this survey or potentially the metadata catalogue is offline.
Metadata from OBIS Australia datasets:- biological data is published via the OBIS-AU IPT server and delivered to one or more of OBIS, ALA and GBIF
Participants:- no records
Marine National Facility Reports - plans, summaries and data processing
There is no map for this survey.
Data publishing
This is a list of online datasets hosted by CSIRO. Other processed datasets hosted by collaborating organisations may be found on the 'Metadata' or "Reports, Publications and Maps' tab.
Use the Get data link on the right to extract data using the NCMI Data Trawler.
Data Stream
Data Summary
Get data
Marine biodiversity observations and/or samples

| | |
| --- | --- |
| Time (UTC): | 1995-09-03 09:15 to 1995-09-05 00:30 |
| Latitude: | -38.16 to -37.08 |
| Longitude: | 149.63 to 150.22 |

Get Data from Trawler


Catch Details

From:
3-Sep-1995 19:15 to 5-Sep-1995 04:00 UTC
Latitude:
-38.16 to 0.00
Longitude:
149.63 to 0.00
Catch Summary:
Deployments: 8
Catch Composition: 24
Measurements: 105
Specimens: 188

Get Data from Trawler


Deployments by start time:- Click on column header to sort. Use link on 'Deployment' to see full details. Use the CSV button at the bottom to export data (tab delimited).
Search for deployments from this voyage and others
Deployment
Operation
Station
Cast
Gear
Project
Start and end times
Start Location
End Location
Depth
Description
Catch [details]
2

McKenna Market Trawl (standard)

500
1995-09-03 19:15
1995-09-03 23:00
-37.0850
150.1170
Market Trawl
Catch [details]
3

McKenna Market Trawl (standard)

500
1995-09-03 23:55
1995-09-04 02:30
-38.0200
149.9700
Market Trawl
Catch [details]
4

McKenna Market Trawl (standard)

500
1995-09-04 03:20
1995-09-04 07:00
-38.1200
149.8200
Market Trawl
Catch [details]
5

McKenna Market Trawl (standard)

500
1995-09-04 08:00
1995-09-04 11:05
-38.1600
149.6300
Market Trawl
Catch [details]
6

McKenna Market Trawl (standard)

500
1995-09-04 16:50
1995-09-04 19:50
-37.4700
150.0000
Market Trawl
Catch [details]
7

McKenna Market Trawl (standard)

500
1995-09-04 20:30
1995-09-05 00:00
-37.2830
150.0830
Market Trawl
Catch [details]
8

McKenna Market Trawl (standard)

500
1995-09-05 00:30
1995-09-05 04:00
-37.3000
150.0000
Market Trawl
Catch [details]
1

McKenna Market Trawl (standard)

500
2095-09-03 13:00
1995-09-03 14:50
-37.6330
150.2170
Market Trawl